Podcast Lounge updated with Windows Phone 8 support and more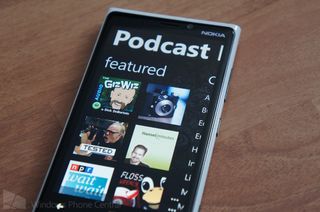 Podcast Lounge, the popular Windows Phone app that enables consumers to tune into a number of podcasts, has been bumped to version 1.6, which introduces a number of new features. The app has once again been in beta for some time, but a lot has been improved upon since the previous update. The highlights in 1.6? Windows Phone 8 support, video playback, performance improvements and other alterations to the user experience have been applied.
Should you not be familiar with Podcast Lounge, the app provides access to over 20,000 podcasts (including the Windows Phone Central podcast with Daniel Rubino and Jay Bennett). Consumers can browse, search, stream, download and enjoy favourite podcasts effortlessly. The user interface is intuitive and gorgeous, making Podcast Lounge a must-have for all Windows Phone owners.
This update is the start of many that are planned for the store. We've been informed that more features are in the pipeline and will be included in future builds, so don't take the change log as what's currently being implemented - there's more to come.
Here's the full change log of version 1.6:
Added support for video podcasts with full playback position memory
Database reliability improvements
Full Windows Phone 8.0 support
BlueSmart Bluetooth technology (prevents unwanted playback restarts when disconnecting Bluetooth)
Sorting podcasts by date
Added pull-to-refresh for episodes list
Performance improvements
It's quite an improvement. We've been following the development of Podcast Lounge since the app was first released. We've witnessed the app being rebranded to Podcast Lounge and there's a bright future ahead for those who wish to check out the latest shows from a number of sources. We've also continuously been impressed with the beta testing Podcast Lounge goes through before each version is published.
You can download Podcast Lounge for $1.99 (£1.49) from the Windows Phone store (trial available). Strongly recommended.
Rich Edmonds is Senior Editor of PC hardware at Windows Central, covering everything related to PC components and NAS. He's been involved in technology for more than a decade and knows a thing or two about the magic inside a PC chassis. You can follow him over on Twitter at @RichEdmonds.
Interesting about Bluetooth restarts... I find Pandora does this constantly.

I found that true with a lot of audio apps, Pandora, ESPN, tunein, and sometimes Xbox music

I actually emailed the Podcast Lounge guys about this issue and they said it's a bug in WP8 that they had to workaround (this was before this latest version, which fixes the issue for me).

Interesting... I've only seen it with Pandora, though I haven't tried most of the apps mblanco mentioned (except Xbox Music).

It's really annoying with Pandora... I disconnect my headset and a minute later my phone starts blaring music. Last time was when I was called into my doctor appointment. Walking in the office with the nurse and BAM! Lous music blaring.

This reminded me that I need to resub to Tested.

Does it auto download episodes? Can anyone compare to podcaster? How about a podcasting comparison review?

Yes, but only when on WiFi AND is charging, comparing to podcaster I like the UI better, but that's just opinion, used both till podcast lounge updated to include none BBC podcasts.

BBC content is still available

Honestly, all the podcatchers apart from this and PODCASTS! are just aesthetically displeasing. This is IMO nicer than PODCASTS!, but I would love it to pursue a distinguishable brand with unique icon and all.

So it will auto check your favorites and download the latest episode. All you do is start the program when your phone is plugged in, e.g. Over night. Sadly trial version does not allow download.

You don't need to start the app, it downloads automatically. This app is definitely worth the price of half a pint of beer!

I've had 1.6 for a few days now, and run it on WP8. It doesn't auto download subscribed podcasts - on charge on wifi or not. There's an option in settings, but they claim that it probably won't work in WP8, and ask you to let them know if it does. It doesn't for me.
There is loads of room for improvement with Podcast Lounge (no auto delete, no playlist manager, odd default display of 'Featured' pivot when opened), but it's nice to see that it is being maintained.
We do need a detailed podcasting comparison review. In my view, none of the leading solutions are good enough. They all have limitations, either reliability, problems with WP8 and what you can do with it, or missing features. There are much better standalone apps in Android for handling podcasts, and I don't understand why a WP developer doesn't just have a look at one and use it for inspiration.
When will podcasts return to the UK Store? I've spent far too much time trying to find good enough alternatives.

I can't comment on WP8 but downloads work fine on 7.8. If you have any issues or requests email the dev, he's very helpful. Projects like this need our support and he can only improve things if we tell him.

Agreed. I wrote to the dev recently with half a dozen suggestions for improvement. I believe that the auto downloads is not a problem on WP7. Podcast Lounge displays this message when you switch on auto downloads on a WP8 devlice:
"We've noticed you're sporting a new Windows Phone 8 device. Unfortunately, this feature has some incompatibilities and it's unlikely to work (if it does, let us know!). We're on the case with Microsoft and should have it fixed shortly. Sorry for the disappointment."

So can anyone tell me if videos are no longer stuttering?

Hi. I'm creating a smartphone news webpage and I was wondering where can I get license-free images for it. I'm from Argentina.

Any reason to choose this over podcatcher? I've been using that for a while, and it seems to work well. However, I am always open to something better if it is worth the switch.

Do any of these apps put the podcasts into the music hub podcasts view or do I have to use the app to listen to them?

None of them do. It's an API restriction.

Microsoft hates podcasts, always have. There can be no other reason.

Love it, really support these guys.

I like the app but as it doesn't seem to be able to save the podcasts to SD card it's not really usable for me as without an 'other' fix it takes up too much memory on the phone. The same thing is keeping me from subscribing to Nokia music, if I could save the mixes to the SD card I'd be all over it like a rash.

Hi - Unfortunately no third-party app has write access to the SD card right now. That may change in the future if enough pressure is put onto Microsoft. I see their reasons, but with people buying the HTC 8S, this issue is only going to get more acute.

Will try it, but I find nobody have managed to beat the app PODCAST! through the years. Its the old official Microsoft podcast section as I understand it.

Hands down the best I have tried on Windows Phone 8.
Thanks WPCentral for posting this. I used to use Instacast on my iPhone4 as no decent podcast app had the feature set that matched it on Windows Phone.
Very clean and fluid app.
I have removed all other podcast apps I had tried from my Lumia 920, save for Podcast Lounge!! :-)

I was testing podcast apps over the last few weeks and was left disappointed. Some don't work properly, others lack features. It's been a pain. Now, finally, I seem to have found the app that does what it promises. Auto download in background and auto delete would be nice but so far I'm really pleased with podcast lounge.

This is easily the best Podcast App out there. In the last three months we've had three excellent updatel. They are constantly improving the app and I expect the missing features some of you are talking about are in the works. They also provide EXCEPTIONAL customer support. £1.49 well spent.

+1 absolutely, I use it daily and its a great addition to the platform.

Holy smokes! I've been looking for a great podcast app because I have a hell of a commute every day and I live by my podcasts. I was getting ready to write my own because of the available ones not meeting my needs. I just downloaded Podcast Lounge and it is fantastic. So far, it meets and exceeds all my needs and is an amazing addition to my new Lumia.



Bought this program, it is rubbish. Podcast favorites don't even update to show which ones have new episodes. What a joke. How can anyone say this is better than podcaster!
Windows Central Newsletter
Thank you for signing up to Windows Central. You will receive a verification email shortly.
There was a problem. Please refresh the page and try again.