Popular word game Ruzzle now available for Windows Phone, free version coming later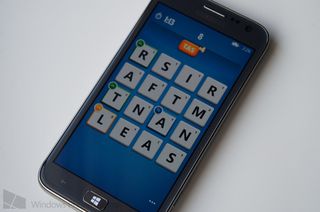 This week has been golden for Windows Phone, especially those of us who enjoy pouring some hours into available games on the platform. Microsoft teased a number of upcoming titles yesterday, one being Ruzzle. If you're not familiar with the name, it's a Boggle-style word game with online multiplayer capabilities. Think of it as a 1- or 2-player version of Wordament.
Ruzzle features Facebook integration, a single-player Practice Mode, and support for numerous languages, so it's set to do well with those who enjoy being socially connected. It's also coming to Windows 8, though it's yet to be seen whether or not both versions will sport integration for players to battle against one another. Do note that Ruzzle is an indie title.
So who can find the most words in two minutes? You can download Ruzzle for $2.99 from the Windows Phone Store (Windows Phone 7.x and 8 devices, 512MB RAM devices are OK). It's reported that a freemium version will arrive in the future as well as the paid option that's presently available. via: WindowsPhoneItaly
Rich Edmonds is a word conjurer at Windows Central, covering everything related to Windows, gaming, and hardware. He's been involved in technology for more than a decade and knows a thing or two about the magic inside a device chassis. You can follow him over on Twitter at @RichEdmonds.
What is the difference between the free and paid version?

The fact that there is no free version.

They do it to take advantage of pent up demand. I've noticed that lot of developers doing this with popular titles.

With paid you get to see more statics, start more games and they remove ads.

Also, the paid version adds the practice mode.

Great addition!!! I am a little shocked at the price but I may just have to fork out the money to get this for me and my wife.

its to bad for me that no one i know plays this anymore :(

Just installed but i can't login with Facebook, it gives me a HTTP 500 error when I try. Has anybody else experienced the same problem? I'm writing from italy

$2.99!? I wouldn't mind paying for it if it weren't free on other platforms already. I'll just wait for the free version...these app developers have taught me to have patience, if nothing else, and for that I now realize that I am thankful.

+1
I also give this site props for keeping me abreast

Its paid for the ad free version like on other platforms and a free version is on the way.

Just bought it, keep them coming

I saw this today and was going to give it a download until I saw the price. Glsd to see there is a free version coming.

Now we just need new hardware...and...and...Instagram!

Why do we need new hardware? Pretty sure Nokia is pushing out new phones bimonthly

I used to love Scramble With Friends (on my Android, pre-Lumia 710 and then 920) until I discovered that many of the people I habitually lost to were using powerups, like buying hints. That's cheating IMHO and against the spirit of the game and with every update the developer added new "powerup" options. It became pointless so I stopped using it. Does Ruzzle have powerups?

Yes, there are cheat apps available on iOS and Android that mark paths of high scoring words. I played one of my friends who uses one and never played her again. Those users are fairly easy to spot. The rest of my friends play straight up though.

Not that it makes that much of a difference, but I don't understand is why this version $1 more than the Android version? That seems to be a trend amongst devs to charge WP users more than iOS and Android users.

I'm not complaining. I'm happy it got released for 7.x and I bought it.

In my opinion it would be worth the $3 if I got notifications but it doesn't. So I'm kind of regretting my purchase. I at least hope they add notifications soon.

Great FREE game on a lessor OS (iOS) so why not for WP8? Why would we buy something other people get for free

Ill be waiting on free version

What's the difference between this and Wordament?

This is one on one wordament your going against the leader boards

I was wondering that myself. Looks awfully similar. Considering anyone I'd already want to play is either using iPhone or WP, I don't really see paying for this one. I really love the MMO style of Wordament, really feel like I play to my competition too.

Just get wordament. Same concept, you can still play against friends, just add them as frenemies. Theoretically, u can play against as many friends as you like. And even see how u stack up against other players around the globe. Just my 2 cents anyway.

The app doesn't work on my phone. Just hanging and nothing more...

Same here, I can log in, invite friends to play (already play the game on my Android Tablet) but when the game starts i get a ticking clock in the top left corner of a further fully blue screen....
Hope they will fix this soon!!!

After getting addicted to Wordament via Win8 I tried this game on my Android. No where near as good, Wordament is so much better.

What makes this better than Wordament ?? Plus a non Xbox live title

Just another paid app NOT available on my region (Maldives). Guess I'll just have to wait for the free version to get it from the UK or US market. Sucks that so many apps get released to a handful of markets, and the rest of us windows phone lovers get left out. . .

I know this comment was stated above but has anyone gotten around to signing in with FB? At first it took me to a mobile login screen but now it just restarts.

Has anyone been able to add their picture to the profile on this game? I see my friends and others with theirs, but it seems like I can only use the cartoon characters. Notice this with Words with Friends as well

If you login w/ FB u should have the option of using your profile pic instead of the given choices.
Windows Central Newsletter
Get the best of Windows Central in in your inbox, every day!
Thank you for signing up to Windows Central. You will receive a verification email shortly.
There was a problem. Please refresh the page and try again.