Pouch for Windows Phone 8 updated: Brings new UI, performance boosts, and more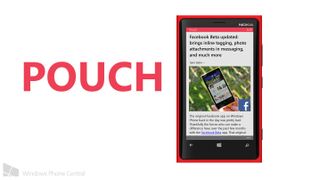 When there isn't an official app on Windows Phone you can count on developers to step in. Pouch for Windows Phone is one of the best apps for Pocket, the service that saves your articles around the web. It's been updated to version 2.0 and brings a slew of new features. Let's check it out.
Head to the Windows Phone Store and you'll see version 2.0 of Pouch. Pocket is an application/service that allows you to save articles or web pages to be read later. It's really handy when you're browsing something like Twitter and see a few stories you want to read, but don't have the time. Just save it to Pocket, or in this case Pouch, and you're good to go. Here's what's new in the latest version:
New UI
Support for adding tags
Chose theme color
More reliable offline mode
Added two live tile choices
New lock screen settings
Improved performance
Support for searching by tags
Now shows website when Pocket returns empty article
Fix for offline mode
Added links and formatting to article body
Secondary item theme
Font settings on reading page
Image viewer on reading page (Double-tap any image to open, or use the app bar)
Other bug fixes . . .
The latest update to Pouch brings a brand new look alongside performance increases. After logging in with your Pocket account you'll be looking at all the various articles you've linked up to read later. It's a beautiful interface that makes reading those articles pretty enjoyable. Curious what the app looked like before? Just check our review from late May when we looked at both the Windows Phone and Windows 8 version.
Know why else this app rocks? Saving to Pouch from within the WPCentral app. Find an article that looks really intersting but you want to read later? Just swipe to the right and click on save to Pouch. Boom. You've got the article in Pouch for later. The beautfy in Pouch is that you can access the articles you save from a variety of Pocket apps - like the browser, or other apps across a variety of devices.
If you have any feedback for the developer, Joshua Gryzbowski, be sure to reach him via the about page. He's super responsive and always open to ideas, suggestions, and quick to fix any bugs you find.
In the meantime, Pouch is available for Windows Phone 8 devices. There's a trial that allows you to use the app ten times before needing to purchase. If you decide this app is for you it costs $0.99, not a bad price for a solid app.
Grab it here in the Store, use the QR code below, or swipe to the right in our app.
Windows Central Newsletter
Get the best of Windows Central in in your inbox, every day!
I will read this article later with Pouch in order to know about Pouch

As pouchy as they come... Lol.

Exactly what I did
Edit: Ironically, the new version seems to have trouble with WPCentral articles.

ryraansh,
Actually, if you check getpocket.com you'll find that Pocket is the one that has a problem with WPCentral articles. I've contacted them about it and have done my best to work around any issues Pocket has with WPCentral articles.
If you have a specific issue you would like to report, you can email me at pouchapp@outlook.com. Thanks,
SonofNun (Pouch developer)

This wouldn't be the same type of Pouch that kangaroos have, would it? Or is this something totally different?

I'm reading these comments off Pouch.

Are you still modeling, Rodney?

That was so funny I almost NISTED on myself....

Using this app has made me such a pouch-potato

I see your pouch and raise you pouch.

So...why don't devs just make a new service? I mean this isn't community based, like instagram. This dev obviously has talent. Make other oses envious of our services and apps.

Presumably because the service in place is good and means that you can use other apps on other platforms. Also they have a good email service in place

Yeah, true. Though, I would be all over starting something fresh, but that's me, a designer, I'm not a programmer.

Given Windows 8.1, and presumably WP8.1, will have bookmarking/read built in, I can't imagine a Windows dev starting a new service from 0 unless it's truly better. I can't think of a similar service started since Apple built this in >1 year ago, and Instapaper has been sold off rather than compete.

Hoping to see a third-party Readmill client as well on Windows Phone.

Pouch really is a fantastic app. I have it on my WP and Surface RT and use it constantly. Love how other WP apps like WP Central and Mehdoh have save to pouch built in. The developer is awesome and constantly updates the app. He is also very responsive if you need to contact him. Highly recommend checking it out.

Yep, I agree. I recently discovered Pouch and it immediately replaced my previous Pocket client on my Surface. I don't really need it on my phone, but I'm gonna get it anyway!

Though I'm not a fan of the horrible salmon pink colour theme...

I'm looking forward to tag features on the tablet version.


I wasn't into pocket until you guys showed off pouch a while back. Instant buy for me save for later to read on my desktop is great.

Thank you all for your support! Thanks,
SonofNun (Pouch developer)

But the thing is that the developers make us pay which seems to be okay from their point of view as the worked hard for the app but if we will start to get official apps then it'll all be free.

That's very true. Like you said, developers, like me, work very long and hard on apps like these. The only way for us to get paid for our work is to either sell our apps or throw a ton of ads in our apps (which I hate).
Companies who develop official apps make their money elsewhere, so they can afford to give their apps away for free.
Thanks, SonofNun (Pouch Developer)

The majority of apps are 99c or a couple of dollars at most. Even if you used the app for 1 week and an official version came out could you seriously claim to be out of pocket? We're talking the cost of a packet of potato chips...pocket change you'd happily give to a friend (or even a stranger) with no expectation of getting it returned...

...but for an app that someone has spent huge amount of time on so many people feel that $1 is just too much. i don't understand that attitude. It ultimately results in fewer developers able to keep pumping out apps.

Can somebody explain how this is useful on Windows Phone, except to read articles on the go that you saved from somewhere else? I never tried it, but I don't think WP IE has the ability for this app to integrate itself in the context menu or the ... menu, so you can save links to this app. So how do you save a website that you see while browsing or using an app on your phone to this app?

You can use the share option in IE on your phone and mail it to add@pocket.com, and it'll be added to your "pouch".

You can also add the bookmarklet in IE

What bookmarklet? On mobile IE?

How would that work? I mean how would that email adress know to add it to my account and not to some other account? I really don't understand how this is supposed to work on WP without the possibility to have a "Add to Pouch/Pocket" option directly in the browser...???

Is such a bother. While Android and iOS can easily share to the official Pocket app, we Windows Phone users have to do all these work around to get things done. When will we have all the official apps just like on other platforms... I'm really sick of alternatives apps and all the waiting games.

When I compared Pocket apps some time ago the winner for WP8 for me came out Owl Reader. I suggest you give it a try. I use Pouch on Surface though.
Windows Central Newsletter
Thank you for signing up to Windows Central. You will receive a verification email shortly.
There was a problem. Please refresh the page and try again.