Pouch for Windows Phone 8 updated: Brings new UI, performance boosts, and more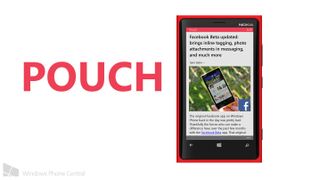 When there isn't an official app on Windows Phone you can count on developers to step in. Pouch for Windows Phone is one of the best apps for Pocket, the service that saves your articles around the web. It's been updated to version 2.0 and brings a slew of new features. Let's check it out.
Head to the Windows Phone Store and you'll see version 2.0 of Pouch. Pocket is an application/service that allows you to save articles or web pages to be read later. It's really handy when you're browsing something like Twitter and see a few stories you want to read, but don't have the time. Just save it to Pocket, or in this case Pouch, and you're good to go. Here's what's new in the latest version:
New UI
Support for adding tags
Chose theme color
More reliable offline mode
Added two live tile choices
New lock screen settings
Improved performance
Support for searching by tags
Now shows website when Pocket returns empty article
Fix for offline mode
Added links and formatting to article body
Secondary item theme
Font settings on reading page
Image viewer on reading page (Double-tap any image to open, or use the app bar)
Other bug fixes . . .
The latest update to Pouch brings a brand new look alongside performance increases. After logging in with your Pocket account you'll be looking at all the various articles you've linked up to read later. It's a beautiful interface that makes reading those articles pretty enjoyable. Curious what the app looked like before? Just check our review from late May when we looked at both the Windows Phone and Windows 8 version.
Know why else this app rocks? Saving to Pouch from within the WPCentral app. Find an article that looks really intersting but you want to read later? Just swipe to the right and click on save to Pouch. Boom. You've got the article in Pouch for later. The beautfy in Pouch is that you can access the articles you save from a variety of Pocket apps - like the browser, or other apps across a variety of devices.
If you have any feedback for the developer, Joshua Gryzbowski, be sure to reach him via the about page. He's super responsive and always open to ideas, suggestions, and quick to fix any bugs you find.
In the meantime, Pouch is available for Windows Phone 8 devices. There's a trial that allows you to use the app ten times before needing to purchase. If you decide this app is for you it costs $0.99, not a bad price for a solid app.
Grab it here in the Store, use the QR code below, or swipe to the right in our app.
Get the Windows Central Newsletter
All the latest news, reviews, and guides for Windows and Xbox diehards.