The Predator is coming to hunt for sport in Mortal Kombat X on July 7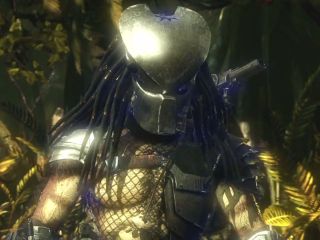 Fans of Mortal Kombat X will soon be able to play another movie-based character. A few weeks after Jason Voorhees, the slasher character from the Friday The 13th films, was added, the Predator will be included in the game's fighter lineup starting on Tuesday, July 7 for people who have paid for the Kombat Pack.
Yes, that means you will be able to control the mandible-based alien who loves to kill for sport, with a variety of gadgets perfect for cutting open bodies or perhaps ripping out their spinal columns. In addition to the character itself, three new character skins will be released: Commando Johnny, Infrared Scorpion and Jax made up to look like Carl Weathers's Dillon character from the first Predator film.
If you have not purchased the Kombat Pack, the Predator character will go on sale on its own for $4.99 on July 11, with the three character skins sold for $3.99, or you can get both Predator and character skins for $7.99. Mortal Kombat X is currently on sale for $44.99 on the Xbox One for people who have paid Xbox Live Gold subscriptions.
Source: Mortal Kombat (YouTube)
The x-ray is brutal. I love some Predator in MKX he's so badass, fatality is cool as well.

Yes my Cyrax/Sektor Hybrid. Miss my characters... I still wont purchase Goro though.

Gonna be awesome. I would love it if the next character is the new terminator!

The next character is a new character named tremor

Aww ... I almost thought a new AvP game ... :(

Awesome. I got the Jason pack, and I'll get this one too :)

Wow Jax looks like Sargent Johnson

Hopefully he comes to the mobile games as well with an update.

It would be awesome if they add all the characters like jarek, reiko bo rai cho, onaga in one pack instead of some other off story characters...
Windows Central Newsletter
Thank you for signing up to Windows Central. You will receive a verification email shortly.
There was a problem. Please refresh the page and try again.