ReCore Definitive Edition now available for preorder on Xbox One, ahead of official unveiling
ReCore Definitive Edition for Xbox One is now available for preorder from the Microsoft Store... even though it's yet to be announced.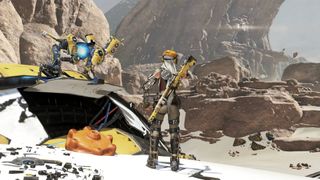 An upgraded re-release of ReCore has been one of Microsoft's worst kept secrets of this year, following numerous leaks, including official assets accidentally surfacing on Xbox Live. A listing for "ReCore Definitive Edition (opens in new tab)" has now appeared on the Microsoft Store, providing firm details on what to expect, including an imminent release on Xbox One.
Despite not officially being announced, ReCore Definitive Edition can now be preordered ahead of release, for $19.99. This is half of the original game's price of $39.99 – an already low price point questioned by many last September. The store page confirms the expected release of August 29, 2017, which has appeared in leaks prior to today.
The listing also points towards two new pieces of content being the focus of this revision, including the long-awaited "T8-NK" bot and "Eye of Obsidian" missions.
Going by the associated box art, ReCore Definitive Edition will support High Dynamic Range (HDR) and will offer specific enhancements to take advantage of the Xbox One X. However, it should be noted that box art doesn't currently sport the "4K" tag seen on many other titles, which indicates the re-release may not hit any form of 4K resolution.
With a release set for later this month, it can only be assumed that ReCore Definitive Edition will be announced as a part of Microsoft's Gamescom live showcase on August 20. Many expect this will be a free upgrade for existing owners, although details surrounding the update are yet to be confirmed. Are you looking forward to a new version of ReCore? Let us know your thoughts in the comments.
See at Microsoft Store (opens in new tab)
Windows Central Newsletter
Get the best of Windows Central in in your inbox, every day!
Matt Brown was formerly a Windows Central's Senior Editor, Xbox & PC, at Future. Following over seven years of professional consumer technology and gaming coverage, he's focused on the world of Microsoft's gaming efforts. You can follow him on Twitter @mattjbrown.
This should damn well be a free upgrade for all of us who bought the game already!!!!

Considering, this is likely the game and DLC. Why should you get something for free that everyone else has to pay for?

because it was clearly cut from the original content

That's a different argument all together. It was still released as DLC and is still available as such. I personally don't see that as an issue unless it was specifically promised as part of the base game.

Don't you think we paid for the game twice the same price becuase we trusted the developer? I've preordered the game last year and recieved an unfinished alpha quality level game (many of the issues like massive frame drop on xbox during brood hive dungeon are still present in game) if that's not going to be a free upgrade I would never pay 20$ more for a fixed version of the game which I've already purchased + a DLC.

I hope you learned your lesson about pre-ordering games. I avoid pre-orders like the plague. I don't buy a game until video reviews are out (which are 9 times out of 10, the same day). To top it all off, who said you won't get bug fixes for what you paid for? Definitive editions are typically the game plus DLC. If you bought the game but not the DLC, why should you get the DLC for free?

because the original was sold incomplete and those who bought it were promised it would be fixed and completed with an update NOT with having to buy a "new" game

Ok but where does it say this edition will fix your issues but those same bug fixes won't be delivered to everyone else?

forget about the issues it simply did not have all the characters like it was advertised. thats like buying a car being told it has all these options only to find out half the options cannot be used until a later date. then you find out your neighbor purchases that same brand new car with the same options available AND useable $10k less then what you paid and you STILL cant use your options......would you not be upset to sir?

I assume you mean T8-NK, and I haven't found any definitive advertisement that said that character would exist in the base game (box art doesn't really count considering box aren't hasn't been a true representation of the game since ever.) And if my neighbor bought the same model year car a year after me, it should be cheaper. Recore is a year old next month, complaining about the price is completely moot. That's what you get when you don't buy the game right away, you get it cheaper (usually with all the content) How long have you been a gamer? GOTY and difinitive editions have been a thing for a while now.

especially as the definitive edition is cheaper version of a relativity new game, from a good will perspective upgrading would be a good idea.

It's a year old next month that was poorly reviewed. Of course it's going to be cheaper.

Totally agree. This should be free at least for those who bought the game last year.
I think that's what they'll do. This is just like Hello games not charging for all those updates they made for NMS. P.S.: And just as expected someone here will damage control for a company.
Early buyers getting it free is great for gamers. Giving it away to early supporters will give a positive image to the company. This is good for gaming, but we still see someone against this and damage controlling. I just will never understand fans of a company/brand!!!
Windows Central Newsletter
Thank you for signing up to Windows Central. You will receive a verification email shortly.
There was a problem. Please refresh the page and try again.