Prune, a beautifully designed game for Windows Phone and Windows 10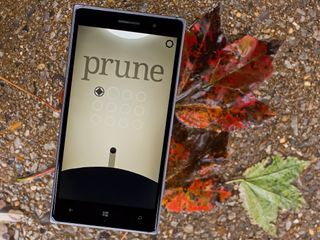 Prune is a beautiful game that has you growing and cultivating a tree. Available from both the Windows Phone and Windows 10 Stores, the goal is to prune your tree to promote growth. Growth that needs to avoid a few dangers and eventually reach the sunlight.
While the game does have a slight puzzle solving feel, there's more than one way to find success with Prune. Graphics are minimal, but sharp looking and the pace of the game is somewhat casual. In playing the Windows Phone version of Prune over the past few days, it comes across as a fun, relaxing game to pass the time with. The game is available for low-memory Windows Phones and the only issue that may turn some away is the lack of a trial version.
When you first launch Prune, the game will walk you through a brief tutorial that shows you how to start your tree's growth and how to prune the branches. You have a patch of fertile soil that you swipe up on to start the growth. Your initial growth will follow the direction of your swipe. For example, swiping at a slight curve to the right will cause your tree's growth to head in that direction.
Swiping at a branch will trim it and allow the tree to grow a little quicker. You can manipulate the direction of growth by swiping branches to the right or left to have the tree's growth head in that direction.
Along with obstacles that range from hovering spheres to cliffs, you will also have the elements to contend with such as a stiff breeze that can send your tree into the side of a cliff. When your tree does make contact with these obstacles, branches can break that inhibit your tree's growth or even poison the tree, killing it. You also have some obstacles (blue orbs) that will add colored blooms to your tree and give it a burst in growth.
Prune is a level based game and to successfully advance through the levels, your tree will need to reach the sunlight and bloom. When your tree has enough blooms, a level advance option will appear along with a camera button. As you might guess, the advance option sends you to the next level of play and the camera button will let you share a screenshot of your fully bloomed tree.
You do have a settings gear on the game screen that will allow you to mute the sound and music. You can also sign into the game with your Windows Live ID. You lack the ability to transfer gaming progress between devices, so I'm unsure what benefits signing into the game has.
Overall Impression
Prune isn't going to be a game that will appeal to everyone but if you are in the market for something different, I found it to be a fun and relaxing way to pass the time. The graphics are fantastic and game play is challenging. With no single solution to Prune's puzzles, the game invites experimentation with a slight relaxing, dare I say Zen, overall feel from the game.
The biggest downside to Prune is the lack of a trial version. The game is running $3.99, and while it is a universal game, a trial version giving you access to the first few levels of play would be enough to sell you on the game.
Prune is rather low-keyed and if you are looking for fast-paced action, this gaming title may not be for you. It does pull down a 5 Star rating in the Stores, which is about right for Prune. If you've given Prune a try, let us know what you think of things in the comments below.
Get the Windows Central Newsletter
All the latest news, reviews, and guides for Windows and Xbox diehards.
George is the Reviews Editor at Windows Central, concentrating on Windows 10 PC and Mobile apps. He's been a supporter of the platform since the days of Windows CE and uses his current Windows 10 Mobile phone daily to keep up with life and enjoy a game during down time.
Thanks as always for a great review George! I think I may get this for a plane ride I'm taking this weekend.

I wish my 830 looked as well kept as the one in the picture. I dropped mine on the concrete yesterday and my screen cracked, and my screen is detaching from the actual phone. sigh*......ok I'm done. :|

That sucks. I dropped mine on concrete and when I picked it up it had all these tiny rocks stuck to the screen. I brushed them off and they came off and all was perfect! hehe

dude, if you know you're slippy, you should take better precautions...like my brother got the 1020 and KEEPS dropping it, I'm like "you got the dropsies, get help" =s

When I got m my 830 back when it was released. I didn't get a case... How I regret that. The phone dropped like 3 times. Nothing too major. Just some small little scratches and dents on the corner. But, if it was in good condition I could of sold it for a great price. Of course I got a case for I after those drops. Is just the phone is so beautiful without it... but also slippery AF without. I've learned lesson for sure.

I can do that in my garden

It's very expensive. Place the game on myAppFree or in Red Stripe with 50% discount!

Or...support the developer so they continue to develop for Windows? Just a thought.

I'm all for that but a trial is still a must. They may well be supporting the platform but if what they produce is rubbish or not your cup of tea, you've lost out. By your logic, I could produce the crappest game out there and could sit back and watch the cash pile up.

A trial isn't a must. Watch videos on YouTube and read the reviews. I bought the game on Android and its well done. The developers deserve our support. Posted via the WC App for Galaxy S6

I started playing on the surface and then moved to the phone and my progress transferred over with no issues. Maybe there is a bug where going from phone to desktop doesn't work. ​

I bought the game. Performs a bit slow on my Lumia 830 and I don't even see good framerates on my Surface 3 Pro (with an I7, which is pretty sad)

Similar situation on the PC. Looks to work better in full screen mode (which oddly I can't go back to once i resize)

I pay for apps/games, (WP, iOS and Android) but a trial makes decision easy. Something MSFT doesn't have, is the ability to refund. Couple weeks ago I pay for an Android game for my kid, but it ended in another stuff so I ask for a refund. Google uses 2 hours, sounds fine to me.

Looks like art style of Silveryn that everyone copied years back.