PSA: Don't download the latest Hulu update for Windows 10 PC and Mobile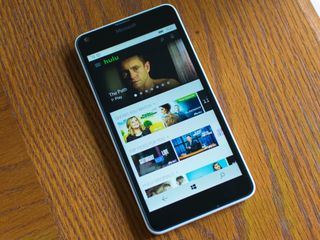 Hulu has released a new version of its TV and movie streaming video app for Windows 10 on PC and Mobile, but you should not download it. There are a number of reports that the new version won't load at all.
We have downloaded the Hulu app ourselves and we can indeed confirm that after installing the version 2.3.16 update, it will not load. This issue is affecting regular Windows 10 users along with people who are testing preview builds on the Windows Insider program. We will post an update when Hulu releases a new version that is not broken on Windows 10.
A little late for me. Hope others catch it in time.

Netflix is the same for me will not get past splash screen on my 950

Are you on an Insider build?

Not on any insider rings. ATT all updates available installed.

Weird. Netflix works fine for me but didn't when I was on an Insider build.

Uninstalled right now as it annoys me

I have the same problem also. Also not on insider build, and all available updates installed. Posted from Windows Central for Windows 10

Have you uninstalled and reinstalled Netflix?

Uninstal. Reboot. Reinstall. Should fix Netflix.

Tried several times no dice.

Make sure Netflix is installed on your boot drive or it will not work. Go to "Apps and Features" and move it to your C: drive.

I'm experiencing the same thing with FoxSports Go. Update wouldn't load, errores out. Uninstalled and tried to reinstall same thing. Anyone else experiencing this?

@missonsparta It's working for me on PC but on RS1 for Mobile I get the error on update issue too. Weird stuff going on with the Store. I assume related to backend changes for Anniversary update.

Experiencing the same problem with sportskeeda....it jus wont open with the network problem message...they had jus updated the app...8.1 app worked..

I get excited every time I hear anniversary update

I do too, until I realize it has nothing to do with getting a new wife. GWAR! GWAR!
BLOOD FOR THANKSGIVING!!!

Thanks for the reaching out. There is a new update of Hulu yesterday, that should fix the crashing issue. The new version number is 2.3.17.0, pls downlad the latest update and try again. thanks.

Same here. I uninstalled and tried reinstall but it still doesn't work on Mobile 14322. I was just about to reset my phone, but since others have the same issue, guess I'll wait until the latest insider build comes out this week.

too late for me with auto update Posted from Windows Central for Windows 10

It's one of the reasons why I turn off auto update on my phone.

It's also a reason why "stores" are bad idea, in general, and will never take of on PCs.

That doesn't make sense...why should a bad update make the store a bad idea?

Because end users have no verison control. If a developer removes a key feature, or just delists an application, there is no way to get it back. You can quite easily find yourself with a broken program and no recourse. If it is a traditional application, you can always go back to your original version.

Yay not just my Neflix app anymore!! Lumia 950 insider. Tried uninstalling and soft resting still just get the splash page. I even tried to force a log out on all my devices for netflix and still didn't fix. Welcome to the club Hulu! And yes i did report the problem to netflix with no response.

This is a problem with the Insider build. Netflix works fine on non-Insider phones.

Several have reported otherwise

I have no problem with Netflix on my 950XL on build 14332

OT: In a Hulu original series, The Mindy Project these guys use a lot of Microsoft products: Lumias, Surface, laptops with Windows, big screens. Once, a character said that he worked from Microsoft to pay his tuition for university.

I noticed that, as well. Love it!

Too late, I uninstalled it.

Apple and Google told Hulu to cripple the app on Windows. s/ Just kidding. More likely a store problem.

Build .318 broke several apps on my phone and PC. Not sure if this has something to do with the Hulu app. Posted from Windows Central App for Windows 10 on Lumia 950

Uninstall Hulu and or Netflix. Delete your phone backups from your onedrive. Wait 30 min. Reinstall Hulu and or Netflix. Once working, make a new backup.

On my 950xl Netflix is also crashing - even before login...

Can anyone help me with this?
What does "PSA" means? Sent by Lumia 532 W10M

Poontang's
Succulent
Aroma
--------- GWAR! GWAR!
BLOOD FOR THANKSGIVING!!!

Prostate Specific Antigen Posted from my Lumia 950XL

Public
Service
Announcement

Thanks Sent by Lumia 532 W10M

You're almost welcome! GWAR! GWAR!
BLOOD FOR THANKSGIVING!!!

Never worked for me in the 1st place on mw10

Just updated to a working version 2.3.17.0! Posted by Russ using Windows Central for Windows 10! ☕

Hi John, I am from Hulu's tech team. Very sorry to hear the latest win10 app crashes on your devices. We are working quickly to fix this issue. In the mean time, can you provide us more information to help locate the root cause? Like what device are you using? What is the system version on your device? Does the app crash in the past or it start to get crashing only on this new app version? Have you updated your OS version recently? What is the user account you are using at Hulu? If that's not convenient for you to share all these information publicly, pls feel free to email me the information you would like to share to xiaoyan.dang@hulu.com. We will provide a fix as quickly as we could. thanks -xy

Any update on this update?
Windows Central Newsletter
Get the best of Windows Central in in your inbox, every day!
Thank you for signing up to Windows Central. You will receive a verification email shortly.
There was a problem. Please refresh the page and try again.