PSA: Microsoft's free 15 GB OneDrive Camera Roll promo likely ends October 31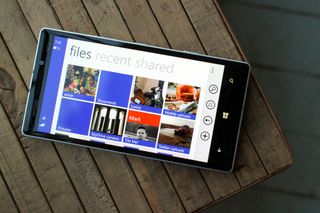 Microsoft's free 15 GB offer of additional storage space on OneDrive is likely coming to an end this week. The company told us via a Twitter message that it believes that the 15 GB freebie will stop on Friday, October 31.
Microsoft offered the 15 GB of extra space back in September for OneDrive iOS, Android and Windows Phone app owners who activated their Camera Roll feature to store their smartphone images automatically. While those folks already enrolled won't lose that additional storage past Friday, anyone else who signs up for the Camera Roll feature after October 31 won't be able to get that extra amount of space.
As a result, instead of the combined 30 GB of free storage, new users will have to settle for 15 GB, unless Microsoft extends the offer. So far, Microsoft is mum on whether or not they will continue the promotion past Friday.
Of course, Microsoft has also announced this week their plan to provide an unlimited amount of OneDrive cloud storage if you get a paid Office 365 subscription. That offer is certainly harder to resist.
Do you back up your photos with OneDrive? If not, what do you use instead?
Source: OneDrive on Twitter
Windows Central Newsletter
Get the best of Windows Central in your inbox, every day!
I'm fine with my 365 subscription ;)

I am too, but I enjoy both. I have 30GB on one, 1TB on another which is moving to Unlimited.I like my pics storing on OneDrive.

OneDrive is perfect for storing my photos and videos. I use Wi-Fi uploading only to get the best quality. And unlimited storage is wow!

I got referral bonuses, camera roll and enthusiasm bonus. It's total 50gb and never took even 1 GB from it

I use it to backup everything. All document, music, movies they are all in one drive so i can share between my surface, laptop, WP and xboxes without worrying about files missing. I only have 150 gb though. Need more

Ditto!!! However, 120 GB is plenty for me :)

I'm happy with my 130, but I'll probably use very little of it. Hopefully they'll add music as an option to OneDrive.

In my OneDrive it shows 30 GB available storage... Will it be reduced to 15 GB??? I don't have auto backup of photos set at on.

The article says that is not likely tho no confirmation.

No, that's permanent. The article states that new owners won't get 15gb extra, only the original 3gb's.

If you have the folder Camera Roll in OneDrive, than you are good. The thing is, you won't lose anything, what you got now, you will continue to have it after October 31st. Only users who will sign for that after October 31st, will get only 3GB bonus instead of 15GB. Is it clear now? :)

PSAs should have facts. How does ms not even know. Lol.

Sounds like they are considering to extend the offer, but a final decision has yet to be made on the matter.

The Camera Roll backup normally adds 3GB, so anyone enrolling after Oct 31st should get 18GB total space for free.

Well, the picture of the article requires to be replaced now ;)

How can I turn off this feature? I delete the camera roll folder in my Onedrive but it keeps creating another one.

From camera settings on WP. Settings -> apps -> Photos & Camera -> scroll down -> scroll down more -> auto backup -> turn OneDrive off

I've already done that and now I think the causer is the iPad app. Since the last updates it's been slow, doesn't update the files and create folders by its own. Disappointing.

Automatically backing up to OneDrive is great. I take photos on a day out, come home and switch on my Xbox and we can look at the photos on the television together.

Yeah. My brother with an iPhone needs photos with coordinates of places he visits for work. I saw him going through an almost painful process for getting the job done with different apps. I just installed OneDrive.

Its awesome, but bear in mind that this could easily become a TIFU.

Is there a problem with the OneDrive app on Developer Preview? My app won't work. It won't show any of my files. Says I need to connect to the internet. If I go to OneDrive with my phone browser, all files show up fine. Doesn't make any sense.

Any news about the 100gb promo will end??

My ends on 2/28/15. Go to settings->Options->Storage

I back up on OneDrive and have the 1tb storage from Office 365. So despite having photos, videos and tons of files, with my original it still shows I have more than at terabyte of storage left. And now it will be unlimited. Sweet.

I back up recent photos to Onedrive however I'm in the process of backing up all my photos to Flickr (1 Terabyte of free storage).

Am I the only person having problems with this app? It won't show any of my files.

I worry how companies are ever going to make money off cloud storage? My girlfriends Free 2 year dropbox Samsung deal ended this month yet they also increased hers. It seems like nobody can win although Microsoft seem the most aggressive with their Office deal so they must have a solid 10 year plan. It's great news for us consumers, less so for Apple who like to upsell their hardware storage space to silly prices.

In fine with unlimited storage with 365!

Working on a terminal health condition and no assist or med avail in Hospital.

Hoping to find a Doctor with interest in terminal blood desease and viral remedy with methal and cannabis therepy.

When will music locker be available?

I use OneDrive mostly for videos and other documents etc. Flickr central (Flickr) for my photos.

Well, that sucks. What's the point of offering it for a few months, only to take it away? Boo! -_-

they aren't taking it away from you. but for new members, it will be back to what it was.

I don't really store a lot of things in OneDrive, as I don't really trust in the cloud, however I use it to show others how easy WP is when it comes to sharing content

I hope they'll just keep this 15GB storage for future OneDrive users. Let everybody enjoy it even late, not everybody knows OneDrive but probably soon. Let OneDrive surpass the competition.

finally signed up, dont really use photos, but nice to have the extra space.

Nice.. I've got 40 GB free storage... (an extra 10 Loyalty Bonus from being a member so long ago) I don't use Office at home much so not needing 365 yet

I wondered how I suddenly got another 15GB. I'm good for years, now.

Thanks for the reminder. I've just enabled autoupload of photos and videos. Now I have 40GB of free OneDrive. Office 365 unlimited storage is unbeatable but the extra 15GB for non Office 365 subscribers is super awesome.

I remember that day when I opened the OneDrive app on my new NL925
I liked it a lot so I started to use it more and more then regularly :-D I've purchased Office 365 and after few months I bought NL1020 too. I use OneDrive almost for everything- pictures,videos,documents. I've been using Dropbox, Google Drive and few others before but know OneDrive is the only one I ever need.

I forgot to mention that it's great to have unlimited storage :-)

I store everything on one drive. I have 1.3 TB now with Office365.

I have 3 windows phones under one account..only have 30GB..

I upload all my photos to OneDrive but my video files refuse to upload from my Lumia handset, even over Wi-Fi.. Pain!

15 GB doesn't seem alot to me but photographers and business ppl eventually end up needing more space than the regular Microsoft has to offer.

A very important question for me is this; is this feature of automatically saving one's photos into OneDrive only available to people with Windows Phone 8.1 (Cyan)?

Darn I'll have to resort to my unlimited Office 365 Onedrive storage now. lol

This looks like a great offer and I'm seriously considering it. The reason why I've never used automatic upload to OneDrive (SkyDrive before it) is because I didn't want to use a lot of my data plan's monthly allotment. So when this says "automatic upload", it really means that, correct? I can't delay that if I'm not within a Wi-Fi connection?

I can confirm that this promotion is still going after the new year! Happy 2015!