Puzzle Quest 2 headlines this week's Windows Phone Red Stripe Deals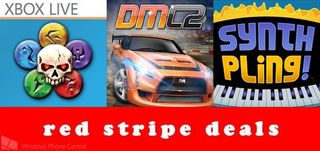 For Xbox fans, the best part of the weekly Red Stripe Deals promotion is undoubtedly the Xbox Red Stripe Deal. Each week, one game with juicy Achievements drops its price - often as low as 99 cents. The sale price depends on the starting price though.
Case in point: Puzzle Quest 2 from Namco Bandai usually sells for a crazy $6.99, but this week it costs only $2.99. The puzzle RPG previously went on sale for five bucks way back in March 2012. Three dollars might not be as sweet as 99 cents, but it's certainly an improvement.
Also on sale this week are Drift Mania Championship 2 (only for Windows Phone 8), the indie racing game and a musical app called Synthpling. We've got descriptions, screenshots and Store links after the break.
Puzzle Quest 2 (Windows Phone 7 or 8)
Regular price: $6.99 Sale price: $2.99 Download size: 218 MB Store Link
Puzzle Quest 2 is a puzzle role-playing game. Players explore large dungeons, take on quests, and collect plenty of loot. Whenever a battle occurs, the fighting is done via Bejeweled-like match-3 gameplay. It's an extremely long game with decent-good art, multiple playable characters, and several clever minigames.
A few problems like poorly-thought out Achievements, lengthy loading times, and annoying lack of Fast App Switching keep Puzzle Quest 2 from greatness. Still, the gameplay is just super addicting. If you like Bejeweled and RPGs, you really can't do any better. Check out our exhaustively-researched (seriously!) review for more details.
If you'd rather play Puzzle Quest 2 on your big screen, the XBLA version (opens in new tab) is on sale to Xbox Live Gold members for 600 MS Points ($7.50) through May 27th.
Drift Mania Championship 2 (Windows Phone 8)
Regular price: $1.99 Sale price: 99 cents Download size: 216 MB Store Link
You'll recognize this title as the first Windows Phone game made with the Unity engine, as well as the first game to support the MOGA controller. The only problem with that controller support: the game hasn't been patched to work with it yet! Yeah, the version we played at GDC supported it, but the public version seems to be one update behind.
Hopefully Ratrod Studio and MOGA get that sorted out quickly. Ratrod should add some line breaks to the game's store description while they're at it.
Anyway, Drift Mania 2 is an arcade-style racing game with fairly good 3D graphics (not as pretty as Asphalt 7 though). Career mode spans 13 circuits and allows players to purchase licensed upgrades and other customizations for their cars. You can engage in multiplayer drift battles both online and with local Wi-Fi too.
Synthpling (Windows Phone 7 or 8)
Regular price: $2.99 Sale price: $1.49 Download size: 23 MB Store Link
Want to make music on your phone for some reason? Synthpling lets you do just that. It comes from Phonolab, the developer of audio recording and editing app Ringcorder.
Synthpling's synthesizer offers a keyboard in multiple layouts and ranges. The sampler feature allows users to record voice samples, modify them, and map them to the piano keys. If I was musically inclined, I'd totally give this one a swing.
Have any of you guys created your own tunes with Synthpling? If so, share a video with us!
Paul Acevedo is the Games Editor at Windows Central. A lifelong gamer, he has written about videogames for over 15 years and reviewed over 350 games for our site. Follow him on Twitter @PaulRAcevedo. Don't hate. Appreciate!
Was considering Puzzle Quest 2 but can someone tell if it's a good casual game to delve into, or are we better off skipping it?

Interesting that this came discounted same time when Bejeweled review mentioned this and caught my interest. Downloading as we speak.

I played Puzzle Quest 2 on my Nintendo DS. It's a match three or more gem puzzle game on the surface, but it also has elements of a strategy role-playing game. You choose a character class, equip weapons and armor, complete quests to gain experience. The combination of the game play makes Puzzle Quest 2 very entertaining and challenging. I definitely recommend it, especially at this price cut.

I hope you all remember to check out my review, too. It's got some cool info on why PQ2 is so different from PQ1. Research!

Hi Paul. Thanks for letting us know about these great deals. I look forward to your articles and reviews! I do hope since your review of Puzzle Quest 2, that the fast app switching and resume was fixed by Namco Bandai. This game's battles are quite lengthy and it would be a shame if I would have to restart because I got a phone call.

Glad you enjoy them, Angelsimaren. Sadly, the game was never updated to support FAS, so the complaint stands. You can resume from the last time you saved, but it doesn't save battle progress and there's some loading time, so it's definitely a hassle.

Is it cross platform ?
I can see that I can get it for my IPad too but can I continue a game on the phone that I started on my WP?

That would be rad, but very few Xbox WP games support cloud saving, and Puzzle Quest 2 isn't one of them. Nor do I know of any Xbox titles that allow progress to transfer between non-MS platforms.

Great game man, especially if you love RPG'S

DM2 is surprisingly fun. I still play it today.

I think i'll buy Drift Mania Championship 2, as it looks so cool game, and if i'll ever buy a MOGA, would love to play something with it :D

Would love to see a MOGA Pro controller review! But I guess there has to be some supported stuff before that though...

That is exactly the problem. And we hear tell that MOGA hasn't been too great about sharing the WP SDK with developers, either. :-\

Then what the hell is the point of making the controller WP comparable if your going to stonewall the developers???? This is some of the stupidest sh*t I have ever heard.

This goes in the books right next to EA and their greed

While it's dumb, it's definitely not on the level of EA.

Is drift mania an Xbox live game?

No, hence there is no Xbox logo on its Live tile at the top of the article. Out of the 3 weekly Red Stripe Deals, only one is ever Xbox-enabled.

Synthpling is great, I've had that app for awhile since the day it came out.

Cool! Don't hold out on us, man - share one of your creations. :-)

Planning on it. Have a work in progress. I'll share it when its done. Busy schedule no time for play.

Sick - Puzzle Quest bought - been waiting for this for ages...

Why do all those good games costs money?? We want good free aps/games.

They cost money because developers have rent to pay and families to feed.

Paul,just a heads up,everytime you do a price on a game I never know how much it is as I live in the uk and we use pounds over here. :)

It must be very difficult to use a currency converter.

I feel you, but... Think of all the currencies there are out there - we can't list 'em all.

I understand, I did think the pound was the most used and understood currencie in the world.im just a lazy ass in checking things out. Lol

Hey FastTrack, I am in the uk too and what i notice is that apps that are 99c are usually 79p and those that are $2.99 are usually £2.29. Also, does anyone recommend Drift Mania? It seems a steal at this price but the control shown in the demos put me off.

puzzle quest 2 is hot garbage, the first one was awesome. what a letdown PQ2 is..

And only one reviewer dared to find out why the difference. :-)

How come I cant get musical.ly on my Microsoft
Windows Central Newsletter
Get the best of Windows Central in in your inbox, every day!
Thank you for signing up to Windows Central. You will receive a verification email shortly.
There was a problem. Please refresh the page and try again.