Qualcomm's bigger SC8280 may be a Windows on ARM successor to the 8cx
Could Qualcomm finally be readying its most powerful Windows on ARM processor yet?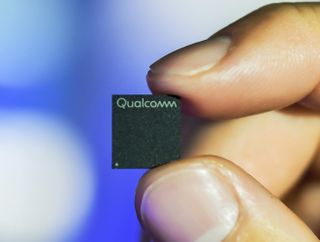 (Image credit: Qualcomm)
What you need to know
The Qualcomm SC8280 may be a new, more powerful ARM processor for PC.
The chip reportedly supports up to 32GB of RAM and even LPDDR5.
It has a slightly larger size than current Snapdragon chips.
No details on power, performance, or even architecture are known.
ARM processing for mobile computing got a big push in the last few months with Apple jumping on board and quickly taking the lead in performance. During this time, Qualcomm has mostly been quiet save for a very mild refresh to the current Snapdragon 8cx with a "Gen 2" bringing 5G and slightly faster clock speeds.
According to the site WinFuture.de, Qualcomm does have another chip on the way currently known as "SC8280," although a final marketing name is likely to be different. The info comes via "import-export databases" while its current stage of development is undetermined.
Not too much is known about SC8280. It is reportedly listed as supporting the new (and much faster) LPDDR5 RAM or up to 32GB of LPDDR4X. The current Snapdragon 8cx, found in Surface Pro X, Lenovo Flex 5G, and Samsung Galaxy Book S can only handle up to 16GB.
Test systems with SC8280 included devices with 14-inch displays.
The SC8280 is also a larger chip at 20 x 17 millimeters versus the current 20 x 15 millimeters suggesting a new design and possibly even more cores.
Support for the Snapdragon X55 5G is also there, though that is of little surprise as we are now into global 5G rollout.
It seems doubtful that Qualcomm can surpass Apple's new M1 chip, but there are also many unknowns here. Qualcomm and Microsoft began working on Windows on ARM designs back in 2016 when it was first announced. The roadmap since then has been clear as it has progressed through stages:
Up until now, Qualcomm has been scaffolding off existing silicon from smartphone chips as the move lets them ship faster to market. The "fifth stage" (2021) could very well be the one where Qualcomm finally branches into the upper tier of computer processing, where ultra-light and thin laptops blur into workstations and even desktops.
These new processors may break even further away from Qualcomm's mobile phone chips with their own unique architecture, design, and different power requirements. Supporting tech like LPDDR5, Thunderbolt 4, and other PC features will be needed to compete against Intel and increasingly AMD.
Of course, the only important question is how powerful these chips are, and can they narrow the gap between Apple's M1 and Intel and AMD?
Daniel Rubino is the Executive Editor of Windows Central, head reviewer, podcast co-host, and analyst. He has been covering Microsoft here since 2007, back when this site was called WMExperts (and later Windows Phone Central). His interests include Windows, Microsoft Surface, laptops, next-gen computing, and arguing with people on the internet.
Interesting. Also, does Qualcomm have 5 nm fabrication tech yet?

"Also, does Qualcomm have 5 nm fabrication tech yet?"

Yes. The new Snapdragon 888 is 5 nm.

Awesome. So in theory this really could be an M1 competitor.

It could be a competitor, but hardware is not enough on its own. Apple has tight control and high standards for which OS and apps should run on it, all optimised.

Yeah, that is Apple's marketing PR. Not true at all.

Let's rephrase that, then:
Given a choice to use any of the following computers:
A) 4 000 MHz CPU, octo-core, 64 GB RAM. Windows 10 for x86_64 on a standard clean installation. B) 2 600 MHz CPU, hexa-core, 16 GB RAM. Specialised, commercial-grade Linux distribution with super high-performing OS drivers, custom developed desktop apps. This option is not a reality today, I am dreaming it up. I rather use option B any time. I would pay more money for that system than the higher-spec:ed Windows machine. The reason is is that I value the tight integration, zero-lag experience.

Yes, we got it. You like Apple. Buy on and be happy. Millions of people out there don't want or can't use Apple OS. So, it's not an option.

Yes, I do. But I'm also an avid Linux fan and really like the democratization of computers, the cheap miniature PC which is the Raspberry Pi. The Pi 4 is already impressive with 4K display support for an astoundingly low price tag. I support that. Among other uses, I expect it to be a really competent average PC for people who today use budget-friendly Android phones and use the computer for word processing, banking and such. Raspberry Pi OS is 64-bit compatible and very lightweight. The graphics chip in the SoC is impressive as well. My example of an expensive dream Linux machine or Apple machine, is just an example of what I try to aim for. I still want everyone to be able to get the best experience possible for any budget. If we one day can get the RPi to achieve the same as a big gaming PC rig, that would be great.

Nah. Not interested in any of the system you mentioned, and honestly cannot use them for work either. To me it just has to be high end Windows PC preferably in a beautiful SFF case for heavy load work like 3ds Max and rendering plus a nicely designed beautiful Surface device for casual stuff.

These new chips can't beat Firestorm cores if they're using X1 and Cortex A78 cores. The X1 could get close. It's good that Qualcomm designs will be more efficient than Apple M1 and come with 5G. The old 8cx in the Surface Pro X is surprisingly capable and sips power. An upgrade to match Intel 11th Gen i5 performance would be nice.

Hmm. What are the benchmarks on single core performance with X1 vs Firestorm?

None. No X1 chips available yet, we will have to wait for Snapdragon 888 phones

Hopefully it utilizes cortex a78c core which is specifically designed for laptop formfactor to deliver higher performance at expense of more power usage. I hope it's a combination of 1 a78c core + 3 x1 cores + 4/6 a 55 cores. there should be multiple versions of it. one for laptop formfactor like apple m1 & one for tablet formfactor like upcoming apple a14x which will most likely power next ipad pro. I don't think they can match apple's big & small cores but at least the performance upgrade will be substantial this time. which might be good enough to beat Intel's tiger lake chips.

Not really sure, but I think A78c (c version only) doesn't support big.LITTLE, so combining it in such a cluster would be a bit harder.

Huh? Yes it does. In fact where A78 and Cortex X1 are limited to 4 cores, the A78C goes up to 8. So, you can have 12 core chips with 8 A78C chips and 4 *** efficiency ones. Single core performance won't be great, but multicore performance should be quite good. That still won't help the main problem, though, which is Windows itself. 32 bit translation is still too slow and 64 bit emulation ... well maybe they will have that out by 2022?

64-bit translation is already here. I'm running it on Windows Insider. It's not as slow as 32-bit translation but it's not close to native performance. This is where the MacBook M1 wins.

Agree. I hope it will have 8 cores of A78C with 4 cores of A 55 for 8cx successor, and 4 cores A78C with 4 cores A 55 for 8c successor. *weird... Why A 55 is censored? 🤔

Great news that Qualcomm bought the company started by the Apple chip designer... https://www.anandtech.com/show/16416/qualcomm-to-acquire-nuvia-a-cpu-mag...
Windows Central Newsletter
Get the best of Windows Central in in your inbox, every day!
Thank you for signing up to Windows Central. You will receive a verification email shortly.
There was a problem. Please refresh the page and try again.