Surface Pro vs Dell XPS 15: Comparing two powerhouses
Both the Dell XPS 15 and Microsoft's newly announced Surface Pro (5th-gen) are gorgeous pieces of hardware, but which comes out on top for pricing and specs?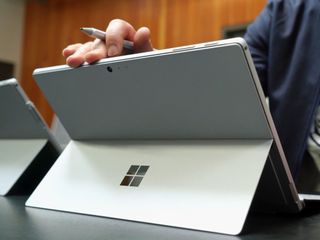 (Image credit: Windows Central)
Microsoft took some time out in Shanghai, China to announce a new generation of Surface Pro. Instead of continuing with the current naming scheme, this latest Surface Pro will simply be called Surface Pro, dropping the "5". It's a big deal because while it may look like a Surface Pro 4 on the outside, it's a whole new device underneath the aluminum casing. With more than 800 new parts, redesigned thermal system, it's an incredibly versatile device.
The XPS 15 by Dell is one of the most recognizable Windows-powered PCs and the company played it safe with the recent refresh, as highlighted by Executive Editor Daniel Rubino in his review of the XPS 15 (9560). It's an absolute powerhouse of a laptop and is even viewed by Apple fans as the viable alternative should they wish to hop ship from OSX to Windows.
Technical jargon
Looking at the specifications for both options and it's easy to see just how close they can be. No matter which you choose to purchase you'll be partnering up with a capable Windows 10 PC.
Swipe to scroll horizontally
Category
Surface Pro
Dell XPS 15 (9560)
Operating System
Windows 10 Pro
Windows 10 Pro
CPU
7th-gen Intel Core m3
7th-gen Intel Core i5
7th-gen Intel Core i7
7th-gen Intel Core i3
7th-gen Intel Core i5
7th-gen Intel Core i7
Display
112.3-inch Pixel Sense display
2736 x 1824 (267 PPI)
15.6-inch
1080p matte non-touch
4K glossy touch
Storage
128GB, 256GB, 512GB, or 1TB SSD
500GB HDD + 32GB SSD
1TB HDD + 32GB SSD
256/512GB/1TB PCIe SSD
RAM
4GB, 8GB or 16GB RAM
1866Mhz LPDDR3
8GB, 16GB, or 32GB
2400MHz DDR4
GPU
Integrated
Integrated
GTX 1050 (4GB GDDR5)
Rear Camera
8MP
Full HD (1920 x 1080)
N/A
Front Camera
5MP
720p camera
Windows Hello
IR camera
Synaptics fingerprint reader
Dimensions
11.50 inches x 7.9 inches x 0.33 inches
(292 mm x 201 mm x 8.5 mm)
14.06 inches x 9.27 inches x 0.45 – 0.66 inches (357mm x 235mm x 1-17mm)
Weight
1.69 lbs to 1.73 lbs (768 g to 784 g)
4 lbs (1.8 kg)
Ports
One full-size USB 3.0
Mini DisplayPort
Headset jack
Surface Connect
microSDXC card reader
HDMI 1.4
USB 3.0 (x2) with PowerShare
Headset jack
SD card reader (SD, SDHC, SDXC)
Kensington Lock slot
USB Type-C Thunderbolt 3
WiFi
IEEE 802.11 a/b/g/n/ac compatible
Killer 1535 802.11a/b/g/n/ac
Battery
13.5 hours
10 hours
Pen
Surface Pen
4,096 levels of pressure sensitivity
Magnetic storage
N/A
Important numbers
When it comes to pricing, the Surface Pro 2017 edition starts from just $799 and can cost as much as $2,699 depending on what options are selected. As for the Dell XPS 15, things kick off from $999.99 but can hit $2,549.99 if everything is set to "premium without compromise". A breakdown of the different configurations can be found below:
Microsoft Surface Pro
128 GB / Intel Core m3 / 4GB RAM - $799
128 GB / Intel Core i5 / 4GB RAM - $999
256 GB / Intel Core i5 / 8GB RAM - $1,299
256 GB / Intel Core i7 / 8GB RAM - $1,599
512 GB / Intel Core i7 / 16GB RAM - $2,199
1 TB / Intel Core i7 / 16GB RAM - $2,699
Dell XPS 15
500GB HDD, 32GB SSD / Intel Core i3 / 8GB RAM - $999.99
256GB SSD / Intel Core i5 / 8GB RAM - $1,349.99
512GB SSD / Intel Core i7 / 16GB RAM - $1,749.99
512GB SSD / Intel Core i7 / 16GB RAM / touch display - $2,149.99
Just how mobile are you?
Both are incredibly powerful machines, depending on which configuration you opt to pay for. The Surface Pro 4 is more of a portable tablet come notebook with more emphasis on being carried around, while the XPS 15 is a bulkier PC that focuses on getting even demanding tasks done. The choice one has to make between these two portable options depends largely on just how mobile they plan to be.
See the links below to make a purchase.
Windows Central Newsletter
Get the best of Windows Central in in your inbox, every day!
Rich Edmonds was formerly a Senior Editor of PC hardware at Windows Central, covering everything related to PC components and NAS. He's been involved in technology for more than a decade and knows a thing or two about the magic inside a PC chassis. You can follow him on Twitter at @RichEdmonds.
What is the point of comparing incomparable things?

to have one more windowscentral article /day

Unless one wants to discuss the pros and cos of smaller screen vs. larger screen, 2-in-1 vs. laptop, Surface vs. Dell, such a comparison is quite meaningless.

Makes not a lot of sense. SP vs. XPS13 ok, but vs. XPS 15? It's like letting my Surface 3 (non-Pro) run vs. my gaming PC. Which one would win, I really could not tell.

The pro for me. Portability is the secret word.

Power wise the XPS blows it out of the water, assuming they are still using the HQ processors, but the Surface destroys it on portability. I wouldn't call the surface a power house though

Dan as a gamer also, how do I know the VRAMs on these devices? I see they don't show that among specs nowadays but we all know those count in gaming too....be ut dedicated or integrated. Any idea?

For that form factor, the SP5 i7 is a powerhouse.

That's right! People who don't know what portability they can get from surface pro should never talk about it being pricey! It gives you way more then other devices. Plus the lte version ;")

I have the XPS 15 and I will probably be getting the Surface, but the XPS will be my main machine simply because it is quad core while the Surface Pro is only 2 core.

The tech specs table really needs to show this is an Ultrabook CPU vs a Laptop CPU as there's big differences, but each device has its own benefits over the other here. An i5 is not an i5 though and it's not right to compare them just based on their designation like that

You are correct. They should be listing the processor part numbers as there are many i5's from which to choose. However, if one takes the time to read the i5 specs on Intel's site, you can narrow down and figure out which one the vendor chose to implement typically based on the on chip graphics. The important take-away is that they are indeed different and have different clock speeds.

I think the screen is 12.3" and not 112.3" on the Surface Pro

Typo 😂😂😂 one of the worst typos

But an 112-inch display would be awesome! Bring it Microsoft, TAKE MY MONEY!

Dang, 112.3" is a huge screen on the Surface Pro. Not much of a tablet at that size 😉

comes with it's very own alcantara forklift!

Silly comparison. These are different.

Couple of typos...
Surface screen of 112.3 inches...
Last paragrapgh refers to the Surface Pro 4.

These aren't even comparable, might as well compare a tablet and a desktop.

Agree with you. One is 15.6 inch and other 112.3 inch. Completely incomparable 😁

Remove the "Surface Pen" from the comparison. It's not included with the box!

I have an XPS 9560 (i7/FHD) and an SP2. They are different horses for different courses and I am planning to upgrade my SP2 to something modern of similar weight and power down the road (E.g. Surface Pro/Laptop/Spectre x360t 13"). I get the gist of the comparo as most sane people would just want "one" device but it's hard to express the trade offs here easily. For someone that doesn't need the quad or the 32GB ram, it's hard to steer them to the XPS, it's pretty over the top device if you don't have use of that.

Why not SP5 instead of Laptop?

Why Surface Laptop vs Surface Pro? I'm open to either one. But neither would be able to do what a 7700-HQ and 32GB can so they are an addition, not a replacement.

That 112.3" display on the Surface Pro is killer!

seems like Microsoft Hit the market with that 112.3-inch Pixel Sense Display

Vocabulary error detected. This is not a comparison of two powerhouses. The Surface Pro is not a powerhouse - it is a tablet with, at most, a 15W dual-core CPU. Slow news life.

The specs aren't even complete. XPS 15" uses quad core CPUs. SP5 uses NVe for the 1 TB SSD, not PCIe. The SP5 weight doesn't include keyboard.

"512GB SSD / Intel Core i7 / 16GB RAM / touch display - $2,149.99" The Dell XPS 9560 Core i7/512GB NVMe/16GB RAM 4K touch screen goes for $1600 @ Microcenter, which is strangely $300 less than most places

I have to say the jokes on the 112.3" in screen size have had me rolling and my sides now hurting :(

It seems the XPS 13 is the more appropriate comparison

Stop comparing a fast assault boat with high tech fire control and guns with a destroyer. They simply don't serve the same purpose.

The Surface Pro's 112.3-inch Pixel Sense display is a bit unwieldy, but impressive, though the resolution could be higher...smirk

Didn't mention that CPU in XPS are not ULV processor.

Lol, still DDR3 in the Surface Pro? Even flagship Smartphones are already using DDR4...

The Dell is black. Batman would choose that over metal grey. Unless it was the 60's TV Batman.

I do wish you wouldn't just say "fingerprint scanner". Please specify touch or swipe. Every swipe version I've had has been unreliable in terms of recognition success ; every touch one has just worked.

I think comparing the processors like they did in their chart isnvery misleading as the XPS15 has quadcore processors whereas the Surface uses Ultrabook Dualcore ones. this makes a huge difference performance wise. A better comparison would have been Surface Pro vs XPS13
Windows Central Newsletter
Thank you for signing up to Windows Central. You will receive a verification email shortly.
There was a problem. Please refresh the page and try again.