QuizUp updated with Google+ login support and more improvements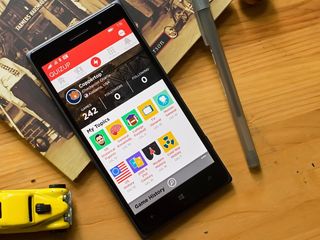 QuizUp, the popular mobile trivia game from Plain Vanilla Games, was finally released for Windows Phone and Windows 8.1 in mid-June. Now, the apps have received their first updates, adding a way to use Google+ to sign into QuizUp, along with a long list of improvements and bug fixes,
Here's what players can expect from the new versions:
Google+ Login
Image previews show correctly for composing posts
Images resize properly for composing posts
Share to QuizUp from other apps now works correctly all the time
UI fix for levels not showing on topics with long names
UI fix for topic names being cut off if too long
UI fix for some localization issues
Added 2px corner radius to topic icons to soften the squares
Faster app startup
Various bug fixes
Let us know what you think about QuizUp and this latest update in the comments.
Download QuizUp for Windows Phone (Free)
Download QuizUp for Windows 8.1 (opens in new tab) (Free)
Nice to see some support from official apps' developers lately (no, not you, Instagram).

The Facebook app hasn't been updated lately... Although I do suspect that any day now the FB beta app will get a serious update for W10...

True Marcos, love to see a big app get updated :D

Pending...Pending... Pending Wats going on MS Store?

The same with candy crush saga for me..
It is in pending since the update came out, while everything else works fine on the wifi.. Everything else updates, but not candy crush..
And the same problem occurs with MS Mobile Switch Gift and Quizup Beta.. Though Quizup Beta still leaves that pending state far frequently, but these other two, not moved an inch of the progress bar

Same here with candy crush saga!! Now let see for quiz up

Yeah. Not an improvement.

Truth be told Google+ is far superior to Twitter or Facebook and one of the best social media services. Posted via the Windows Central App on my Lumia 640 XL

Is it? I don't really use social networking sites, but as far as I know, Google actually makes people have a g+ account to comment on YouTube, if it wasn't for that little fact, nobody would use it, I still remember the meme of a rolling plant on a desert with the legend "meanwhile on Google+"

Google forces to use g + sucks a lot. Ppl don't know they have g plus account too which is used for daya minning by google

A lot of Android user friends of mine are often surprised whenever I mention that to them

That's why they removed from Google's main page right?

Only Google employees use Google +

G+ is dead, Google killed it themselves by making certain changes, which destroyed what made it different from other SM sites, in my opinion.

I've tried challenging some friends, but when I go back to the app I can't find the Games in Progress. The UI isn't the most consistent.

They really need to fix the notifications. When I get a challenge I get 10+ alerts for the same challenge...

I thought I was the only one with this problem, puts me off.

Wooo love this game. Challenge me please. I'm the best in the UK in name that gadget this month. : Colin Kiama

Still crashes when setting a background

Google's okay social network. If you have a YouTube account, you have a G+ account most probably.

It's an account forced by google to fuck privacy. If you use google services better stay away from that.

Unrelated...well... Sort of related.... I finally found the middle finger emoji in W10 for phone!!! :D

You mean the upside down ice cream bar in like 5-12 flavors?

In the last version I can't choose a different languaje for the questions, I hope it has already solved :)

Mmmm Language settings still not working.

Nice game, could do without all the social kiddy crap though.

Daniel Rubino.... Accept my challenge in Quizup....

New questions too! Had done 99% questions of breaking bad( level 37), now it shows 71% questions completed!

It's on the server side I guess

Topics are updated with new questions

Hi John! I am an all time Quiz Up addict. Though I loved th new update and appreciate the fact that the team has ported the app for Windows, I still like the UI on iOS device. Clean, crystal display with numbers and stats perfectly placed on the screen. This may be because I play more often on an iOS device that's why I feel I am addicted to that look. But overall, Quiz Up looks great :)
Windows Central Newsletter
Get the best of Windows Central in in your inbox, every day!
Thank you for signing up to Windows Central. You will receive a verification email shortly.
There was a problem. Please refresh the page and try again.