List of Rainbow Six Siege The Grand Larceny Skins
The full list of gang-themed gear included with "The Grand Larceny" event in Rainbow Six Siege.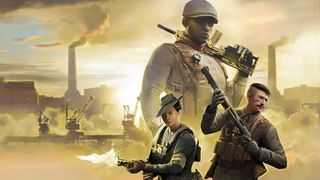 (Image credit: Ubisoft)
Ubisoft has launched "The Grand Larceny," its new gang-themed event within Tom Clancy's Rainbow Six Siege. The latest midseason mode brings criminal gunslingers to the hit tactical shooter, with attackers and defenders battling over safes around a custom rework of Hereford Base. That also comes with heightened destruction, arming players with shotguns in a map packed with destructible floors, ceilings, and walls.
Rainbow Six Siege's latest chaotic mode also features a range of limited-time cosmetics, tied to the early 20th-century theme. Bundled within dedicated "Larceny Collection" packs, players receive an opportunity to inlock over 31 items across 10 Operators.
We've wrapped up the full list of headgear, uniforms, weapon skins, and charms contained within the set.
The Grand Larceny Amaru Skins
Image 1 of 3
Flapper Chic Headgear (Amaru)
Bold Rebel Uniform (Amaru)
Golden Triumph for ITA12S
The Grand Larceny Echo Skins
Image 1 of 3
Classy Delinquent Headgear (Echo)
Misdemeanour Scandal Uniform (Echo)
Elegance Design for MP5SD
The Grand Larceny Fuze Skins
Image 1 of 3
Madcap Headgear (Fuze)
Danger Stunt Uniform (Fuze)
Silver Spiral for AK-12
The Grand Larceny Gridlock Skins
Image 1 of 3
Neat Misdeed Headgear (Gridlock)
Enterprise Independent Uniform (Gridlock)
Lavish Print for F90
The Grand Larceny Hibana Skins
Image 1 of 3
Career Woman Headgear (Hibana)
Vehement Vice Uniform (Hibana)
Fortified Flair for Supernova
The Grand Larceny Kaid Skins
Image 1 of 3
Grizzly Veteran Headgear (Kaid)
Plain Style Uniform (Kaid)
Dexterity Deluxe for TCSG12
The Grand Larceny Maestro Skins
Image 1 of 3
Business Fedora Headgear (Maestro)
Front Leader Uniform (Maestro)
Steel Barbs for ACS12
The Grand Larceny Maverick Skins
Image 1 of 3
Honest Worker Headgear (Maverick)
Blue-Collar Uniform (Maverick)
Mineral Welkin for AR-15.50
The Grand Larceny Wamai Skins