Rainbow Six Siege PS5 and Xbox Series X update: Everything we know
Ubisoft is bringing Rainbow Six Siege to next-generation consoles — here's the release date, expected features, and everything you need to know.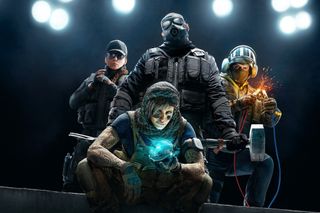 (Image credit: Ubisoft)
Tom Clancy's Rainbow Six Siege remains at the forefront of Ubisoft's modern lineup, garnering an impressive following through its multiplayer-centered gameplay. Half a decade on the market has seen the title flourish with millions of players, bolstered by free seasonal updates on the regular.
This competitive-primed shooter continues to evolve, with developments already underway to support next-generation consoles. With PlayStation 5, Xbox Series X, and Xbox Series S targeting holiday 2020 availability, Rainbow Six Siege commits to supporting both platforms from launch. Here's everything we know about Rainbow Six Siege and its move to next-gen this December.
What you need to know
Rainbow Six Siege soon receives a visual upgrade for next-generation consoles on December 1, including the PS5, Xbox Series X, and Xbox Series S.
Rainbow Six Siege ships with optional "Performance Mode" and "Resolution Mode" settings, targeting up to 4K or 120 FPS on Xbox Series X and PS5.
The next-generation version of Rainbow Six Siege arrives as a free upgrade on all platforms, available to digital and disc-based copies of the game.
Ubisoft has also committed to cross-generational multiplayer and progression, allowing players to transfer their player data and play across new and old systems.
Rainbow Six Siege PS5, Xbox Series X release date
Ubisoft has confirmed its next-generation update for Rainbow Six Siege launches on December 1, 2020, for PlayStation 5, Xbox Series X, and Xbox Series S. The proposed release window ensures that new console buyers can experience the best of Ubisoft's shooter almost straight out of the box.
We broke Ubisoft's next-generation plans in February, speaking with Leroy Athanassof, game director at Ubisoft Montreal, who committed to a day-one update. However, it's worth stressing that Athanassof's comments came before the current global pandemic, shaking up development pipelines for the team. But we don't need to wait long, with Rainbow Six Siege on Xbox Series X and PS5 still arriving later in 2020.
Rainbow Six Siege next-gen: What to expect
The next console generation looms at the tail end of 2020, with both Microsoft and Sony scheduled to release their respective consoles' latest revisions. The Xbox Series X, Xbox Series S, and PlayStation 5 all feature substantial hardware leaps, headlined by the latest CPU and GPU architectures from AMD, and lightning-fast solid-state drives for storage. The devices boast improved graphical capabilities, game performance, and load times — aligning closer with PCs.
Rainbow Six Siege's Year 5 roadmap introduced a lasting reform to future seasons, now set to feature just one new Operator every three months. Ubisoft has reaffirmed plans to hit the 100-Operator milestone, suggesting over a decade of support remains. That makes the next-generation consoles increasingly crucial to Rainbow's long-term success.
Ubisoft has committed to updating Rainbow Six Siege for the next-generation, with versions headed to PS5, Xbox Series X, and Xbox Series S at no additional cost. Those updates will push luxuries expected from any "high-end PC" according to the team, boosting visual fidelity and gameplay performance. These two offshoots will remain tightly linked to previous consoles, with cross-generation progression and multiplayer between Xbox One and Xbox Series X, or PS4 and PS5.
Rainbow Six Siege next-gen features: 4K, 120 FPS, and more
Rainbow Six Siege has a guaranteed future on Xbox Series X and PS5, and we've received an insight into the specific upgrades planned. Ubisoft's comments suggest similarities to the existing PC settings, rather than an extensive rework to visuals. Rainbow Six Siege offers a dedicated "Performance Mode" and "Resolution Mode" available to players on next-generation consoles. The former prioritizes framerate, while the latter focuses on driving the best visuals on the systems.
Both Xbox Series X and PS5 versions will also support 120 frames-per-second (FPS) when in this "Performance Mode." While Rainbow Six Siege has been locked to a stable 60 FPS since launch, the console horsepower will push Rainbow Six Siege toward double the framerate. Gameplay fluidity is a welcomed result; or even potential sub-second gains to reaction time. Ubisoft achieves this at dynamically scaling 4K resolution on Xbox Series X and PS5, while Xbox Series X hits 1080p.
Rainbow Six Siege looks to target native 4K resolution on Xbox Series X and PlayStation 5, when in "Resolution Mode." The Xbox Series S also scales up to 1728p, matching the exact same experience on Xbox One X consoles. When in this mode, all consoles target a locked 60 FPS. The render resolution provides a natural starting point, with the existing Xbox One X build capped at 1728p, while PlayStation 4 pushes to 1440p. Native 4K resolution will further sharpen presentation without significant changes to the underlying title.
Rainbow Six Siege lacks a variable field of view (FoV) outside PC, allowing users to customize the observable angle of the player camera. The higher the FoV, the wider area players can see — currently locked to just 60 degrees on Xbox One and PS4. While Rainbow Six Siege community developer, Justin Kruger, previously attributed to restriction to "performance issues and limitations," it doesn't appear to be on the roadmap for next-gen. Ubisoft hasn't announced variable FoV support on Xbox Series X or PlayStation 5, but it remains a top community request.
PC users also see optional upgrades like the "Ultra HD Texture Pack," injecting high-resolution textures throughout the game. That helps tidy environments, player models, and weapons, although with an impact on framerate and loading times. The expansion to consoles would help Rainbow Six Siege shine, but with no announced plans at this time.
Rainbow Six Siege free upgrade for PS5, Xbox Series X
Rainbow Six Siege will also grant existing Xbox One and PS4 players free upgrades, easing the next-generation transition. The initiative will allow players to obtain the best available version of the game for their device, using their existing physical disc or digital license, at no additional cost.
"The game will be backwards compatible, meaning that you can take your disc of Rainbow Six Siege on PS4 and put it in your PS5, or take your Xbox One disc and put it in your Xbox Series X," stated Athanassof earlier in 2020. "What we know for sure is that we don't want to break our community, to split our community, and we don't want to make you buy another Rainbow Six Siege at full price."
For Xbox Series X, Rainbow Six Siege will join the growing list of titles pledging to Xbox Smart Delivery, Microsoft's standardized system for free, automatic cross-generation upgrades. The PS5 version will provide a similar upgrade process, bridging the two systems.
Rainbow Six Siege cross-play, cross-generation play
While Rainbow Six Siege makes the jump to next-generation consoles, Ubisoft won't be sunsetting its previous Xbox One and PS4 versions. Xbox Series X and Xbox One versions will remain deeply linked, as well as PS5 and PS4 clients. Cross-generation multiplayer will ship alongside Rainbow Six Siege for next-gen, avoiding fragmentation within existing communities. Don't worry about leaving your current-gen friends behind.
Rainbow Six Siege's game director also tells us that Ubisoft remains open to cross-platform multiplayer, bridging Xbox and PlayStation versions of the game. [This is more a discussion between Microsoft and Sony," Athanassof stated to Windows Central back in February. "We would love to be fully cross-play — have Xbox players matchmaking against the PlayStation players. We are ready to support that." Ubisoft is yet to issue a formal update on the status of cross-play since our interview.
Rainbow Six Siege cross-progression content transfer
With Rainbow Six Siege to provide a seamless upgrade path between consoles, Ubisoft has also promised cross-generation progression. The free migration will allow users to bring forward player data to the latest versions of their consoles, including player statistics, gameplay unlocks, and earned cosmetics. It achieves this with the publisher's new Ubisoft Connect system.
Ubisoft only commits to cross-generation transfer within the same console family, like Xbox One to Xbox Series X, or PS4 to PS5. However, cross-platform progression remains on the cards according to Athanassof, as seen in titles like Call of Duty: Modern Warfare and Fortnite. The ideal implementation would allow players to sync their profile between platforms, proving increasingly valuable as more limited-time rewards hit the game.
What do you hope to see from Rainbow Six Siege on PS5 and Xbox Series X? Let us know in the comments section below.
Breach and Clear
Tom Clancy's Rainbow Six Siege
Addictive, challenging shooter action

Ubisoft's hit shooter is hotter than ever, touting tense tactical gameplay, and regular free updates. Powering through 2020 with millions of players, Rainbow Six isn't slowing down.
Get the Windows Central Newsletter
All the latest news, reviews, and guides for Windows and Xbox diehards.
Matt Brown was formerly a Windows Central's Senior Editor, Xbox & PC, at Future. Following over seven years of professional consumer technology and gaming coverage, he's focused on the world of Microsoft's gaming efforts. You can follow him on Twitter @mattjbrown.