Razer and Maingear team up to create the gaming PC of your dreams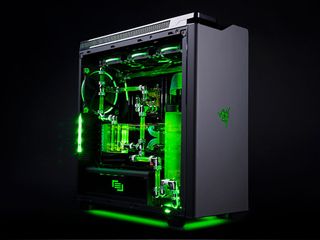 PC gaming accessories maker Razer has announced a collaboration with gaming PC maker Maingear. The result is the MAINGEAR R1 | RAZER Edition, a high-end desktop gaming PC that is on sale now.
The PC has a case that was designed by Razer, but the hardware inside is put in by Maingear:
Pricing for the MAINGEAR R1 | RAZER Edition begins at $999. Maingear is also working with HP and will release the Maingear OMEN X Desktop PC sometime in early 2017.
Windows Central Newsletter
Get the best of Windows Central in your inbox, every day!
Nothing beats a custom rig, all it needs is time and money and it'll be worth the setup.

Custom homemade rigs are better.

agree...just built a i5 GTX 1070 monster for an HTC Vive....best way to go...

ok, i posted before checking the links to the site, $3500 for an i5(K), 8GB, 1070, 500W PSU? OMG!!!!, the Gigabyte z170, i5(K), 1070, 8GB, 650W PSU(EVGA), 500GB SSD(Samsung) I just built was about $1300.. Looking at the spec sheet a K series i5 is +$75 more when the difference on amazon is about +$20...OMG...and my case has a built-in handle for moving/carrying... my case glows red with some green...

The pricing is masterfully crafted rip-off.

dafuq, the case is the same as the NZXT 4400 wtf

It is the h440 razer edition built a friend a pc in one and it is a really nice case. Posted via the Windows Central App for Android