The Razer Blade has always been an Intel laptop. Whenever a new model or refresh comes to market, it will have the best that Intel has to offer inside. But every time Razer puts out a new Blade, someone asks if they're going to make an AMD Ryzen version.
That has finally happened. Not in the Razer Blade 15, the current best gaming laptop on the planet, but in an all-new version. Or rather, the return of the Razer Blade 14. It's a little smaller but no less powerful.
So after all of the hope and anticipation, is it any good? After all, we know Razer can make a phenomenal gaming laptop and the sum of the parts alone indicates we're in for a treat. And mostly, we are. Enough for it to rank among the best AMD Ryzen laptops available.
Bottom line: The Blade 14 is a phenomenal gaming laptop held back only by some AMD-related weirdness and a high price tag for the range toppers.
For
AMD's most powerful laptop CPU
NVIDIA RTX 3080
Same great design and build as other Blades
Fantastic display
Incredible gaming performance
Compact and lightweight
Against
CPU gets hot
Huge performance dips on battery
Really expensive higher tier models
SSD performance tanks on battery power
Razer Blade 14: Price and availability
The Razer Blade 14 is on sale now with prices starting at $1,800. The entry model is only available as it stands on Razer's own store, but the higher-spec versions are available through third-party retailers such as Amazon and Best Buy.
The version with an RTX 3070 costs $2,200 and the range-topper with RTX 3080 costs $2,800.
Razer Blade 14: Hardware and design
So, what's an AMD Razer Blade actually like? Surprising nobody, it's excellent. From the Razer Book 13 up to the Razer Blade Pro 17, there's a unified design language and consistently outstanding build quality. If you stand back it's impossible to tell it apart from the Blade 15 unless you have a tape measure in your hand. Or you left the Ryzen sticker on.
The key difference on the outside is the overall form factor. It's a little bit smaller and lighter than a Blade 15 and since 14-inch gaming laptops aren't exactly common, it already stands out from the crowd. This is an incredibly portable gaming laptop, and its compact nature is all the more mind-boggling when you take a read of the spec sheet.
The entry-level model is nice, nothing particularly earth-shattering, but what you can get inside a Razer Blade 14 is astonishing. It's also not that hard to choose the one you want, since there are only three configurations and the biggest differentiator is the GPU. There are a couple of displays, too, with either a 144Hz 1080p panel or the one we have which is a matte 1440p 165Hz display. And it's glorious.
Swipe to scroll horizontally
Category
Razer Blade 14
Operating System
Windows 10
Display
14-inch FHD 144Hz
14-inch 1440p 165Hz
Processor
AMD Ryzen 9 5900HX
8-core, 16-thread
3.3GHz (4.6GHz boost)
Graphics
NVIDIA RTX 3060 6GB
NVIDIA RTX 3070 8GB
NVIDIA RTX 3080 8GB
Memory
16GB DDR4 3200MHz (fixed onboard)
Storage
1TB PCIe 3.0 SSD
Security
Windows Hello compatible IR camera
TPM 2.0
Connectivity
Wi-Fi 6E (802.11ax)
Bluetooth 5.2
Ports
2 x USB 3.2 Gen 2 Type-A Ports, 2 x USB 3.2 Gen 2 Type-C with Power Delivery and Display Port 1.4, HDMI 2.1
Audio
THX Spatial Audio, 3.5mm headset
Battery
61.6Wh
230W Power adapter
Dimensions
0.66 x 8.66 x 12.59 inches (16.8 mm x 220 mm x 319.7 mm)
Weight
1.78kg (3.92 lbs)
All versions of the Razer Blade 14 come with AMD's most powerful laptop processor to date, the Ryzen 9 5900HX. With this comes 8-cores and 16-threads, with a base clock of 3.3GHz and a maximum boost up to 4.6GHz. It's a full-fat 45W chip based on AMD's latest 7nm Zen 3 architecture. The Ryzen 9 5900HX does of course come with integrated Radeon graphics, but you won't be using that for what this laptop is best at.
That's because on the graphics front NVIDIA has taken care of business. You could have the RTX 3060 or the RTX 3070, or you could have what's inside the review unit Razer sent us, which is the RTX 3080 8GB. In a 14-inch laptop that weighs under 4lbs. Hopefully, now you're starting to get a feel for why the fact this laptop even exists is astonishing.
Moving down to 14-inches does come with one compromise, and that's the fixed RAM. It's not uncommon for laptops this size to have soldered RAM, but if you're a fan of the upgradeable nature of the Blade 15 it's something to consider if you're stepping down a size. The move to AMD provides another compromise, and that's the lack of Thunderbolt 4. So you can't use this with the Razer Core X.
You're not left short on ports, though, with both USB-A and USB-C and perhaps surprisingly USB-C PD, meaning you can hook up a 65W USB-C power brick and charge the Blade 14. You won't be gaming, because that thirsty NVIDIA GPU will just empty the battery before you have a chance to top it up, but if you're out on the road and want to use the laptop for work without cranking up the RTX then it's really handy.
Let's also not forget that the Blade 14 weighs less than 4lbs whatever spec you go for. You can toss one with an RTX 3080 in your bag and barely even notice it. The truth is, a desktop RTX 3080 graphics card wouldn't be far off the same weight, and you don't even get a screen.
I also want to shout out the speaker quality. Razer's typical upward-firing speakers flank the keyboard and they are most excellent. You would struggle to find another laptop this size with such quality and volume. Music, movies, games, all aren't just tolerable, but enjoyable.
Razer Blade 14: Software and performance
Naturally, the Razer Blade 14 comes with Windows 10 as standard, but it is worth a note on Windows 11 compatibility. The Blade 14 has a hardware TPM 2.0 module installed, so when the time comes you're good to go, with no BIOS diving required. You are running Windows 10 Home, so you'll be subject to the initial internet connection and Microsoft Account requirement (as things currently stand) when installing Windows 11.
With that addressed, it's time to look a little closer at the real reason you're interested in this laptop at all; performance. Razer doesn't do things lightly, and that's clear by its approach with the Blade 14. It comes in like a wrecking ball with an AMD Ryzen 9 5900HX CPU, an 8-core Zen 3 chip with 16-threads, and a boost clock of 4.6GHz. On paper, it's a beast, and there are times when it translates into practice, too. But I want to start with some concerns. I've been using AMD Ryzen laptops as my own personal machines for a couple of years now and while the performance gap to Intel has certainly narrowed, there are areas where AMD still falls short. Or is just plain confusing.
For one, let's consider temperatures. The Blade 14 is an all-metal laptop, and hot metal is really unpleasant. Razer has done an outstanding job at cooling this behemoth, considering how hot the CPU will get compared to how much of that you notice on the outside. The spec sheet of the 5900HX lists 105C as its maximum operating temperature, as it has been for previous generation Ryzen mobile H-Series chips. That's not just hot. That's really hot.
On one hand, you don't encounter much in the way of thermal throttling, because the Ryzen 9 will just boost itself to oblivion and keep on keeping on, never reaching those upper limits. But equally, while stressing it in games for this review, I've seen CPU temperatures as high as 93C. Even if the laptop isn't uncomfortable with that, I am. It's the summer and my office is already like a sauna. And I'm not picking up a laptop that's been running at those temperatures.
Razer uses its vapor chamber cooling technology to fine effect, and even at the highest temperatures, the fan noise isn't as bad as on other Ryzen laptops I've used encountering similar heat. Heat is kept down to minimal levels on areas of the laptop you're going to touch the most, like the wrist rest, but the center can get toasty.
As on previous generation Ryzen mobile chips, the 5900HX will boost itself all day every day even if the only load on your system is reading Windows Central. You can't disable Turbo Boost manually, either, without getting into registry edits.
But, for gaming, you're going to be hooked up to the mains, you're going to enable maximum attack mode in Synapse for the CPU and GPU and you're going to go for it. So that's exactly what I did running these benchmarks. Let's crunch some numbers.
Starting with synthetic benchmarks, here's how the Blade 14 compares to its rivals in Geekbench, Cinebench, and 3DMark, along with checking out the SSD performance.
Image 1 of 4
As you might expect, the Razer Blade 14 charts high when compared to other laptops that have come across our table. The Ryzen 9 is predictably excellent at multi-core operation, highlighted in the huge numbers from the Cinebench R23 render test. The combination of this and the RTX 3080 rank towards the top of the results in our 3DMark hall of fame, too.
Next up games, and for these, all were run at the native 1440p display resolution with respective graphics settings maxed out unless noted. DLSS and RTX ray-tracing were off unless otherwise specified.
F1 2020 - 106 FPS avg
Control - 71 FPS avg
Far Cry 5 - 83 FPS avg
The Division 2 - 75 FPS avg
Metro Exodus Enhanced Edition (high settings w/ RT) - 55 FPS avg
Shadow of the Tomb Raider - 60 FPS avg
Ashes of the Singularity - 50.5 FPS avg
Of course, these are merely examples to show just how much power is on tap in the Razer Blade 14. My advice? You're never going to need to play at 1440p on a 14-inch laptop, so drop the resolution back to 1080p and watch the frame rate fly. In games with DLSS support though, like Control, you can get an extra bump of 20-30 FPS without RTX Ray Tracing on at 1440p. Or you can turn RTX on and get similar performance to running with it all turned off. But even the notorious Ashes of the Singularity benchmark on its crazy setting doesn't make the Blade 14 totally fall apart.
You also need to make sure you've gone into Razer Synapse and turned all the performance settings up to their max to really get the best from this laptop. In Control, for example, just doing this was worth an additional 7 FPS, all for about 6 seconds of effort. The fans do make more noise, though, but it's worth it if you must get every last frame. These results also stand as a good reminder that as good as laptop GPUs are now, they're still quite comfortably behind desktop equivalents.
Performance on battery vs on mains power
Normally, we wouldn't make so much out of performance on battery vs on mains power for obvious reasons. But when it comes to Ryzen Mobile, there are, well, things. It's something we've seen in previous laptop reviews, such as the Surface Laptop 4. On battery, performance takes a significant hit. And if you use the "better battery" or "battery saver" settings in Windows 10, clock speeds can drop below 2GHz, which is seriously low compared to the base clock.
This example from Cinebench R23 illustrates the scale of the problem.
On mains power vs battery, you're getting up to 40% less from the CPU. OK, your laptop isn't going to suddenly start stuttering and turn to junk, but it's still a big hit that you might not even know is happening. And we have heard from one early owner of the Blade 14 that on battery Windows can sometimes poop the bed. Perhaps weirder is that SSD performance is halved when on battery versus being hooked up to a charger.
Update: Razer has informed us that the reduced SSD speed is due to PSPP (PCIe Speed Power Policy) set by AMD and is not controllable by OEMs like Razer. The policy is meant to increase battery life by reducing SSD performance. Something similar to what is happening with the CPU and GPU.
It's worth pointing out that this only applies to battery power, and even powering the laptop with a USB-C PD charger is enough to return the SSD performance to normal and the CPU to mostly the same. In Cinebench with a 65W USB-C PD power adapter (which isn't really enough for tests like this), the scores were only a little behind using the stock 230W brick.
Gamers more than likely won't ever feel this, since you're unlikely to be gaming for more than about 24 minutes before you think about needing your charger. But it's conceivable that other CPU-intensive processes, like rendering out a video, for example, would be necessary on battery power and those will definitely suffer. Razer Synapse lets you tweak performance settings on mains power, but on battery, you can only access an automatic setting so you can't do much to fix the issue yourself.
It also feels a little shady when it comes to battery life claims. If the CPU is essentially slashing its performance by half then of course battery life will be improved. AMD does allow its OEM partners to make changes to its APUs, so it's unclear exactly who's responsible but we've reached out to Razer for some additional clarity and will update this review with our findings. It does make it harder right now though to recommend a Blade 14 to anyone who needs both performance and decent battery life. Because you're either going to have to spin up the GPU or have a worse time than if you grab an Intel-powered Blade 15.
Image 1 of 2
The good news is that if you're going to be using this to game a lot or you know you'll always be working from mains power, you're going to have a great time. This is an insanely powerful 14-inch laptop and for all the criticism you can find here, AMD is also really happy to just let rip when you plug in and turn everything up. It's just a bit of a Jekyll and Hyde situation, but the raw performance is definitely there.
Razer Blade 14: Competition
Probably the closest competition to the Razer Blade 14 comes from the Razer Blade 15. It's the best gaming laptop you can buy, it's priced similarly to the Blade 14, looks very similar but substitutes AMD for Intel processors. It makes choosing harder, though, because these are two of the most powerful gaming laptops on the planet.
There aren't actually many 14-inch gaming laptops out there, which makes the Blade 14 something of an outlier. If you're looking for something more compact, the ASUS ROG Flip X13 is an option, as is the Razer Blade Stealth. Both are 13-inch laptops, but you can only get a GTX 1650.
The closest competitor 14-inch laptops though are the ASUS ROG Zephyrus G14 and the Acer Predator Triton 300. The former also has a Ryzen 9 inside, while the Acer goes for Intel, but both are closer matches to the entry-level Blade 14.
Razer Blade 14: Should you buy it?
You should buy this if ...
You want the most powerful gaming laptop in town
With the RTX 3080 inside and everything cranked up to the maximum, this laptop screams. It's one of the most powerful gaming laptops you can get right now and will shred through your favorite games.
You want a compact, lightweight gaming laptop
14-inch gaming laptops aren't that common and the Blade 14 is both compact and lightweight. It's a perfect travel companion for the gamer-on-the-go.
You want a Ryzen laptop with plenty of grunt
For all the faults you can pick out, there are plenty of people who love AMD laptops. It's why the Blade 14 exists in the first place. And this is the most powerful of them all.
You should not buy this if ...
You're shopping on a budget
Even the entry-level model is more expensive than equivalent laptops from competitors, but the top-spec is definitely out of the reach of tighter budgets.
You work from battery power a lot
As a regular laptop for web browsing, email, lighter work, it's fine. But if you're anticipating the Blade 14 being a mobile workstation then you're probably better served elsewhere. The performance drop on the battery is too great.
You already have a Razer Core X
The RTX 3080 is good, but it's also not a desktop-class GPU and that's why products like the Razer Core X exist. If you already have one and want to keep using it, this is not the laptop for you.
Every part of my being adores this laptop. I'm one of those who has been asking Razer for an AMD version, in almost every press briefing for a new Blade. Finally, it's here, and it doesn't disappoint, at least, not as a gaming machine. For its primary purpose, the Razer Blade 14 absolutely blows the doors off.
The issues with the Blade 14 are also not really Razer's to fix. It feels unfair to level criticism towards this laptop for problems that come from AMD. There's no reason these things should turbo on all 8-cores when you're reading an email, for example, and the fact the temperatures don't get too ridiculous too often is a testament to Razer's engineers for taming the wild stallion.
But when you drill down, Ryzen Mobile just isn't there yet. If you unleash the beast, it delivers in spades and you're going to have a great time. But the temperatures and the huge drop in performance off charger leading to potentially spurious battery life claims do leave a sour taste. But Razer can only do so much.
The conclusion then is clear. If you want a compact, extremely powerful gaming laptop and gaming is what you intend to do most of all with it, then this is a great choice. When you cut it loose it will deliver. Just don't rest it on your lap.
Razer now has the best kind of problem. It has four class-leading gaming laptops between 13- and 17-inches. It's hard to say definitively whether you should get this over the Blade 15, but for a first album, Razer and AMD did alright.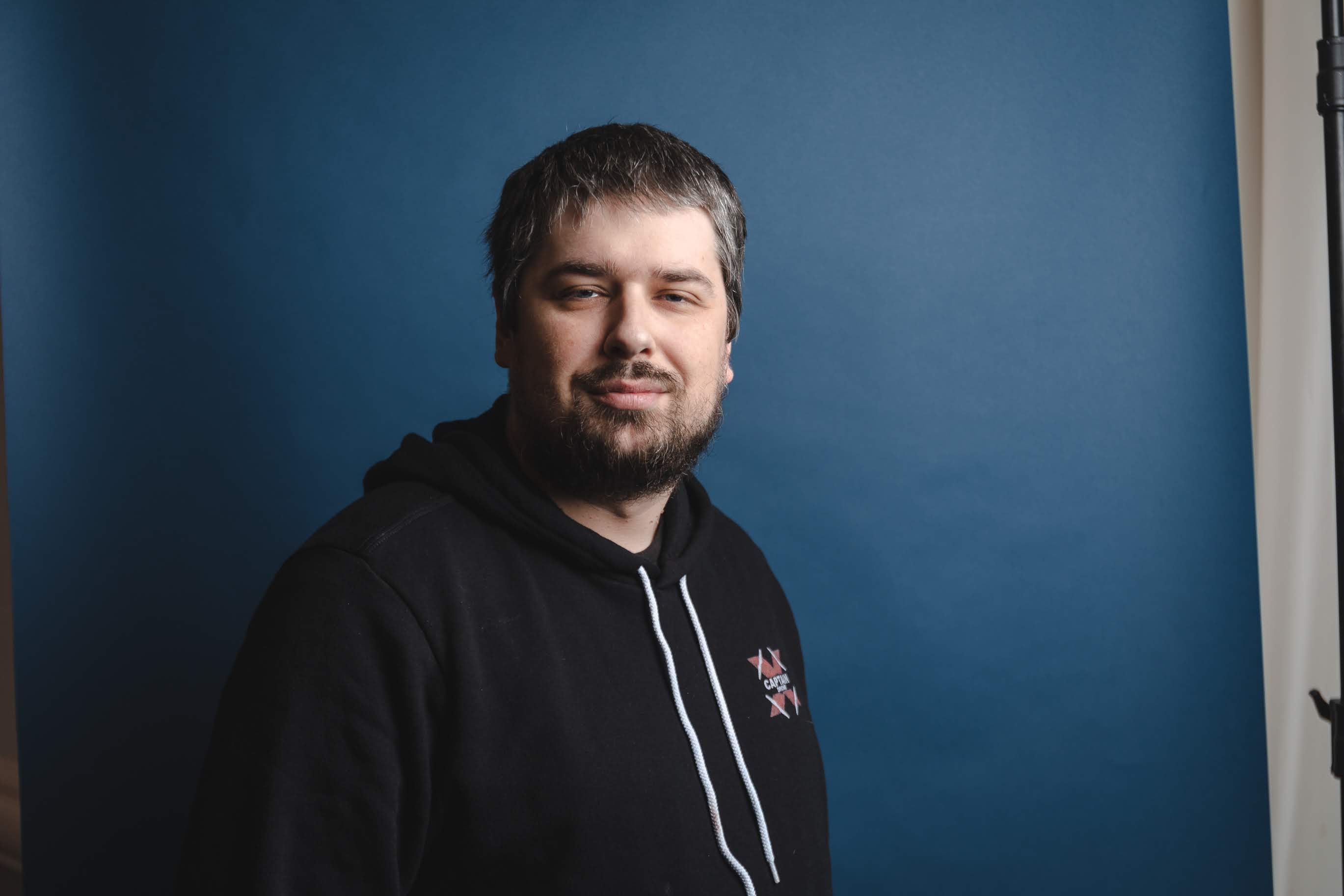 Managing Editor - Tech, Reviews
Richard Devine is a Managing Editor at Windows Central with over a decade of experience. A former Project Manager and long-term tech addict, he joined Mobile Nations in 2011 and has been found on Android Central and iMore as well as Windows Central. Currently, you'll find him steering the site's coverage of all manner of PC hardware and reviews. Find him on Mastodon at mstdn.social/@richdevine