Razer Blade 15 review: Hot in every sense of the word
Razer's redesigned Blade isn't perfect, but it's still an incredible thing.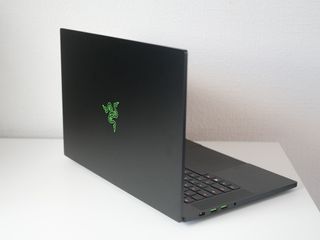 (Image credit: Windows Central)
The Razer Blade has always been a great, if imperfect gaming laptop. The 14-inch model went through a few hardware revisions over the past couple of years, always striving to offer the best hardware the market had to offer in a design that has always been at the forefront of what a gaming laptop can be.
In 2018 the Blade is reborn. It's got a new look, a new size, and as always, the latest power.
This is an important laptop for PC gamers on the go, and on paper, it looks like Razer designed the perfect laptop for these people. But how does that translate into practice?
About this review
This review has been conducted using a loan unit from Razer. The one reviewed here is the higher-spec model with the 4K touch display and GTX 1070 GPU, paired with a 512GB SSD and 16GB of RAM.
Pricing for the model reviewed here is $2,899. It's currently not available to order, but is slated to be available sometime in June 2018.
Razer Blade 15 video hands-on
Razer Blade 15 tech specs
Swipe to scroll horizontally
Category
Razer Blade 15
Processor
Six-core Intel Core i7-8750H
Memory
16GB (upgradeable)
Storage
128GB, 256GB or 512GB NVMe SSD
Graphics
NVIDIA MaxQ GTX 1060 6GB
NVIDIA MaxQ GTX 1070 8GB
Display size
15.6-inches
Display resolution
1080p 60Hz (non-touch)
1080p 144Hz (non-touch)
4K 60Hz (touch)
Keyboard
Backlit, Chroma, Precision Touchpad
Material
Metal
Wireless
Intel 9260 wireless
Dual-antenna
Ports
MiniDP x 1, HDMI x 1, USB-C Thunderbolt 3 x 1, USB 3.1 x 3, 3.5mm headset
Battery
80 Wh
Price
From $1,899
Razer Blade 15: New design, new hardware
The first thing many will notice about the new Blade is that the bezels around the display are no longer enormous. Razer shrunk the top and sides down a serious amount, and on of the results is that you've now got a 15.6-inch display in almost the same footprint as the old 14-inch model.
That 15.6-inch display comes in two forms: a 1080p 144Hz non-touch or a 4K 60Hz with touch. The latter is what I have here, though having spent a little time pre-launch with the former, it's certainly no slouch. Arguably, the 1080p option is the one to choose if you're planning on using the Blade 15 primarily for gaming on.
But the Blade attracts more than gamers. Thanks to its subtle looks, slim size, and powerful innards, creatives working in photo and video are drawn to the Blade as their portable PC of choice. And that's where the 4K model comes in. Not only does it add more pixels, you get touch support, better colors and underneath, an 8GB NVIDIA GTX 1070 MaxQ GPU.
Also new for the Blade 15 is Intel's 8th Generation processor. There's only one option across the whole range, a six-core, 12-thread i7-8750H with a base clock of 2.2GHz, which boosts to over 4GHz. This isn't the unlocked variant, so there's no room for overclocking, but there's also no real need. The addition of two more cores and four more threads already gives the Blade 15 a performance advantage over its predecessor for multi-core applications.
It all reads very well, and it's as if Razer had a list of a gamer's dream laptop specs and proceeded to go through ticking them off one-by-one. Also new in the Blade 15 is upgradeable RAM. You get 16GB of 2666MHz DDR4 as standard, but you can double this if you need more.
Likewise, you can upgrade the SSD if you wish, though there's no immediate reason you'd want to. Razer is using (where possible) Samsung NVMe SSDs in the Blade 15 and as we've learned in the past, these are the ones you want if you're looking for performance and reliability.
All this hardware goodness is wrapped up in a new look chassis. Gone are the curved edges and in comes a sleek, angular design. In many regards, the Blade 15 looks like the engineers took a rolling pin to a Razer Phone. The two are very clearly siblings.
The speakers still flank the keyboard, the company logo still glows green on the lid (though you can turn it off if you wish), it's all metal, all black, all stunning. The 4K version is a hair thicker than the 1080p model with the GTX 1060 to allow a little extra cooling room, but this is still one of the slimmest 15-inch gaming laptops you'll find.
One thing that's you don't get with the super slim form factor is Ethernet. It's the only thing that is missing, though, as you get a bevy of USB 3.1 ports, HDMI, miniDP and Thunderbolt 3. Wireless is taken care of by Intel's 9260 system, replacing the Killer wireless on the old model.
The included ports also make the Blade 15 a top choice for Windows Mixed Reality and VR in general. The HDMI and USB 3.1 ports are next to each other, which makes connecting a Mixed Reality headset a doddle.
What is disappointing though, is that despite a redesign Razer hasn't found a home for Windows Hello. Some might not care, but in the process of ticking all the boxes adding a fingerprint sensor would have been the icing on the cake.
Razer Blade 15: Display
You only have two main decisions to make when picking your Razer Blade 15: Which display and GPU you want. Razer makes it even easier because if you want the 4K touch display, you can only have it with the GTX 1070.
The 1080p option is non-touch, but its major selling point is the 144Hz refresh rate. With the hardware inside the Blade 15 there are definitely games you can be playing at high frame rates, and personally, it's the one I'd go for. I've only used it briefly but it looked fantastic and the performance is right where you want it if you're a keen PC gamer.
The 4K touch display takes things in a different direction. The refresh rate drops to 60Hz which is common, and even with a GTX 1070 you're not really going to game at 4K. And gaming at 4K on a 15.6-inch display gains you pretty much nothing.
Where the display on this model comes into play is for the creatives out there. If you're looking for pixels and accurate color, then the 4K version of the Blade 15 is here for you. Though as it's a glossy display you'll want to invest in a stash of microfibers.
I ran it through the Datacolor Spyder 5 Pro colorimeter to get an idea of what's going on and the results are pleasing.
Not only does it achieve 100% sRGB, a great result on its own for a gaming laptop, the 4K panel also achieves 100% Adobe RGB. I wish it was a little brighter, but this is a killer display.
Razer Blade 15: Keyboard and trackpad
There's one very important thing to know about this year's Razer Blade trackpad: Precision drivers.
I could leave it there. The lack of precision drivers was one of the negatives about the old Blade, but Razer fixed that for 2018. The trackpad has also been redesigned to be larger and to have no physical buttons. Left and right mouse click are still where you'd expect to find them, but the trackpad clicks instead of a button.
It's a great trackpad, too. The Stealth and Blade Pro had already jumped to Microsoft Precision drivers and finally, the regular Blade can hang with them. The large size feels right for a 15-inch laptop, it's dead center and has a really nice smooth finish.
The first thing you always notice about the keyboard on a Razer Blade laptop is the Chroma. A staple of Razer's systems and accessories lineups across the board, the Blade 15 is no exception. While the keyboard looks great, I do have a couple of qualms with it.
While I'm pleased to see full-sized cursor keys, the right-hand function key has been pushed out to the very outside of the laptop. This probably bothers me more than most, because I'm so used to having it to the side of the space bar where it's easily pressed with my thumb. I'm an old man who hates it when companies use odd laptop layouts.
The most annoying thing about the keyboard though is that the functions you need to press that key to enable don't light up. Pressing function highlights the F1 to F12 keys which all have additional purposes, but what they do stays dark while the F number lights up. So until you've trained yourself to know what lives where, you have to peer down at the tiny, dark icons on the keyboard.
The keyboard itself is decent. It's not yet taken on the low-profile mechanical keys of the Blade Pro, so while you're probably hooking up an external input for gaming, for typing it's a good experience.
Razer Blade 15: Performance and battery life
What you're really buying a Blade 15 for is the performance. The tradeoff is battery life, particularly on this 4K model. You can realistically expect 3-4 hours away from the charger if you're not pushing it in any way. That's not a dealbreaker for a gaming laptop, and the 230W power brick isn't as large or heavy as you may have been expecting so it's no drama to pack in your gear bag as well.
Previous Blade's have had a GTX 1060, and since NVIDIA hasn't yet unveiled anything beyond the 10-series, that's what you find again. The optional GTX 1070 is what I have here and paired with a six-core processor you'd expect something beastly.
And that's exactly what you get.
CPU
Geekbench 4.0 Benchmarks (Higher is better)
Swipe to scroll horizontally
| Device | CPU | Single core | Multi core |
| --- | --- | --- | --- |
| Razer Blade 15 | i7-8750H | 4,872 | 17,910 |
| Razer Blade 2017 | i7-7700HQ | 4,277 | 13,597 |
| Lenovo Legion Y720 | i7-7700HQ | 4,697 | 14,810 |
| Dell XPS 15 2-in-1 | i7-8705G | 5,015 | 16,094 |
| Razer Blade Pro | i7-7700HQ | 4,115 | 14,234 |
| ASUS ZenBook 3 Deluxe | i7-8550U | 4,743 | 14,391 |
The i7-8750H bests the older gaming laptop CPU of choice, the i7-7700HQ, pretty handily for single-core performance but the six-core destroys the old quad-core for multi-core performance. It's also a good comparison with the ZenBook 3 Deluxe running an 8th Gen quad-core i7, which is on par for single core performance but loses out to the six-core chip otherwise.
GPU
3DMark - Fire Strike (higher is better)
Swipe to scroll horizontally
| Laptop | GPU | Score |
| --- | --- | --- |
| Razer Blade 15 | GTX 1070 | 13,560 |
| Razer Blade 2017 | GTX 1060 | 9,278 |
| Razer Blade 2016 | GTX 1060 | 8,665 |
| Razer Blade Pro | GTX 1080 | 12,976 |
What's most amazing here is that the MaxQ GTX 1070 actually bests the GTX 1080 in the Razer Blade Pro.
SSD
CrystalDiskMark (Higher is better)
Swipe to scroll horizontally
| Device | Read | Write |
| --- | --- | --- |
| Razer Blade 15 | 2,722 MB/s | 1,217 MB/s |
| Razer Blade 2017 | 1,343 MB/s | 1,525 MB/s |
| Razer Blade Pro | 2,571 MB/s | 2,467 MB/s |
| Razer Blade Stealth | 1,281 MB/s | 1,330 MB/s |
| Dell XPS 15 (9560) | 2,207 MB/s | 1,628 MB/s |
| Lenovo Legion Y720 | 1,642 MB/s | 790 MB/s |
The storage performance with the Razer Blade 15 is excellent. Read speeds are some of the very best we've seen on any recent laptop, and while write speeds are a little lower than some of the competition, the Samsung NVMe SSDs being used in the Blade 15 are winners.
The benchmarks impress across the board, but what about when you get into some gaming? I ran through some popular titles, setting the resolution to 1080p and graphics to high, or one step down from maximum across the board.
The GTX 1070 is easily capable of running at max settings or above 1080p, but in that case, you'd want an external display as it's just not worth it to game at 4K on a laptop. Especially when you're limited to 60Hz. You can, if you wish though, as I managed to run The Division fairly comfortably at 4K when limited to 30 FPS.
Game benchmarks
Swipe to scroll horizontally
| Game | Graphics presets | Resolution | V-Sync | Average frame rate |
| --- | --- | --- | --- | --- |
| Rise of the Tomb Raider | High (DX12) | 1920 x 1080 | Off | 72 FPS |
| The Division | High | 1920 x 1080 | Off | 97 FPS |
| For Honor | High | 1920 x 1080 | Off | 140 FPS |
| GTA V | High | 1920 x 1080 | Off | 151 FPS |
What's important to point out alongside benchmarks is the temperature and byproduct, insanely loud fans. Compared to some other laptops I've tested recently, some of the figures are a little disappointing, with Rise of the Tomb Raider being no better in practice than the ASUS GL503 which has both a 7th Gen Core i5 and a GTX 1060. This is an anomaly here though as the other games tested produce terrific results.
The Division, however, seemed to be a pain point for the Blade 15. There's a ton of detail and activity going on in the game and it was this which produced the hottest temperatures from the laptop. It pretty quickly went over 80C, ultimately reaching a peak of 98C despite rarely going over 50% CPU load. At the higher temperatures, you do get thermal throttling, but things are pushed as far as realistically possible.
In other titles it's less of an issue, For Honor, for example, producing fantastic results, not a lot of heat and as such the fans weren't too loud. You do have mild control in Razer Synapse 3 over the fans, but if you go to manual control you either have fast, faster or fastest to choose from. And you get some lovely coil whine when they're really motoring.
Add a Razer Core X for even more gaming power
Alongside the Blade 15, Razer is also launching a new, cheaper version of its Core eGPU.
The Razer Core X will add a full desktop graphics card to your new Blade 15, if you really need more power, and for only $299.
Razer Core X is a lower-priced eGPU for laptop gaming
The real heat and fan noise seem to come from anything CPU intensive, which would relate to games like The Division. Total CPU usage doesn't seem to reach ridiculous levels, but the temperature will rise quite quickly. This could be down to a number of issues, maybe even something simple like poor thermal compound, but during gaming one thing is constant: Heat and noise.
That's a tradeoff you have to be willing to make for gaming on a laptop, though. Razer's vapor chamber cooling system does an OK job at getting the heat out, and the GPU temperatures are nothing more than you'd expect: Hot when gaming, fairly cool when not. But the sad fact is the Blade 15 gets really hot and when it's an all-metal construction you end up with some pretty uncomfortable areas on the chassis. Though it should be said that the trackpad and keyboard never become uncomfortable.
What I'm less pleased with is the fan noise during normal, light use. When sat idle with no programs open, the fans can just spool up for no apparent reason. I played around with a few things and disabling the CPUs turbo mode in BIOS helped in this situation, but that then wrecks performance in gaming.
Hopefully, it's something that some clever folks can fix with some updates to the BIOS and how the fan curves are generated.
Razer Blade 15: The bottom line
The Razer Blade 15 comes close to perfection. Very, very close. The company has essentially taken a step back, listened to its fans and designed the perfect gaming laptop. Slim, light and pretty compact, gorgeous to look at, a large display with skinny bezels and blistering performance.
If the only things I could fault with it were some mild annoyances with the keyboard and that it's an ultimate fingerprint magnet, it would be easy to cement as the gaming laptop of choice.
Pros
4K display is stunning with great color reproduction.
Excellent all-around performance.
Microsoft Precision trackpad.
Larger display, skinnier bezels.
Squared off design looks the business.
Still the closest thing to a true gaming Ultrabook.
Cons:
Alternative functions of F keys don't light up and are hard to see.
Gets pretty hot in CPU intensive games which results in throttling.
Fan noise is too high under lighter loads.
No Windows Hello.
But, I'm still a little concerned with the heat and the noisy fans. No-one sensible will ever put a gaming laptop on their actual lap then proceed to jump into a round of PUBG, and if it was purely in gaming that things got a little toasty and loud, I'd give it a pass. There's only so much you can do in a laptop form factor.
What puts a sour taste in my mouth though is how hot the Blade 15 can get, and how loud it is during every day, none-gaming use. This looks like a laptop you could take into a conference room for a meeting. It's sleek, sophisticated, understated in its appearance. But as soon as you fire it up and open a web browser, you'll annoy the living daylights out of everyone else in the room.
Otherwise, the Blade 15 is a masterpiece of design and engineering. Bravo, Razer. Bravo.
Get the Windows Central Newsletter
All the latest news, reviews, and guides for Windows and Xbox diehards.
Managing Editor - Tech, Reviews
Richard Devine is a Managing Editor at Windows Central with over a decade of experience. A former Project Manager and long-term tech addict, he joined Mobile Nations in 2011 and has been found on Android Central and iMore as well as Windows Central. Currently, you'll find him steering the site's coverage of all manner of PC hardware and reviews. Find him on Mastodon at mstdn.social/@richdevine