Razer releases the Kraken Xbox One stereo headset for $99.99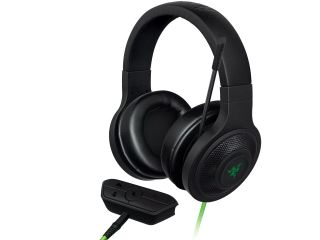 Razer has unleashed its latest gaming-themed accessory with today's reveal of the Kraken stereo headset designed specifically for Microsoft's Xbox One console. The Razer Kraken is now on sale for $99.99.
Razer says:
The headset comes with an audio control unit that attaches to an Xbox One controller and providers owners with a quick way to adjust the headset's volume levels or to mute sound entirely. It also comes with a unidirectional microphone that flips out of view when not being used.
Source: Razer (opens in new tab)
Windows Central Newsletter
Get the best of Windows Central in your inbox, every day!
Esport athletes? That made me chuckle.

Which part? Esport athlete or the choice of esport athlete?

Replaceable batteries? If not, not worth it.

This doesn't appear to be a wireless headset. For that matter I don't think there is any wireless headset for the Xbox One. There should not be any reason for them to have a batteries.

The turtle beach stealth 500x is the only truly 100% wireless headset for xb1

Isn't there a Halo Xbox one headset coming out that's wireless?

Ooh, the pictures on the wpc app made it look wireless

I just like the name: Kraken.

The choice PC headset??? A fair amount of gamers I know use Astro A40 headsets. Not all but a good amount. I think 1 uses razer products. The rest are various other headsets.

I honestly wouldn't expect them to say anything different. Seems you can say whatever you want when you are trying to sell a product whether it is true or not. Which is sad really. Using my anecdotal experience, all of my friends use Logitech headsets. So who is right?

Who's them? WP, trying to sell some shit?

Umm no. Zeroplanetz was referring to the quote from Razer saying that they are "The choice PC headset" Them is reference to what seems to be most companies these day not having any integrity about their claims.

I'd say no one is right or necessarily wrong. They probably justify there saying by sales amount to just anyone or even by them giving headsets for promotional use. I personally use my UE6000 and my mic untill I find a pair im comfortable with.

You know eSport athletes from around the world? How cool...

I know through my cousin who competes. More of an acquaintance if you will.

You said 'bass for powerful lows'?! There's a buy!

Total sound isolation?? Imagine you are enjoying on your Xbox and some one is breaking into your house !!!

My god! They've RELEASED THE KRAKEN!

My friend just asked me about Xbox One headsets because he has a baby at home, so for the past year he's been playing games without the sound on. Baby was gone for a night so he got to play with the sound on and he had forgotten how much more amazing that is. So, now he wants to get a headset that outputs the game audio (so that, outside of his hears, the room is silent). What peripherals does he need? If there are multiple options, what's the best value (quality/cost)? Finally, how does that work with party chat? If he's playing Titanfall with a groups of friends, does all audio go through there--from the game and the chat? And if so, does that work well, or is it a mess?

Both game sound and chat voice goes through the same speakers in a headset. You can adjust the volume of the game and chat volume for personal preference. Works well. I just wish they had a nob or something other than buttons to make the adjustments more precise. But headsets definitely change the game. Astros are probably gonna be the best. Turtle beach break a little too often

Cant he use any headset? Perhaps with an adapter? When it comes to audio, minus voice interaction, I prefer my own headset, say Klipsch IEM'S. My Sony Bluetooth has the option to use your own headset, that's nice cause most headsets, Bose being a good example, sound like crap.

If he buys the adapter Microsoft sells for $25 he can use any gaming headset sold for the Xbox 360 he wants. The selection is far greater at this point in time. With that said Microsoft also sells a headset for One that is decent and also happens to include the adapter I mentioned. So he can switch to a better headset later. Personally I recommend the Skullcandy Slyr headset. It is very comfortable to wear and can also be used as regular headphones with his phone or whatever. He'll just need that adapter if he gets the original version. I'm pretty sure they just released a version specific to One. I chose the original because I game on both consoles. My other recommendation is Turtle Beach headsets sound really good but they break way to easily. So don't bother. Anyway you're a good friend for helping your buddy get his game on while keeping the peace in his home. Rock on dude!

I am not an audiophile by any stretch, but the Microsoft stereo headset has been awesome so far. I believe it is $50, but that includes the $25 stereo adapter which is needed no matter what headset you use. The microphone also tucks away nicely so you don't even know it's there when not on use.

Polk audio also has what seems to be really good sounding headset for Xbox one that's few dollars less.

I picked up the Microsoft set for 39.99, and for the money I have been happy.

I just picked up the Skullcandy Slyr headset after my shitty Turtle Beach X12 headset cracked in less than an a year. I have to say the Slyr is the most comfortable gaming headset I've ever worn and the sound is great. I plug then into my original Turtle Beach DSS and I can't be happier. If you didn't know Skullcandy owns Astro.

Please just buy the adapter from eBay for about $10 and use the headphones you have already

I bought the headset adapter and use my Nokia purity pros with the 3.5mm cable. Great sound and doubles as my normal headphones. But I did have question, do any of you guys have audio cutting out or the have someone speaking to you and always missing the first two words they say? That's the only annoying thing I've encountered.

Hike got update, no article"???

I just hope that you can have 2 headsets at the same time on the same console talking to each other and all the of the other players they are playing with online. Because your not able to do this on the Xbox 360. It would be nice to do this on Xbox One.

"The headset comes with an audio control unit that attaches to an Xbox One controller and providers owners with a quick way to adjust the headset's volume levels or to mute sound entirely. It also comes with a unidirectional microphone that flips out of view when not being used." These are cool features, can't wait to try it out. I hope the sound quality is better! Me and my friends love these headsets for their sound quality!