Razer's Zephyr smart facemask with RGB and N95 filters can now be yours for $99 [Update: Sold out!]
Razer's Zephyr is a wearable air purifier built to allow people to express themselves. It's now available to order.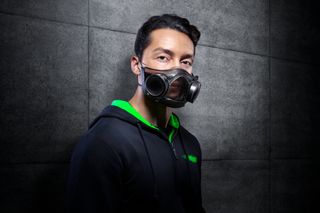 (Image credit: Razer)
What you need to know
Razer announced it's shipping the Zephyr smart facemask today.
The mask features N95 filters with two-way protection and a pair of 2-speed fans for circulation and cooling.
It also filters RGB lighting and a transparent front that allows people to see facial expressions and read lips.
The Razer Zephyr is available starting today for $99.99.
Update 1AM ET Oct 22: The first wave of Zephyr masks have sold out.
Earlier this year, Razer showed off Project Hazel, a smart N95 medical-grade mask with Chroma RGB lighting. Two months ago, it was rebranded as Zephyr. After a beta test, that mask is now available to purchase as announced today RazerCon (opens in new tab).
There are some design changes in the Zephyr compared to the first images of Project Hazel, but the general concept is the same. It's a wearable air purifier infused with tech to help with communication.
The Razer Zephyr is FDA-registered and lab-tested for 99% Bacterial Filtration Efficiency (BFE). It features N95 grade filters with two-way protection. Razer claims that the filters last three times longer than single-use disposable masks. Of course, disposable masks also lack RGB, a silicone seal for a snug fit, and a transparent front that allows people to see facial expressions and read lips, all of which are on the Razer Zephyr.
Razer Zephyr filters the air that is inhaled and exhaled, not only protecting you but those around you. It has two air exchange chambers that let air flow in and out. And to improve circulation, there are two 2-speed fans, which also assist in cooling.
The facemask features a soft silicone face seal on the front and a dual strap design around the back. This setup should help the mask fit snuggly while still being comfortable.
While the driving focus for Zephyr is the 2020 COVID pandemic, recent outbreaks of the Delta variant (and Lambda) have brought the issue of mask-wearing back to the forefront of public health.
Masks have become popular to combat the respiratory effects of airborne pollution and even allergies for many. Moreover, in many Asian countries, wearing masks has become relatively routine following earlier outbreaks like SARS, the 2009 H1N1 flu pandemic, and the prevalence of Asian Dust. That makes Zephyr potentially more lucrative for those markets vs. Western ones with greater resistance to wearing masks (even one as cool looking as Zephyr).
Like many Razer products, the Zephyr supports Razer Chroma RGB. You can control the interior lights (including disabling) and fans with the Razer Zephyr app available on both iOS and Android.
More interestingly, the big news is that $99.99 price tag. Speculation since its announcement back in January was that it could cost hundreds of dollars. This price seems more doable.
Of course, Razer took a few steps to lower the cost of the Zephyr. Most notably, it does not have microphones and speakers for voice amplification, as shown in the original Project Hazel design. Nor is there a fancy enclosure with UV lighting for disinfecting that would also charge it back up. However, if there is demand for such features, Razer said it could add those in a more premium version later.
The lower price tag should make the mask more accessible to those who need to wear a mask all day with some style. A set of 10 Razer N95 filters costs $30 with each filter lasting for three days of usage. A starter pack with the Zephyr and three N95 filter packs is also available for $150.
Windows Central Newsletter
Get the best of Windows Central in in your inbox, every day!
News Writer and apps editor
Sean Endicott brings nearly a decade of experience covering Microsoft and Windows news to Windows Central. He joined our team in 2017 as an app reviewer and now heads up our day-to-day news coverage. If you have a news tip or an app to review, hit him up at sean.endicott@futurenet.com (opens in new tab).
I can find free face masks everywhere I go, and doing that doesn't give off a 'I make too much money' kind of vibe.

Well, the problem with free masks is they're not N95, nor reusable, nor very comfortable for hours of use. These have fans to keep you cool/circulate the air, will actually work at keeping out airborne viruses, and make it easier for communication. I agree not everyone needs one, but I disagree that no one would benefit from it either. I'm happy to let the free market decide for us. It's interesting innovation of an old concept.

I want one of these simply to be on the ground floor of embracing our inevitable Cyberpunk reality.

My exact thought was: the new fashion trend.
Be hip or be square.

I used to mock these masks because it seemed like the would be too late by the time they come out. Now I have witnessed that human stupidity knows no bounds. Now masks like this seem more prophetic. I have a feeling this pandemic will never end.

just like the good ol' days...
https://en.wikipedia.org/wiki/Gas_mask#/media/File:Air_Raid_Precautions_... (I was never a fan of long-term mask use, but those gigantic canisters on the side ruined the concept)

"FDA-registered" means pretty much; Nothing.
All it is is filing some boilerplate paperwork with the FDA. The FDA explicitly states that having "FDA-registered" does not "imply approval, nor testing, nor verification" of it's capabilities and it is also NOT a "N-95 - certified" filter either.
Also, they dropped the see-through front plate altogether, even though it's prominent in their videos.
All in all, an expensive "look at ME!!!!" mask for people with too much money and not enough to do.
Pass.

I'm the last person to be defending this but this is on the web page and in all the pictures... "TRANSPARENT DESIGN WITH
ANTI-FOG COATING"

Hey, if you can think of a better fashion accessory to wear while taking down our corporate overlords, I'm all ears.

Oh snap, I just found out the filters are $30 USD which covers you for 30 days, that'd be about $50 Australian, so this thing costs $600 a year to maintain, screw that.

I imagine there are places that won't accept this. Airlines being one. There are masks which are designed to protect you from outside pollutants, and many of these have filters. You can commonly find them in hardware stores for working in dusty environments. COVID masking is supposed to protect others from your expelled contaminants. While this is supposed to do both, there is no easy way tell for which purpose a mask is designed, by just looking at it. For that reason most airlines don't approve/allow masks with filters. It's easier than requiring proof/documentation, when they are already subject to backlash.

instead they insist that you wear what equates to a couple sheets of toilet paper folded over your face! 😂🤣😂😅
Windows Central Newsletter
Thank you for signing up to Windows Central. You will receive a verification email shortly.
There was a problem. Please refresh the page and try again.