Recipe Keeper Pro for Windows 10 deserves to be your new digital cookbook
By Sean Endicott last updated
Traditional printed cookbooks are great, but if you want to bring your cooking into the twenty-first century you should take a look at Recipe Keeper Pro.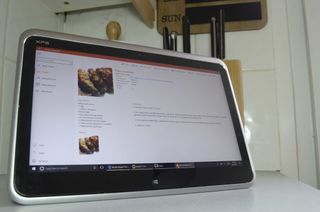 Recipe Keeper Pro is a cross-platform service that lets you store recipes and share them across devices. There is a free version but to be able to store more than twenty recipes you have to opt for the Pro version, which is listed separately in the Windows Store.
The biggest drawback of Recipe Keeper Pro is that you'll have to purchase it on each of your devices, a rare occurrence in the Windows Store these days. Each version costs $4.99.
In addition to the Windows 10 and Windows 10 Mobile versions, you can also get it on iOS (opens in new tab) and Android (opens in new tab).
See in the Windows Store (opens in new tab)
Recipe Keeper Pro features
The app is well made and has many features that you'd want in a recipe app. You can add recipes manually, mark favorite meals, add all or parts of recipes to a shopping list, and add photos to your recipes. The app also has a timer, so you don't have to open another app in the kitchen.
The shopping list is intuitive and can be sorted by either recipe or food category, such as canned foods or baking, an especially handy feature to save time at the grocery store.
In addition to those relatively standard cooking-related features, Recipe Keeper Pro also lets you import recipes from websites. It does a good job of scanning through sites and adding ingredients, steps, and photos from a recipe page you find. You can edit the listings in case it makes a mistake or you just want to tweak it.
The app also has a meal planner that lets you see an easy to read summary of your week's meals. While the app can be used without any need for paper and pen, if you'd prefer to print things out it is easy to print your meal plan or shopping list.
Cooking up a price
As mentioned earlier, pricing is the weak point of Recipe Keeper Pro. Most apps in the Windows Store let you purchase an app once and then access it on all your devices. This is up to the makers of the app, of course, and they're allowed to have each version priced separately but it's still a disappointing difference when compared to other apps.
If you read through the reviews of the app in the Windows Store you will see that the developer claims you can purchase the app once and have it work across the devices. This appears to be incorrect, as we purchased the app on a PC and were still asked to upgrade to premium and to pay again for the phone version. This was the case even after registering for an account. If there is a way to have a purchase work on all versions of the app, it's unclear how to do so.
Wrapping up Recipe Keeper Pro
Price aside, Recipe Keeper Pro is a great app for anyone who wants to improve their cooking game. It makes it easy to import all of your favorite recipes, and features such as the meal planner and shopping list make preparing meals much simpler.
The fact that the service is also available on Android and iOS is a plus, because many Windows 10 users today use non-Windows phones.
Sean Endicott is the news writer for Windows Central. If it runs Windows, is made by Microsoft, or has anything to do with either, he's on it. Sean's been with Windows Central since 2017 and is also our resident app expert. If you have a news tip or an app to review, hit him up at sean.endicott@futurenet.com.
I use this all the time. I especially like the ability to paste a URL into a blank recipe and Recipe Keeper fills in all of the details. It's a great app, well worth the $5 in my view.

From Windows 8.1 to now, this has been the best Recipe Keeper app I've ever used. As the person above me said, being able to pull recipes from a page by pasting in the URL is awesome, plus I love how quickly it syncs info between devices. Definitely worth the price.

I use this app, and it's fantastic. The W10 app is separate to the W10M app (the same as the android and ios versions being separate), hence buying it twice,. However once bought you can then install on numerous computers and tablets to make it easy to keep your recipe collection up to date. Have been hoping they make it a UWP so don't need to buy for my L950,.. Highly recommend - and have done to many friends and family!

I've been using it for several years now. It is great. The developer is quite responsive and has added features all along including one suggestion I made. Most of the time when I import a recipe the only thing I need to do is decide in which course the menu fits and the food categories in which to classify it. It even brings in the picture from the web site. Recent versions allow me to add mulitple pictures. Price is not a weak point as it is definitely worth it. I don't remember buying it separately for my phone and PC, but it was a while ago so I may have done that.

I'm not discounting this as a good app, but it's just not the app I need. I use OneNote as my cross-platform recipe book. Why? Sharing. I have been on the ketogenic diet for a while now, and it's easy to copy/paste recipes into it, and make changes from any device, as needed. Additionally, I recently started a keto group for people in my church (we'll expand outward to the local area once we get a format figured out), and I have a shared notebook that we all have edit rights to, so anyone can add a recipe. It's turned out to be very handy for this.

Is there a way to export saved recipes? I would love to use an app like this but I just don't have much faith in the Windows app ecosystem at present. If I come to rely on an app like this and then it gets shut down in a year or two, that becomes a big pain to then retrench in a different method. Unless of course the app allows you to export. Currently I keep all my recipes as Word docs in OneDrive. A bit no-frills but it works. Trying to figure out if it would be worth switching.

I use OneNote - all of my recipes are organized into a single file, and on OneDrive. I can share with others this way as well (they don't have to buy an app).

You can export your recipes, you can also share them with other users. This app does not rely on the Windows ecosystem alone as your recipes are tied to your recipe keeper account. If you move to Android or iOS you simply get the app there, sign in and you have all your recipes.

I typically use Yummly because the aesthetic is very pleasing but this looks very good too.

Does it have a gesture control option like the old Food & Drink app did? If not, then I have no use for it.

be honest and say that for each device has to buy a pro license to be able to synchronize. So $5 for pc, $5 for windows phone and $5 for android phone?
Very expensive!!!
This article is pure propaganda and advertising

I disagree that it is expensive. $15 is the cost of two microbrews or one Blu-Ray disc. I think unfortunately that too many people expect quality software for free...and that is unrealistic.

I agree, people expect $0.99 or free apps most of the time

I love this app also! Purchased it years ago.
Windows Central Newsletter
Get the best of Windows Central in in your inbox, every day!
Thank you for signing up to Windows Central. You will receive a verification email shortly.
There was a problem. Please refresh the page and try again.