Action-adventure title ReCore is coming to Windows 10 in 2016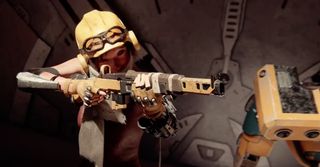 Microsoft plans to publish a number of exclusive games in 2016 for its Xbox One console and Windows 10, and sometimes for both platforms. A newly posted schedule of those game released by the company revealed for the first time that ReCore, which was first announced as an Xbox One exclusive, will also be coming to Windows 10.
Little is known so far about ReCore since the action-adventure game was first announced in June 2015, but previous teaser trailers show that is has a sci-fi theme with a woman partnering with a robotic dog to fight off enemies. The game is being co-developed by Armature Studio and Comcept, the latter of which was founded by Keiji Inafune, who first illustrated the look of Mega Man for Capcom and later was a producer for the publisher's Lost Planet and Dead Rising series.
Here is the newly revealed list of Microsoft's Xbox One and Windows 10 exclusive games in 2016:
Gears of War 4 (Xbox One) – Multiplayer Beta in Spring 2016/Launch in Fall 2016
Quantum Break (Xbox One) – April 5, 2016
Halo Wars 2 (Xbox One & Windows 10) – Fall 2016
Crackdown 3 (Xbox One) – Multiplayer in Summer 2016
Fable Legends Open Beta (Xbox One & Windows 10) – Spring 2016
ReCore (Xbox One & Windows 10) – 2016
Sea of Thieves (Xbox One & Windows 10) – 2016
Gigantic (Xbox One & Windows 10) – 2016
Killer Instinct: Season 3 (Xbox One & Windows 10) – March 2016
Gears of War: Ultimate Edition (Windows 10) – Spring 2016
Ori and the Blind Forest: Definitive Edition (Xbox One & Windows 10) – Spring 2016
In addition, Microsoft also confirmed that Cobalt, the side-scroller game that is being co-developed by Minecraft's Mojang team in partnership with Oxeye Game Studio, will be released for the Xbox One, Xbox 360 and PC (via Steam) on February 2. As we previously reported, an Xbox One exclusive game, Scalebound, that was originally set for a 2016 release, has now been delayed to sometime in 2017.
Source: Xbox Wire (opens in new tab)
Windows Central Newsletter
Get the best of Windows Central in your inbox, every day!
Well, it says Windows 10.

Hope lots of these games can be run by mid range and entry level gaming laptops.

I wouldn't mind grabbing on for my surface 3 but I want to make sure it will run well on there.

Well as long as they stay the hell away from ws distribution then sure

It's definitely going to be a Windows Store exclusive.

Why do you have a gaming laptop, get a pc if you have time. You get better performance for the same price, plus its upgradable. You don't even have to get a gpu (graphics card) you can just get a apu (accelerated processing unit/cpu+gpu).

Lol have you seen the price for next gen ram that broadwell uses

Ddr4? Its cheap these days.

Because portability is most likely important to him.

still pretty decent count for exclusives, multiplatforms will make up the remaining..

I don't care what platform it comes out on - I just want to play ReCore. Also - Rocket League can't come soon enough for the XBOX One. I've been playing it on the PS4 and it is consuming all my time. Having a blast with it. I want to play with my XBOX Live friends though since I don't have really that many friends on my PS4 account.

Wasn't it announced many months ago that ReCore was coming to Windows 10?

nope..just revealed today

I found the original source here, back in August 2015, Bobby Pavlock, game designer at Armature Studio, posted on their official website that ReCore is "exclusive for Xbox One and Windows 10". And then they subsequently deleted it after the uproar. Seems like they let the cat out of the bag before Microsoft was ready to let it out of the bag (presumably not to hurt Xbox One sales in the Xmas season).


So are all these games coming through the windows store?

Gears of War 4, Quantum Break, and Crackdown 3 are for Xbox One only and will not be available through the Windows Store.

We need to figure this out, they said Windows 10 like PCs (Win32 .exe) or Windows 10 like just for Windows 10 (through the Store)?

As in, on your windows 10 PC or Surface or tablet...

Through the Store it seems. Rise of the Tomb Raider is coming to the WinStore soon as well.

what's with the "Definitive" Edition stuff, really starting to annoy me.

It depends on the game that uses the term. For Ori and the Blind Forest, it adds extra abilities and levels to the original game.

it's completely ****** up that MS keeps some IPs like Halo limited to console and refuses to release it on PC.

How about when Nintendo and Sony do it too?

Nintendo and Sony aren't also the developers of the operating system on PC.

I want yo play Uncharted and The Last of Us on PC? Sony, you go first?

It's business. If you want to play them that bad, you'll buy an Xbox. They figure they get more sales in consoles than they lose in not selling copies to PC gamers.

I hope Cuphead is still being released this year. I am really looking forward to playing it.