Music+ upgrade present in the latest version of Nokia Music for Windows Phone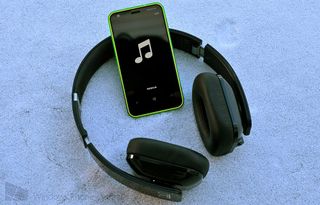 Nokia has updated its Music app for Lumia Windows Phones. Nokia Music enables those with Lumia hardware to tune into playlists and stream music straight to the handset. While the music isn't able for individual listening, the selection of music makes up for this with ample supply of notes to be pumped through the array of genres available.
What's new in the latest release? Nokia Music+ is here. An interesting feature we've noticed (since we're not avid users of the service - hello Xbox Music!) to be new is the ability to redeem music vouchers, which we believe to be similar to those on the Ovi Store. This is also reflected in the tip we received from a reader. As well as that (that's not all, folks), Music+ is now reportedly available and operator billing is implemented - see more below.
As well as updating its mobile client for Windows Phone, Nokia is also set to unveil Nokia Music+, which is now reportedly featured in this update. This optional upgrade for those who enjoy using the service will see a number of features and requested functionality be made available. The company will expand its offering with clients released for PC and HTML5 for other platforms.
Update: here's the full changelog, as noted in the app description (thanks, Paul, for the heads up!):
Never miss a gig again by adding them to your calendar
Purchase tracks and albums using your operator bill (selected operators only)
Start Nokia Music quicker and go back to where you were before
Subscribe to Nokia Music+ and get unlimited offline stations, skips, lyrics and HQ audio streams (selected countries only)
We've looked through the app and it is an intuitive experience, especially if you're looking to upgrade to the newly released Music+ service. The added operator billing will please those who wish to keep everything on their account, or cannot use credit cards, etc.
You can download Nokia Music (Windows Phone 7 users - right QR code) from the Nokia Collection on the Windows Phone Store. Thanks, sarim_xyz, for the tip!
Windows Central Newsletter
Get the best of Windows Central in in your inbox, every day!
Rich Edmonds was formerly a Senior Editor of PC hardware at Windows Central, covering everything related to PC components and NAS. He's been involved in technology for more than a decade and knows a thing or two about the magic inside a PC chassis. You can follow him on Twitter at @RichEdmonds.
Clear change log mentioned in the app description page New features in this version - Never miss a gig again by adding them to your calendar
- Purchase tracks and albums using your operator bill (selected operators only)
- Start Nokia Music quicker and go back to where you were before
- Subscribe to Nokia Music+ and get unlimited offline stations, skips, lyrics and HQ audio streams (selected countries only)





Haha, someone spoke too soon. Good find man.

Yep, saw it just after publishing the article ;-)

Can't wait for Nokia Music+

Any word on the size of the music catalog?

It's the Nokia Store now (-_-)
Ovi was phased out at least a year ago.
If Ovi wasn't phased out, Nokia Maps would be Ovi Maps, Nokia Drive would be Ovi Drive, Nokia Music would be Ovi Music (XpressMusic line), etc.

Nokia music+ not showing here in Australia yet :( just updated hoping it would be on.

Not Available for Windows Phone 7.8 :(

Wp 7.x version is also updated but the wpcentral guys forgot to put a link for that version

Ah, another msitake. Added in :-)

Rich, where did you get hold of the Nokia Purity Pro headsets shown in the picture?

Thought they still was not available for sale anywhere on the planet. I have been checking with the Nokia Store in Oslo, Norway almost weekly since October last year, and they still have "no date" for them. So if you have some "top secret" place one can order them... :D

I didn't capture the photo, I believe (if I'm right) that it was Mr Rubino. Here's hoping he'll chime in ;-)

"Mr Rubino" probably have gotten some prototype or pre-release version...one of the many advantages of being at all the "OEM launch parties" I guess :)

They are up for preorder on amazon, expected shipping date...April! :(

Yeah, I had an an order at Amazon for several months, so I cancelled it some weeks ago.
...now I have an order at an Norwegian webshop...but I am not too optimistic about the "extimated shipping 25. February 2013" they have...these Nokia dates has an tendency to slip...and slip...and slip :(

Love the products...but not the delivery speed.

Nokia Music is a lifesaver for users in the third world countries (India and others).. MS discriminates its users here by not providing Xbox Music, Local Scout, Hopelessly out of date Bing Maps, very few bing features..
WIthout Nokia Maps, Nokia Drive, Nokia Music.. we would be left in the lurch experiencing a degraded experience when compared to our US or UK counterparts and unable to say anything to those on android and iOS.

Did you honestly say that MS discriminates by not providing services in different areas?! Lets just hope that was a translation error. I have my doubts though as WP folk are becoming increasingly whiny.

actually its true....in india there are no bing points or rewards and some other bing features, infact there's also a thread in wp's suggestion box with over a 1000 votes to add bing features in other countries

nope, it wasn't a mistake. I meant it. If you deny certain features to a region for any other reason other than legal then it is discrimination itself.. or you can say neglect? It has been 3 years since WP7 launched. I have had focus and now 920. If WP7.x if you set your locale as US or UK, then scout works in India but if you set your locale as India then it gets disabled. Never understood that reasoning at all.

Is this not available to Canada?

nope, just like ovi music was not avaiable here as well.

it sucks that we don't get Nokia Music in Canada

Don't let us down Nokia Canada!

Ok, updated app. How do I subscribe to + service.? L920 usa.

yeah ive been trying to figure out the same thing. L920, australia.

I believe it wasn't launched anywhere yet. AFAIK the update just makes the app support it when it does get launched.

Can't find a way to upgrade to +, must not be active yet.

Thank you for this post.
I keep checking the store but half it never shows me that updates are available. Case in point is this Nokia Music plus. When I used the QR and visited the app store, it says download the update. Weird!

There's no way to force it to check for updates besides visiting each app's page and checking. Within a few days it'd say on the tile that there are updates available. It's bloody annoying.

I would really love if Nokia made a nice live tile for this music app, other than that this is a solid update, it needed that fast switching, I hated when you had to load it up even if it was in the background.

It's really frustrating that in the change log it says you can subscribe and enable music+ but there as much as I search in the app I can't find any way to do so. Also how in the hell can I make a plus sign from a Lumia 920? I had to use the emotion section of the keyboard and find an emoticon with a plus sign to type one...

I to can not find anything about Music+ on my Lumia 920 here in the US after I installed the update. How do you register and activate it?

Plus sign is in &123 then arrow to right key -> above &123 to bring up more symbols.

Thanks for the info on the changelog. I updated the app - the feature that of most interest to me was no 3 - going back to where i was before if i had paused a song.
However, that feature is still not working.
If i pause a song and lock the screen, the updated nokia music app still does not let let me resume the song from where i left off when i unlock the screen - it refreshes the screen and displays the song/album artwork. This is for songs in "my music" collection.
The ability to preserve state, i.e., to resume from where you left off is the most basic of functionality that a music player should have - it worked flawlessly on my n808 pureview and n8 before that. Its surprising that it does not work in WP8 phones, even after this upgrade.
Anyone able to make the 'resume music' functionality work. Would be great of you could share it io this forum.
Thanks. L920 user from India.

Thanks redeyss, I feel like an idiot for not realizing that!

Why doesn't it work for Canada? :(:(

I don't get it. Why say that users can now get Music+ in the change log when there clearly isn't an option to enable Music+. (South Africa)
Windows Central Newsletter
Thank you for signing up to Windows Central. You will receive a verification email shortly.
There was a problem. Please refresh the page and try again.