Lumia 950 and Lumia 950 XL firmware improves GPS, call quality and stability woes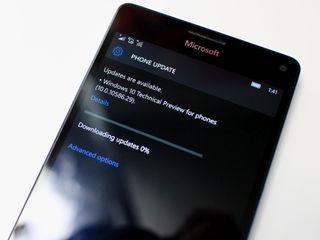 Update: Microsoft has now confirmed the update (opens in new tab) and we have added the changelog below
Microsoft may be pushing out a new firmware update for the Lumia 950 (dual SIM) and possibly Lumia 950 XL. A few users on Reddit and in correspondence with us on Twitter have indicated that firmware version 01078.00038.16025.X may be pushed to devices in production (non-Insider status), which is a change from the recent 01078.00027.15506.X that came out at the end of December.
So far, we have not been able to get the firmware update on our unlocked US Lumia 950 XL variant, or AT&T locked Lumia 950. The update appears to be very limited on a regional basis at this time, and Microsoft has not yet commented about the update nor what it fixes.
Changelog
Stability fixes.
Improvements for GPS reliability.
Improvements for call audio quality.
The only semi-confirmed area is Germany, non-ISP variant, but Microsoft has noted that "the rollouts should continue gradually during the coming days and weeks."
For those on the Insider program, they will need to launch the app and choose Production from the list in order to check for new firmware. No restart is required, and users can return to Insider status at any time.
We'll be looking for any official word from Microsoft on the reported update and will add to this article once received.
Let us know in comments if you are getting an update and, if so, what model and region/country.
Thanks, Bernd, for the tip!
Daniel Rubino is the Executive Editor of Windows Central, head reviewer, podcast co-host, and analyst. He has been covering Microsoft here since 2007, back when this site was called WMExperts (and later Windows Phone Central). His interests include Windows, Microsoft Surface, laptops, next-gen computing, and arguing with people on the internet.
It's available in Finland also.

Norway to. Unlocked non insider 950 XL single sim

Got it on the standard 950 aswell.

Got the update on my 950 xl in Sweden too. Had to get out of fast insider ring first as stated in the article.

Same here. Single sim non-carrier locked XL in Sweden.

Available in India too... 950DS

I'm in India too and why I didn't get for Lumia 950? Region now includes states as well? :P Every one in India gets it except me?

Received update in Ukraine as well, 950 dual sim.

Unlocked, European 950XL Single Sim. Got the update.

Cue the AT&T hate in 3... 2...

I like AT&T! Guess you're wrong..

AT&T best wireless carrier in the US!!!!!! (lol)

No AT&T is the worsrt wireless carrier in the US....except for all the others. Thank goodness MS has only partnered with carriers who are working with them. Imagine what it would be like with T-Mobile, Sprint and Verizon.

I love AT&T soooo much I want to take it behind the school and get it pregnant! But seriously... wtf is the firmware for my 950?

Lol, making one rethink getting a carrier branded device, even though I do understand why someone would.

Www still don't have the update that was released forever ago, right? What's it been a month and a half?

My reason would be missing out on things like Visual Voicemail and Wi-Fi Calling. Sounds like those things don't work on the 905 XL on AT&T.

Actually, visual voicemail is one of the few things that DOES work well on the 950 on AT&T. Still no firmware update, though.

But does VVM work with international unlocked 950s on ATT?

From my understanding from various posts on the forums, it only works with single sim ones.

I can get the Wifi calling thing, that's tricky.

I had the opportunity to email (rant) my frustrations to my AT&T rep for our company a couple of days ago. We have 60 Windows Phones deployed, and I have five Lumia 950's deployed for testing that have been buggy as all get out. This is the response I got in reference to why AT&T still hasn't released the firmware update that MS made available over a month ago for the 950: "I understand your frustration as it makes my job more complicated as well, using your situation as a solid example. However, I do know that it is not purely AT&T making the restrictions. The biggest holdup is in the contractual wording between the manufacturer and AT&T." Contractual wording? I can't imagine any realistic reason why MS would NOT want their users to get firmware that would fix buggy devices as soon as possible. My first guess would be it has to do with AT&T not wanting MS to do anything that might enable features that would hurt AT&T's ability to charge customers for data overages. AT&T disabled the built-in FM radio on the 950. Now, why on earth would they do that? Because it's more lucrative for them to have their users streaming iHeart radio all day.

The built-in FM radio isn't on the unlocked, unbranded 950 either. Bit bizarre, but not AT&T on that one at least.

No FM Radio , no double tap to wake. Think you should invest 230 in a brand new Flex 2. Oh and Infrared Blaster and all the apps lol Posted via the Blackberry VKB on my LG Flex 2

Don't get it. The MS FM Radio app is on my AT&T branded, locked, and SIM'd, 950, and works just fine. Works fine on my unlocked, unbranded, dual SIM 950XL as well.

The FM radio will show up under certain conditions IF you set up your 950 by using a backup of your previous device. Once scenario I can confirm is if uyou had teh radio app pinned to your start screen on your old phone, and then used a backup pf it to initilaize your 950. I have now set up five different AT&T Lumia 950s both ways. If you take them out of the box and set them up from scratch as a new device, you won't find the radio app. There may be other scenarios that cause it to appear on the 950, but of course I have no way to easily test all the variables. I would also think that if you have any other apps that use the FM tuner built into the phone, there's a chance it may also show up. But I have yet to see it appear with a new phone not intialized from a backup.

"contractual wording" likely just means that the paperwork is sitting in their legal department waiting for someone to look at it. Standard turnaround for corporate legal to do anything is ~6 months. Hell I think it takes them 2 months to decide where to go to lunch.

And.... the waiting game begins......again

Yea that seems to be the trend for windows phone. Waited forever to upgrade my 920 and now here I am waiting for the phone to be a half way functional device. As of now I plan on jumping ship as soon as I can pay off my device with AT&T. Maybe they will get the 950 usable by then and I won't have too. But considering all of MS apps work BETTER on android than they do on Mycroft's own devices I think they want us to leave.

Hi Dan! Mine is Indian version, L950 dual sim. Currently in UK and installing the new update. Its shown as MICROSOFTMDG Update. Will open a thread in L950 forum and will update. Cheers!

UK Unlocked, Lumia 950 XL Single Sim - Nothing yet however eagerly waiting...

Nothing here either, will hopefully appear by morning :)

One can only hope so :-) Could really do with some stability improvements because we're due to deploy number of Lumia 950 handsets to clients by end of the week and as it is they will not be happy.

Ah well fingers crossed! I just want the random restarts to stop, tends to happen whenever the phone leaves a WiFi network and goes to cellular, eg leaving the house to go to the shops or whatever! Oh and the screen not powering on bug when I press the power button lol

Agree, too many W10M issues need ironing out to list here however like you personally would like to have stable handset with Bluetooth also working as it did in Windows Phone 8.1. Been checking every 15mins and nothing so far...

Same as usual EE sim and nothing

Same, I hope it come to my Lumia 950 XL soon.

Unlocked GB SS XL .71 (production ring), nothing here yet either.

Unlocked normal .29 Lumia 950xl in finland just got this small update..

Were you insider before? I am on .71 insider. I can unsign. But last time i did that... didn't work with the first firmware.

Interesting that it's now Microsoft, not Nokia, yet Finland still gets updates first.

No yet in Spain 950Xl Dual Sim

Unlocked EU/NL 950 Dual Sim got update.

Also getting an update called "MICROSOFTMDG-Update" on my free Lumia 950 XL in Germany :)

I'm guessing this one will say the same thing as MDG stands for Microsoft Devices Group.

Nope, firmware is now 01078.00038.16025.39030

Firmware update on my phone is 01078.00038.16025.39011

Got the update. Lumia 950 Dual SIM, Denmark

Hviken udbyder er du på ? Jeg har TDC og Telmore men stadig ingen opdatering

LX950 Iceland , instaling now..

Sweden here, single sim 950 recieved some form of update.

Downloading in Sweden, 950XL.

950XL EU/IT single sim downloading

Nothing here in the UK. Still waiting on that Outlook mail and calendar update from a few days back too.

Yes. Why are different regions getting app updates earlier than others. Doesn't make sense on an app like mail and calender!

I think the issue with the Outlook update is simply that it was pulled. It has nothing to do with regions.

Is that so? Fair enough in that case.

There is no confirmation as far as I know but if you check the comments in the article, you'll see that many people posting after a certain time report not finding the update and I couldn't find it myself either when I read the news.

Obviously because some regions are superior to others..!

Superior Beta Testers ;-)

Apps and firmware are synchronized on several servers. It can take some time before the server your phone is checking has received the updated apps/firmware.

Wierd, I'm in the UK and got that Outlook Mail & Calendar a few days ago.

Depends how quick you grabbed it before it was pulled. I was 7 hours after the article was written.

Ah right, I was not that long after the article.

I got the update and the only thing I've noticed is that the app bar icons are now left justified on the screen rather than right justified (like every other app). Seems like not much of an update.

950XL/INDIA/NonInsider mode - Update available. Waiting for battery to reach 40% before downloading. Hmm they know how to prevent bricks coming for service ;P

Atleast with the 950 and XL that won't take long at all

Can you feel any improvements?? Battery?? Random restarts?? Windows hello??

Windows Hello does seem better, I think I don't get botched logins anymore. Usually I get around 40% situations where it fails before scanning. Now it seems to have improved. We'll see.

Just installing... (950, single SIM, unlocked, Germany).

Bigger numbers for firmware revisions, hooray!

Lumia 950 Dual-SIM, European version. Downloading the update now.

Also got the update. Lumia 950XL unlocked, Sweden.

Downloading on 950 t-mobile Germany right now.
Seems a small size update and shows as Microsoftmdg update.

Confirmed. Unlocked 950 XL on latest Insider Preview. I've just unenrolled and immediately got the firmware update.

Thanks, unenrolled from Preview for insider did the trick. Now updating 950XL in Denmark. :-)

Unenrolled from "Windows Insider" did the trick. ;-)

So you can unenroll from insider, get the firmware while staying on the same insider build, then enroll again? Is it that easy?

left the fast ring and immediatly got the firmware update on my 950 in Germany (.73 build).

You mean .71 Build. Single or Dual Sim?

Tried the same but no update yet... Belgium single sim 950XL

Downloading, 950 XL unlocked, Austria.

L950XL single-sim, unlocked, Germany, downloading.

Nothing, so far, on my Lumia 950 XL Dual Sim, Portuguese Country Variant.

Downloading it now in Latvia on my 950

Just rebooting here in UK, after this small update. Lumia 950 unlocked

Unlocked UK 950XL - installing update now

I wish one of these days we had a firmware update and get double-tap to wake feature back

I got update in lumia 950 (INDIA)

Getting it also. Sweden 950XL, unlocked. Im on .29 now!

Do u neet to have 71 update to get the new firmware or is the 29 non insider getting it to

Nothing here and I am on German variant.

Got the update in Germany

Nothing here... Lumia 820 Bulgaria

Just installed the update. Hope it fixes my wifi problems!

This!
Bluetooth at same time and reboots. Fingers crossed ;)

What wifi problems do you have, I have 950 XL, and no wifi problems, even two phones.

If Bluetooth and WiFi on at same time, depending on WiFi configuration connection is lost or broken. Many forum threads here and on answers. Microsoft.

I always have WiFi and Bluetooth on. No issues.

I do too and it works fine, but that doesn't mean it's that way for everyone.

For me, the wifi + Bluetooth problem was fixed with one of the last os updates. But this update killed my wifi completely, no connection to networks possible.

Downloaded it here in Finland!

At least change image.. It's showing 10586.29 build..

It's only representative.

Got it in Sweden on my 950 xl, but what did it do?:)

Fixes: Stability, GPS,,Audio quality. http://answers.microsoft.com/en-us/mobiledevices/forum/mdlumia-mdupdate/...

I like it how the germans get it always on the first line. Are their more windows smartphone users in Germany? I think so, cause i always recieve the updates first:D

I have it in Greece, on my 950 XL. But it's an Italian version. 180€ cheaper too.

Confirm, 950 DS non-XL with Insider .71, received Update the moment I turned to production. Didn't even reboot between leaving fast ring and getting the update. Funny, we get firmware earlier but Outlook later (don't think it was pulled, received the last one three days after US as well).

Wasn't getting it here, UK (French dual sim) so trying restart after switch to production... FAIL !!! will keep trying - hoping for outlook soon too, mines un-usable :D

Just got it in Australia - Sydney (950 XL unlocked, non-insider).

Didn't get it in Melbourne

Same city, same phone, no n so far. So sad, I like me some updates.

I have a EU device but I'm in the US on AT&T with my 950XL. just got the firmware update.

Interesting. Wonder if non-EU 950/XLs are getting it.

as normal, unsually North America alwys be the last patch to get those updates.

iOS and Android users get first then North America Windows phone users :)

Netherlands heere 950 XL on update 29 non insider no update herre or do i need the 71 update to get the new firmware ????

No, I got it on .29 non-Insider.

Wait - I am seeing this available in a lot of countries, but it is not yet available in the US. When can I start whining about how MS hates us because we need to wait a few more hours before we get the update, that MS completely forgot about us, that we are so oppressed and downtrodden because of Microsoft being an UK/Germany/India/Sweeden/Finland/Italy/etc. centric company?

i picked up on the irony there. well played

Really not the same thing, but if it makes you feel better...

Oh, OK. So people can have temper tantrums about how they need to wait a few hours or a couple days to get updates, or when software is pushed out to the store people in other countries complain about how they do not have it immediately (even though, quite frequently, it isn't available to everyone in the US yet). But when something is released across Europe and Asia, when it isn't released in the US, it really isn't the same thing and I should just shutup about it. Why shouldn't people in the US have GPS stability, better audio quality, and stability fixes immediately and at the same time as those in Europe and Asia? Or is this the usual we demand everything in Europe that the US gets, but when Europe gets an excclusive then the people in the US should not be treated the same?

It is all about gmt. Servers are programed to send the updates at specific hours. So normaly europe is several hours ahead of America. Hence, the usa "delay".

What about at&t variant? I'm still stuck on firmware version 01078.00017.15454.29031

AT&T hates us :( we have to wait for them to actually approve an update.

SUPPOSEDLY we are getting a firmware update later this month ... hopefully it is this latest one, and not the older 01078.00027.15506.X one.

I have the Lumia 950 with AT&T in U.S., and I'm still stuck on .00017 too. :-(

Canada, insider, Lumia 950XL, still a no

Nothing in UK so far (950 xl non insider)

As mentioned above, I am in Australia, and have the update, but I bought the phone online from Hong Kong, so that may be the reason it has updated. The other possibility is that your phone is locked to a carrier (?).

If you brought your phone from Hong Kong, then as far as the update servers know, you are in hong kong. It is very confusing of you to yell us you're "in Australia and got the update". Gets people who have Australian devices upset when they don't see the update...

Many apps are crashing on my 950 XL. Amazon, eBay, 9gag, Outlook when trying to send email, page becoming blank when internet is involved. Even camera is crashing. It's no good having a great camera if you can't use it. Thinking of returning it.

are the apps greyed out? if so, just wait. normally after an update, not all apps are available instantly.

The log in screens of apps just goes blank. I can't sign in. So I have to use the website for everything. Kind of pointless on an expensive phone

Usually this is becuase of the SIM card. Supposidly tihs is one of the fixes in the firmware update. I have a similar issue with taking video on my 950 at 4K. Pictures are fine though...

Mine made me reboot the phone 2 or 3 times because of SIM stuff, I guess it was needed.

You should format your SD card and/or factory reset your phone, that should fix your issues. The last firmware update supposedly fixed a lot of the SD card issues.

Single sim USA, 950xl, unlocked. Got it

That's because you bought an overseas import. There are no US 950XL single sim yet.

And on T-Mobile. Greatest phone ever!

I agree! I'm on T-Mobile with Single SIM 950XL in the USA also, but not yet seeing the firmware update.

Did you figure out how to get wi-fi calling? I have this phone on T-mobile as well. Visual voicemail works great but I don't see an option for wi-fi calling.

Can't. Needs T-Mobile firmware and app for WiFi calling... Since it's not part of w10m in general yet.

Downloading in India as well

In Finland I have now (950XL) due to Insider & MICROSOFTMDG-update: 10.0.10586.71 + 01078.00038.16025.39017

EU/CZ 950XL dual sim - nothing,

Given all the glitches it's an outrage that AT&T is dragging their feet with these updates.

If I thought it'd do any good, I'd spam AT&T's Twitter account.

Apparently, we are getting a firmware update in a week or two. Hopefully it is this latest one, and not the last one. http://forums.windowscentral.com/microsoft-lumia-950/405648-5.htm

Na ja, i never had gps issues or call quality. But well, stability improvements are always welcomed. Still, the xl desktop jumps in to menu when scrolling fast..or vice-verse....

No update here, UK Unlocked single sim

Not available in estonia lumia 950 single sim.

If I thought it'd do any good, I'd spam AT&T's Twitter account.

Good to hear about the call qualify fix! I have that issue on my XL and feared it was a hardware issue.
Still waiting for that update though (Swisscom Lumia 950 XL)

Can you tell what issue was that?

Some people I had phone conversations with complained that my speech was often interrupted by frequent small pauses

Incoming, single SIM Sweden

Will Funk Software come to the U.S.? We want the funk.

available for Italy variant too

950 XL Single-SIM, Italian
Firmware version 16025.39030

"...should continue gradually during the coming days and weeks." MS doesn't like to give any specifics do they?

Hopefully Microsoft can get AT&T to approve this one...

So if I get my AT&T phone unlocked should I get the update, or will it still rely on At&t?

@Johnny...it will still rely on AT&T even if unlocked if it's an AT&T branded phone

Bummer :( Thanks for the response.

Unlocked,HK 950xlSingle Sim

Nothing yet, Romania Lumia 950 Orange single sim

Don't expect Orange to release it sooner than march. I have it too from orange, but I unbranded it. Now I have generic FW, so no more waiting after carriers...

Unlocked 950 xl, single SIM, Southeast Asia (?), getting it.
This is better than release builds, isn't it?

Some WP forum in China, they got the update too. Why we're lagging behind?

Single SIM unlocked Microsoft Lumia 950 RM-1104 Country Variant Hong Kong has update available as well.

Would be nice to get this update but no, I had to buy an ATT branded phone because the store wasn't stocked with any unlocked phones and I couldn't wait.....

This is highly exciting. I took note of everyone who got the update and I'm preparing Congratulation cards for you. Thanks for informing us! Posted via the Note 4/Nexus 7 (2013)/Lumia 1020/Lumia 2520

Nothing here , Cambodia 950 xl dual sim

Still no update herre 950XL netherlands on update 29 non insider

No update for 950 xl att USA

Stepped out from fast ring to production. Still no new firmware for my 950 XL dual SIM in Malaysia.

Downloading it now on Vodafone Portugal 950 XL Dual Sim :D

Do you have a vodafone branded dual sim? Or an unbranded (country variant) with a vodafone sim card? I have an unbranded PT CV 950 XL Dual Sim and still I didn't receive the new FW update :(

No. The one I have is also unlocked PT bought at Fnac.

Weird... I also bought mine at fnac and I haven't got the update yet...

Which mobile operator do you have? I dont know if that counts but maybe. I wish MS was like Apple: when Apple release a software update the whole world gets it at the same time :-/

It doesn't matter. I can update the phone even without a SIM card. But I have a MEO card and a Free.fr (from france) one.

Were you on Insider Program? I would love to know how this device selection is made, really xD

I have a Lumia 532 DS on Insider Program, for testing purposes and to give feedback. My 950 XL was never in Insider Program. No update until now. The last FW (from december) and 10586.29 came as soon as they were published. I didn't have to wait. This time I am still waiting...

So am I. Fnac.pt dual sim 950XL on insider, but reverted to production. Still waiting, but at least it was a great deal!

I've had both stability and GPS fix issues on my AT&T 950.

Hi from India. Currently downloading what is displayed as MICROSOFTMDG Update worth about 240 Mb on my Lumia 950XL Dual SIM. Will let you know how it goes once done.

Two firmware updates since the release of the AT&T 950 (USA). AT&T still sitting on their hands.

Had to leave the insider group. But getting the update now. Unlocked 950x Dual sim.. India.

Got it overnight. 950XL single SIM, Hong Kong variant.

Still no double tap to wake, lol lol lol Posted via the Blackberry VKB on my LG Flex 2

its never gona happen! almost got used to pushing power again after 4-5 years of using double tap

I still double tap on my 950 screen several times a day! Imagine the day that'll unlock

still nothing, unlocked 950XL dual sim USA

Does anyone know if any of these firmware updates would fix the horrible echo problem in phone calls on the Lumia 950 on AT&T, assuming the phone ever gets the updates? Was this a problem with any other carrier and subsequently fixed with firmware?

Already downloading on my 520.......just kidding ;)

Expansys Canada 950 xl single sim just updated.

L950XL South Africa MTN, OS Build .71, Hardware Ver 4.0.1.0 UPDATED!

Balki, Insider, Lumia 950XL, no update for Mepos :-(

Getting the update in South Africa.

Lumia 950/ India update available and downloading. Have to opt out of insider preview to recieve this update.

Available in India on l950 dual sim.

Downloading in India. Lumia 950XL

Have received update in December

Leave insider n still no update in Cambodia

Received the update on my Lumia 950 DS in India this morning. But not sure what exactly was updated.

Nothing for French Lumia 950 (dual sim)

Got the Update Today after i woke up. Can't tell you if anything is better now but i will test and Report.

I saw a post from a person in Sydney Australia saying he has got the update, but im in Newcastle, Australia with an unlocked L950 xl and I haven't received the update yet.
Can any one else from Australia confirm???

Im in Melbourne Victoria.. Still didn't get the update.. Unlocked .. But it from Harvey Norman.. Im on build .71 insider.. Just leave the insider program and still didn't get the update

950 DS in Norway received update last night

In what country did you buy it (as the DS isn't sold in Norway)? I've got a Portugese DS myself and can't get the firmware update. I've even tried to uninstall the Windows Insider app to see if that helped. I'm now opting out of the Insider program on a daily basis to see if I can get the firmware update... :(

Nothing in UK yet. Unlocked version.

Also available in Italy for both 950 and 950XL

Wth why are some ppl getting it and some not getting tired of this ..... I thought they wud realease everything to everyone on the same day time i have 950XL netherlands update 29 non insider and still nothing ...... Are we all getting it or not ?

Got in India.. GPS improved.. Never got accuracy better than "within 55m" where I'm right now. It showed "within 9m" after update.

Anybody has trouble using backup over cellular network? Lumia 950DS India. Working ok over wifi.. And also data usage falsely showing over SIM2 when there is no 2nd sim present. Anybody has this issue..

Nothing here in Thailand for the 950XL (single SIM) :(

Got it overnight here in the US. Unlocked 950XL on AT&T.
Got a notification not long after that said my sim settings had changed, and my phone needed to restart. Not sure what that was about. Anyone else see that?

Just downloaded it in Sydney, Australia. 950 XL. Locked to Optus.

950, Italy too, also single sim

Nothing in Hungary :( (950 DS)


Nothing in Hungary :( (950 DS)


Anyone in the US seeing this yet?

No, i have a 950XL DS and i dont get this firmware update and also dont get the last build... i dont know what problem does my phone have...

Nothing in france since ... ever :( !

I never got on my U.S. AT&T 950 after leaving Insider program and multiple retarts. I even did a hard reset last week and never got the update. Hoping this one comes through as one of my biggest complaints about my 950 (aside from App Gap) is the call quality.

You may want to check windows device recovery tool. I was stuck on .63 and original firmware. The recovery tool updated my firmware to the last release and I'm on.71 now.

You have the newest FW and ou have an att 950?

Denmark, Got it for my 950, but had to leave insider to get it,

In belgium no update. Also much problems with bluetooth connection and battery so quick empty.

French 950 XL Dual SIM CV, nothing yet

Got it today Netherlands - unlocked.

Lumia 950 unlocked got it from Germany. Ruud

Is there anybody that received that update on a unlocked CV NL non-insider 950 XL? Mine is still on the out-of-the-box 10.0.10586.0 en 01078.00017.15452.59029. Is this reason to worry? Or just time for the WDRT?

Waiting on the update to 950Xl unlockt i am form netherlands to. Posted via the Windows Central App for Android Samsung Galaxy note 5 Gold Platinum

Talk to MS support.
I think it's time to worry.
Where are
.29 .38 ?

I received the latest. .38

I can't help but think someone in Ms is causing this some get some don't on purpose for a laugh I'm sick of it

Getting tired of it to. Alot of bla bla bla and nothing happens Posted via the Windows Central App for Android Samsung Galaxy note 5 Gold Platinum

Confirmed here in my Lumia 950 XL [RM-1085_11302 (000-88)]

Anyone in the US with an unlocked/unbranded 950XL dual sim get this FW update yet? Would my carrier be able to block it in this scenario?

Looks like N America will be a few days later, like last time. Nothing yet on 950xl ds, Canada, unlocked, outsider.

Nothing yet, UK unlocked 950 and reverted Insider to Production.

Cambodia 950xl dual sim is nothing

Friday morning 8.25 am. UK. Still nothing for unlocked 950.
But I did get the slow ringers update last night. Also changed to insider production after.

950, .71, unlocked, Netherlands, no update yet

Nothing yet, Belgium (950XL, .29)

available in Ukraine also

Folks the Good old Verizon Nokia lumia 928 is a modified Nokia Lumia 920. My wish is that good old Microsoft makes a Verizon bound version of the MS Lumia 950 with a better case than the current 950 has and names it the MS "Surface" 960. If indeed Microsoft discontinues using the Nokia's OLD "Lumia" Brand name. I am Verizon Windows smart phone fan and We do not have ANY Flagship Level Windows 10 smart Phone. Verizon keeps semding me Emails to upgrade to Smart phones I do not want like Apple iphones or Android smart phones thier Windows smart phones are not as good as my old verizon Nokia lumia 928. Willlwe Verizon Windows smart phone fans get even a Mid level MS Windows 10 "Continuum capable smart phone ? Microsoft help us !

STILL nothing on my unlocked 950 in UK, switched Insider back to Production.

Same here I am sick of this I had to buy a new 950xl to get the last firmware
Ms uk store unlocked get ya finger out fgs

No sign of update on my 950 XL. UK unlocked on EE and non-insider

Same EE sim but Ms store unlocked my gut says EE are to blame as last 950xl would not update so I had to buy a ne on. sux

Installed here in New Zealand on my 950 single SIM after following advice to select Production in Insider app. Look forward to further improvements especially anything that helps battery life, which is mediocre at best, and random freezes and reboots. Not something enterprise customers are going to be happy with when Microsoft are aiming to attract enterprise.

I just received the update and installed it. Indiana USA, on the AT&T network dual Sim 950XL.

Still nothing in Thailand.

has anyone in UK unlocked got it yet? if so what service provider im thinking of junking EE they are anoying

I tried it with Vodafone sim as well. It's nothing to do with the sim.

Nothing on unlocked O2 in the UK either. What's the hold up? I got the previous firmware update on same day of release.

Still nothing In UK. Unlocked. EE sim

Nothing for Malaysia 950XL Dual Sim so far...

Still nothing in Newcastle, Australia... Unlocked non insider.

Nothing in Cambodia 950xl dual sim unlock

No sign of it in Easter US. 950 XL Dual Sim. Waiting... Waiting... Waiting....

I have a 950 xl DS in Canada. Get out of insider (production build) and try to update. Nothing yet.

Nothing in EU, Lithuania, L950 Unlocked on Insider Production, really strange, when first Firmware back in December got it instantly.

950 XL Czech - still nothing

New build is out , hope to get firmware update after installing it

Nothing yet for my unlocked dual-SIM on AT&T in Washington DC. I really need the GPs update too as my device has been struggling trying to find itself (insert mid-life joke here).

Should we use Lumia recovery tool to get this firmware update?

If it is available via it, why not, but it will reset not only update phone.

Still no firmware here for my KPN provided 950xl in Holland.

Still waiting, 950XL duel sim unlocked, USA...

Why does my comment appear as a reply to another random comment?

No update yet. 950 XL Dual Sim, production updates, North East US, purchased unlocked from online MS Store, AT&T sim, just got the .107 OS update. When should I start to consider WDRT (Don't want to do that again if I can help it). Worst case, I'll wait for the next firmware update and recover to that if I have to.

Still nothing here in uk on Dual SIM 950XL (Unlocked FNAC Portugal soirced). Tried flipping back to insider and then to prod again to see if did anything but nope. Overall its not bad on current Firmware and .107 but knowing something is out there that may further improve is annoying. Hope they sort out this crapshoot of Firmware availability.

Still waiting. Seriously considering Windows Device Recovery Tool.
Windows Central Newsletter
Get the best of Windows Central in in your inbox, every day!
Thank you for signing up to Windows Central. You will receive a verification email shortly.
There was a problem. Please refresh the page and try again.