Review: ThinkPad Tablet 2 - this is the Atom powered device you have been looking for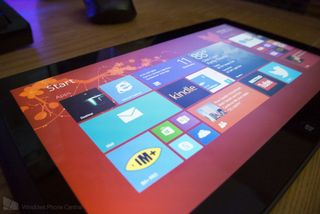 As soon as you pick up Lenovo's ThinkPad Tablet 2, you know it is going to be something special. It's minimal styling and thin design present a tight and durable tablet computer that really shines. The ThinkPad Tablet 2 ranks among the best we've seen but it is one of the more pricey options to consider.
Grab a cup of coffee, sit back, and read on to learn exactly how good a tablet this multinational electronics company has to offer.
Form
The ThinkPad Tablet 2 showed up in a typical recycled cardboard ThinkPad box. There are no velvet ribbons to cut or fancy box designs to admire – this is the antithesis of Apple packaging. Use a razor to neatly slice the tape on the top of the box and you what you find inside might surprise you. At first you might think you received the wrong tablet – this .34" thin tablet simply can't be a full blown Windows 8 tablet, it is even thinner than Microsoft's Surface RT device.
The design of the ThinkPad Tablet 2 is simply striking. The front of the tablet is an edge to edge glass IPS display that can't help, but to shine. The left side of front bezel is slightly smaller than the right side, but is continued on and complimented by a rubber finish.
A few details are noticed up close including a 720p webcam with LED indicator light on the top bezel and an ambient light sensor on the right bezel. The bottom bezel exists as a home for the Windows 8 Start button; Lenovo choose to go with a solid button design over a capacitive one. After using the Surface RT for months, I found it a bit odd to click in on a physical button, but as time evolved on, it was a welcomed change and I discovered myself less likely to accidently jump to the Start Screen of the device.
The front of the device is complimented with the ThinkPad logo in the upper right hand corner. The logo appears to be a grayish color, but sports a red dotted "i" like most of its other products. The red is a beautiful design contrast with the unit's otherwise dark color scheme.
The back side of the unit is familiar to ThinkPad users and I believe it is something that everyone will welcome; the back features a rubberized coat that feels wonderful to the touch and keeps the device firmly in your grasp. Unlike my metal Surface RT, I am never afraid that my hands may slip from the unit. The rubberized finish also helps to prevent fingerprints; it will attract much less fingerprints than a glossy coating or even Microsoft's VaporMg material.
Unfortunately, looking at the back of the unit also reminds you that you are holding a business tablet intended for enterprise. The lower right hand corner is covered in FCC regulations, Intel Inside inscriptions, environmental notices, and a Windows 8 sticker. The bright side is that all the inscribed text, except the Intel logo, are printed in a very light shaded color making it hard to see except in the right light. Grab a bottle of my favorite solution, Goo Gone, and you'll easily be able to remove that Windows 8 sticker without leaving behind a residue. I usually choose to remove all stickers from my electronics (as I did on my ThinkPad X1 Carbon), but for some unexplainable reason – I left the sticker on the ThinkPad Tablet 2 as I don't think it looks too bad.
A bright white colored ThinkPad logo, with the signature red "i", also sits in the upper left hand corner and a metal looking Lenovo logo sits in the upper right hand corner.
If logos didn't make the back of the tablet busy enough, we also have the standard hardware strapped on. In the upper center sits an 8 MP camera with autofocus and an LED flash. In addition, we can see the device's two tiny speakers situated in the lower left hand corner and lower right hand corner. The speaker placement is a bit odd as one sits horizontally while the other sits vertically.
And of course with any ThinkPad device, you expect ports. The left side of the device is home to a covered USB 2.0 port and an industry standard micro USB charging port. We wish that Lenovo had chosen to leave the USB 2.0 port exposed as we find that little plastic/rubberized doors seem to break or "hang" after years of use.
The right side of the device is home to most of your buttons and a standard headphone jack. There are three separate buttons on the side of the tablet including two individually grouped together volume buttons and a separated rotation lock button (yay!). I cannot express personally how much I felt the need for a rotation lock button and I am ecstatic that Lenovo provided one.
The bottom of the unit houses a docking connector for Lenovo's ThinkPad Tablet 2 dock and a Mini HDMI out port for outputting video and audio. We understand that the majority of users will enjoy an HDMI port, but for a business unit we would have liked to see a Mini Display Port; this would make it easier to push video to a variety of Digital and Analog connections including VGA (which still tends to be the most common interface on office projectors).
Lastly, the top plays home to the device's power button on the right hand side, a pen port if you choose to purchase the Pro version of the ThinkPad Tablet 2, and a second plastic/rubberized covering. If we lift the cover we will discover a hidden Micro SD card slot and a SIM card slot. It is important to know that unless you purchased a version of the tablet with Gobi 4000, the slot won't actually work. If you did in fact purchase the version with Gobi 400 then you will be able to enjoy LTE and HSPA+ within the United States on AT&T's network.
The pen that is kept within the ThinkPad Tablet's pen port is very thin compared to most other ThinkPad style styluses, but the sacrifice had to be made to allow the tablet to be produced so thin. Then pen itself does work nicely and features an integrated secondary click button. The end of the pen has a colored red dot in line with ThinkPad's signature design. We felt the pen port was very secure and never had a concern that the pen would fall out.
Overall, the design of the ThinkPad tablet 2 follows in the footsteps of its laptop brethren. The front of the unit looks streamlined and beautiful, while the back features the famous ThinkPad soft touch rubber. We weren't exactly thriller with the collection of inscriptions Lenovo put on the back of the tablet, but it wasn't a deal breaker for us. The pen's red ended tip and the tablet's small accents of red contrast nicely with the device creating an overall beautiful feeling.
Function
The device can be powered on via the power button or, as it is not capacitive, the dedicated Windows button; doing so will bring the device out of standby and present you with your customized Windows 8 Start Screen. This is the first occurrence where we see the tablet's IPS display really shine. Lenovo has been a company known for cheap and disappointing screens, but not here. In fact, not only does the ThinkPad Tablet 2 have marvelous contrast, it has the best viewing angles I have seen on any Windows 8 tablet thus far. The resolution of 1366 x 768 is decent on a 10 inch device, but we would have much preferred to see more pixels per square inch – full 1080p isn't even necessary, we would have been happy if the unit was bumped up to 1600 x 900. Overall, the display is gorgeous and was able to deliver, whether we were working on a word document or streaming Netflix in HD.
Once you get passed staring at the screen and you begin to dive into your favorite apps, the processing power (or lack therefore of) in the tablet starts to become evident. As specified earlier, the ThinkPad Tablet 2 carries an Intel Atom processor under the hood. The low voltage processor allows longer battery life and a thin fanless design, but can begin to sacrifice performance for the user.
The Start Screen (which I have over 60 items pinned to), works smoothly and the processor seems to keep up without any trouble. When working on one Windows 8 application at a time, the tablet is speedy and creates a mystery as to what fast CPU may be underneath.
The mystery starts to disappear when we begin to multitask; for work, I usually keep open three applications at all times – Mail, Twitter, and NextGen reader. Granted, these three applications will usually work smoothly and without fault, but there are times when the operating system decides to tombstone an application as to give more supporting processing power to another application. If you aren't familiar with tombstoning, essentially the operating system will put an "unused" application into a standby state if more power is needed for another application that you are currently working on. While not a huge setback, it can be annoyance when I have to bring up Internet Explorer and find that two of my other three applications will now take a bit longer to open once I swipe back to them.
Most Windows 8 games work nicely, but suffer from a slower loading time than most other devices due to the solid state drive interface being limited by the Intel Atom architecture. It isn't unusual to see your hard drive usage in Task Manager top out at 100% and thus slowing down the machine.
Once your Windows 8 game does load, most will work without a hitch. We found that even Microsoft's "summer blockbuster", Halo: Spartan Assault, works really well with none to minimal lag. Some titles, like Awesome Zombie Sniper, suffer terribly and are unplayable due to the amount of delay and lag presented.
When it comes to running legacy desktop software, we simply don't recommend it unless it is needed. The Atom processor couples decently with Windows 8 application, but when used to power legacy software – we are reminded of the old netbook days.
I loaded three pieces of software onto the tablet including our local ISP's TV streaming application, Rosetta Stone Language software, Google Chrome, and Spotify.
The first two applications, TV Streaming and Rosetta stone, are hardily usable; the TV streaming applications stutters constantly and pauses to buffer content, while Rosetta stone moves alone at a stone's pace (drum roll). Google Chrome and Spotify work decently, but you won't be replacing Microsoft's Internet Explorer with Google's web browsing software. Chrome lags behind in scrolling and makes Internet Explorer look like the best browser that ever was.
While Intel's Atom architecture may not be the speediest processor around, it certainly has its own benefits. The ThinkPad Tablet 2 is rated for 10 hours of continuous video streaming on a single charge and definitely fits our bill of an "all day" battery. In our testing, with the unit's screen at full brightness, we could easily obtain 10 hours with web surfing – dimming the screen should add another few hours on top of that.
Overall, Lenovo hasn't stuffed the ThinkPad Tablet 2 like a power horse, but instead opted for an "all day" business tablet for the mobile road warrior. The Intel Atom processor, limited SSD interface, and 2 GB of RAM provide an experience for those looking to get work done on the go and catch up on a few emails. Gaming is certainly possible and you can slice away at fruits or shoot down zombies in your free time, but don't expect all games to load lightning fast, and don't expect to be able to play the most intense games available.
One of the largest selling points for the device is the fact that it includes an integrated stylus. We are more thrilled than we should be that Lenovo has provided a slot for storing the stylus when not in use; tablets like Sony's VAIO Duo and Microsoft's Surface Pro, include a stylus but no way to easily store it without fear of losing it. The downside of fitting the stylus into the device, was making it small enough - Some users may feel that writing with such a thin utensil to be cumbersome after long periods of use.
Palm recognition on the device is excellent and I hardly ever found that the unit picked up my palm over the stylus. Handwriting recognition within Windows has also been greatly improved within Windows 8 and now, the OS can even read the chicken scratch handwriting that I produce.
I've never been good at drawing, but it is fun to play around with the application Fresh paint to see exactly what the stylus can do. One of the most common functions I have for the stylus is probably one that you wouldn't think of offhand - web browsing. While I usually browse the web with my fingers, there are a few sites here and there that contain dropdown menus that are impossible to access unless you hover over them. The ThinkPad Tablet 2 can sense when the stylus is held over the screen and thus allows a user to hover over a button and have a context menu drop down.
Conclusion
Overall, the ThinkPad Tablet 2 is one of the most well designed Windows 8 tablets we have set our hands on; it's minimal styling, accents of red, and thin design present a tight and durable package that deserves the ThinkPad branding. The tablet is aimed at business consumers with the need for a light and portable tablet, optional stylus, and optional broadband.
The ThinkPad Tablet isn't exactly cheap though, starting price for the unit is $566 with a 64 GB SSD and Windows 8 (no pen) or $629 with a 64 GB SSD and Windows 8 Pro (pen included). Lenovo Also offers models with built in Mobile Broadband, but they will run you an addition $100 for each model.
If the ThinkPad Tablet 2 seems like the right tablet for you, but you need a bit more power, we recommend checking out Microsoft's Surface Pro with a more powerful Intel Core processor. If you prefer to stick within the ThinkPad brand, we recommend checking out the upcoming ThinkPad YOGA with Intel's Haswell chipset. Otherwise, if the ThinkPad Tablet 2 fits your needs and your budget, it's an option to strongly consider.
Get the Windows Central Newsletter
All the latest news, reviews, and guides for Windows and Xbox diehards.