Lenovo bends over backwards to get your attention at IFA – launches new YOGA machines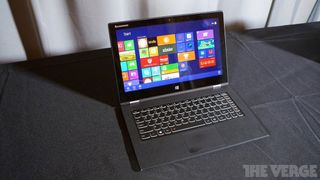 The introduction of Windows 8 had brought a plethora of devices that flip, detach, and swivel. Lenovo feels they have captured the ultimate form factor with their patented 360 degree flip hinge and YOGA line of machines, and have this year introduced a collection of new devices at IFA 2013.
One of our previously favorite notebooks, the IdeaPad YOGA 13, will be grabbing an impressive update here at the conference. The unit will be updated with the new Intel Haswell line of Core processors and can house up to an i7 CPU. The YOGA 13 has also received a much requested feature, a backlit keyboard.
The new iteration of the YOGA 13 will be known as the YOGA 2 Pro and lands at a price point of $1,099. If that price point sounds good, we haven't even got to the most exciting part – the updated screen resolution. The previous unit housed a 1600 x 900 screen, but this time, Lenovo has been listening to its customers and has installed a 3200 x 1800 pixel display.
If you are a fan of the ThinkPad line of laptops and have been waiting for a "ThinkPad YOGA" then you are in luck (and also a lucky guesser at naming schemes), as Lenovo has announced the brand new ThinkPad YOGA machine.
The ThinkPad YOGA is not as thin as the YOGA 2 Pro, but will come in at a lower price point of $949. The 1080p screen also isn't as spectacular as the consumer YOGA, but on a 12.5 inch screen – it will still pack a mighty punch.
Aimed at business end users, the ThinkPad YOGA will feature Intel's latest generation Core i7 processors, 1 TB of HDD storage, and all of the Think Vantage security features that ThinkPad fans have come to learn and love (let's not forget about that little red TrackPoint).
One of the most amazing aspects of the new ThinkPad YOGA is it's "Lift n' Lock" keyboard system when the device is folded into tablet mode. Simply push the hinge back 360 degrees into a flat tablet and the unit's keyboard becomes level with the rest of the machine. For those who have picked up the previous generation YOGA machines and have felt the awkward keyboard in tablet mode – this won't be an issue on the ThinkPad YOGA.
Not everyone wants to shell out over a thousand dollars for a laptop though, and Lenovo understands. The company has introduced their new "Flex" machines with a new hinge that rotates 300 degrees; this means no tablet mode, but the user can put machine into "stand" mode for movie viewing and easy access to the touchscreen.
The Flex will come in both 14 inch and 15 inch variations with support for Intel Core i7 processors. The screens have a default of 1366 x 768, but can be upgraded to 1080p. Price points for the 14 inch and 15 inch models start at $629 and $829 respectively.
Source: The Verge
Please PLEASE nvidia gpu and not the hd4000...

HD4000 is for Ivy Bridge, not Haswell.

Still: wishing for nvidia, not Intel gpu.

Are you looking to game on this? Integrated graphics are good enough for most games at low settings. Without games, it is defintely good enough (assuming you aren't doing major video and pic editing on a 13in screen!)

I dont understand what you mean by most games..do you think I can run something like GTA 4 or black ops 2 on this at low settings..? And if yes, how badly would it affect my overall gaming experience. Sorry if it sounds stupid, but I am more of a console guy..just curious.. :)

Moral of the story- if you want to play games made in the last year or so you don't want an Intel GPU. But if that's what your stuck with, then you could play some modern games with terrible visuals or in slow motion.

Ahhh..so my best bet is to configure a solid gamer's pc..? Right,..?? Thanks mate.

You have to get the i7 version because i think that Intel GPU is only for that model. I think it would be relatively choppy. Of course you wont be able to play this at its native resolution, but bumping it down to 1600x900 (so get a nice scale) should probably be okay.

Hmm..alright..thanks man.. :)

and will it ship with 3rd party crap start menu?

...and at the end of 2014?

The hardware makers are starting to come around. HP released a 23.6" monitor which should street for $299 ($349 is list). I think we are one year away from a great Surface 8" with 1920 x 1080 and reasonably priced (sub $500) 27" monitor. Along with Office Gemini Touch and XBox One that will be the new hotness. Why buy an all in one or even a convertible? This is the real fear from hardware. Fully capable 6" to 8" devices paired with low cost touch screen monitors sporting 1920 x 1080.

Sorry but as a gamer and hefty streamer I need that desktop. Customisable, upgradeable, and ready to rock whenever. For me my tablet is more of a portable productivity device so requires a stylus etc. Hence why I have the solid HTC Flyer.

That may not work for your specific needs, but it would cover most consumers pretty well.

I have a Yoga, its an awesome Ultrabook. I would have prefered only 1080P however. More battery is always better. I will be getting this for my son why took the Yoga to school until this one arrives.

Not a bad price at all for the Yoga 2. I wonder if switching out the HDD will be an option.

Keep in mind the staff around here have, as usual, not exactly made things clear on pricing. The $1099 and $949 prices are the BASE MODELS. If you head over to Lenovo's site you can see what you get for a current generation base model and it will give you some idea of the specs of the low price new release. Lenovo does not give its stuff away. The well equipped versions will almost certainly be in the $1500 range.

I was thinking an i5(maybe i3) with a cheap 5400rpm 500gb hdd and 4gb for $1000. Based on the wording of the article, I would say the screen resolution is for all models. If that is the case, it is still a good deal.

BTW, the staff hasn't been misleading in the past so not sure why you said that.

Still worried about RT. No OEMs except Nokia are giving that any love. How are people expected to understand the implications behind Windows RT if no OEMs are making products to support it?!

Lenovo isn't going to introduce any more RT products. They feel that Haswell provides sufficient battery life for x64 devices, so RT is unnecessary.

They can feel all they want but a new haswell i5 or i7 can't compete with an rt price. And I'm not doing an atom chip. I love my surface rt and when it comes time to get another one it'll be another rt or a reasonable priced win 8 pro (500 range) a tablet shouldn't cost as much as a laptop in my eyes.

have you seen the new bay trail though? look it up. 2.3ghz quad core, and roughly 2x the performance of clovertrail while maintaining the same battery life. clovertrail already kicked tegra 3's butt so we can expect the same thing when in comparison to the tegra 4 or snapdragon 800. I'm excited

Again though what's price gonna be?

Am I the only rather amazed by the 3200 x 1800 resolution? I have never seen anything like that! Is that more common than I thought? And how would the start screen and icons in general be sized conventionally? They must be terribly small! Please, enlighten me.

Scaling. In other words 2x 1600 x 900 = 3200 x 1800

This and the Surface 2 are on my "Next Laptop/tablet" list.

Unless a person rarely uses the keyboard/trackpad, I think the Yoga is a lot better option for most people (as long as the couple hardware/software issues have been fixed). I really would like MS to come out with a keyboard that makes the Surface like a laptop. Having that option plus the type/touch keyboards would be pretty nice.

Agreed. Still waiting to see what the Surface 2 will have as far as options.

I'm enjoying the fact it has a 'Tent Mode' option.

The Yoga 2 looks like the next device I'll be getting.

I want to see a device like the Yoga which can separate into a tablet. Nothing like it on the market from what I can find.

Now I have to choose between the ThinkPad Yoga and the Surface 2. As far as I know, the Yoga 2 Pro doesn't have a stylus so that puts it out of the running for me.

I didn't think the Yoga 13 was all that great until I tried one out at BestBuy. I really liked it in person.
If I needed a laptop, that's probably what I would get. But for now I prefer the form factor of my Surface RT for my mobile needs.

No Lenovo for me after they decided to add their crapware start button.

Can it and the rest of the crapware be easily removed?

I just bought the 11" Yoga for work and I love it. I was sitting in the Micrsoft store for close to an hour playing with both the 13" model and the Surface and after going home and finding out there was an 11" Yoga I ran over to Best Buy and picked it up. Being able to use it in multiple ways has been awesome. The only real complaints I have about it are that it's a bit heavy, the venting is on the back edge under the hinges and can get pretty hot when sitting on your lap, and the track pad is very touchy. But otherwise I'd absolutely recommend it to anyone.

Good graphics and I will be among the first few to walk out with a yoga 2. I have heard that haswell is very efficient in terms of battery, so thats a plus for me. Still wondering if i should just get a PC for gaming and a surface, or some other tab (perhaps the ipad mini..??) for my mobile computing needs. Any thoughts..??

Never apple unless you just like paying more for nothing spectacular.

Well, no. I dont like paying more for nothing spectacular. So what do you think is a better option, considering that I am looking to replace my console with a gaming machine, and I need a portable computer too ( a light laptop or a good productive tab). I have a Lumia 920 and i m happy with it, but its no tab. Right..??

Well first off everyone's opinion will be different but here is what I've done and have, I have a Lumia 920 and love the phone! Second I have a surface rt ( if your looking for more ability on the go then maybe a yoga or personally I'd look into a surface pro possibly the the surface pro 2 now and for gaming/editing in the process of building a new powerhouse PC. I'm going to forgo the game consoles for now. I'm just waiting on my motherboard and CPU to be delivered which is on its way. Can't wait so excited!

I am in favour of all, but the surface. I dont understand why its that good, possibly cuz I havent used it yet. :D and about the yoga, i'll have to then spend much more than what I want to spend. I either want a good gaming laptop (expensive, thats alright, but too bulky is a serious turn off) or a gamer pc (obv considerably cheaper than a laptop) and a productive, yet sleek and light, tab or a laptop. I am very much inclined towards the PC part, but I cant figure out which tab or laptop to buy. *sigh* and yes, I am willing to spend around $1500-$1600.

Well the surface pro is incredibly smooth feeling. But you could always wait and see what the Nokia rt tablet is like? Plus building your own PC you can get a good gaming one built and get a good tablet to go with it.

Hmm..i guess i'll wait for the surface pro 2 to launch..and the nokia rt as well..though I am inclined to buy a w8 tab rather than an rt..thanks mate. You have been very helpful. :)

Your welcome. If your up to it go on YouTube and type in cheap gaming PC builds see what's there. You can always get more for your money if you build one and then have more for a tablet to spend. My thing is if you cheap out in one area you probably won't be happy. So look around. If your interested in my PC build send me a message.

Sure. I'd love to know what you are building up. You must have already done your bit of research. It will save me some time. ;)

Sent you a message. Don't know if you got it or not though.

I didnt mate. What did u send it on..?? Else drop me an email. My id is rohanagarwal2710@live.com

I hope the motherboard they used for this new haswell based one still has the msata slot available for extra storage like the original did.

I will definetly get the Yoga Pro 2. I was close to getting the Yoga 13 but decided to wait for Haswell. They could of just added Haswell and I would been happy but this is even better than expected!

The ThinkPad Yoga is exactly what I've been looking for! The battery life should be good and I don't care if it isn't thin in tablet mode, the fact that it can do tablet mode when I need it to and laptop mode when I need it to is amazing. Microsoft should do something like that with the surface!

I'm excited :) I just hope the base model of the tablet comes with the stylus+digitizer...

I'm second to it. Really want the stylus+digitizer so I can draw easily without buying separate drawing tablet (which I will only use occasionally)

I cant believe a couple months ago I bought a Yoga 11S :( already outdated so soon. Should have waited but I did need a laptop

The Thinkpad Yoga brings me great joy. I'm glad I've held out. #stylus

I am glad that I held off for buying any laptops despite school already starting. This Ultrabook seems to be the best compromise for a hybrid out there. This is the jack of all trades. I was considering getting the ZenBook Infinity (Now the UX301), but knowing ASUS the price would have been astronomically high for what they are putting in there. This thing has a higher DPI than the ASUS -which in itself is pretty insane- and it is $300 cheaper than the Samsung Ativ Book 9 while maintaining roughly the same specs. it gets better because it has more usability because you can use it as a tablet. Probably the next Laptop that i end up buying.

What a shame they couldn't have combined all feature additions (higher resolution, improvements to thickness and weight, and disappearing keyboard) into one superb Yoga product that I would buy even though I only recently bought an Ivy Bridge Yoga 13.

"Lenovo has been listening to its customers and has installed a 3200 x 1800 pixel display."

I was interested right up to this point. Guess I'll buy something else.

I want to buy the ThinkPad YOGA to replace my current ThinkPad X220. Just wondering when will this notebook would be released in Indonesia? And would it be bundled with the shitty Start Menu replacement? If yes, can I just opted to uninstall it? Do anyone know where can I get those information?
Windows Central Newsletter
Get the best of Windows Central in in your inbox, every day!
Thank you for signing up to Windows Central. You will receive a verification email shortly.
There was a problem. Please refresh the page and try again.