Rii i8+ Mini Wireless review: a tiny keyboard for Continuum or Compute Sticks?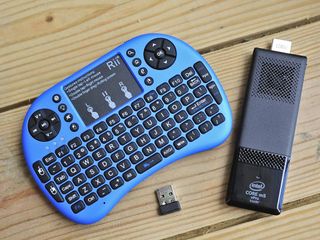 The idea that a PC is going to be something that fits in your pocket is rapidly approaching. Continuum for Windows 10 Mobile and the increasing popularity of PC Compute Sticks are two of the best examples, and while neither are perfect, they are on the right path.
If you have read my thoughts on Continuum or my recent reviews of the high-end Intel Compute Stick, and Kangaroo Desktop Pro, you may notice a theme: these things are great, but you still need peripherals — a keyboard and mouse — for them to be useful. If you are making these stationary, there is no concern. But if you want one of the best Windows 10 PC sticks for travel, you now have to contend with how will you interact with it.
I was looking for solutions to this problem and came across the Rii i8+ Mini Wireless Keyboard. It is not a new item, but one that has over 1200 reviews making it one of the most popular solutions. At just $22 I figured I would give it a go and tell you what the pros and cons of this portable keyboard.
Features
The Rii i8+ Mini Wireless Keyboard comes in two versions, which unfortunately I did not notice until after I ordered one. One uses 2.4Ghz radio frequencies with a small adapter, and the other is Bluetooth 4.0 and no adapter. I picked up the 2.4GHz one, which is by far the most popular although the Bluetooth 4.0 has piqued my interest and I may grab that for comparison.
It should also be noted that this keyboard is White label device. That means you will find many keyboards that look the same but have a different name (and sometimes different prices). How that all works is beyond me, but as far as I know there should not really be quality or feature differences between them. It sports 92 backlit keys around a QWERTY layout, a multi-touch trackpad, and is a mere 1.6 ounces. The 2.4Ghz version that I got relies on a USB dongle to connect to your computer, and it handily stores in the back of the device.
The Rii recharges via an included Mini-USB cable (yes, Mini, not Micro, and certainly not USB-C), and there are LEDs on the device to let you know that it is charging, fully charged, on and sending data.
Finally, for those looking for a little flair you can also grab the keyboard in various colors including blue, green, white, red, yellow or standard black.
PC Compute Stick and Windows 10 – A winning combo
My first test setup was using the Intel Generation 2 Compute Stick with Core m5 processor that I recently reviewed. Ideally, I want to use this computer for our bedroom or when I travel, hence why I want something portable.
Installation was a breeze. Just plug in the 2.4Ghz USB dongle into one of the ports on the Compute Stick and in seconds the OS enables it with a basic, but native driver installation.
One of my favorite things to discover was how all the function keys mapped to Windows 10. For instance, the play button maps to Groove and Search engages Cortana. The mapped buttons make the Rii feel more like a remote control for your PC than a standard keyboard.
Speaking of, I really enjoy typing on the Rii i8+. There is ample key travel, and the whole device feels great in the hand due to its being so light and the soft-touch coating. Unfortunately, there are no nubs on the F or J keys, which would help you to type without looking at the keyboard, which means you will likely have to type blindly with the Rii. Then again, you really shouldn't be buying the Rii to type out multi-page term papers anyway.
It's not all roses, though — if you find yourself needing a special charger, like a backslash (actually not that special), you'll find yourself searching for the appropriate FN key combination.
The backlight is also a big selling point here. You can manually enable or disable it with a simple keypress. It will auto turn off in standby to save battery life too. I find this feature a must if you are using the Rii on the couch, or in a hotel.
Overall, using the Rii on Windows 10 was a joy as it made using the Compute Stick more like an appliance than a full PC. The shortcut keys help to launch important apps instantly, and the play, pause, mute, and volume controls make it seem more like a TV remote than a standard keyboard. Toss in the extreme lightness (seriously, it feels like a hollow dummy unit) and the soft-touch paint and it's a winner.
Trackpad
Okay, let's talk about the trackpad on the Rii i8+. First, it has one! That's great news as technically you do not need a mouse. There are even dedicated right and left mouse buttons (two pairs, actually) for helping with those clicks or you can double-tap for a right-mouse action.
In Windows 10 for PC one-finger navigation is excellent with no lag and quick movement. Granted, the touch area is small, and precision is not the best, but it worked better than what I had expected, and it is entirely fine for quick navigation.
Tapping on the trackpad area is also not bad. It is not super sensitive, so you really need to give it a good tap, but the action does not feel too exaggerated either. Combined with the one-finger navigation and I was launching apps, closing them, etc. like a pro. While not the most precise or elegant mouse experience, it was, as I mention, better than expected.
Two-finger scrolling, however, is where things to get clunky. It works, but it is not fun at all to use in any web browser. The distance traveled when scrolling is too little, and you will find yourself doing a lot of repeat actions. Luckily, you can use the up and down arrows, Page Up and Page Down, and Home and End to jump around instead.
Windows 10 Mobile and Continuum
The Rii can also work by plugging in the USB dongle into the Microsoft Continuum Display Dock or any USB expansion hub you connect to a Lumia 950 or Lumia 950 XL. Like full Windows 10, it just worked. That's the good news.
The bad news is twofold:
The trackpad works, but it is terrible
Not all the media keys mapped to a function
The trackpad is even worse than on Windows 10. It was so bad that I almost gave up on using it (luckily, in Continuum the phone's display can act as a superb trackpad). I am not sure why there is a such a difference in performance between Windows 10 for PC and Windows 10 Continuum, but there is one. Moving a cursor across the screen takes four full swipes — it works, and in a pinch it will do, but a real mouse will be a much better experience.
Some of the action keys, like the media playback controls and Win for the Start Menu work, but the rest simply do nothing. Typing was also decent, but again, for long strings of text I kept having to look between the keyboard and the screen to make sure I wasn't missing any letters — which was frustrated by a bit of lag.
In short, the Rii works with Windows 10 Continuum, and can help in less than ideal conditions, but it would be much easier just to use the phone's display for navigation and typing.
Buy or not?
I really like the Rii i8+ as a Windows 10 for PC companion device. If you are thinking of putting a Compute Stick or any other PC setup in your living room, or something light for travel, then the Rii is a good choice.
I have seen complaints that the signal between the keyboard and dongle can drop with only short distances. I did not experience this problem and in fact was able to type 25 feet away through walls with no issue. However, being a 2.4Ghz signal I could see wireless interference cropping up and causing issues for people in certain conditions — for some it won't be an issue, for others it will ruin the experience.
While the Rii i8+ works with Continuum and it better than nothing in a pinch, there are better solutions.
So who is this for? If you're not planning on doing a bunch of heavy work or lots of typing on your PC, then the i8+ is an excellent, low-cost solution. Obviously, if you want to use your PC for working in Excel, typing long documents, or working on imaging, you would be better served with something else, namely a full keyboard and mouse.
But hey, options are options, and the Rii serves the purpose I need for when I travel and want a PC for streaming, reading documents, or doing the basics. It's also a great addition for living room PC setups. With that in mind, I say the Rii i8+ is worth a shot if it meets your requirements.
See on Amazon (opens in new tab)
Do you have a wireless keyboard and trackpad setup that you think I should try with my Compute Stick? Let me know in comments and maybe I'll give it a spin in my next review.
Daniel Rubino is the Executive Editor of Windows Central, head reviewer, podcast co-host, and analyst. He has been covering Microsoft here since 2007, back when this site was called WMExperts (and later Windows Phone Central). His interests include Windows, Microsoft Surface, laptops, next-gen computing, and arguing with people on the internet.
It's too bad the trackpad doesn't work well with Continuum. I'd get one if it did.

I remember there was article with a stick coming with the i3? Is that right? I get mixed cause I know there's several. What the best one out right or should I wait? Posted via the Windows Central App for Android

Core m3, not i3. I said the Core m3 ($430 with Windows 10) was the better value between it and the Core m5 version, which I reviewed.

Thanks Daniel. I don't be here as much so I'll find the review. Posted via the Windows Central App for Android

a bit surprised to see how good it was for you, and I'm pretty sure 99% of cons can be solved by fine tuning trackpad settings, if Microsoft included any...

I really have been interested in the surface-ish keyboards, since they offer a trackpad, and are wider then this. i like having the trackpad in front of the keyboard like a laptop. I've used my surface keyboard with the bluetooth wireless adapter, and it works all right. the other thing i'm interested in is the use of the gechic portable touchscreens. these are portable touchscreens that don't require drivers. I'd be really curious if they work with the new redstone build of windows 10 mobile. i'm sure it would work with the compute stick...

like this: http://www.amazon.com/Microsoft-MoKo-Ultra-Slim-Bluetooth-Illumination/dp/B01AJOX7LU?ie=UTF8&keywords=surface%20keyboard&qid=1465416849&ref_=sr_1_20&s=pc&sr=1-20

Your link is messed for clicking on but OMG that's awesome!

MS used to make their own BT device that clicked onto any Surface keyboard and turned it wireless and also gave it a tilt. It was priced WAAAAY too high though and was discontinued really quickly. https://www.youtube.com/watch?v=jtznONDJxdI

here's a link to a 13" gechic monitor: http://www.amazon.com/GeChic-Portable-Touchscreen-Monitor-MiniDisplay/dp/B00XK5A502?ie=UTF8&keywords=gechic%20monitor&qid=1465419543&ref_=sr_1_7&sr=8-7

I have the microsoft bluetooth wireless surface typecover adapter that came out with the original Surface Pro. Any idea if that will work with the Surface Pro 4 I haven't had a chance to try it out and I'm not at home right now, so wondering if its worth looking for when I get home. If it's compatible with the Surface Pro 4 typecover and the SP4 itself, awesome. If its compatible with SP4 typecover and continuum, even better.

It's official, keyboards are bigger than computers!!!

I have one of these (the 2.4GHz version) for use with our home theater PC. It works great!
I also have one that I use for the HTPC that we have in our showroom at work. We use it to play music, videos, slideshows, etc. The backlit keys are really nice, and the fact that it is rechargeable through USB means that my fellow employees at work, and my wife at home, will no longer be hounding me for batteries.
If you have an HTPC and a Windows Phone, Ceton makes a great remote control app that allows you to manage all the regular functions of Windows Media through your phone. You can also view teh program guide, see what programs are set to recored and set others, etc.

Rapoo e6700 is a great design for small slim keyboard with trackpad, use for my htpc. Unfortunately doesn't seem very reliable from my experience (on my third albeit slightly different models!)

howd you get that winmo 6 look on that phone

Its a great device, however there are quite a few other models that actually have a micro-usb charger, and also work with bluetooth, and by my experience, a very good trackpad as well. And it's the same price, or very similar. A few models are named AERB wireless keyboard, or QQTech - http://www.amazon.com/Portable-Lightweight-Bluetooth-Controller-Smartphones/dp/B00BX0YKX4?ie=UTF8&keywords=bluetooth20keyboard&qid=1465429852&ref_=sr_1_5&sr=8-5

Its a great device, however there are quite a few other models that actually have a micro-usb charger, and also work with bluetooth, and by my experience, a very good trackpad as well. And it's the same price, or very similar. A few models are named AERB wireless keyboard, or QQTech - http://www.amazon.com/Portable-Lightweight-Bluetooth-Controller-Smartphones/dp/B00BX0YKX4?ie=UTF8&keywords=bluetooth20keyboard&qid=1465429852&ref_=sr_1_5&sr=8-5

I have an Core-I5 mini-ITX PC hooked to a large TV via HDMI that has a Slim BluRay DVD installed. Basically, with Cyberlink PowerDVD15 it's the DVD/BluRay player in our home (PowerDVD15 performs much better than previous release and you can turn allot of invasive stuff off). If this little device could be programmed to be seen as a Remote, that would be fantastic.. no more soft-remote on screen for some DVD/BlueRay titles..

Picked up one of those keyboards like that for $8.....It's a Chinese version but, it;s laied out EXACTLY like that, Picked up for my HTPC but, never used it yet.

I have one of these use it on my android tv box, it works pretty well indeed

Had one of these battery swelled up couldn't replace & reseller wouldn't return it threw it out

Got one free when i ordered an android tv box last week. Works great but i have to agree that rolling is not pleasant if you are used to a mouse wheel. Works better on my surface compared to the original surface 2 keybord

try this one http://www.amazon.com/Lenovo-Multimedia-Keyboard-Non-backlit-0C51503/dp/...

I have this old Lenovo mini and I love it http://www.amazon.com/Lenovo-Multimedia-Keyboard-Non-backlit-0C51503/dp/...

I had high hopes with this, unfortunately I had a horrific experience. It feels cheaply made and the track pad was the worst I ever used.... sent it right back to Amazon Posted via the Windows Central App for Android
Windows Central Newsletter
Get the best of Windows Central in in your inbox, every day!
Thank you for signing up to Windows Central. You will receive a verification email shortly.
There was a problem. Please refresh the page and try again.