Highly-anticipated and long-awaited, Rocket League will at last hit Xbox One next week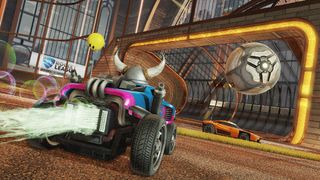 The most important date is February is upon us. It was announced today by developer Psyonix that Rocket League will finally race its way onto the Xbox One next Wednesday, February 17th for $19.99.
Rocket League took the gaming world by storm last year when it launched on PlayStation and Steam and received rave reviews from just about every outlet. In Rocket League you control a rocket-powered car that is used to hit a giant soccer ball into the goal. The game's premise is simple, but putting it all into action takes some practice and getting used to.
Psyonix has also included three of the four previously-released DLC packs into the Xbox One version of the game at no extra cost. As an added bonus, Xbox One players will get two exclusive cars based off of vehicles from Halo and the Gears of War franchises. Not only that, but the game will feature some garage items to customize your car with that are inspired by Sunset Overdrive.
The game features local multiplayer but focuses mainly on it's online atmosphere. You can either play in unranked/ranked matches ranging from 1v1 to 4v4 or play in special mutator game types such as the "Snow Day" hockey game type that is available right now.
Psyonix announced last week that Season 2 of Rocket League will launch soon and will bring some welcomed changes with it. The developers are now doing away with 'rank points' and instead have introduced a 12-division system in which players will be ranked in based on skill. Players will then be matched against opponents in the same division when playing in ranked matches.
Are you excited to finally be able to kick giant soccer balls around with cars?
Source: Xbox Wire (opens in new tab)
It's same multiplayer with Ps4 and PC players.

Cross platform only works for PS4 >><<PC

Was hoping it was Mario Kart esque from the leading image.

I will never understand why all this fuss about this game. I can see me playing it a couple of times. But that is all. All the awards and enthusiasm when they bring up this game is just something I can't comprehend. It's a couple of times with a friend kind of fun. End of story...

But it's fun to have silly matches and to, in colloquial terms, "rek skrubs" online

The games is brilliant! Been playing it for almost 100h and I still learn something every match. The skill ceiling is just so incredibly high and getting better just so rewarding! Score your first perfectly lined up aerial goal and tell me it is not exhilarating. As you progress in skill you are yourself doing things you thought impossible before. This is the pinnacle of games design when it comes to a simple formula with deep gameplay.

I think the cross platform play made it particularly popular; PS4 players would buy it to play with their PC buddies and vice versa. It is a very fun game online. On Xbox it'll still be fun but arriving this late, without cross platform, I doubt it'll make as much of a splash.

Looks pretty ordinary so I'm not willing to buy. For sure shortly this will be thrown to the games with gold.

Not very likely. It was a PS Plus game so it's not going that route on Xbox One. Also it has been a huge hit, so you shouldn't write it off.

Is that a thing? If it's on ps+ it doesn't go on gold?

This game is so good on the ps4

Very fun game to waste time on. Steam version currently sits on a sale of $13 dollars I think and it does support Xbox joystick :)

Played this game more than 400h already on PC and it only gets better as you do and you can have a lot of fun with friends. Only negative review are that I've seen are mostly from chievos hunters. This game isn't meant to be played solo against bots. But no cross-platform on Xbox One would mean not for me.

All this exclusive crap is Bulls*it! I don't understand what does it help? I'm not going to buy that console because this game comes later. I choose my platform because I like it...

Shame about the cross platform. We should at least get to olay pc users

Looks insanely fun Posted via the Windows Central App for Android
Windows Central Newsletter
Get the best of Windows Central in in your inbox, every day!
Thank you for signing up to Windows Central. You will receive a verification email shortly.
There was a problem. Please refresh the page and try again.