Sally's Spa opens for Xbox Live on Windows Phone this week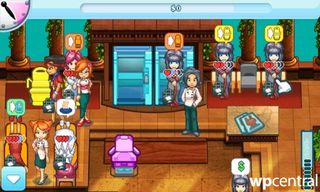 Last week's Xbox Live release, Pool Pro Online 3, boasted a highly impressive online multiplayer mode and like, three different pool games. How could this week's release possibly hope to top that? Why, with girl power of course! Game House has exclusively revealed to Windows Phone Central that Sally's Spa comes to Xbox Live this Wednesday.
Sally's Spa is the sequel to Sally's Salon, a female-oriented time management game. The subject matter of both titles – salons and spas – might cause some of our male readers to roll their eyes, but Sally's Salon was actually an addictive and finely tuned game. Check out my review to learn why – basically, time management games are fun and well-suited to mobile play. Who cares about the theme when the gameplay's this good?
Sally's Spa sees the cutthroat, ruthless businesswoman Sally set her sights on dominating the day spa industry. To do this, she'll enlist the aid of the mafia and bust the heads of the competition wherever she goes. Wait, that's not right. What really happens is Sally starts out at a new location, offering customers a small array of beautification services. Once she's served all of the customers for the day, a new day (level) begins. Complete enough days at once location and it's off to a new, larger place to repeat the process.
New and improved
Sally's Spa plays largely the same as the original game, but Game House has made some tweaks and improvements. First, the playing field has been expanded, so now you'll need to scroll the screen up and down to view and interact with certain stations. Hopefully that doesn't interrupt the flow of the game too much. On the plus side, the larger field allows for larger and more detailed sprites, so Spa is certainly a bit prettier than Salon. Sally can now order and sell goods to customers, making the experience a bit deeper. Throw in a host of new minigames like Hot Stone Massages and you've got a more complex but still very approachable game.
Sally's Spa debuts Wednesday, August 8 and will cost $4.99. Prepare for a refreshing good time, gamers.
Windows Central Newsletter
Get the best of Windows Central in your inbox, every day!
Paul Acevedo is the Games Editor at Windows Central. A lifelong gamer, he has written about videogames for over 15 years and reviewed over 350 games for our site. Follow him on Twitter @PaulRAcevedo. Don't hate. Appreciate!
I'm not paying $4.99 for a rehash of a boring game, when I just got one of the most polished games on the marketplace WITH ONLINE PLAY for $2.99. No way in hell, little man.

Good for you. I didn't find it boring in the slightest.

Who is the little man you refer to? And like irlju said, for many of us the first game wasn't boring at all. ~ ~

Little man was just in reference to the industry as a hole. It is funny though, you guys can say you you like the game or think it is cool and all is hunky-dory. Someone else says they think it is boring and we get the sarcastic "Good for you'd". I just prefer billiards over running a hair salon...i didn't shoot your cat....it will okay.

And yes ...i know it is "whole".

I didn't play it at all. I know the concept of the game. And the game is really addicting not boring at all. I've seen people play it. And it's like any other game, It's in line with games like cooking mama, now I wish that game would come to WP, at least a new one. Maybe for WP8. These games are fun, a great way to pass time. I agree the $4.99 is a little pricey but there should be a demo, and I'm sure there will be. As soon as most people play the demo you'll love the game. And is $5 really that much for over 5hrs of gameplay? You spend more then that paying for a movie in the theater that's less then 2 hours.

1st one is a very nice time management game, but of course male tweens aren't allowed to enjoy this. Being old hasn't got much positives, but don't giving a shit to that image thing is one.

Hey guys, where the hell is promised Pinball FX2?!?!

That's what I was hoping for also.

Didn't you read our interview with the dev? Game's a ways off from release.

Ondra... Try Dr. Pickaxe to hold you over...

I want this one but $5 is too much. The max I would pay is $2.99, so I am waiting for a sale

I really expected Jay Bennett to write this review, as he LOVES Sally's Salon

Ooooh Sally's Salon. Can't wait to impress people with my Management skills by pointing to my high score on my resume. IT'S A GAME!!! Wow.

If you don't like games, why bother to comment on the article?

It's a video game, it's to entertain, you know a different part of one's life other than work. And to each its own but you don't need to be thinking of ways to impress people all the time, you might just want to chill and enjoy your time. Just a thought.

OMG the MARKETPLACE (GAMES) becomes even worst week after week!!
Instead to bring popular game titles like cut the rope,where's my water,the angry birds (space,seasons),amazing alex and many many many many more.MS brings this Sh**y games.They must bring more popular games in more logical prices like iTunes & GooglePlay
and after all update them very often!!
I have HTC radar i like the WP OS but for me the main factor to choose an OS and a phone is the MARKETPLACE withe the variety of apps&games,good prices,and always being up to date, so if with wp8 the marketplace will stay the same expensive+poor my next phone is going to be for sure ANDROID!!