Samsung announces ultra-light and thin Galaxy Book Pro and Book Pro 360 Windows laptops
By Daniel Rubino last updated
Samsung teams up with Intel and Microsoft for four new super-thin and light laptops in 13" and 15" models with up to 5G and more, starting today.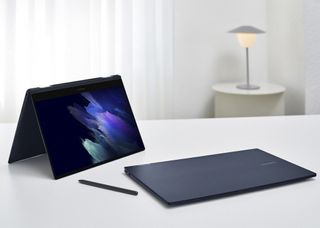 (Image credit: Samsung)
What you need to know
Galaxy Book Pro and Book Pro 360 are new laptops from Samsung.
Either model comes in 13 and 15-inch varieties in two color options
The laptops are insanely thin and light but pack Intel 11th Gen CPUs and AMOLED displays.
Pricing starts at $999 with preorders today and shipping on May 14.
The last year has seen a significant resurgence in laptops, specifically, those running Windows 10 (now at 1.3 billion active users). Samsung, which has long dabbled in making some excellent laptops, is now putting both feet in the water.
Announced today, part of its Galaxy Unpacked event dedicated to PCs is the Samsung Galaxy Book Pro and Galaxy Book Pro 360 - laptops built for "next-generation connectivity" and feature an "ultra-portable design." Each model comes in 13 and 15-inch variations and two color options. Moreover, Microsoft gives Samsung a push, too, noting the deep integration with Galaxy phones and ecosystem and Windows 10.
The laptops go on sale today, and we expect a more global release this time instead of select markets. Here is what you need to know.
Samsung Galaxy Book Pro / Book Pro 360: Specs and features
The big story behind these laptops is twofold. The first is the displays. They feature 16:9 full HD screens powered by Samsung's famed AMOLED technology. That translates to blue light protection (less emission), 120% DCI-P3, a 1,000,000 to 1 contrast ratio, 0.2ms response time, and VESA DisplayHDR 500. Samsung also optimizes the screens with different viewing modes, including natural (sRGB), movie (DCI-P3), and vivid (AMOLED native) for gaming and Adobe.
But Samsung didn't stop there. Being no stranger to thin laptops (see our Galaxy Book S review), the company is doubling down as these laptops are under 12mm thin and weigh 3lbs or less (the non-360 models peak at 2.3lbs for the 15-inch, which is crazy).
Galaxy Book Pro 360 13
Galaxy Book Pro 360 15
OS
Windows 10 Home
Windows 10 Pro
Windows 10 Home
Windows 10 Pro
Processor
11th Gen Intel Core i5
11th Gen Intel Core i7
11th Gen Intel Core i5
11th Gen Intel Core i7
RAM
Up to 16GB LPDDR4x
Up to 16GB LPDDR4x
Graphics
Intel Iris Xe
Intel Irs Xe
Storage
Up to 512GB NVMe SSD
Up to 1TB NVMe SSD
Display
13.3 inches
Super AMOLED
1920x1080 (FHD)
S Pen for inking
15.6 inches
Super AMOLED
1920x1080 (FHD)
S Pen for inking
Ports
Thunderbolt 4
Two USB-C
3.5mm audio
microSD card reader
5G SIM (optional)
Thunderbolt 4
Two USB-C
3.5mm audio
microSD card reader
Audio
AKG speakers
Dolby Atmos
AKG speakers
Dolby Atmos
Connectivity
5G (optional)
Wi-Fi 6E Ready
Bluetooth 5.1
Wi-Fi 6E Ready
Bluetooth 5.1
Camera
Front-facing 720p
Front-facing 720p
Security
Fingerprint reader
Fingerprint reader
Battery
63Wh
65W AC adapter
68Wh
65W AC adapter
Dimensions
11.9 x 7.95 x 0.45 inches
(302.5mm x 202mm x 11.5mm)
13.97 x 8.98 x 0.47 inches
(354.85mm x 227.97mm x 11.9mm)
Weight
2.29 pounds (1.04kg)
3.06 pounds (1.39kg)
Color
Mystic Navy
Mystic Bronze
Mystic Navy
Mystic Bronze
Typically, this is where we note the small battery, but Samsung managed to squeeze a 63WHr battery into the 13-inch models while the 15-inch ones get slightly more at 68WHr. Surface Laptop 4, by comparison, only has a 46WHr battery. That's a huge difference, and when combined with the full HD AMOLED, these laptops should last a long time.
Even if you do run low on battery, these laptops sport 65-watt Fast Charging. Samsung claims "8 hours" of battery life is gained in a 30-minute charge, which should set some records.
Ports are also taken care of with a few Type-C, including Thunderbolt 4, microSD card reader, Type-A on the non-convertible models, and even HDMI on the 15-inch.
Processors are typical Intel 11th Gen Core series going up to i7-1165G7, which is found in all recent Ultrabooks. That also means Intel Evo certification and Iris Xe graphics, all likely enhanced by what we presume are some zippy Samsung SSDs up to 1TB.
For those who want an always-connected experience, the 13-inch Samsung Book Pro 360 model is the one to get as it can be configured with a 5G modem (coming later).
Those Book Pro 360 models also come with a new "upgraded" S Pen in the box. The pen is 2.5x thicker than before, and knowing Samsung's pen tech, it should have excellent latency.
Galaxy Book Pro 13
Galaxy Book Pro 15
OS
Windows 10 Home
Windows 10 Pro
Windows 10 Home
Windows 10 Pro
Processor
11th Gen Intel Core i5
11th Gen Intel Core i7
11th Gen Intel Core i5
11th Gen Intel Core i7
RAM
8GB LPDDR4x
Up to 16GB LPDDR4x
Graphics
Intel Iris Xe
Intel Iris Xe
Storage
Up to 512GB NVMe SSD
Up to 512GB NVMe SSD
Display
13.3 inches
Super AMOLED
1920x1080 (FHD
15.6 inches
Super AMOLED
1920x1080 (FHD)
Ports
Thunderbolt 4
USB-C
USB-A 3.2
3.5mm audio
microSD card reader
Thunderbolt 4
USB-C
USB-A 3.2
HDMI
3.5mm audio
microSD card reader
Audio
AKG speakers
Dolby Atmos
AKG speakers
Dolby Atmos
Connectivity
Wi-Fi 6E Ready
Bluetooth 5.1
Wi-Fi 6E Ready
Bluetooth 5.1
Camera
Front-facing 720p
Front-facing 720p
Security
Fingerprint reader
Fingerprint reader
Battery
63Wh
65W AC adapter
68Wh
65W AC adapter
Dimensions
11.98 x 7.87 x 0.44 inches
(304.4mm x 199.8mm x 11.2mm)
13.99 x 8.89 x 0.46 inches
(355.4mm x 225.8mm x 11.7mm)
Weight
1.92 pounds (0.87kg)
2.31 pounds (1.05kg)
Color
Mystic Blue
Mystic Silver
Mystic Blue
Mystic Silver
Even the keyboard has been maximized for results with a new scissor switch with rubber domes and 1mm of travel, which is quite good considering the thin chassis.
There is no Windows Hello facial recognition via the 720P webcam (which has been optimally tuned along with noise-canceling mics). However, users can still use the fingerprint reader built into the power button for quick logins to Windows.
Finally, Samsung seems to be bringing the full force of its ecosystem to these laptops. SmartThings is built-in with an app to let you control your smart home appliances. The Easy Bluetooth connection auto-connects to Galaxy Buds. Galaxy Book Smart Switch transfers photos, movies, files, and more between your existing Windows PC. Samsung Notes and Quick Share let you keep your notes and files synced between your Galaxy smartphone and laptop.
Samsung Galaxy Book Pro / Book Pro 360: Quick thoughts
Let's get some disappointments out of the way: I'm a bit bummed Samsung went with 16:9 for the display aspect instead of 16:10 (or even 3:2), especially on the 360-convertible model. That said, getting a full AMOLED display with HDR and wide-color-gamut may be worth the tradeoff. Also, speakers on the bottom in 2021? Not my favorite choice.
The 13-inch Galaxy Book Pro 360 is the real treat here. It is rare to find a convertible laptop that is essentially as thin as its non-convertible sibling. At just 11.5 mm thin and 2.29 pounds (1.04kg), Samsung has made one of the thinnest and lightest convertible PCs around. Add in 5G and that S-Pen, and you have a killer combo.
For those skeptical of ARM processors, the inclusion of full Intel 11th Gen CPUs should be a relief. Samsung also added performance modes, including a no-fan option for complete silence, which should be interesting to test (there's also max performance for gaming and creating).
The 65-watt Fast Charging and extended 63WHr battery combined with a full HD display should result in extraordinary battery life, too – we'll see.
Finally, there is a good chance we'll see these laptops outside of the US and Germany for once. Historically, Samsung has been too conservative for its laptop releases, but this time we expect many more markets. Let us see if they can deliver this time.
Will the Galaxy Book Pro / Pro 360 make our best Ultrabooks list? There's an excellent chance.
Samsung Galaxy Book Pro / Book Pro 360: Price and availability
Galaxy Book Pro and Galaxy Book Pro 360 are available for preorder today, April 28, and available for purchase beginning May 14.
Galaxy Book Pro 13" will start at $999.99, and the 15" inch starts at $1,099.99. Galaxy Book Pro 360 13" starts at $1,199.99, and the Galaxy Book Pro 360 15" will begin at $1,299.99.
Consumers who preorder Galaxy Book Pro or Galaxy Book Pro 360 between April 28 and May 13 are eligible for the following deals: $150 in future credit if ordered through Amazon; $150 gift certificate through Best Buy; and either up to $150 eCertificate or free Galaxy Buds Pro through Samsung.com and Samsung Experience Stores.
Consumers who purchase Galaxy Book Pro at launch, between May 14 and May 30, are eligible for $100 in future credit through Amazon, Best Buy, or Samsung.com, from wherever the purchase was made.
Samsung's new laptops are less than 12mm thin, pack AMOLED displays, Intel processors, and have all the latest tech on board. Choose either 13 or 15-inch models in mystic blue or silver. They start shipping on May 14.
Samsung Galaxy Book Pro 360
If you need a super-thin laptop that is also a convertible, the Galaxy Book Pro 360 is for you. There is a lot to like coming in 13 or 15-inch models with optional 5G (13-inch), featuring AMOLED displays, large batteries, and weighs less than 3lbs. Samsung's S Pen is also included.
Daniel Rubino is the Executive Editor of Windows Central, head reviewer, podcast co-host, and analyst. He has been covering Microsoft here since 2007, back when this site was called WMExperts (and later Windows Phone Central). His interests include Windows, Microsoft Surface, laptops, next-gen computing, and arguing with people on the internet.
Lost me at 16:9. They look great tho.

Yeah especially for the 2-in-1. It's just really awkward to work with in portrait mode. But they do look great. Samsung's blues are always amazing. And the value here is pretty good too.

If I would be buying a new laptop now it would probably be that Galaxy Book Pro 360 15", really amazed by what they mentioned to pack into that while still keeping it at 1.39 kg.

Man, another miss on getting Ryzen adopted into the higher-end laptop segment. Sucks to see them failing to make better headway in this space. These seem fine, but if you're someone who upgrades your laptop every 4-5 years, I would think twice before picking up something with an OLED screen. I've seen people whose Samsung phones exhibited burn-in after 2-3 years of fairly heavy use, so power users might want to keep that in mind. If you upgrade more frequently (as I prefer to do), or you're going to only have light usage on your laptop, it should be a nice-looking screen with really good battery life and you won't have to worry much about OLED's drawbacks.

" Sucks to see them failing to make better headway in this space. "

As I keep telling people it's because Intel worked directly with Samsung here to optimize the CPU for the chassis. Things like AI enhancement, improved BT to make Galaxy phones more reliable for Your Phone, tuned thermals (including a complete fanless mode), and general commercial support are some things AMD is just not able to compete with yet.

Wow... 3lbs on a 15" convertible. But ouch on 16:9. Dan, maybe you can force them to use 16:10 or 3:2 next time like you forced HP to use precision touchpads =)

Lol, I'm not going to lie, on my briefing with them "Why 16:9?" was the first thing I asked. I think a few other tech journalists feel the same way, so hopefully, they'll hear the feedback. It's a big missed opportunity for what is otherwise a fantastic-looking laptop.

Definitely agree on this. I wouldn't mind 16:9 on the standard Pro models as much, though they would be better as 16:10. The 360 models should at least be 16:10 but ideally 3:2. These seem like such great machines being hamstrung by those dimensions. Here's hoping for next year!

True though I think it matters a bit less for the 15" model. My current 15.6 x360 is 16:9 too and the vertical space is not too bad actually. I never use it in portrait though where 16:9 would be a bit weird (but especially the 2 kg and 20mm thickness prevent that).
16:10 or 3:2 would still be a nice bonus though. :-)

Yeah, the bigger you go, the less big of a deal 16:10 is; I mean, it's still preferred, but even I don't mind a 16:9 15-inch. It gets tough at 13.3" though.

They would argue this 2in1 is a touch laptop and not a 2in1 tablet PC. And 16:9 is ideal, as the image will either be clamp or tent.

Past experience with getting a laptop fixed by Samsung generally keeps me away from their laptops. Not sure if that has improved but did not have a good experience and can't see myself going back.

Yes, the following comments are super jaded... What Samsung has done here is truly impressive... and, honestly, kind of boring. It's yet another well made, ultra-light, ultra-thin, ultra-book with Iris Xe graphics all for the kingly sum of $1k and up. It's the same ports, in the same form factor, in the same price range that we've been seeing for years. In comparison to smartphones, you can get a top of the line phone with a high refresh screen, snapdragon 888, 4K recording, QHD screen, and some other bells and whistles for sub $700 dollars. I would love to see something similar happen to the Windows laptop/tablet market. When I look at these new Galaxy laptops, my first thought is that it's just another great laptop that, by the fall, you won't be able to tell the difference from all the other great $1K laptops.

Maybe. I'd say the play here is: People in the Samsung ecosystem: SmartThings, Buds, S Pen, Galaxy Phone, Tablet, etc. AMOLED display fans Those who want a really slick/thin Ultrabook For #1, there are those people. You can use a Samsung Tablet to 'second screen' with this laptop, run the new SmartThings app, or work seamlessly with the special BT optimizations and your Galaxy Phone. This is from the Apple playbook, and makes a lot of sense. For #2, Samsung makes its own displays. You're unlikely to find such an AMOLED screen in any other laptop anytime soon. For #3, I've never seen a convertible 13" with 5G be this thin/light. I'm sure there will be others, but for now, these are trendsetting. These laptops even have a literal fanless/silent mode, which I have never seen before in a proper Core i7. Tech evolves. The idea that what is new/exciting today is not in 6 months isn't really that insightful. It's always the case.

Why do you think a 15.6" 2-1 laptop which only weights 1.39 kg is boring?
I think the phone market is boring. Aside from a better camera, my friends with flagship phones do the same stuff as I do on my 150 dollar phone (and my phone has less bloat and way better battery life).

I think Windows OEM have some serious problems in high end market when you see Apple Macs increase sales by 70 % over 1st quarter 2020. And Mac do not have a touch screen or a pen.

Shame they don't run ARM. Sure they look good but there are already loads of good Wintel laptops. Samsung Galaxy Book Flex and Galaxy Book Ion to name too. Crazy light though.

First of all. Both Galaxy book 360 should have an aspect of 16:10.
And the 13 inch maybe should be 14 inch or 12 inch.
And about Both Galaxy Book pro.
The little should had be 16:10 of 14 inch. And the bigger one should have been of 17 inch with an aspect ratio of 16:10. A better and improved cooling system. And Xe Max video card. And the ability to choose 32 Gb of ram and 64 Gb of Ram for the 17 inch version
Then you have a real competition to LG Gram 17 inch.

Looks really nice. I appreciate their efforts on the design. These do *not* look like MacBook clones.
Nice feature set, too. The inclusion of 5G and the S-Pen (as Daniel said) do make the 13-inch the one to beat.
I hope they make enough sales to iterate on this further down the line.

I just logged in to say 16:10 will come in future. Samsung knows a premium laptop like this needs 16:10, but they are just clearing their 16:9 OLED inventory. Google "Blade Bezel" and you will understand Samsung is saving it for the next update. Brand new product lines generate a lot of buzz and a few missing features are normally overlooked. Often features are deliberately omitted by manufacturers so that they can use them for the "UPDATED" products. Surface, Dell, Apple all use this strategy to cram outdated processors and features into their new model.. I fail to understand is why Samsung is not releasing the i7+Dedicated Graphics model in the USA (happened with Galaxy Book Ion too)? However it is available in Germany, Hong Kong and South Korea. Weird!

OLED alone simply isn't good enough at this price. 3:2, QHD, 120Hz+, 600nit+, 100% P3/aRGB, Gorilla Glass 6, Anti-Glare Coating, Oleophobic Coating, Low-input Latency, Fully-Laminated, Variable Refresh Tech, and native HDR Signal Decoding. PAIR all that with OLED, and we may have something to compete against the Current generation of Apple and premium windows laptops.
But that STILL won't match XDR-miniLED on the upcoming Apple iPads and MacBooks.
Windows Central Newsletter
Get the best of Windows Central in in your inbox, every day!
Thank you for signing up to Windows Central. You will receive a verification email shortly.
There was a problem. Please refresh the page and try again.