Samsung unveils super hi-resolution ATIV Q and ultra-light ATIV Tab 3 Windows 8 tablets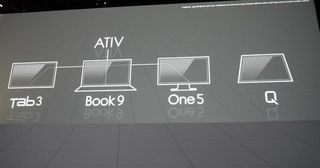 Today in London, Samsung has unveiled two new Windows 8 tablets, to further push the boundaries of Microsoft's new desktop and tablet OS.
Both tablets bring some new features to the table, including the ability to run Android apps on the ATIV Q and with the ATIV Tab 3, users get an ultra-thin (8.2mm) and super light (550g) tablet running full Windows 8. Both devices also support Samsung's unique S-Pen technology, offering an alternative means of input for data.
The ATIV Q also brings a first to tablets: the highest resolution with an astonishing QHD+ (3200x1800) on a 13.3" display, bringing the PPI to an eye-popping 275PPI. That's in addition to the Core i5 CPU, 4GB of RAM and 128GB of on board storage.
Read on for the full specifications and press release…and stay tuned for video our hands on with the new devices!
Samsung Strengthens Tablet Business and Demonstrates Commitment to Customer Choice with Innovative New ATIV Tablets
New Convertible ATIV Q and ATIV Tab 3, the World's Thinnest Windows Tablet, Offer Ultimate Versatility and Productivity on the Go
LONDON, U.K. – June 20, 2013 – Samsung Electronics Co., Ltd., a global leader in digital media and convergence technologies, unveiled two new tablets today, giving consumers more ways than ever to create, consume and share content, and blurring the industry boundaries. The two new Windows 8 tablets, the ATIV Q and ATIV Tab 3, include several innovative new features that set them apart from other mobile tablets, including incredibly versatile form factors and extremely thin and light bodies. Both are powered by Windows 8 and bring several unique features to market – including the world's thinnest tablet and a convertible tablet with the ability to run Android apps.
"Busy lives demand convenience, and the convertible nature of these tablets delivers the versatility, mobility and adaptability consumers should expect from personal computing today," said DJ Lee, President and Head of Sales and Marketing Office, IT & Mobile Communications Division, Samsung Electronics. "These tablets are the result of people-centric innovation, and they were designed to provide consumers the flexibility to manage their digital lives on their terms whether they are in the office, at home or on the go."
ATIV Q
Samsung launches the ATIV Q – a truly convertible device with the ability to change modes and the power to enjoy both Windows and Android. Born of the tablet family, the ATIV Q allows users more flexibility than ever to adapt the device to fit any situation, posture or environment. Built with today's evolving consumer lifestyles in mind and usable as a notebook or tablet, it delivers on the ATIV promise to make work more seamless and life more convenient.
Enjoy Android Apps on Windows: Addressing consumers' desire to access Android apps on a Windows-based PC, the ATIV Q allows users to experience both Windows 8 and Android (Jellybean 4.2.2) on the same device. Users will not only get access to Android apps via Google Play but will also be able to transfer files to share folders and files from Windows 8 to Android, truly marrying the mobile and PC experiences.
Versatility to Suit Any Environment or Needs: The ATIV Q sports an innovative hinge design that allows the user to transform the tablet into four functional modes. Lay the display flat over the keyboard for tablet mode. Raise the display upright to type just like a laptop. Float and adjust the display to a comfortable viewing angle. Or flip the display to place in the stand mode to watch movies with ease. The four-in-one design of the ATIV Q easily adjusts to give users all the options they need in one device. ATIV Q is also extremely thin and lightweight for optimum portability. At 1.29kg and only 13.9mm, it's easy to take everywhere you go.
The Ultimate Viewing Experience: The ATIV Q introduces the world's highest resolution, QHD+ (3200x1800) display. The tablet's 13.3-inch touch screen offers 2.8 times higher pixel density (275ppi) than full HD displays for viewing the finest of details. ATIV Q is also designed to provide an optimized viewing experience regardless of location and high brightness in outdoor environments.
ATIV Tab 3
A tablet with the power of a PC, the ATIV Tab 3 makes personal computing more mobile than ever. The tablet is the world's thinnest Windows 8 tablet – as thin as popular smartphones – and shares the premium design of the GALAXY series. It is also ideal for both creativity and productivity with improved S Pen functionality, including high level pen display and S Pen compatibility with MS Office.
Ultimate Mobility: The ATIV Tab 3 is the perfect device for on-the-go users. The frame is incredibly thin and light at only 8.2 millimeters thick and 550g in weight, making it a perfect companion device for travel as well as transporting between work and home. The ATIV Tab 3 also features up to 10 hours of battery life, eliminating the need to carry a charger for most long-distance flights.
Full Windows Experience for Work and Play: The ATIV Tab 3 runs Windows 8 with the ability to run Windows apps and programs, as well as coming preloaded with Office™ Home & Student for the best experience whether at home, at work or on go.
Both the ATIV Q and ATIV Tab 3 also enable superior productivity with S Pen functionality, enabling users to easily make written updates to creative and work.
SideSync is available on the ATIV Q and ATIV Tab 3, enabling users to switch from working on their PC to an Android-based Samsung smartphone with simplicity and ease. With SideSync, the user's PC and mobile device become one. Simply use the PC keyboard to respond to a text on a mobile phone; view maps on a larger screen, display photos and videos on both devices to make editing files even easier; or use an ATIV PC to back up and charge mobile devices. With SideSync, users enjoy more productivity with fewer interruptions to work and everyday life.
Convenience is all about saving time and finding easier ways to get things accomplished, and Samsung ATIV tablets enable users to do just that. By making the personal computing experience more versatile, Samsung continues to make work more seamless and life more convenient.
For more information on the full ATIV PC Family, please visit www.samsung.com or www.samsungmobileuspress.com.
Daniel Rubino is the Executive Editor of Windows Central, head reviewer, podcast co-host, and analyst. He has been covering Microsoft here since 2007, back when this site was called WMExperts (and later Windows Phone Central). His interests include Windows, Microsoft Surface, laptops, next-gen computing, and arguing with people on the internet.
This is actually good news. Good job Sammy.

Samsung may not be the best at windows phone but I do like the windows 8 hardware

Android and windows on the same device emmm no thanks

That's a lot of apps though

A lot of garbage apps... Android apps suck on tablets, I should know I had (won) a Samsung Galaxy Tab 10.1 and I sold it...

I love the android apps I have on my tablet and I have A LOT of them. Not giving up my Transformer.

Even so androids a glitch fest in keen on this surface rt ll though with the 8.1 software sounds promising

How many "apps" does Windows have?

I don't realy care its not a race this is like the tortoise and the hair kinda thing i tend to stick to my guns always iv tried out the android on both phones and tablets was not impressed i do give these things a chance farther then saying oh don't like it cause what people say nnno no-no judge for yourself :)

Was actually referring to the fact that Windows has millions of programs and doesnt need android tacked on because of its apps.

That's alright then you should of been a little clearer in detail sorry dude :)

No worries, hard to convey thoughts properly sometimes when posting in discussions.

Indeed i tend to get that texting mates sometimes getting the wrong end of the stick typing in robo speak :p

This is why Surface exists, for a pure Windows 8 experience. None of this spydroid nonsense.

I would never buy a tablet with Android on it. Putting Android on a Windows tablet is like running Android on BB10 it will make developers lazy and the experience will suck. I don't care about having access to thousands of extra garbage apps and malware, I want a unified experience that Windows 8 offers. This is a step backwards for the ecosystem.

How does this make developers lazy?

Some developers will just chose to write an Android app then and not port it into Windows. This then gives us an app that doesn't look like Metro and doesn't really fit into the ecosytem.

Developing applications take time and money. The majority of the time, it has nothing to do about "being lazy". The hard truth is that the market share for Windows Phone 8 and Windows Stores apps is still not quite there. Some companies/developers do have the time and money to invest into a new echo system, and others do not. There has to be an ROI and it is up to them to determine if the ROI is worth the extra cost of assigning (hiring) new resources, getting new development tools, and basically starting from scratch again.
And for what it's worth, I've developed Windows RT apps before. The WinRT API is horrid. Very 1.0. I'm sure it will mature in the future, but MS (Steve Sinofisky?) scrapped everything they had developed with .NET and started all over with the WinRT API. Its quite embarassing actually.

I actually kind of like the idea. It kills the entire app gap argument against Windows. Also, in a way, it helps exemplify why WinRT is the better framework. Comparing the Android and the WinRT versions of the same app side by side will show off features like Charms integration, Live Tiles, etc... which put WinRT above Android or iOS.

Of coarse I also understand the other argument that some developers would be lazy and just make the Android version.

People thought boot camp would make developers lazy and not make osx apps for Macs, but it never happened. Once people use a better operating system they don't want to reboot it, so the android is a selling point to push people hesitant about they app selection over they edge but will only increase the amount of apps for windows 8.

I mostly agree with what you said. But doesn't Apple's bootcamp still require you to reboot to switch OS's? If what I see and read about Samsungs thing is correct, you can basically use Android and Metro apps seamlessly without any jarring transition between operating systems. So there is an argument to be made that the Apple Bootcamp comparison doesnt directly correlate.

You can use SideSync on the Ativ Tab3, hope we get that for WP8!

Cmon 7" tab and new wp8 phone! *rolls dice*
*craps out*

No Windows phone announcement? I wonder if they will be backing out of that market

I'm thinking they are. Which I think is a bit crazy. Its clear that Nokia is driving WP market share upwards. So Samsung stepping aside just lets Nokia grab an even bigger portion of a growing pie. The thing about Nokia is that while we love their bold and different designs, a lot of people are inclined to stick to safer designs. If there is one thing Samsung is good at, its delivering the big ass, light weight, overspeced, plastic phone that has a check box on SD card, removable battery, and everything else. So I may prefer the Lumia range, but a lot of people would opt for the more conventional approach by Samsung.

I love Side Stream... Some Samsung people owe me a thx!
I had talked about such a feature in the WP8 forum, a thread called "We want WP8 ClonePhone" on 24-12-2012.
I like it when my ideas show up in real life, I am not claiming being the inventor... but that I had a similar idea.

And a cuppa coffee to go with it pls..

Great size and weight on the ATIV Tab 3, but terrible specs. Launching a new product based on the Z2760 at this point? Ugh. And I love how they say "Shared" for graphics in the specs. Too ashamed to admit it's that PowerVR garbage?

The ATIV Q, on the other hand, has great specs except for size and weight. A 13" convertible? Might as well be just a laptop. Great resolution though.

I'd like to see a tablet with the size and weight of the ATIV Tab 3, and the specs and capabilities of the ATIV Q. Guess we still have to wait another year or two...

Dell XPS 11 comes closest so far, 11.6" screen, Haswell, Wacom digitizer (sorry S-pen!), and a 2560 x 1440 screen. Just a bit weighty at under 2.5 pounds. I'm looking at it for my next device if the next Surface doesnt impress.

Conflict of interest. No thanks.

I have zero confidence Samsung will do anything more than a single WP offering each year just to sppease the few who want Samsung hardware.

The hardware looks promising (even though they did kind of ruin it by advertising it as "Dual OS" when it is really more of a BlueStacks like arrangement) but I'm going to hold out and deliver a final call after seeing the prices. Hopefully, they're competitively priced.

Let's see what Dell has to offer next. I prefer a Dell over Lenovo and Samsung these days. The quality of Lenovo has gone down hill. Especially their ThinkPads.

My ThinkPad from 2011 barely goes 1/2 hour before reaching meltdown. The body has cracks all over the place. Garbage.

My x220 Tablet has cracks and flimsy antenna attached. The hard drive cover fell off (apparently cracked at the screw joint) and I've only had this for not even 2 years. What a POS. Never again.

I LOVE that ATIV Q. I'm sure I'll be priced out of it (I'm assuming it'll be around $799 or $899) but man I want one of those. Android apps on Windows without bluestacks is a dream.

Exactly! It a reduces Android to an app in Windows 8 :-)

They lost me at "premium design of the GALAXY series".

No thanks, it's Infected with the Android bug

Did you see that the Ativ Tab 3 also comes with Office 2013 installed!!! For FREE!

Android and Windows dual.....yuck

well i wanted to see new ativ s phone :/
and theativ q looks nice and all but why the hell would any1 want to instal android apps on w8?????????
i mena its like i want ot instal android apps on my laptop, come on :/
but its good to have choices :D
the only consern for me is that res realy good for that integrated graphic :/
will see but i dont expect much :P

Now you have all the Android games and apps on your Hybrid! I want one!

are yo for real ??????
you got all damn apps you want on wp...
and plz go troll somewhere else :P

I always say that there's nothing wrong with having an option and that's what this is about, you don't have to use android is if you don't want to but some people will sure like it so it doesn't hurt if they r offering dual os?

Not true! not all apps are avaliable and also when it comes to qulaity some apps on Andriod is way better then windows 8.. Skype for example, you may think of Line.... Adobe on Andriod is way better then windows 8 metro.

But if you can use windows 8 desktop and windows 8 metro then some apps will be better! In the end, Andriod will offer missing apps, and some apps with better quality! For me, i like the idea as long as the cpu can handle it and the price is right!

Who ever dislike the idea or think windows 8 has all the apps, then these ppl are full of sh!t and are not true to themselves in the first place. You got to be honest

No, it is so cool, many people will buy a dual device, people don't have so much money!

I'm waiting for Dell's new Haswell XPS machines - I love my L702X but really want some sort of 13-15" touchscreen hybrid to replace it.

Hmm. I don't understand how you can have two OSes on one device. But the Ativ Q sounds amazing. I'll definitely consider it because I'm in the market for a tablet (or, I will be. Have to start saving up :p)!

Wish the Ativ Q had more storage, more RAM, and Intel HD Graphics 5000. Then I would buy it.

The storage is fine, it can be replaced. RAM is sure to be soldered in place. I found a ATIV Smart PC Pro for just $660 on Amazon and I bought it but the 4GB RAM is REALLY limiting. I wouldn't pay full price for it. I replaced the 128GB drive with a much faster and larger 256GB drive.

4GB RAM? Seriously? Fucking hell Samsung I will not buy that shit in a $1000 PC in 2013.

That is an awesome resolution, exactly 4x 1600x900 so you can set 200% scaling. DPI-aware programs will look AWESOME while old programs can be scaled an integer amount and look the same as on a 1600x900 screen.

That is an awesome resolution, exactly 4x 1600x900 so you can set 200% scaling. DPI-aware programs will look AWESOME while old programs can be scaled an integer amount and look the same as on a 1600x900 screen.

What I dont get is, people moaned about switching from Metro to the desktop but switching to android is somehow better?

⬆⬆⬆THIS!⬆⬆⬆ Ring the bell! This boy wins the prize!

I wonder why those product not using haswell when it's already release to manufacture by intel.

Still no SlideSync for ativ s. Don't care much about that feature...but ativ s owners do really need some recognitions here.

Unique Samsung S Pen? Oh, come on.
Windows Central Newsletter
Get the best of Windows Central in in your inbox, every day!
Thank you for signing up to Windows Central. You will receive a verification email shortly.
There was a problem. Please refresh the page and try again.