Samsung's new curved quantum dot monitor is a beauty built for gamers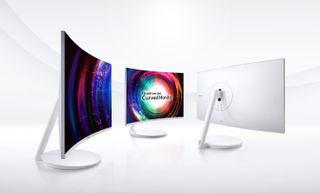 Samsung has announced the CH711, the company's latest curved quantum dot monitor, will make its debut at CES 2017 (opens in new tab) next week. Built "with gamers in mind," the CH711 will be available in either 27-inch or 31.5-inch varieties with a 2560 x 1440 resolution and a pretty stylish white chassis. Adding to that style is the fact that cables can be hidden inside the stand, making for a cleaner look on your desk.
Of course, the main highlight of the monitor is its use of quantum dots. The tech, which Samsung also uses on many of its TVs, should make for a bright and vivid picture. Add in Samsung's promise of 125% sRBG coverage, and the colors should be both poppy and accurate. The curve, which has been been making its way to more and more monitors recently, is another area Samsung is talking up with its 1,800R curvature and 178-degree viewing angle.
More detailed specs of the display aren't yet available, including the panel's response time, which will be an important consideration if Samsung hopes to target the gaming crowd. Pricing and availability are also a mystery at the moment, but the CH711 will be on display at CES 2017 alongside other monitors in Samsung's quantum dot lineup, like the CFG70 and CF791.
Windows Central Newsletter
Get the best of Windows Central in your inbox, every day!
Dan Thorp-Lancaster is the former Editor-in-Chief of Windows Central. He began working with Windows Central, Android Central, and iMore as a news writer in 2014 and is obsessed with tech of all sorts. You can follow Dan on Twitter @DthorpL and Instagram @heyitsdtl.
IMHO curved monitors and TVs are a gimmick, but for a single user in front of it, it could work for games. Time will tell.

Curved displays are really good for 2-3 people in smaller spaces. Large spaces they are not good - IMO.

for a single user in front of it, kind of like a computer.

I was referring to both monitors and tvs, besides multiple people could be looking at the same computer, for example gaming.

Not really. It's friendlier to the eyes since the individual LED's are angular to the viewer.
Like tilting the monitor slightly has the effect of not staring directly to the panel's back light.

Curved monitors are good when they are Ultrawide. Love my Dell U3414W monitor!!

I have to agree. I have the same monitor, and I'm loving the curve on it!

With gamers in mind? I hope that means 144Hz and G-Sync. Also, what about a non-curved version?

Agreed. Gaming monitor without G-Sync while NVidia has like 80% market share doesn't make sense at all.

Purchased a Samsung 27" 1800R curved monitor on Black Friday. Had to return two because of dead pixels. I don't regret getting a curved monitor, it makes a differences while gaming even after you get used to it and don't notice it most of the time.

I can't find a 100 Hz+, G-sync ultrawide for less than $1k.... make this have all that and be less than $1k prz.

Three of these in surround with two 1080s would be quite enjoyable

These are dumb, No point in curved at 16:9. What "gamer" wants a distorted image.

At least this gamer is looking for that Freesync or G-sync spec so until I find out more...no thanks.

Good news to have options

I tried out a curved screen and I found the experience...agitating. It just looked....wrong, particularly after 30 minutes or so. Perhaps my astigmatism is at fault. Besides, I'll bet these things are so far out of the realm of being reasonably priced that the average consumer is priced right out of it. Just like that new Surface all-in-one.

is it me or am I majorly confused on WTH these monitors aren't 4k at least?

Resolution isn't 'proper' 4k, needs to be proper 4k 2k and at least 100hz with either Gsync or freesync. Admittedly given that it is curved then probably can't get more than 1440p vertically but needs to be at least 100hz with sync for serious gamers

How can it have 125% of sRBG coverage? It doesn't max out at 100%? Can someone explain that to me? I know my surface has really high percentages for a lot of that and it looks gorgeous because of that, but I'm not really up to date on what they mean (I believe that they're a standard for what pixel values should be what color, but wouldn't be surprised if I was wrong). I really want to see more OLED monitors make their way into the affordable range. I know things like energy savings don't mean as much fro desktops as they do for phones and laptops, but I love the blacks on OLED monitors. Quantum dot displays (like they used on the LG G4 and I think G5 are real pretty too though)

If I'm not wrong, it means the monitor is capable of reproducing all colors of srgb color and beyond. Srgb isn't the biggest color space available in digital color.

My lcd works just fine today. :)

Beautiful monitor. I ordered the 791 yesterday which was released just this pasy week. but then it went on backorder so I have to wait... I'm still using my Samsung series 11 monitor 27" wqhd from 2012 and it's still the most. Color accurate beautiful monitor I've ever used. Zero back light bleed and the color reproduction is amazing, never knew what red looked like til that monitor. I'm expecting even better from this with the new quantum dot display and it's similar factory color tuning.

Waiting for 36 to 40 and full 4K but this HDR and DP 1.4 is an excellent move in the right direction.