Secretlab SoftWeave Black³ review: All-black everything has never looked better
The Secretlab SoftWeave Black³ triple-black colorway fits in perfectly with gaming and office setups.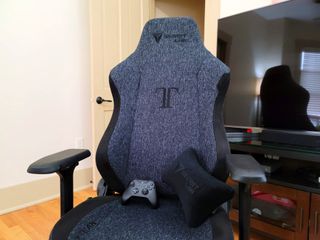 (Image credit: Dan Thorp-Lancaster / Windows Central)
Secretlab has already proven it's adept at making excellent gaming chairs. One of the more attractive aspects of the company, though, is that it doesn't stick to wild, loud designs that often come part and parcel with gaming chairs. Sure, you can get a purple chair covered in iconography taken from The Joker (of Batman fame). Still, Secretlab also has an excellent lineup of designs that would blend into any office.
That's where the company has gone with its latest design, dubbed Black³. Inspired by a popular colorway seen in streetwear, Black³ leans into a black-on-black-on-black color scheme that has an elegant edge for fans of the all-black-everything aesthetic. And while the basic build of the chair remains the same as the rest of Secretlab's 2020 Series, the company has made some great strides in easing the setup process.
Here's a quick look at the Secretlab SoftWeave Black³ edition gaming chair.
Secretlab SoftWeave Black³
From $410 at SecretlabBottom line: If you want one of the most comfortable gaming chairs out there with an excellent aesthetic, it's hard to go wrong with the Secretlab Black³
For
Excellent aesthetics
Attention to detail
Versatile positioning
Premium materials
Incredibly comfortable
Against
Built-in lumbar support limited to Titan model
SoftWeave is potentially susceptible to stains
Armrests scuffs difficult to remove
Secretlab SoftWeave Black³: Blending in with an elegant edge
The SoftWeave Black³ is part of Secretlab's 2020 Series of chairs, which debuted in 2019 with a revamped design. Within that lineup, Secretlab offers both Prime PU 2.0 leather and SoftWeave fabric coverings. Think of the Black³ edition as another "skin" for the chair, joining the dozens of other "skins" that Secretlab offers.
Aesthetically, the SoftWeave Black³ edition slots into the same theme that has earned Secretlab high marks in the past. While this is a gaming chair, for example, it's one that does its job well without being a distraction. The Black³ design is anything but gaudy, and it would blend in very well with any modern home office setup.
The reason for the chair's subdued presence is in its excellent application of the triple-black color scheme. The fabric covering the chair is primarily made up of a very premium-feeling weave of blacks interspersed with specks of gray. It's only interrupted by tasteful black stitching on the sides and Secretlab's logos.
One area Secretlab has always excelled is in attention to detail. Stitching can be hard to get right, but the Black³ manages to avoid the cheaper feeling present in some other gaming chair brands. The specific shade of black chosen for the stitching almost fades into the rest of the chair until you get up close to inspect it as well.
Even the logos present on the chair are done tastefully. The base Secretlab designs have never stuck out as ostentatious, but the designers behind them haven't been shy about using a punch of gold thread to make the logos pop. The opposite is true on the SoftWeave Black³ — the Secretlab and Titan (or Omega) logos take on a black shade that sort of fades into the rest of the chair.
The only areas of the chair that deviate from this all-black theme are the armrest mechanisms. That's not a bad thing, though; Secretlab uses the same all-metal, chrome-plated mechanisms as the rest of the 2020 Series. It's something I liked on the Prime PU 2.0 leather model, and the darkened chrome looks excellent here as well.
All of these elements together make the SoftWeave Black³ a perfect showcase for what makes Secretlab chairs consistently great: an excellent design prowess and quality materials.
Secretlab SoftWeave Black³: Always be iterating
I've previously reviewed the Secretlab 2020 Series, so I won't belabor the same points. It's best to check out that review for the full rundown, but I'll hit on some significant changes I've noticed here.
Some of my bigger complaints through setting up a few Secretlab chairs over the years were related to setting them up. The process has never been hard per se, but there was definite room for improvement regarding the effort required for one person to properly align and balance things while trying to insert screws. Thankfully, the designers at Secretlab have responded to that feedback, and the experience is miles better for it.
While I was a sucker for the Black³ design as soon as I opened the box, it was during setup that I was most pleased. Secretlab now includes a much-improved toolkit with the chair, offering a well-designed magnetic screwdriver with swappable heads and a winged. That's in contrast to the simple Allen wrench present in prior versions, and it makes a massive difference.
Beyond the new toolkit, Secretlab addressed one of the most frustrating aspects of putting together previous chairs in their lineup: aligning the backrest holes with the seat. This was previously a pain that involved trying to blindly align screw holes with a seat bracket while applying pressure and screwing them together. The company solved this on its latest chairs by adding a simple bracket on the right side of the backrest that slides into the perfect position to align the holes, allowing you to just slot it into place and start tightening screws.
It's hard to overstate how much of a difference this makes in easing some of the frustration (and sore muscles) of setting up previous models for the first time. It also removes a lot of guesswork, making sure you're certain you got the screws in just right.
To top things off, the plastic shielding plates that go over the brackets that keep the seat and back together are now magnetic. Just snap them on, and you're good to go. Previously, you'd have to, again, screw these in, and blindly aligning the holes was often annoying at the very least.
Image 1 of 2
The setup annoyances were still present when the 2020 Series launched last November, so all of these improvements were made in a matter of months. It's reassuring to see Secretlab is quick to address feedback, going so far as to revise its design even within the same general "model" of chair. I'll definitely be eager to see what further changes Secretlab makes once its next major redesign (2021 Series? 2022 Series?) rolls around.
Secretlab SoftWeave Black³: Almost perfect, but ...
Between the design, iteration, and Secretlab's reputation, the SoftWeave Black³ is nearly a perfect office companion. However, there are still a couple of minor things worth taking into consideration.
Topping the list of issues is that built-in lumbar support is still limited to the Titan models. If you have a smaller frame and don't want a bigger chair, you'll end up with a lumbar pillow instead on the Omega model. The pillow is still reasonably comfortable, but it doesn't compare to having an adjustable lumbar support mechanism built into the chair.
That may not be a dealbreaker for a lot of people, particularly given that Secretlab's chairs are super comfortable, to begin with. However, it's something that would require a full redesign of how the Omega model is built. I wouldn't expect to see that happen with the current 2020 Series, but you never know what's in store for future iterations.
Image 1 of 2
Another specific concern for all of the SoftWeave models, including the "Cookies & Cream" and "Charcoal Blue" colors, is the potential for stains. This isn't something you really have to worry about with the Prime PU 2.0 leather models, but the fabric on the SoftWeave chairs is a different story. I don't imagine you'd have too much to worry about with the black color of this particular chair, but you'll definitely want to be quick to clean up any messes.
Finally, something I hadn't noticed until I had used the previous leather 2020 Series chair for roughly nine months is that scuffs on the armrests are essentially permanent. This is something that I chalk up to simple wear and tear, but it's worth keeping in mind if you happen to bump the armrests up against any hard or sharp objects.
Should you buy the Secretlab SoftWeave Black³ gaming chair?
There's a reason Secretlab has a reputation as one of the best office-slash-gaming chair makers out there. The company consistently puts out quality, durable, comfortable chairs. As noted with the improvements to the setup process, they're always working to respond to feedback as well.
While I'm a fan of the aesthetic choices Secretlab made with the SoftWeave Black³, the design is always subjective. However, Secretlab has some great designers that have put together a ton of different pleasing styles based on everything from esports teams to Batman, and even the seriously cool Cyberpunk 2077 chair. There's really something for everyone.
The pricing can be a bit hard to swallow if you're used to picking up a generic office chair from Office Depot or Staples every couple of years. That said, the extra money is worth it when you factor in just how comfortable Secretlab's chairs are for extended gaming or work sessions, along with the durability and premium feel of the materials.
If you have the money to spare, Secretlab is definitely worth considering for some of the best gaming chairs available.
Blackout
Secretlab SoftWeave Black³
Hours of comfort

Secretlab makes some of the best gaming chairs out there. It also offers a crazy amount of variety in designs, and the SoftWeave Black³ edition builds on that further with an elegant edge.
Get the Windows Central Newsletter
All the latest news, reviews, and guides for Windows and Xbox diehards.
Dan Thorp-Lancaster is the former Editor-in-Chief of Windows Central. He began working with Windows Central, Android Central, and iMore as a news writer in 2014 and is obsessed with tech of all sorts. You can follow Dan on Twitter @DthorpL and Instagram @heyitsdtl.