Several Xbox-enabled Windows 10 games are on sale for just 10 cents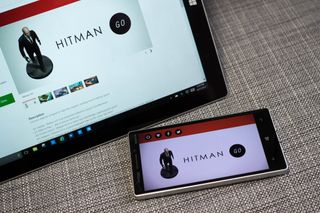 Microsoft is kicking off Black Friday sales by discounting several Xbox-enabled games on the Windows 10 Store to 10 cents. The titles on offer include hit games such as Hitman GO, Angry Birds Star Wars, Assassin's Creed Pirates and much more. Non-Xbox enabled games are also on sale. It looks like the discounts are limited to select regions, as the Indian version of the Store still lists full prices of the titles listed below.
Xbox-enabled titles:
Windows 10 games:
The store listings suggest that the discounts will be valid for twelve days. Notice any other games on sale? Let us know in the comments.
Source: CAG; Via: SlickDeals
Windows Central Newsletter
Get the best of Windows Central in in your inbox, every day!
Harish Jonnalagadda is a Senior Editor overseeing Asia for Android Central, Windows Central's sister site. When not reviewing phones, he's testing PC hardware, including video cards, motherboards, gaming accessories, and keyboards.
it seems like a US-only sale. the price on the Indian store is the same as the old. (or maybe it'll take a while to roll out.)

No dice in Canada either.

Change region to US and when you're done change back

Did this once, had problems receiving the money from Xbox Rewards later.

Lucky me..i had $0.13 left from my appkarma rewards.... Redeemed from India... Left with 0.02...!!!

He means windows language & region settings

If I change to US from Canada region, I don't have any payment options set up, and you can only put in US addresses

Yay, bought a few. There are alot more apps/games/music/movies that are only 10 cents. Bloon TD 5 :)

....and I get banned for censoring my words.

I can see Jurassic World, Terminator Genisys, The Hunger Games: Mockingjay Part 1, Despicable ME, The Dark Knight, The Notebook, X-Men First Class, Happy Gilmore. Each $0.10. !! For Renting though :P

Now heres a classic moorhuhn there a list here http://wmpoweruser.com/windows-store-just-10-cents/

I snagged about 5 of these. Can't pass up a $0.10 game! I wish Skulls of the Shogun was part of the deal though...

Skulls of the Shogun is very good--an excellent turn-based strategy game.

No love for Australia apparently...

lol just another "US-only". Using UK region here, all in normal prices

Wow, at 10 cents each they are definite buys. Heck i would have been thrilled if they had been dropped to 99cents.

Hydro Thunder is $0.10 as well, Asphalt 7 is $0.99 (was $4.99)

Thats surprise ms relisted ht

US-only, as always. I was ready to pick up a number of those before I realised that.

Switch your region, then switch back. This makes sense that it's U.S. only as Black Friday traditionally is a U.S.-only event. But you can get them via the switcheroo.

I also have to have address in US. Even when I want to pay by PayPal. Will ahve to figure something out. I am using US region and everything and it asks me to add US address.

You can't do that. People need to stop saying this as a solution. MS need to just offer these deals in other countries, it's rediculous.

************* TIP ************
Just change your PC's region to US and pay with PayPal. Working for me in Czech Republic ☺

But it asks for a US address. How do I get bypass that step?

Just fill in something ;)

Find a famous building in the US and put its address in. I like using the Space Needle. ;)

Not on sale for me, North East US

It's hit or miss for me. Some show the deal, some show regular price. Upper Midwest.

Ni price cut in France... Really ?... Posted via the Windows Central App for Android

Asphalt 7: Heat is $0.99 Xbox
Fairway Solitaire is $0.10 no Xbox
Carcassonne is $0.10 no Xbox
The Last Door Collectors Edition is $0.10 no Xbox
Bloons TD5 is $0.10 no Xbox
Mahjong Secrets HD is $0.10 no Xbox
Bridge Constructor is $0.10 no Xbox
Solitaire Mystery: Four Seasons is $0.10 no Xbox
Toca Life: City is $0.10 no Xbox
Train Sim is $0.10 no Xbox
Toca Life: Town is $0.10 no Xbox
Enigmatis: The Ghosts of Maple Creek is $0.10 no Xbox And more, switching to my PC.

I bought Bridge Constructor because I remember an article where there an Xbox Windows 10 game was planned: http://www.windowscentral.com/popular-mobile-title-bridge-constructor-hi...

Once again the Yanks get all the love... :-/

There is a "Today's 10-cent game deals" group in the windows store with 58 titles.

Where? Can't find it in Aus.

I live in Hungary but using the US account

Extreme Landings Pro is $0.10 no xbox The Ghost Archives: Haunting of Shady Valley HD is $0.10 no xbox Nightmares from the Deep: The Cursed Heart is $0.10 no xbox Toca Hair Salon 2 is $0.10 no xbox Toca Builders is $0.10 no xbox Grim Legends: The Forsaken Bride is $0.10 no xbox Dark Arcana: The Carnival is $0.10 no xbox Toca Train is $0.10 no xbox Farming Simulator is $0.10 no xbox Toca Kitchen is $0.10 no xbox Draw a Stickman: EPIC 2 is $1.29 no xbox Toca Cars is $0.10 no xbox Toca Kitchen 2 is $0.10 no xbox Jewel Tree: Match It is $0.10 no xbox Mini Motor Racing is $0.10 no xbox Moorhuhn is $0.10 no xbox Chimpact is $0.10 no xbox The Island: Castaway 2 is $0.10 no xbox Supermarket Management 2 HD is $0.10 no xbox

How? I don't think indian credit or debit cards support dollar payment even if it is eligible for international purchases. Tried hdfc and Corp bank. They both did not work.

I tried with PayPal as a payment method and it accepted. But It now asks for a Profile address which is only inside USA. Struck there. Update: Given Whitehouse Address and it worked :P 1600 Pennsylvania Ave NW, Washington, DC 20500,

Lol Posted via the Windows Central App for Android

I have Axis credit card. I was able to buy. Bought 20 or so games phone and PC combined.

You either need Paypal or international transaction enabled card.

How to get paypal in india???

See compatible cards for PayPal https://www.isaumya.com/paypal-google-wallet-indian-debit-card-support/ Posted via the Windows Central App for Android

My HDFC Debit and Credit cards both work just fine.

Rabbids Big Bang is also on sale for $0.10.

Lol thought ubisoft pulled out completely

I, Gladiator is $0.10 no xbox Dinosaur Hunt Africa Contract is $0.10 no Xbox Spoiler Alert is $0.10 no xbox Defense zone 2 is $0.10 no xbox Paranormal Agency is $0.10 no xbox Where's My Perry is $0.10 no xbox The Great Unknown: Houdini's Castle is $0.10 no xbox Rabbids Big Bang is $0.10 xbox Where's My Mickey? XL is $0.10 no xbox Where's My Water? is $0.10 no xbox

Seems to be still in full price here in Finland.

sure, why not. maybe not the tinkerbell on though ;p

You all realise Black Friday is a US thing right? Just checking... So it's no surprise this sale is US only....

Black Friday is also a thing in Canada but no game/app sale here. The Xbox 360/One sales usually cover more regions instead of just US so it's not really consistent of Microsoft.

Exactly but w/wp store tends to take awhile for things to materialize as well by then its to late

Fuckng snagging these for 10 cents basically for achievement points. AND 10 CENTS FOR JURASSIC PARK!!!!

the problem is REGION again....when Google makes offers it does not use region control.....come on microsoft.

Black friday and thanksgiving is an american holiday.

Is this applicable to windows mobile? I don't have 10 mobile yet and these prices are still full.

Some are for PC only, some (rare) are PC and Mobile (but I guess you do need Win10 Mobile). Edit: Just bought Toca Builder for my kid. 0,10$ on PC, could then download it from my phone. 2,89$ saved, hurray!

Hitman: Go is awesome, and is a universal app for almost everything Windows, including WP 8.1.

And none seems to have the price cut for phone. Rayman Fiesta Run still $2.99, US region. If I follow the link here I get Rayman Fiesta Run for $0.10 but only works on PC.

Is this all W10 only, or can it be done on W8.1 as well?

Couldn't hurt to try. Most of these have been around long before Win10 was around.

Set PC to US. Use Paypal in the Windows Store. Enter this address: 123 Fake Street, Florida 32976. Enjoy your substancial savings.

I thought you meant the games would work on the Xbox!! Damn!

I'd wait till after midday (uk) to pass judgment on whether or not this is a U.S only deal. In the past we haven't seen days till a whole 24hrs later.

Thanks for the heads up! Literally buying everything from the sale. Putting my money where my mouth is and showing some support at least during a sale, hope others here do the same! :D

OK, figured what the heck,. spent about $0.60 on a few xbox enabled games that I didn't own, I might not ever play some of them but, gives me some native 8.1/10 games to play time to time, just a random game. Nice thing I found out, I have like $25 on xbox points, cool, might grab BLOPS 3......(thought I only had like $10)

I'm really annoyed at these US only deals. Seriously MS you're a global effin company! I live in Canada, we're not even far away and this is digial merchandise I mean the resoning behind this is bonkers.

If I purchase these games on Windows 10 they should then work on my Surface RT with 8.1, shouldn't they?

You guys think Minecraft Windows 10 Beta will be a discount of 97% off for $0.10 cents as well?

Too bad it's just for US =X

Why don't free :(( i don't have visa @@

No love for Philippines :(

No love on these games for my RT that can't get the Windows 10 update. Sucks!!!!

Hi, Good news for RT owners: just buy the games from a PC (with an US address), then go to your RT Windows Store; go to your Account, then "My apps", and voilà, there you see all your purchased games which you can now install on your RT Enjoy ;-)

Anyone buying these needs to be careful!! Some will work on PC but you have to buy it again at full price to play on mobile!! I bought Gravity Guy, Assassin Creed Pirates, Rayman Fiesta Run and Bloons TD 5 on my desktop PC and none are compatible with phone. Some even show both PC and Mobile screenshots in the store but still tell me to buy.

If I buy it, can I have it too on my Windows Phone 8.1? Specifically, the two Halo titles, they;re universal, no? The reason I'm asking is because this deal isn't present in the 8.1 Mobile Store.

Oh man! That sucks, haha but still.
Windows Central Newsletter
Thank you for signing up to Windows Central. You will receive a verification email shortly.
There was a problem. Please refresh the page and try again.