How to easily switch from Windows 10 Pro to Windows 10 S
Interested in using Windows 10 S on your already existing Windows 10 Pro machine? There's an easy way to get it. Here's how.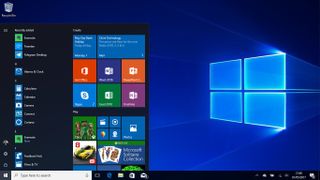 Microsoft has released a tool that makes it incredibly easy to "sidegrade" from a Windows 10 Pro installation to Windows 10 S with just a few clicks, allowing anyone to try out Microsoft's Store-only version of Windows 10. Microsoft recommends doing this on test hardware, for reasons we'll outline below. And to be clear, Windows 10 S is a version of Windows 10 that's locked to the Windows Store for all your apps and games, and you cannot run programs from outside it.
If you want to try out Windows 10 S on your own hardware, there are a few things you need to take note of. Microsoft doesn't recommend you try this on all hardware because some device drivers don't install or run or Windows 10 S. That can cause problems
The sidegrade to Windows 10 S only works from a Windows 10 Pro, Windows 10 Education, Windows 10 Enterprise or Windows 10 Pro Education installations. If you're using Windows 10 Home, this upgrade will not work and you will be left with an unactivated version of Windows 10.
If you're using any of the four variants that work with the Windows 10 S sidegrade, you shouldn't need to worry about activation. Under the hood, Windows 10 S is just Windows 10 Pro with a few additional security tweaks, meaning your device will remain activated through the sidegrade.
The sidegrade will remove your already installed programs that you downloaded from outside the Store, however, so keep that in mind.
Switching from Windows 10 Pro to Windows 10 S
Head to Microsoft's site

(opens in new tab)

and download the Windows 10 S Installer.
Select Run when prompted. (This option should be present with most web browsers.)
In the Installer, select Next.
The Installer will check your PC and make sure it is eligible for the upgrade, and once that's done you should select Next.
The Installer will download and begin installing Windows 10 S, you can now go back to using your PC like normal.
Once the Installer is finished, it will give you an amount of time before it needs to restart. Select Restart now to continue the installation.
Your PC will restart and continue installing Windows 10 S.
Once your PC boots back up, you should be running Windows 10 S!
Depending on your hardware, the time this takes may vary. For most machines, this process shouldn't take more than an hour. Remember, once you're on Windows 10 S, you can sidegrade back to Windows 10 Pro anytime. Here's how to do it.
Windows Central Newsletter
Get the best of Windows Central in your inbox, every day!
Zac Bowden is a Senior Editor at Windows Central. Bringing you exclusive coverage into the world of Windows on PCs, tablets, phones, and more. Also an avid collector of rare Microsoft prototype devices! Keep in touch on Twitter: @zacbowden.
As someone who would loose about 90-95% functionality to his daily routine ( no non Store Games like Fortnite, no non Store Apps like Photoshop CC, no Vide Codecs like Shark007 and, to add even more insult to it, apparently no Power Shell / Batch commands either to fix system issues ) I kind of fail to see why someone would want to downgrade to Windows 10 S? Please enlighten me who the targeted audience of this article is ( other than just putting out the info that it can be done ).

sure you could go to setting/apps/allow apps from the store so mabye some good old curiosty :)

You need to go to their sister site WindowsCentral-For-Stuff-Only-Durahl-Is-Interested-In

He asked a valid question though. We understand who the target audience of Windows 10 S is and it's legit, the question is who is the target audience of downgrading from Pro to S

The target for this move could be a school which is already using a Windows for Education license may want to do this. It would especially be the case if they are planning on getting some 10S machines and they want all machines to use the same setup.

It's not a valid question, it's arrogance. "This doesn't interest me so who could it possibly be for?" Other people. Go outside, you'll probably see some of them.

Anyone who bought PRO and realized they don't need it. Anyone that has PRO and now wants to lock it down. Anyone who has PRO and is repurposing the machine.

I suppose if you have a spare machine that has been upgraded to Windows 10 Pro you would try this but there isn't really a pratical purpose to doing this on a PC you use daily.

Or if I was repurposing one of my PC's to be my Office PC (which I really just need to be a thin client) that I use daily.

PC for children, elders or non-tech-savvy people?
Do you trust'em go *.exe hunting on their own?
You do know the benefits of UWP right? Besides, why mess with your registry when you can choose not to.

Sorry Durahl, you're not the only person we write articles for. This how to is for people who, surprisingly, do want to install Windows 10 S on their already existing Windows 10 Pro hardware. Your use case is not the same as everyone elses.

Well for starters my grandmother would be a perfect candidate. She uses browser, email, facebook, and solitare. Anyone that wants the machine to be a thin client, this would be awesome as the store has multiple VDI solutions. I fail to see why you're so narrow minded that you can't tell the advantages of locking a system down.

I wish I could install this on my Surface RT and Lumia 2520 (via WOA).

Me too! I'd would be happy if the hardware of the old Surface 2 or Surface RT would work with this. Oh well.

I LOLed so hard at the BS "sidegrading" headline; what idioci is this; its an utter and complete DOWNGRADE; don't try to whitewash this bullshit of Microsoft trying to lock down the open PC platform; Shame on you WC. p.s. noticed you changed the headline in the article itself, still the same on main page;

It'd be useful when building a PC for children, elders or non-tech-savvy people right?
Do you trust'em go *.exe hunting on their own?
UWP only system has its benefits. Besides, why mess with your registry when you can choose not to.

With children quite the opposite, I would give them a fully unlocked PC with all kinds of advanced software so they can explore and learn, if they screw up the worst that can happen is that I will have to reformat and reinstall windows, no big deal. Limit your kids to UWP only and they will grow up dumb and will not be able to do even simple PC tasks, like many people I see nowdays.

You sound like you don't actually understand PC security at all. The worst that can happen is a kid can get a virus that will expand through your network and infect the rest of your system. Limiting your kids to UWP on a single machine will have no bearing on their ability to learn if you, you know, spend time with them and teach them. God I hope you're not a parent.

Are you teaching your kids (elementary, junior high?) 3dsMax, Unreal, DirectX, Havok, Visual Studio?

Windows 10 Pro to Windows 10 S is a sidegrade. Windows 10 S is Windows 10 Pro with a block on installing apps from outside the Store.

You still own the Pro license in this way, so it's a sidegrade. Everything is still available to you. I don't consider my work machine sidegraded because I can't run most Exe's that are locked out. Windows still has the ability though.

Funny how bitter everyone here is about 10S... this OS was not meant for you. I will download this for my dad, mom and grandparents because this makes their machines more secure and they lose no functionality, all they do is use the browser anyway.

yup, amazing how many just don't understand who/what 10S is aimed at

I'm not bitter about W10S at all I think that it's a great OS for education purposes and for those people who only rely on Store apps. It's just not for me though as I use a lot of non Store applications.

I've switched to Windows 10 S to give it a go. Decided to only play games on consoles and waiting to upgrade from my standard Xbox to the Xbox One X. I've been using Microsoft Edge since Windows 10 released so not bothered about installing another browser. Was using iTunes to buy music but I will wait for it to come to the store before buying any new music. I only use my PC for the most basic features, so haven't noticed anything that I can't do that I couldn't do before. I wish I could swap my Nan's laptop to Windows 10 S, think that would almost solve most of the problems I have to deal with. Only reason I can't is that she has Windows 10 Home. So unless I want to pay to upgrade her to Pro that isn't going to happen. Would swap my Mum's as well but she is on my Office 365 subscription. At the moment you can only install the mobile versions of Worrd, Excel and PowerPoint. There are use cases for using Windows 10 S but maybe not for many that read this site.

So what subscription do you need for the Store versions of Word etc. ?

you need an office 365 account to edit documents with office mobile in the store.

She needs the extra features in the full version of Word for her work. Until they bring that version to the store I can't move her over to Windows 10 S.

Ah, I thought they had released the full versions to the store - must still be in 'preview'

You can change your mum's settings to allow store apps only, and accomplish mostly the same thing. That's what I did on my Windows 10 Home tablet.

That is an option but I also hope that Windows 10 S gains traction and market share, then more software will move to the store.

I'm happy to try it and if I find I can't do something, I will switch back to Windows 10 Pro.

I will try this on my laptop simply because all I do on it is simple web browsing. For everything else, I use my desktop. For the curious lot, I think you can even try this on your dual boot set-up.

I want to try this, but I would rather do it from a USB stick. Though maybe curiosity will get the best of me.

What happen if you already installed non-store programs?
In pro if you choose to lock you PC to install from store only you can still run all previously installed non-store programs

I thought win10S won't execute any *.exe files?

the answer is in the article ;-)

WTH people bought laptop/pc can live with standard application inside OS only? CHROME and firefox didnt support window apps at this momment. Microsoft edge support notification web? Like sign in whatsapp via microsoft edge?

By "Sidegrading" (W10Pro to W10S), did you mean "Downgrading"? Because that is exactly what it is. By "Sidegrading" (W10S to W10Pro), did you mean "Upgrading"? Because that is exactly what it is. Again.

Nope, you have the option of going back and fourth so it is a sidegrade. Win 10 S has the ability to be win 10 Pro it's just heavily locked out. If I set up restrictions on a Windows 7 machine to not run EXE's would you call that a downgrade of Windows? Or better yet, if I enabled the block on 10 Pro to only run apps from the store is that a downgrade?

Wrong. Windows 10 S is Windows 10 Pro with a block on installing apps from outside the store. Do some research please.

I did this exact thing to my Surface Pro 4. I bought the new Surface Pro last month and passed my SP4 to my wife, who has been known to install malware and visit websites she should have avoided. Given her use case for the SP4, 10S seems perfect. The install was flawless.

I am interested window 10s on surface phone . I am.more on mobile and apps but less on laptop and pc

Why in the world would someone want to DOWNGRADE their system ? Even the basic stuff like codecs or minor CD/DVD burning software would stop working. This is a joke from Microsoft...

Installed this morning and everything is great. No snags, no bugs. Very happy with it.

I did this with my Surface pro 4 i bought when they came out the warranty ran out its in perfect condition so i handed it over to my 9 yr old son after putting windows 10 s on there runs great got myself the new surface pro.

I'm writing this off my HP TM2 which i just 'sidegraded' today. This is the fastest and most responsive install I've had on this computer (even compared to when I first bought it and clean installed Windows 7 Pro). Not sure what all was removed in switching to S, but this just revived a 7 year old PC.