Sign up for Skype's real-time voice translation preview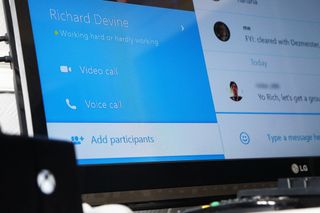 It was way back in May that Microsoft showed off the first demonstration for Skype Translator, and today they started accepting registrations to take part in the tool's early preview (i.e. public beta). The service adds real-time speech translation to Skype, both in voice and video, so it doesn't matter that you and your conversant aren't fluent in the same languages.
The preview program will be free, and will at first be limited to Windows 8.1-powered computers and tablets. Microsoft's leaving open the door for Skype Translator preview support for Windows Phone, older versions of Windows, and OS X, but there's no guarantee of that support. Though we would be surprised if those platforms all didn't eventually get Skype Translator support, even if they have to wait for the full release. Additionally, Skype Translator will be limited to a few languages at the start of the preview, though when signing up you'll get to tell Microsoft which languages you think they should trial first (no promises your wishes will be granted).
To sign up, check out the source link below, and let us know what languages you want to translate.
Source: Skype (opens in new tab), Skype Translator Preview sign-up (opens in new tab)
Derek Kessler is Special Projects Manager for Mobile Nations. He's been writing about tech since 2009, has far more phones than is considered humane, still carries a torch for Palm, and got a Tesla because it was the biggest gadget he could find. You can follow him on Twitter at @derekakessler.
Microsoft first Please update Skype app in wp to make it work faster,Then you can go for real time voice translation.

Sometimes it doesn't receive messages...you have to open the app from time to time

That's because it's still using the old Windows Phone notifications service which are really unreliable. Once it becomes a universal app it'll use the new Windows notifications which are super reliable.

Key word is "once". It should have been update months ago. I get that they support every platform but i will never get the lack of support for their own. But in any event, the app on WP is subpar with or without working notifications.

Well it's out of support for their platform that they haven't made the change. The new notification service is only available in 8.1-only apps, so they'd have to maintain an 8.0 version and an 8.1 version. It's much better to do that when 8.0 market share is a bit lower.

So a company the size of MS can't afford to do both? Heck this site maintains a WP7 version of their app along side this one and the one for Windows 8. MS just doesn't want to/or refuses to parity match Skype for WP. Perhaps they are waiting on W10 but it's still very disheartening.

I agree, they could very well do both. Which is why I get the feeling that the Universal port is right around the corner. That would explain why dev on all Store versions has been light lately. I hope, anyway.

Silverlight 8.1 supports WNS, I think.

Yep, but that still requires the app to be 8.1-only.

Well, this is a different team. Progress in this area is not affecting your complaints.

I remember about a promise that Skype would receive an update that it could know what version you are using... I still get a lot of calls at once.

I want to test English Chinese translation

The link doesn't seem to work here in Canada. Shock!

The link worked for me (Toronto area)

Do not work here too (Brazil ?) Edit: Now works. I go to the blog first, and click there.

Universal translators in my lifetime ... never would've thought ...

Hope it supports Klingon. :)~

It already supports it, just not voiced translations. Yet. Hehe.

$100 says iOS gets it 2 years before WP.

Haha! Are you reading this MS? Look at how disappointed we are!

Oju e le gba. Oshodi oshodi. Festac town

Ojuelegba ke? A pe ki Skype ko to le gbo Yoruba o. Kayode ati Titilayo oyinbo, bi won se pe ni Ibadan to, won si ngbiyanju ni.

Lol. A pe gan ni. A fi emi mimo na ni o :-)

Abi! Wabrakata sobrobaba... Mikysoft, Yoruba nfe ife e o.

If the link here isn't working for you, go to the blog page link and use the link there. It seems to do some dynamic URL generation.

Please Bring Bangla support ...

Looks good....very helpful especially to businessmen who have their businesses all over the world.

Need translation for bible belt Southern accents please.

That would be a 'revolutionary' feature for international businesses.

im interested in all lenguages listed lol, but mainly english-spanish even though im pretty fluent in both, wondering if i could actually chat with chinese or russian people.. but im so anti social...

I don't have anyone to Skype with in another language, so this is the only preview so far that I haven't signed up for. But I'm really keen to hear how it goes for people who do.

They could expand it so that bilinguals could talk to it and if the machine translation has shortcomings, they could help correct it. :)

What is this "Registration Code"..How to get it?

You don't need one, just click continue.

I have question... WP8.1 mein Display languages mein Hindi hai kya?

i really love to see microsoft support persian language officialy but i am not sure from this jewish guy even he didnt care to vote of persian people for opening store shame on you man it is shaming

TARDIS Voice Integrator here we come!!!

This is pretty impressive. People think sometimes this is simple dictionary to dictionary lookups. But speech processing requires understanding of more than just physical words. Inflection and misplaced stress, allision, accents, etc, these things have to be analyzed since unlike written text, verbal speech doesn't have nice punctuated boundaries (read SPACES or PUNCTUATION).

It does say it'll work on Windows 10 Preview as well

one of the slowest websites, skype

The future is here! While I wait to learn a new language or two with Duolingo (where IS that app?), I can still chat up some people with this!

And this year's top innovation award goes to....

I would love to use it if it supports Hindi & Urdu
Windows Central Newsletter
Get the best of Windows Central in in your inbox, every day!
Thank you for signing up to Windows Central. You will receive a verification email shortly.
There was a problem. Please refresh the page and try again.