Microsoft releases new SkyDrive clients for PC and Mac, introduces additional storage-plan pricing
Microsoft takes on Dropbox and Google Drive with the latest version of their SkyDrive service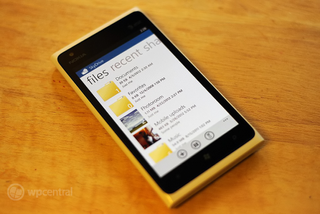 Today Microsoft has announced new SkyDrive storage plans for their cloud service as well as new native sync apps for Windows PC and Apple OSX. Combined with official apps for Windows Phone and iOS that were recently updated, Microsoft looks to undercut the market leader Dropbox and block Google from cutting in on their territory.
Clearly the cloud-storage service SkyDrive will be a center piece between Windows 8, Windows Phone and Xbox 360 going forward. Best of all, Microsoft has extended this offer to Mac users who can also benefit from the new SkyDrive functionality.
We reported on the news yesterday that the SkyDrive app for Windows Phone had been updated, but we can now rejoice with Windows, Mac and iPhone support now being available. Both PC and Mac preview clients work in similar ways. SkyDrive sits comfortably as a central folder in Windows Explorer and Mac Finder, much like Dropbox, and files (up to 2GB) can be transferred between computers (and supported devices).
With the revamp of the SkyDrive service and new clients being released, Microsoft has also lowered the freely available storage from 25GB to 7GB, noting in the MSDN blog post that 99.94% of SkyDrive users currently use 7GB or less. Even at 7GB for free, Microsoft has given a solid left-hook to rival Dropbox who offer a mere 2GB of free storage.
New SkyDrive clients and apps in action
Note, however, should you be an existing SkyDrive user, Microsoft is offering the opportunity to keep the 25GB (or upgrade in this case) for free so be sure to check out the offer on your SkyDrive account (login via the skydrive.live.com). An alert will be displayed announcing "SkyDrive's free storage is changing."
If 25GB (or 7GB if you're a new user or miss out on the free upgrade) isn't enough for your needs, Microsoft is offering three upgrade options for the SkyDrive service:
Additional 20GB - £6/yr ($10)
Addition 50GB - £16/yr ($25)
Additional 100GB - £32/yr ($50)
The above plans and native clients were all first reported by Brazilian website Gemind, back in February. It's interesting to note that Microsoft has unleashed the updates to their service now, just before Google are set to unveil Google Drive as a cloud-based storage solution for their ecosystem. The features present in SkyDrive however are more appealing, minus the Android support for owners of green robotic devices.
Source: MSDN (opens in new tab)
Windows Central Newsletter
Get the best of Windows Central in in your inbox, every day!
Rich Edmonds was formerly a Senior Editor of PC hardware at Windows Central, covering everything related to PC components and NAS. He's been involved in technology for more than a decade and knows a thing or two about the magic inside a PC chassis. You can follow him on Twitter at @RichEdmonds.
I don't see no need for SkyDrive wen all ur stuff goes to ur computer anyways I use my 1 terabit external hard drive I bought for 100$ at bestbut

Regardless of your needs, the market has clearly spoken on this issue and users need/want cloud storage due to having to work on multiple computers (home, work) and on-the-go (phone). The hell am I suppose to do with a 1 terabytes HDD? Lug it around to all my computers to and from work? Throw it in the laptop bag? And how does that work with online-document collaboration?

That makes since I don't do all that and u kno external hard drives can be small and flat too mine is

Sure, I have a WD 1TB My Passport drive, which works great. I use it for archiving large files (i.e. ISOs.) Cloud Storage is paramount in this day and age, whether YOU use it or not. I have a lifetime free 50GB drive on Box.net, and I fully plan on getting the 100GB SkyDrive option today. That will give me 175GB of online storage spread across 2 services (I have been a long time SkyDrive user, so I have been able to keep my 25GB of storage.) That a TON of space for documents, music and photos.

This is all part of Microsoft's slowly but surely plan of getting back on top! And well deserved I say!!! This is great and the app looks wonderful to me. I just went and clicked on the link and had my account updated to 25GB for FREE!! Are you kidding me??? How is this NOT awesome in every which way?. Sure, I still have Dropbox, but for the prices that skydrive is giving me, I may drop them (no pun intended). I just LOOOOOOVE my WP (I currently have the Samsung Focus S, but getting the "White Mamba" (Lumia 900 white), and anything and everything that works with my phone's ecosystem is a well received bonus.
This platform is really going to shine and the sooner we utilize and maximize these tools given to us, the sooner the "doubters" will see that this is not only a remarkable environment, but a better environment. Good for MSFT and good for us!!

Agreed

WP7
Windows 7
Xbox
Facebook
Skype
Skydrive
OneNote

When that is all roled into Windows 8 and Windows Phone 8, whooah. Bam! Awesome :)


No need to lug around the hard drive anymore. Leave it plugged into a computer at home running the Skydrive app and you can access any of the drives, including externals, from Skydrive.com. Now I can get to any of the files on my server anywhere on the net without VPN and RDP.

Are you kidding me? You can access the files anywhere and don't have to worry about your hard drive failing.

Dan is right - although you may not need it, others do. I could not live without my SkyDrive and Live Mesh spaces. I work between computers, often while travelling, and there is no way I can carry around a external HDD. Especially with the risk of it getting lost/stolen. Also, this way there is a much lesser risk of overwriting your precious files by mistake when you've lost track of which 20 copies is the latest.

I think the key for me is the backup, I might have pretty reliable backup drives but in the event of fire, these services are more reliable for some key information!

Still very fair, interested to see how this may play out with the next Xbox and it's storage needs.

Just a quick comparison to DropBox: 50GB:
SkyDrive: $25 per year
DropBox: $99 per year 100GB:
SkyDrive: $50 per year
DropBox: $199 per year Couple that with great apps, Windows 8 integration, and 5GB of extra free Live Mesh space to sync your files automagically - I see no reason to use any competing service.

PLHulk, the SkyDrive is an always on backup that you can access from anywhere. Image the horror if your TB drive were to fail or get stolen or God forbid there was a house fire...

Right so it is a good idea I I didn't know it was really used for all that now I do lol

Better Mesh integration next?

Wait.......does the new desktop "app" replace Mesh...looks like it.

I don't think it replaces it completely - but I will be stoked if it does!

It does not replace the original Mesh client, as it cannot sync IE Favs, nor can you specify what folders to Sync. Windows 8 will have this built in. But, if you are still on Windows 7, let's hope that the SkyDrive team releases a client that has those capabilities. Also, I wish there was an option integrated into Windows Explorer to share a file instead of going through the Web Interface.

Keep in mind that this is just a beta release.


I'm hoping they just merge them - although it does make sense to have them seperate, but I'm fast running out of space (the 5GB) :(. Guess I could just make a desktop app just like Live Mesh that uses the SkyDrive API's.

I want it merged so I can see everything on my phone. My documents and picture hub would be a nicer place. Even online its annoying going into that 'other' section to get something I need.

Finally live mesh is back...for real this time. I still don't see a compelling reason for me to leave dropbox, but I'm excited to see this from Microsoft. Gives me a lot of hope for the win/phone 8 ecosystem.

Well one of the things that this app does it's that if you forgot to put any file on the SkyDrive folder it gives you access to your entire hard drive and add it... I think Dropbox client don't do that..

In fact you can connect to your computer via the SkyDrive.live.com, and you can access any drive CD BD external and network drives you name it and then copy to the SkyDrive.

Also you can stream videos from your computer as well by doing the above.

im still waiting for better intergration with zune. i want to be able to sync music to the cloud and play it through zune until it allows this how can it compete with google in any way.

I second this. Gimme another tier. Maybe 200gb for $100 a year. Then let me sync all my music up there and access it through Zune. Then I can say goodbye to Google once and for all.

you can stream music already using zune pass. and the monthly fee is cheaper than going to McDonald's twice a month. can google do that? probably not.

Works well. I have it running on my Mac. Its nice, and gives me an easy way to manage Skydrive from the Mac Finder. Microsoft is 2 for 2 really. The Mac Connector for Windows Phone is a handy piece of software that allows me to sync with iTunes and iPhoto very easily and quickly. When I sync my Lumia 900 with iPhoto, those photos are added to my Photo Stream in iCloud, which my iPad is able to see. So, photos are going directly from my Windows Phone to my iPad and iMac. Very cool.

But why no support for Snow Leopard?!

To get 25 GB, you have to login twice and have already at least one uploaded file there:

http://stubborndev.wordpress.com/2012/04/23/new-skydrive-dont-lose-your-25-gb-act-now/

Can someone explain the difference between Windows Live Mesh and this new Skydrive desktop application? Looks like Mesh is redundant now, unless i am missing something.

Won't be using SkyDrive for photos until they drop the automatic resizing when uploading from my WP7 phone. It's a pain in the a**. DropBox doesn't resize photos when I upload them.

Are you uploading the pictures to dropbox straight from you phone's auto upload functionality? I didn't know you could do that with wp7 and dropbox.

I am using BoxFiles for Dropbox on my WP7. From the Pictures Hub, you can select "Share" and the "BoxFiles for DropBox" appears in the list. Uploading this way preserves the original dimensions of the file. It's a pain though. I would prefer that the file would stay as the original size in the WP7 Camera Roll sync to SkyDrive :(

when you upload from the app it preserves its original size, plus most photos are compressed anyway when theyre uploaded from mobile devices its just that somehow MS gets bashed the most for it.

Doesn't appear to work on Windows XP. I guess I'll need to update my computer at work to Win7.

No its for Vista, 7 and 8

who still uses WinXP? really need to upgrade.

Schools that can't afford to upgrade.

Doesn't work on my vista... Says that I shouldn't have administrative rights or something like that???

Been waiting for this since Paul Thurrott wrote about it, can really see it making my worklife so much easier now.

it's a deal on skydrive....
it's shows that free storage on skydrive in changing to 7GB.....but current users can extend their skydrive to 25G for free!

Use skydrive everyday for a couple years now very convienent for me, good news is I already have two accounts hopefully they don't cut me off from one of them the beauty is the file upload sice have been going up I always have all my photos stored there which is about 7GB and now all my video clips are ther since they allow 300mb upload hope the will increase the upload to 1gb i do have a few videos that are in the 500mb range. I always use skydrive to share my photos with family and friends since we are in different countries.

Hey mate if you use the pc app you can upload files up to 2GB!

Just did the free upgrade from my phone with no problems.

Phew, I've been using Skydrive for years and I have no where near 25GBs worth of stuff on it but I would have been mad if I couldn't keep the 25GBs I have on both Live accounts. Most people probably won't even notice the reduced storage but I like to have the full 25GBs just in case. The new Skydrive client is a welcomed replacement for Live Mesh.

I love this, finally a MSFT service that is almost 100% perfect and appealing, and maybe can put a strong ripple effect in the world that MSFT is still alive and kicking.

Finally, i have waited so long for this! Its just a shame they have to cut the storage, there seems to be no positive MS News without a downside.

You can keep the 25gb for free if you log into your existing account. Its a limited time offer for existing SkyDrive users.

Ditto on Snow Leopard support. :-/ I haven't "upgraded" to Lion because I still use some programs that require Rosetta.

I had just installed dropbox last week. And I was wondering why skydrive didn't work like drop box, as a folder on my computer, this is nice. Now I deleted dropbox, I was using the browser to access drop box from my phone, now I have an app for SkyDrive that works great.

I just noticed that you can't see the files shared with you on the PC's Skydrive folder.

Well, I retained my free 25 GBs. Never know when you'll need them.

Thanks for the heads up. 25GB upgrad for free and app loaded on my pc.

hmm I got 25gb storage in all my main account and 4 linked account, but other 2 accounts didnt get it. but my linked accounts didn't have any file, so i guess people who at least accessed skydrive can get the 25gb free storage, maybe the folders it creates counts as if you uploaded a file or i dont know. but i got the free storage even though i didnt have any file uploaded. anyway, its nice this skydrive client for desktop but it sucks it downloads the files to my computer, specially when my download speed is not fast at all and i play Aion so i want my internet speed good for my game. but its a good step, and 2gb upload file limit sounds awesome.

Wow, you're the first person I've read (on a non-game website) to ever mention a game the company I work for published. Amazing! I don't play it, but hope you're enjoying 3.0!

Got my account and my wife's account "upgraded". /cheer

Why do I have to go to the web interface to modify files that have been shared with me by someone else??
IT MAKES NO SENSE

If you have office 2010 then you have to use the web interface otherwise in office 2010 it live edits.

This is great and all but I put most of my stuff on the cloud so I can save space on my computer. And now when I install this app it downloads all of my stuff back into the new Skydrive folder on my computer. It really defeats one of the best features of cloud storage. Its cool to be able to drag and drop stuff in and out from explorer, but not if just makes another copy on my hard disk. Also, syncing between computers is handy but I really don't need everything I've ever uploaded available locally on every device.
I just want a way to view and manage my cloud storage from Windows Explorer. And then I want the Windows Live Mesh like abilities to sync folders of my choosing between the devices I want. Right now this apps just seems to be a fancy way to copy and paste all of your files between computers, and leaving you with very little control


I don't want all of my cloud files copied to my hard drive. I put them in the cloud to save space.
Even though I do want some of my folders to sync between computers, I don't want everything I ever uploaded to do so. Guess I'm sticking with the web interface along with Windows Live Mesh.

Thanks Microsoft been waiting for the windows app. Thanks for the free upgrade too. Love SkyDrive!

Still need batch upload on Windows Phone skydrive.

Until this has error management (same file open on two devices), undo delete, or even revision recall it will never replace dropbox. Hopefully it comes (even maybe with file checkout feature!), but for now it's good for just sharing out stuff. I use Qloud for all streaming video and audio.

Okay, video is misleading. In the video the girl with the iPhone clicks on multiple pics the uploads them to SkyDrive. Does not do that at all.. It only allows you to click one picture at a time.. Same goes for windows phone... They need to be honest of how SkyDrive works for uploading pictures.. Disappointing....

The PC app should be an icon in the my computer folder allowing you to see how much space is taken up on your SkyDrive folder..

Finally, I have a much lower cost and more attractive (Windows Phone compatible) solution available to me. The dual solution of Mesh + SkyDrive was nasty to use (for me - a la drag and drop/ sync). I was using LiveDrive.com since they started up. Nominal service fees initially, then a year later was hit with a 100$ fee with no advanced warning. I complained but they had my data. If I didn't pay up in 30 days, it would get deleted. I used them for backup of all my media - the anywhere accessibility was a perk. After I paid up, I had to purchase another drive for my system to keep a local copy of my data and sync that volume so that this wouldn't happen again. Then when WP7 came out LiveDrive didn't commit or comment on supporting the platform. Suddenly, their services became expensive and even less useful to me. Granted, SkyDrive limits you to up to 125GB of space (paid) rather than my grandfathered unlimited, but the real cost is accessibility. Hopefully, Microsoft will offer significantly larger storage options (similar to google Drive, etc) in the future - I'll pay the cost to move to a platform that supports my everyday needs and software ecosystem.
Windows Central Newsletter
Thank you for signing up to Windows Central. You will receive a verification email shortly.
There was a problem. Please refresh the page and try again.