Skype and Bing apps updated for Windows 8.1, Skype now syncs favorites across devices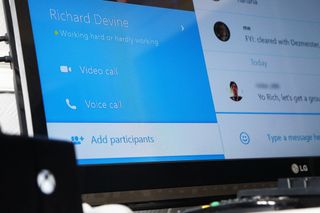 App updates make the world go round. Today we're looking at a slew of Windows 8.1 apps from Microsoft that have been bumped. Skype and all the various Bing apps (Weather, Sports, Health & Fitness, etc) have been updated. Let's see what's new.
Skype
Head into the Windows Store and you'll see Skype sitting at version 2.8.0.1001. The update isn't major, but does bring a few features to make the overall experience a lot better. Here's what's new:
Favorites sync across devices – You'll have the same list of favorite contacts synced across all your devices
Less scrolling – Your favorites and recent conversations take up less space so you easily see your entire contact
Download Skype from the Windows Store (opens in new tab).
Bing apps
We're seeing updates for all the Bing apps. Unfortunately, there's no accompanying changelog that we're seeing. This could just be the regular round of bug fixes and performance improvements. Nonetheless, install the updates and let us know if you see anything new or different or improved.
Download Bing Health & Fitness from the Windows Store.
Download Weather from the Windows Store

(opens in new tab)

.
Download Bing Sports from the Windows Store

(opens in new tab)

.
Download Bing Travel from the Windows Store

(opens in new tab)

.
Download Bing News from the Windows Store

(opens in new tab)

.
Download Bing Finance from the Windows Store

(opens in new tab)

.
Nothing major for the Bing apps, but give them update and share any changes you notice.
Thanks for the tip Chad08er!
Windows Central Newsletter
Get the best of Windows Central in your inbox, every day!
MS will update Skype soon, they said that some days ago.


I found just now how much i hate the automatic update feature on windows 8.1 , never seemed to update apps, and if it did, it did the job very late

Yeah none of my apps were updated since last month, yesterday i toggled the switch and saw so many apps were to be updated

I'm not sure but I don't think all/some/most Modern Apps get updated automatically. Simply go to the Store, Charm to Settings and choose App Updates.

I did not know how to do that. Thank you.

Automatic update only seems to work if I have the store pinned to my start screen. Usually, I update manually.

Always nice to have updates to Skype and other MS services. Their products need improvements to get up to par with other offerings.

Have to have broad brush against all msft service, when office 365, outlook.com, azure, ie11, xbox live etc are the leaders in quality in their fields! Posted via the WPC App for Android!

Cant even see my favourites on my Asus tablet.

Hallelujah!!! Skype finally brings the most obvious thing!!! I always hated that I have to manually add my favorites everytime!

iLumia? Sounds like the Apple iShit

Your Skype looks different from mine, and no update? I still can't see when someone is busy.

When someone calls me in my Skype.. My phone doesn't ring. But when I open Skype, there's a missed call.. I have my notifications and background task enabled for Skype always. What's the problem??

It might have to be pinned.

Does this fix the issue where Skype on Windows 8.1 still showed I had a new message even though I already read it days ago on my phone? That was so annoying that I uninstalled metro Skype and just use desktop Skype on my PC.

Skype will become a big thing as soon as the implement it like iMessage. Right now, it is to hard to link peoples Skype accounts to my phone contacts, to hard to contact them with it, and cost money when I can do the same for free with my contract.

Hmm...not seeing the update.

Not on my PC or Surface. Also, the Win Store link in the story takes me to some strange land..

Publié par Skype (that's what i get when i click the story link for the Win Store)

So ah.. Windows Phone is next to receive this, right?! :D

Next are the WP apps with support to transparency, at least on one side of the tile. Yea?

Got the updates and on Windows Phone got the Metrotube update.

Did a manual check for updates.. all bing apps were listed, but no skype. i'm stuck on 2.7... :(

Supposedly Skype is going to be free for all Windows Phone users???

Skype is free for everyone, including non-Windows platforms..

Then why does it ask me to pay for every text?

Free meaning Skype to Skype not Skype to outside network such as Phone System. So switch to Skype username instead of the phone number for your contact


Still can't get 8.1 Update 1

FAVOURITE SYNCING?! HALLELUJAH

Fix the damn dropped call issue first, drops every few minutes and only on video call.

That's most likely a wifi issue either on your end or whoever your're calling. I never have this issue with my brother, but when i call my dad, the video drops out all the time and has to reconnect. I'm pretty sure he needs a new router or modem or something.

Nope it happens on my Lumia 920 and 1020 even with my girlfriends 920. It's also really freaking blurry which sucks

Well, others don't have these issues. Maybe you are just doing it wrong. ;)

You sound like Apple's tech support.. Doesn't solve shit

I already said check your upload and download speeds. Have the person you Skype with do the same. It's not hard. And I'm not being paid to help you, so stop bitching.

Love the less scrolling. I uninstalled Skype for desktop today which just keeps on freezing since I updated to Windows 8.

My sister went into labor last night. I skyped my brother in law and half the time my rings don't go through. I get no notifications of missed skyped messages/calls. I did manage to through on Skype and let me tell you the connection was extremely horrible! We were both on wifi. He has a Samsung Galaxy S5 and I have a Lumia 1020. My sister then grabbed her iPhone and facetimed my sister in law, it looked flipping great!!! Wtf Microsoft!! Get with it man!

And you don't see that as a skype issue?

Skype is owned by Microsoft...therefore it is a Microsoft issue!

They should fix the friggen issue where I have to log out of the metro app unless I like seeing all the damn notifications for my messages when using the desktop app. Seriously annoying.

I'd like to know when Skype will fix the program so that the full contact name is displayed for Skype contacts that are linked with someone in the People Hub. Right now, both Skype on Win8.1 and WP8.1 displays just the Skype user name, not the contact name.

My Bing apps crashes each time I try to open them. It is now ok with this update. Thanx MS

Still prefer the desktop application on my Surface Pro.

Mine is still on 2.7 can't even search for normal skype ....

I have never in my life seen such a slow update cycle for apps that cost Microsoft $8 billion

I thought Skype already sync's across devices.

It did, but not Favorites list.

Oh sucky... the desktop app still doesn't sync favs :( Also in the metro app - is anyone else not seeing their FB contacts? My FB account is linked, and it shows in desktop app but not the metro app.

Metro app does not support facebook integration

Bing food still appear not to sync collections with wp8. Skype still does not sync favourites and lags the crap out of my desktop. still is poor in comparison to other platforms. Bing finance still lists currencies still shows GBP/xxx except Euro which is reversed.

Bing News still broken and crashes when syncing. Tried every published solution with no success. MS keep responding with totally useless suggestions. Hoped they'll solve the issue with this release but not.

Does Skype able to upgrade just like popular charting apps such as Line, WhatsApp...etc, no need to sign in and others advantages?

I love skype. I use it everyday. But the world has not seen a more annoying and terrible UI design of a popular app. Everything about this app is annoying. From the huge rectangle that says "welcome to the newest skype" ...for the past year, to the sounds, to the fact I can't log out and log in as somebody else because some guy in rainy redmond thought the best feature would be to lock you in to one account in the modern UI, while the desktop app clearly feels otherwise.

And once again Microsoft fails to update the Bing Food and Beverage app, that hasn't had an update for a month, and is still half baked in that it doesn't sync the collections, which is really the meat of the app.. Come oon Guys!