Skype video and Messaging app integration to be replaced by Skype UWP App, but what about mobile?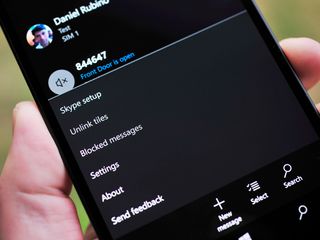 Earlier this morning, Microsoft and the Skype team announced that they will be releasing a Universal Windows Platform (UWP) app for Skype for PC and tablet usage with mobile coming later.
The decision is a reversal from the current Messaging app and Skype integration that we see on Windows 10 and Windows 10 Mobile. When people wanted the 'full' experience, they would have to fall back to the 'classic' desktop app or use the Windows Phone 8.1 full client.
Perhaps the biggest question about the forthcoming UWP Skype app is what happens to the existing integration with Messaging and Skype Video? As it turns out, that feature will be going away. From a Skype FAQ (opens in new tab) on the release with our emphasis:
What is not clear, at this time, is what will happen with Mobile as it is not mentioned in the answer. Oversight or are they leaving the door open on purpose for Mobile?
Microsoft is releasing the UWP Skype app for PC and tablet users first, and then Windows 10 Mobile will get it at some point too. However, Microsoft may choose to keep the Skype video and Messaging app integration and simply let users opt to choose the UWP Skype app if and when they want.
Then again, for simplicity of development, Microsoft may choose to keep Messaing the same for both PC and Mobile instead of splintering development. Otherwise, this could be the death of the idea of Skype as an iMessage competitor.
Indeed, mobile users can currently choose between integrated messaging or the full app including declaring which is the default Skype for notifications. A similar model may carry over for mobile where the Messaging and Skype integration makes more sense.
The decision may ultimately fall back on user telemetry and feedback though the Insider program. This possibility leads us to ask you which would you prefer for mobile? Skype only as a separate fully featured UWP app or the option to use Messaging and Skype video integration with reduced features? Let us know what you think.
As a side note, it is worth noting that Skype for Windows 10 Mobile (and PC) seems to have changed hands from the OSG Windows group back to Skype proper. That, in and of itself, appears to be the company raising the priority of Skype on Windows and Mobile, a welcomed change.
Daniel Rubino is the Executive Editor of Windows Central, head reviewer, podcast co-host, and analyst. He has been covering Microsoft here since 2007, back when this site was called WMExperts (and later Windows Phone Central). His interests include Windows, Microsoft Surface, laptops, next-gen computing, and arguing with people on the internet.
They need to make up their ******* mind. This is getting ridiculous.

They can't survive with having the entire ecosystem be in beta.

Definitely agree with this - They don't have time to keep starting from scratch with Skype when it comes to UWP....If they are only just working on the UWP app that will replace the integration then they aren't worried enough about it.

Exactly. If they'd put focus into something and stick to it, we'd finally get a grasp on that elusive little aspect of polish. This could actually be it for me, personally. A huge reason I backed the Windows 10 dream was because it seemed Microsoft was finally learning. Instead of everything being fragmented and all over the place, we'd have a universal platform. They'd take control over when updates get pushed, Host Card Emulation would take control in an age where Google was able to buy Softcard and immediately kill our only form of NFC payment... and we'd finally have our Skype+Messaging solution to counter iMessage that allows a unified messaging platform across mobile and desktop. ...if Microsoft gives up on this dream... I'm sorry, but that means I'll have to give up on Microsoft. Though I talk crap endlessly on Apple, I don't completely hate them and I do buy their products. I've got a really nice core i5 MacBook Pro, iPhone and iPad Air, but they've always played second fiddle to whichever Surface or Lumia I've had, and I love to make the point that I willingly choose Microsoft over Apple even though affording Apple products is nothing for me. I like my Windows products a lot more, simple as that, and the constant feeling that "all they have to do is bring the already functional Skype+SMS Messaging we have on mobile to the desktop" or "all they have to do is deliver on HCE" make me stick around for the long haul... but there's a lot of undelivered promises, procrastination, and poor decision-making that may just drive me to pop that SIM card into my iPhone, enable iMessage across all my iDevices and simply let Microsoft continue this battle of "figuring themselves out" without me.

Would've preferred to see them build onto the bt API they had with gdr2 since they started to add bt adapters to the requirements specifications for windows ready certification for PCs since w7. They could've come at it that way

That really is the biggest problem. They let things go to preview, but it never seems like it leads to a production build that the masses would accept. We're about 6 months into W10M's official life, and it still can't handle some basic things without hiccups too frequent for the everyday person.

Definitely agree. At the end of the day, we are the consumers. We use the visions that these firms create. Microsoft is always committing half-heartedly. That is going to always limit their innovation. Now what? Have Messaging+Skype on mobile only. That will just create segmentation and confusion. Unless Skype can turn into an effective all in one that includes SMS all of a sudden, this will suck. There you go, we forum folk have created Skype+Messaging

Yeah, sounds like we are going back to Hubs.....one of the most innovative and practical software ideas......ever. #Long live Hubs

Lol wish they would house xbl messages in the same place as email/sms

Complaining here won't help -- go to the Feedback Hub and tell Microsoft you want a Messaging hub that does everything - SMS/MMS/RCS text messages from desktop, Skype messaging, GroupMe group chats, Xbox app conversations, etc. and more, all within the universal Windows 10 Messaging app.

Microsoft wants to fill the "app gap" by making 10 different apps of Skype and messaging. Someday, people will say Skype is dead and Skype is no more an iMessage competitor.​ Way to go Microsoft - shoot yourself in the feet and then give up saying Windows 10 is the last OS. Everyone in 2020 be like: Let's move to Android!

you can't. only operators, hardware vendors and MS itself can have thouse permissions for their app.

What the hell? So Microsoft isn't going to keep pushing forward with this movement to unify skype and messaging in the way iMessage works? Dude, if my Skype and messaging get split instead of that feature coming to desktop Windows 10, I may seriously ditch Microsoft altogether... Surface, Lumia 950, Xbox 360/One... all of it.

Holy crap. No truer words have been spoken. They have flipped flopped so much, I honestly don't even know which way it is anymore.

Agree. There are advantages either way so whichever they chose is okay with me. But chose one yesterday and get on with it! We need a quality, cross-platform messenger that works with everything from SMS to file sharing to group video chat to providing remot desktop control. If MS can bring that to all W10 devices, that's a win. It also used to be called Lync, but I digress.

Try Wire, it does all you are asking for and more!

Completely agreed. This is ridiculous. The reason I got WP 7 was because of their hubs ideas. Then they removed those and the OS lost all of it's original UI. Those hubs are something I'll miss, but I could understand why they did that. Unfortunately, if they remove Skype integration from messaging and Skype video, I will no longer be patient and definitely switch to iOS. I thought sticking to see what will happen with Surface phone but if they do this, I will not stick around. I never bothered with the app gap problem because there are a lot of excellent third party apps but constant changes with the OS drives me crazy. It appears like they do not have a clear vison of the OS. Posted from Lumia 920, Windows 10

Please feel free to leave. You Lumia 920 peasant, you have put money into the ecosystem since 2010

First of all, mind your language, try to be civil instead of acting like a little kid who's mother just got insulted. Secondly, not everyone installs uncompleted OS to their daily phone, me included. Not that I need to explain myself to people like you, but I've invested in this platform much more then the average WP user. It just happens that some people own more then one phone. Next time, before posting first thought that comes to your mind, try to see the bigger picture. Posted from Lumia 920, Windows 10

I can't disagree with this. Especially afer they lured all of their loyal customers to be their testers with the insider program, and then suddenly told their customer to **** off and buy new phones if you want to try Windows 10 Mobile.

I want to know which consumers are giving so much feedback for "i want to have access to this information all in one place". How hard was it to have a section in messaging that said "3 missed video calls"?
Users of iMessage seem to have no problem in having a seperate app for video calls, how would "MAJORITY" of such a small eco system be that different? The reason people are unhappy is because these apps are not WORKING 100%. I actually had just started using skype more in messenger with a couple of friends who don't like texting due to their text limits.... Microsoft needs to have a communication department that's dedicated into confirming what the end goal message is. These going back and forth statements sound more like decisions made between a couple who doesn't know what it wants than a commitment to a vision or end goal.

Complaining here won't help -- go to the Feedback Hub and submit feedback to Microsoft directly! Tell them we want a Messaging hub that does everything - SMS/MMS/RCS text messages from desktop, Skype messaging, GroupMe group chats, Xbox app conversations, etc. and more, all within the universal Windows 10 Messaging app.

I think it's pretty clear they made up their mind and I think it's a good decision.. ​They are consolidating all the Skype products into one UWP... which makes sense. One app to manage instead of many. UWP apps still integrate into the OS, so there is no problem with integration, it just won't be in the Messaging app (which I"m happy about... because I hate how they mix with my SMS).

This is the Microsoft way. "We're gonna do this, and it'll be AMAZING!" "No, wait, we're gonna do THAT...and it's gonna be AMAZING!" "Ooh, ooh! No, we'll do a DIFFERENT thing and it'll be so, SO amazing, just you wait! Just. You. Wait! (Microsoft Slogan)

They're more than surviving; profits are doing gang busters. The problem (for users on sites like this) is that W10 Mobile is very obviously way, way down on Microsoft's list of priorities. The company is all about Office and Azure and Windows server licenses, etc . Which is fine, but it doesn't exactly make for compelling blog posts. I mean, how many Oracle and Cisco fan boys are there?

Nnnnnnnnnnnnnnnoooooooooooooooooooooooooooooooooooooooooooooooooooooooooooooooooooooooooooooooooooo. Sent from Lumia 950

Now it is real. Can't figure out what MS want to do.

Easy - They want to merge ALL their Skype products into ONE UWP app... which is what they SHOULD do. It's a good move.

well, somehow I agree with this move though.

Noooooooo. Why couldn't they just integrate all the features?

Ah know. In fact I'm not sure anymore if they know. Lol

They made promises that they were never going to fullfil so now the backlash it starting 3....2.....1....

It's a UWP app... it can hook into the OS still (i.e. People, Messaging (if they'll still allow it), etc.) That's the beauty with UWP.

Go to the Feedback Hub and tell Microsoft you want a Messaging hub that does everything - SMS/MMS/RCS text messages from desktop, Skype messaging, GroupMe group chats, Xbox app conversations, etc. and more, all within the universal Windows 10 Messaging app.​

"Microsoft may choose to keep the Skype video and Messaging app integration and simply let users opt to choose the UWP Skype app if and when they want." Microsoft HAS to let us choose.

That has always been the Microsoft way

Let us raise our feedbacks Posted from Windows Central App
Lumia 830/Win10Mobile

They need to leave the mobile integration alone!!! Posted from Windows Central for Windows 10
Using My Beastly 1520

Lets make some noise in feedback Posted from Windows Central App
Lumia 830/Win10Mobile

Please don't take the integration, Microsoft. We love it. Posted from WC for Windows 10 - Lumia 730

I don't need it, I don't use Skype at all.

If I had to guess the Messaging + Skype thing is going away completely across the board. It will be Messaging (SMS only) and Skype UWP on all devices.

Which would suck like hell!!! Posted from Windows Central for Windows 10
Using My Beastly 1520

Not if the uwp app supports integrating sms. So you can use that for both and set as your default messaging client.

That maybe better... But we know Microsoft... Posted from Windows Central for Windows 10
Using My Beastly 1520

Yes, I too like the integration and it would be ok to me the other way around, integrating sms into Skype. Then, let them integrate phone as well! Will be great to boost the Skype brand.

Sounds like a Hub to me.....all in one place.....no opening numerous apps......bring back hubs

Correct me if I'm wrong but right now, you can't set an alternate application as a default anything, whether it's a messaging app, browser or music player. I'm assuming that's not coming down anytime in the near future for Windows on phones.

You can already set default skype app as well as things like call ID apps and blocking apps. I use white pages id for those. My guess is more refined settings will come closer to desktop version, letting you set default browsers and other apps.

It is going to be suck. At first I admit I kinda didn't like having seperated apps, but later on having Skype Messaging in a Messaging app is something I've been wishing for, only issue is that its still early that it needs alot of work before it became worthy of iMessage and other messaging service competitor. What I kind hate about Microsoft is that they kept changing mind, which is so frequent that it always didn't reach maturity of the development it needs. It's nice that Microsoft at least listen but these days I realize that the bigger issue is how they interpret and make decisions based on the data and feedback sometimes. Example,Rooms are removed because of too few users who take advantage of it, but the issue wasn't because its useless but because their execution isn't there, it didn't get any updates and it didn't extend to other platforms to gain userbase. OneDrive Placeholder blamed to be confusing for users, but the actual issue was because of User Experience making it bit confusing which can be really fixed without removing it altogether. The single Skype app was indeed a hot topic way, but gradually the separate app became acceptable and preferrable. The problem why people still like having single app because mainly on the desktop-side and because of too slow development of Skype experience in Windows 10 that is still abysmal today. If the Skype integration was that great, there will be less complaints and less people wishing having traditional single Skype app. Single Skype app would be better on bigger screen especially for desktop/laptop. For phone and even tablets, the phone-like integration is still great. Microsoft just need to fix how they execute it and make Skype feel like iMessage, more seamless and integrated in a right way.

Does this seem better to you? Posted from WC for Windows 10 - Lumia 730

As someone who lives on Skype for work I prefer a standalone app. However, for casual users, I could see the integration being nice.

I see your point. My view is that MS should give us the option of having the integration or using the app. Posted from WC for Windows 10 - Lumia 730

Yeah, they should totally keep the sms integration. But for Videos and calls they should make the new UWP app and ditch the Skype Video app. Posted from Windows Central for Windows 10

You're right. For Video you can use the full app but there's no reason to remove the integration from Messaging. The Windows Central Universal Application for Windows 10 Mobile on a Nokia Lumia 830

See that's the one thing i disagree on about all of this. If you can't instantly switch to a Skype call from a normal phone call then WTF. I never understood why i would want Skype messages built into my SMS messages (other than maybe overseas contacts), however switching a regular call into a Skype video call has to be a priority.

I think they really should just redesign the Skype Video app. Skype as a backend service for Messaging and Phone app is still good. It just needs to be feels natural yet people know that you can use Skype over there. Skype Messaging is really just need to step up to be a worthy competitor to iMessage, Facebook Messenger, WhatsApp, etc., since still even now it feels Skype is still not "great" for text messaging.

Wasn't an announced feature of windows 10 mobile the ability to choose a third party messaging app? If so couldn't they just write the app to allow sms to use the skype app on mobile?

I was thinking something among these lines too Sent using Windows Central for Windows 10 on my Lumia 1520

It's a feature that's beautiful to me. Something within something... It's a feature I brag on. There's not much to brag on these days... Outside of continuum, Cortana and live tiles... Posted from Windows Central for Windows 10
Using My Beastly 1520

Why dont give us the choice? I really like the Integration in both, Mobile and PC

I welcome this fallback to a standalone app.
The Skype Video app never made sense to me + it did not allow me to call out of my Skype number, which I pay for.
The SMS+Skype integration was a great idea, but kept causing issues where I'd use the integrated app in W10M, but my wife was still on W8 and she'd be confused, trying to look for my messages, not knowing whether I sent them via Skype or SMS. It was very odd to get used to. And, if I had to modify a contact, I still needed te standalone app anyway. Apple could afford to merge SMS and iMessage into a single app because they are in a closed iOS ecosystem, but MSFT failed here because Skype is X-platform and not everyone on the receiving end has a W10 mobile device, so this may have been one of the reasons they got poor feedback. It was confusing. The biggest gripe I had, though, was that until recently - the integrated apps did not allow pictures, attachments, etc... to be sent or received, making things even worse. My wife wodul send something from Skype app and I'd receive Unsupported content warning on my W10 messaging app.

Your last point highlights why WaaS doesn't work on phones. The average consumer doesn't want to contend with unfinished software. If your paying top bucks for a phone, you expect it to just work. In regards to the article, they should give us a choice and allow multiple account sign in with the messaging app. I use a seperate account for skype not the one tied to the phone. But you can only use the latter with the messaging app... This constant dithering is also another reason why WaaS will never work for phones.

fair enough like. I have my trusty BBM Sent from Lumia 950

That would suck. :/ I really like having access to all my messages in one place, especially on my phone. I get that there's overlap, but the messaging app should keep integration (personal opinion).

It'll end up people not using skype at all if that's the case. Im using skype to message other windows mobile users. My other friends and family use whatsapp and don't see the need for it. Rebel Base, Hoth... using the new beta app!

Why can't they just sync SMS messaging with all devices? They've already done it to some extent by allowing you to send an SMS with Cortana on your PC. I know SMS isn't as fancy as a legit messaging app like iMessage or Skype, but at least we would have something.

That kind of sucks... the Skype+Messaging thing worked pretty well when it worked, but I will admit there were a loooot of issues with it in it's current iteration. It still crashes in large groups.

you have witnessed what the "skype proper" dev team does, do you really want that to repeat? the preview app from ms added photo sharing relatively quickly, it took the original skype app on wp8 more than a year for that

Why can't they go the other way around, and ask "Which app do you want to use for SMS?" rather than "Which app do you want to use for Skype?" Wouldn't that solve all problems?

Exactly. Seems to be the right question in my opinion. Personally I like the integration but I do want to have a separate app for call and video. Or just give me an option when I press Call to do Skype Call or Video or just normal one. Posted via the Windows Central App for Android

This is a great move IMO. Consolidate ALL the Skype apps into ONE UWP app. The app can still hook into the OS just like People, Messaging, etc. So really there should be no problem, and it'll allow them to maintain one feature-rich app.

I hope you're wrong Daniel. I like the Skype integration and want to see more of it.

Let Microsoft know! Go to the Feedback Hub and tell them you want a Messaging hub that does everything - SMS/MMS/RCS text messages from desktop, Skype messaging, GroupMe group chats, Xbox app conversations, etc.

Imagine if Skype..
- reliably rang on your devices, and stopped on all devices when you answered
- reliably showed my presence, and also presence of contacts available
- had reliable instant messaging/chat
- worked across consumer and Enterprise boundaries
- integrated seamlessly with your contacts
Clearly too much to ask. Unbelievable that they still haven't got their **** together after all this time.

So at this point, it's not clear what will happen to the integration.
Would be dissapointed like hell if the kill it. Because i got much more contacts in FB.
Let us post on the Feedback App, they should let ppl choose beetween. I mean the integration is a Feature u cant get at FB or WhatsApp. Its THE feature brought 3 of my friends to skype.
And Apple got 3 Apps too.
For Call, Facetime and iMessage. Why should this be irritating.
Another reason for this, it is better the the Apple things because you cant chat or video chat with ppl outside the Apple system.
With MS and Skype, you can.
They should do the UWP for ppl really want it. But they should also hold the integrated one and let me choose by myself which of them I want to install and use. Its time to improve this feature. MS is always moving the half way, and before its completed and full of features they are wondering about, why its not more in use.
Same thing with ROOMS
They cancelled it instead of releasing an App for iOS and Android, so that ppl can use it across Systems. I like the way they're going now in bringing MS close to apple and google, but **** don't kill nice features in Windows.
I think sometime MS wants to have the masses on Windows 10 and so Mobile too
Let us give FEEDBACK and MS know its the best decision to hold the integrated thing.
Everyone which want it to stay, should contact them now

This is what i'm concern about, and if they replace it, i'm going to change to other platforms for sure. Why don't they just focus on improving messaging app with Skype? What MS is doing?

Of all things to switch for, it would be the lack of an integrated solution? Well I've heard it all. Sent using Windows Central for Windows 10 on my Lumia 1520

Lol, I will never switch. I just love that Skype integrated.

Same here! Posted from Windows Central for Windows 10
Using My Beastly 1520

Even with the UWP app, Skype will still be integrated. That's the beauty with UWP. UWP apps can hook into the OS. Right now it's a mess, so I'm glad they are consolidating it all. General consumers would be so confused wondering why there's no Skype app and why their Skype messages are getting mixed with their SMS.

I like skype chat integrated with my text though.

This is really the execution issue from Microsoft really. Skype wasn't marketed very well that it is now part of Messaging and Phone app, heck I don't even know if they even mention it alot on public. I mainly know about it because of Insider Program and because I just tend to follow Microsoft news and tech news in general. Also, problem is the too slow development to improve the messaging aspects of Skype. Its still doesn't really feel like it can be a great replacement/alternative to what people mostly use such as Facebook Messager, iMessage, WhatsApp, etc. Microsoft never convince general users to use Skype as their primary communication service and their efforts to improve it is just slow to catch up. People only mostly use Skype for video calls but switch to other for everything else. What's should be alarming for them is how other services is getting popular for having their own Video Call service, Hangout is a threat already and FaceTime is quite popular for iOS users.

Because if they continued adding Skype features to the SMS client (Messaging), it would be bloated as hell and it wouldn't be an SMS client anymore, it'd basically be a Skype client with SMS ability. Can you imagine a regular user who doesn't use Skype buying a Windows 10 Mobile phone, wanting to use SMS and when they open the messaging app they have a bunch of options they probably don't even understand (sign in status and so on). The intergration was a mess with messaging, it crashed with big groups, notifications were inconsistent, you couldn't see if people were online, you couldn't see everyone in your contacts without having to message them first or going to the people app, etc.. it was horrible, a UWP Skype app is a much better idea. Posted from Windows Central for Windows 10

I disagree; everything shouldn't be so watered down because people are too numb to how things work.

THIS + 1000000000000000000000000. At least someone here gets it. The Messaging + Skype app is not a good idea at all. This UWP app is much better idea and will allow for much more features and integration.

The integration is needed. Can't help people that don't want to read through the settings. Not our fault... The integration is a feature needed. Posted from Windows Central for Windows 10
Using My Beastly 1520

The problem is mainly not because separate app (actually Skype is unified as a backend integrated on traditional phone apps). Having Skype integrated on Messaging app even isn't used shouldn't cause the app feels bloated because of options, because that's a bad UX. If feature isn't used, don't shove it on the face of the user. The best it can do is just encourage user one time to use and if user says no, then it won't bother it again until user manually activate Skype. Just like iMessage on iOS, its even baked in but I never use iMessage yet I wasn't bothered that its there in Messaging app of iOS since it's not shoving on my face everytime. For users who use Skype, it will be rewarding because of integrated and seamless experience it brings. The problem was Skype as a text messaging still feels not there, it still feels like Skype-only-good-for-videocall thing. It doesn't have much "fun" and "enjoyment" to use as text messaging as the other does. It's still feels plain as compared to the competition. Features like online status can be implemented, its just another Microsoft too slow to implement such feature that even today the experience is poor in comparison to desktop Skype, the only Skype experience in Windows that is really good.

and you have the guts to ask "what about mobile?" I got your answer: Coming Soon ™

The problem with being transparent and revealing your roadmap is literally everything is "coming soon" making the observation meaningless. Apple, too, has a roadmap. If they tell us what they are working on for the rest of 2016 and 2017 then you could say "no headphone jack...Coming Soon™. But since they have not said that, it's just a "rumor". Not really a profound conclusion, but evidently it gets lost on some people here.

The difference is that Apple has a highly functional, polished, working product. But MS can't tell their ass from their elbow. Every time WP users think they're about to get a finished product, MS "reboots" and says "Remember that thing you used to be able to do. Well, you will again, soon." Sometimes, they do eventually get there (remember FM radio's year-long absence?) but other times, they never do. Apple also under promises (you will never get a copy and paste, you will never get apps, you will never get a stylus) and then goes ahead and gives people those things anyway, much to their users' great delight. MS promises -- and even delivers early versions of! -- all kinds of things (Skype will offer a great touch experience!) and then takes them away. It's really very different. Is there anything you can't do on an iOS 9.3 device that you could do on an iOS 6 device? There are plenty of things you could do on a WP7.5 device that you can't do on W10M (Zune, wireless syncing, universal search, Bing vision, etc.) and those OSes are contemporaneous.

I'm generally agreeing with you x I'm tc. I was expecting more from W10 at thsi time!

even I don't like Apple but agreed. Microsft is pushing me away from its ecosystem and products. The only reason I'm sticking this far with Microsoft is because I'm a .NET developer.

I'm not sure. If you go back to 2007 and look at the touchOS back then on teh first iPhone, you couldn't even change a freaking wallpaper in it, no apps, nothing.... MSFT probably started with W10 a few years ago, and is trying to bring it to level of iOS9 or higher, so they are in fact skipping at least half a dozen iterations iOS had the luxury of having in the nearly decade of past. There are bound to be errors or things still missing, when you cram 9 years of needed work into 2 or 3. I do not like, however, the level of independence Skype team has been given. I don't like that after years of MSFT owning Skype, my Skype app on iPad is far better than the one on my Lumia.

Everybody knows that first iOS was underfeatured for a smartphone that its almost better than just a feature phone, but the biggest contribution it offer was a good user experience using touch and how polish it with limited features it has. Basically it at least tried to be great at things it only have. The rest was marketing magic takes them further. Microsoft was also overly limited when they first introduced Windows Phone 7 too. It didn't have proper multitasking, no cut, copy and paste, apps don't run in the background for the most part, and other things that severely missing for a smartphone too. The worst is that Android and even iOS got way more features at that time that Windows Phone having limited set of features was a big mistake on first execution, especially coming from Windows Mobile. The really innovative it really brings is really just the Hub which is unfortunately abandoned, Live Tiles and other unique goodies. Gladly WP8 didn't remove tons of features from WP7.5 as far as I remember, the only biggest backslide happened though is there wasn't any upgrade path from WP7.5 to WP8. At least feature for the most part continued. Skype being too independent and feels disconnect from Microsoft is indeed something I always bothered. Skype still feels like a separate company that have some partnership to Microsoft, but it's still not cohesive and especially how poorly they still perform in terms of developing Skype experience for Windows. The best still they still have is this desktop app while their apps still like a side-project.

MS doesn't care enough about W10 mobile to bother comunicating the roadmap.
(let the downvotes come)

I actually think you're only half right. You are correct that they don't care about mobile. But the problem is, they do communicate the roadmap. They just don't have one.

Please don't take it away, but improve it instead. All we're asking is to make the integration reliable.