How to disconnect Skype from Messaging in Windows 10 and Windows 10 Mobile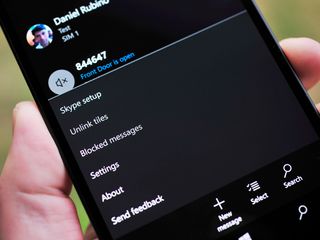 Starting with the November update for Windows 10 and Windows 10 Mobile users can have a unified messaging experience with SMS and Skype. Well, almost. Texting is still only available through Cortana on the PC, and there is still a 'classic' Skype app for those who need a fully-featured app.
Conceptually, a unified messaging service with Skype and texting is fantastic. In reality, we are still in the early days of the awkward merger. As a result, some users have experienced battery drainage on mobile, while others simply do not like experience. Others still are getting multiple notifications.
Today, this short tutorial will show you how to disconnect your Skype account easily from Messaging.
Disable Skype experience from Messaging
Tap the Messaging tile on your phone or open the app through the search are on the PC. 2: Tap the ellipsis ('…') near the bottom right corner to bring up the menu and choose Skype settings


Below your profile information you should see text that says Sign out. Tap it and choose the Sign out button.


That's it. Your Messaging app on your phone is now just a traditional SMS/MMS app. The Skype video app is now disabled. On the PC side since there is no SMS functionality the Messaging app is now basically just idle with no functions.
Re-enable
If you find you miss Skype functionality with Messaging just retrace the steps above but select Skype setup from the ellipsis menu in Messaging. The app then walks you through linking your account back to the app and re-enable Skype video too.
Set default Skype app
If you are someone who uses both Messaging + Skype and the full-fledged Skype app on PC or mobile, you want to make one of them default. This ability helps you to receive only one set of notifications on that device while retaining the ability to use either one at any time.
Here is how to make that happen.
Make Messaging default for Skype
Tap the Messaging tile on your phone or open the app through the search area on the PC.
Tap the ellipsis ('…') near the bottom right corner to bring up the menu and choose Skype settings


Under settings, you will want to scroll to the bottom and hit the Make this my Skype default button under the Set Skype default header. This action should auto-enable Instant Message and Incoming Notifications under the Notifications subheader.


This action also disables the Skype's apps notifications and all calls, and messages will now go through Messaging and Skype Video.
To do the opposite and have the full Skype app as default, just follow these steps:
Make full Skype app default on Mobile
Launch your Skype app from your Start screen or Apps list
Tap the ellipsis ('…') near the bottom right corner to bring up the menu and choose settings


Under settings hit the Make this my Skype default button as the top under the Set Skype default header. This action should auto-enable Skype message notifications and Skye call notifications under the Notifications subheader.


Wrapping up
The unified Skype and Messaging service should be improving over the next few months for both PC and Mobile. We have had about 75% success rate in using it, but also crashes on group conversations, missed notifications and other oddities that make it not ready for primetime for some users.
At least now you know how to enable easily or disable the feature at any time and better manage both apps until things get ironed out.
Daniel Rubino is the Editor-in-chief of Windows Central, head reviewer, podcast co-host, and analyst. He has been here covering Microsoft since 2007 when this site was called WMExperts (and later Windows Phone Central). His interests include Windows, Microsoft Surface, laptops, next-gen computing, and for some reason, watches. Before all this tech stuff, he worked on a Ph.D. in linguistics and ran the projectors at movie theaters, which has done absolutely nothing for his career.
Still not able to send regular SMS through Skype on my Lumia device? Even with Windows 10 mobile?

Makes you think if there's a how to make the Messaging app work on Windows 10. Is there Dan?

I guess fixing the SMS receiving bug should be a top priority first...

I have already done this and my battery on the 950 is still the worst of any phone I have had. I have everything disabled, but just using the phone to web browse and check emails kills the battery way too fast. I have done a full reset and tried everything. Seems to me that many users are experiencing the same thing based on a simple internet search.

Battery life on my L830 stabilized after a few days and is very close to 8.1 use now. Did you restore a backup after hard reset or start fresh? Starting fresh is a big help.

Agree to this. My 950 is running awesome after a hard reset even with Skype Messaging enabled + Hello.

I did the restore and that was horrible battery life so I did a complete reset and started fresh. I agree with others that edge is a battery killer. I also swipe all apps away when finished. I may just be a heavy user. I have not found a phone that will last past noon without a charge. I start in the morning at 7 with a full charge. I do almost all of my work on my phone.

Personally I'm finding Edge is the battery killer on latest build. Check your battery usage to see which apps are using most battery %. If I don't use Edge then my battery lasts much longer.....

Edge is 100% a battery killer.

I don't understand what's so special in Edge that MS abandoned IE11. IE11 was very much optimized. They could have retained IE11 till Edge becomes stable.

Are you guys closing Edge or just allowing it to "tombstone" in the background? I've turned it off from running in the background but I also swipe down to force close all MS apps after I'm done with them. Not sure if it helps any. Also not sure why all MS core system apps don't properly close after exiting them. Most 3rd party apps do.

I always close all tabs and kill the app, but this isn't really the issue, background usage is small. It's using the browser is what uses up a lot of battery, makes my L930 warm too. U still use edge though, prefer it to UC for example, especially now we have fav and password sync'ing to PC....

Closing out of apps can actually reduce battery life, though in certain cases where bugs are present it may help I suppose.

Daniel, Thanks for the walk through of enabling and disabling... What are the features that are available in the full featured skype on Mobile vs the other apps? And likewise, what about for desktop? Is there an article you have already published that helps us compare?

Try turning nfc off as that tends to drain the battery. I have a Lumia 950 & it has great battery life.

Speaking of, there is an update for Messaging + Skype in the Store. Hopefully it fixes issues with notifications and battery drain. EDIT: The update includes UI refinements in "phablet mode" The contact circles are now a lot larger than before, showing fewer of them on the left side but making it easier to see. Also, and a big plus is that now there is a new UI element that overlays the contact circle to show which message thread is open. For example, if I click the second contact circle from the top, the circle is now enclosed in a dark square with a blue vertical line. This makes it easy to see which person you are replying to, an issue my wife pointed out yesterday. This simple UI cange is great and goes a long way to make the app seem more complete.

Since a few days ago I've been experiencing serious "Resuming" problem (on my Lumia 930 10586.29) while opening a new SMS in Messaging app - I always have to kill the app because even one minute of waiting doesn't help. Anyone experiencing that? Today I did exactly what the article says (what a strange coincidence) - I removed connection to Skype (since I mostly use dedicated Skype app) and see what happens...

My wife's 930 is having the same problem.

And Messaging + Skype just got an Update now..

The better question is: How to start recieving "banner" notifications? I only get the number count on the messaging tile but it stopped showing incoming banners of messages.

On the other hand, I was dissapointed when I realized I cant attach files through messaging app. I had to use Skype app.

Not being able to view images sent through skype I'm the messaging app is a real pain in the ***. Also not supporting the full set of skype emoticons is annoying.

I want to choose my skype account or have multiple allowed

Thank you for this, going to need it! I see the advantages of it, but I don't need it really.

I can't find these options on PC?

Now how do we delete all the phone contacts that were automatically added to our SKYPE account? I'm really annoyed that they were all added without the option of asking us first if we want them added.

So can I can have 2 skype accounts going then like the scenario below? 1 with Messaging + Skype (Personal) and 1 with Skype App (Work)

Don't disconnect Skype; it shows animated emojis now!!

Tried to sign in with an account other than the main one for the phone and couldn't. Went back to Skype on my wife's phone. Until MS gives a good way to share the apps purchased with family members, it's a bit painful to manage all of the phones tied to one e-mail address. :-/

Too bad, I can't have this: ​• SMS and MMS only on the Messaging app.
• Having the Skype Video app still working.
• Receive SMS and MMS on my PC via the Messaging app.
​• Receive Skype text messages separately (on the Skype app). ​At least momentarily, I would like to be able to hide Skype text messages from the SMS and MMS in a conversation.

Haha I just don't know which one is worse

While I'm not on a Windows 10 phone yet, this is an excellent article since it's the kind of stuff I would be wondering about when I eventually upgrade.

I don't get it. I only have "Skype setup" option avalible in in W10 mobile and it doesn't seem to do anything. So I can't disconnect Skype from the messaging app. Any workaround?

Open the 'Skype Video' app. 'Settings' is there. Weird, I know.

I followed the steps but no use. I'm not able to signout from the skype. Any thoughts on that? Messaging app shows 30% of the usage of the battery and I've not even used it.
Windows Central Newsletter
Thank you for signing up to Windows Central. You will receive a verification email shortly.
There was a problem. Please refresh the page and try again.