Skype Preview for Android can now relay SMS messages from your PC and Mac (Update)
You'll soon be able to send and receive SMS messages on your Android phone via Skype for desktop.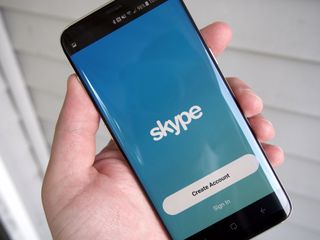 Updated September 11, 2018: The SMS Connect feature is now gradually rolling out for the Skype Preview app on Android, Microsoft says (opens in new tab). Until the rollout completes, not everyone will be able to use it right away. Once available, however, you should be able to pair your phone with your PC and start using Skype to text from your desktop. Once testing is complete, the feature will make its way to the full Skype app on Android. The original story follows.
Skype is making a bid to be your texting app of choice with its latest preview update. The Skype Preview app for Android has been updated with a new "SMS Connect" feature that will let you send and receive SMS messages from the Skype app on your PC or Mac (via Windows Blog Italia).
Unfortunately, while the option to turn on SMS Connect now appears in Skype Preview's settings on Android, it doesn't appear you can enable it just yet. Regardless, Microsoft is promoting the feature with an update to the Skype Preview app on desktop, which offers the option to use Skype SMS or the new SMS Connect. From the description:
We aren't yet seeing the preview update on Windows 10, but the folks at OnMSFT have reported it is rolling out as version 8.29.76.16.
In other Skype news, call recording and encrypted private messages have started rolling out across the app on all platforms. Private messages should already be enabled for everyone, while Microsoft's director of design for Skype and Outlook, Peter Skillman, says that call recording will reach everyone soon.
Roll out started with 8.27 and will be at 100% soon. Follow these steps: Start the audio/video call. During call, click Options [+] button & select "Start Recording". You can stop recording call anytime you want. Once done, the recorded content will be available for everyoneRoll out started with 8.27 and will be at 100% soon. Follow these steps: Start the audio/video call. During call, click Options [+] button & select "Start Recording". You can stop recording call anytime you want. Once done, the recorded content will be available for everyone— peter skillman (@peterskillman) August 16, 2018August 16, 2018
If you're ready to give any of the new features a shot, you can pick up the release version of Skype and the Skype Preview app from Google Play now. On desktop, you'll have to opt into the preview via the Skype app's settings menu.
Dan Thorp-Lancaster is the former Editor-in-Chief of Windows Central. He began working with Windows Central, Android Central, and iMore as a news writer in 2014 and is obsessed with tech of all sorts. You can follow Dan on Twitter @DthorpL and Instagram @heyitsdtl.
Skype needs to get their stuff together. I've been trying to use it more recently especially to make calls to phones and landlines, but the PC and iPad app won''t even let me add phonenumbers to them. It's ridiculously difficult to use, and its been years. It's a surprise anyone still uses this mess.

I ended up leaving Skype and using LINE app.
.
LINE works so much better and they have full featured apps for Windows 10 PC, Windows Mobile, Android, Mac, and iOS.

Line...
1. Fat app
2. "hey handsome, interested?", "I'm so lonely, want some fun together?" ads even if I turned off everything. Stick with WhatsApp.

Are you on >= v8? I am able to make calls from PC without any issues. When you say it wont let you add, if am not wrong you can add it to your contacts and sync contacts with skype or you can use the dialpad where you can enter any number to call provided you have skype credit.

You're right... I haven't had any problems with Skype. It is really good.

Skype works fine for me. I'm very please to have a messaging alternative to Facebook, and it's subsidiary, WhatsApp. Those guys take too much of my data.

Hey, could you tell what version you have? I may know some people who'd be interested in fixing that if there's a bug

It is available on the preview app for IOS too!

I am part of the iOS Preview, but do not see any SMS options. How did you set it up? I didn't think it was possible on iOS at this time.

When Skype Preview actually works, I'll be interested. Right now, it signs me out if the app isn't open and in the foreground. It keeps getting worse and worse with each update.

Remember Windows Phone 7 where, in a single messaging thread, you could select SMS or Skype messaging and it was seamless and didn't force the user into an inferior experience via a slow and ugly app? So long, halcyon days.

That was one of the best versions of messaging on windows phone.. Soon after MS totally dismantled that version and came out with a dedicated Skype app that could be used for messaging.. It was so darn slow and buggy.. I hope this one is different.

Don't forget it had fb messenger integration too. You could do SMS, Live Messenger, and FB.

SMS Relay between WP and Skype never worked consistently -- little hope it will work better on Android. Texting on desktop really doesn't work if it doesn't work consitently. However Google Messages for desktop looks just like your phone app, handles gifs and pics no problem, and actually works!

Great, yet another platform that the SMS Relay won't work on... WTF are they doing this when they are doing My Phone anyway?

Three words: Petty Office Politics.
The bane of so many great ideas, fudged by implementation due the inability to work together in a cohesive manner. They should be working on My Phone for all platforms not this crappy sms relay.

Had this on Windowsphone and it was a mess. All the messages got messed up, sometimes arrived and sometimes didn't, sometimes it was even from the correct person but often it wasn't. Microsoft controlled Skype, they controlled the PC and controlled Windowsphone. They couldn't get this to work as well as Apple on iMessage. Google has a web based sms integration. It works well. messages.android.com

The SMS setting in Settings section disappeared in the lastest 8.29.76.43 Skype Preview app for both Win10 and Android. What is happening MS?

They removed it months ago for insiders. Once I lost my desktop SMS for my W10M phone, I went ahead and dumped skype company wide. I was the only one clinging to it because I loved the feature so much(when it worked)

For some reason I'm on the 8.30.76.41 update and I'm not seeing this yet.

I always get excited to read updates like this and then I remember that I never really SMS people anymore. Everybody is in some other app or another. I guess it would make it easier to copy two-factor authentication codes at least.

Not working in the UK yet

It is amazing how Skype got a mess over the years. I am only using it now ones in a while to make international land line calls which is in my Office 365 subscription. Just checked settings, cannot even set my correct Calling ID as my country is not in their list.

I like this idea, but why are they doing this with "Your Phone" too?

Your Phone is a direct link that only works locally with one PC
SMS Connect uses Microsoft's cloud to sync SMS and connect to your mobiles SMS Relay to send your messages. This works across multiple devices including PC and Mac.
Not everyone is comfortable with their messages going to Microsoft's cloud.
I personally love this idea and wish it went a step further and let Skype be me default SMS application like Skype lite does... But maybe that's asking a little too much given it hasn't fully rolled out yet.

Skype isn't so bad for people who are used to it and don't want to change anything. That's the main audience.

Do the Skype team and the Windows 10 team not talk to each other? Ever? One day there's zero help from Microsoft getting SMS on the desktop, and now there are two options (at least betas, or for Insiders). This is like To-Do, Cortana reminders, Microsoft Launcher To-Do ... how many to-do systems can one company offer? Apparently, three.

I hate this feature where things get marked "read" Facebook created the feature and it's ridiculous. Back in the day, you sent someone a message and then assumed they read it. There was no need to have each and every message marked as read. It is a feature that causes anxiety, not comfort. And I was always very happy with Skype for staying more traditional and not using this feature. This is an annoying feature for millenials who want to see if their crush has read their message. It's not something that should be included in a business app like Skype. Stop trying to copy facebook and Whatsapp. I would really like this feature to be taken out. I am regretting having upgraded v7 was pretty good. And it won't let me go back.
Windows Central Newsletter
Thank you for signing up to Windows Central. You will receive a verification email shortly.
There was a problem. Please refresh the page and try again.