SMITE closed beta for Xbox One begins, $30 Founder's Pack unlocks all the gods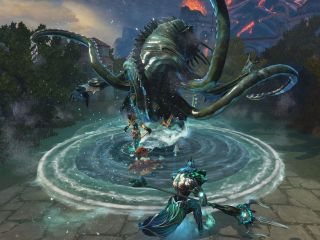 After launching a closed alpha test earlier this year, developer Hi-Rez Studios has started the closed beta test on the Xbox One for their popular PC fantasy MOBA game SMITE.
Anyone who participated in the closed alpha can also check out the game in closed beta. Everyone else can sign-up to be picked for the beta test at the official SMITE website. While the game is free-to-play, Hi-Rez is offering anyone a way to instantly gain access to the closed beta with the $30 Founders Pack. It also includes access to every god character in the game, plus access to any future gods. The Founders Pack will not be available after SMITE officially launches for the Xbox One, which will happen sometime later in 2015.
Here's a quick rundown of SMITE
ENTER THE ACTION - Unlike other MOBAs, SMITE takes you directly into the action with a third-person perspective, letting you see the battle from an up-close-and-personal point of view. From blind-side ambushes to eagle-eyed aimed shots, a new universe of strategic possibilities awaits.
RISE AS A GOD - Thor, Kali, Ra, Zeus, Sun Wukong and many, many more--choose from over 60 playable Gods, and blast your foes with legendary weapons, earth-shattering powers and unique strategies.
JOIN THE GLOBAL PHENOMENON - With leagues and ladders for every level of play, SMITE's burgeoning eSports community has room for everyone, whether you're new to the game, or competing in front of a global audience at the annual SMITE World Championship.
TACTICAL GAMEPLAY - Master your godlike abilities to fulfill key roles such as damage dealer, tank, crowd control and support. Explore the map and defeat enemy NPCs for increased gold and buffs that help both you and your allies. Then deny your opponents victory with perfectly executed ambushes and teamwork.
POWER UP - Within a single match, your God levels from 1 to 20, strengthening your abilities with each step. You can purchase in-game items and consumables to benefit your God and complement your personal play style, buffing your magical power, physical power, defense or utility as you see fit.
CALCULATED STRIKES Every attack in SMITE is a skill shot that you control. Ranged attacks must be carefully aimed, melee attacks properly positioned and Area of Effect damage targeted precisely. Predict your enemies' movements and hit your mark for maximum impact in fast-paced combat.
FREE-TO-PLAY - Everything affecting gameplay in SMITE can be earned by simply playing the game. Players have access to an initial set of playable Gods for free, while additional Gods can be unlocked steadily through gameplay time or more quickly through micro-transactions. Cosmetic skins can also be purchased for further customization.
Source: SMITE
Windows Central Newsletter
Get the best of Windows Central in in your inbox, every day!
I tried the game. Not really my style. Had no idea what to do.

I was about to come here and comment the exact same thing. XD

Same here, kind of lame. Wasn't worth the big lead up, worse than League of Ledgends

Diferent style, not a typical moba ;)


Heard this game is already getting big ...people who like the genre think it may be a game changer for Xbox one.

I was into that moba style at one point with League of Legends, but this is just the same. Like zero difference.

I was just never really into mobas. =/

Zero, except the whole difference of it being 3rd person :/ You might have missed that in the MASSIVE blue text in the article hehrrh

Both games are 3rd person...

Is that a kraken in the picture

Great game. Already bought my founders pack. This game is awesome if you love MOBAs

I'm not a huge fan of MOBAs, but SMITE really works for me. The 3D 3rd person view is really great and compliments the game rather than the usual perspective MOBA-games have. Definitely recommend trying this out at least if you can do so for free.

I've played a few times (score for the XBOX Preview members who got into the Alpha!) and I've enjoyed it. MOBA's (for me) are meant to be played with a controller... this game can be a lot of fun (and equally frustrating) when played with friends! I've enjoyed this and Happy Wars on the XBOX One... Coreldan - We need to game together again... this whole taking a new call in another state thing is eating up all my time though! Hopefully things will settle down once I move in June!

The game is good, been playing the closed alpha for a while now, and the pc version a little longer. The transition from kb and mouse has been an interesting learning curve but still a fun game. The only problem is new players, once XB1 users learn the meta of the game the over all quality of play will improve, which should make it more enjoyable.
Windows Central Newsletter
Thank you for signing up to Windows Central. You will receive a verification email shortly.
There was a problem. Please refresh the page and try again.