The next big Windows 11 feature update will be a breeze to install
Microsoft says version 23H2 will only take a few minutes to install.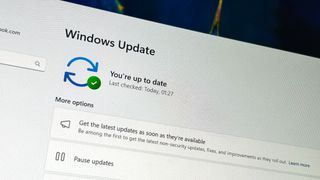 (Image credit: Windows Central)
What you need to know
Microsoft has confirmed that Windows 11 version 23H2 will be released as an "enablement package."
This means the update will install like a monthly security patch, and take only a few minutes.
This ties into Microsoft's new development cycle for Windows, which will see the next major version of the Windows platform launch in the second half of 2024.
---
Microsoft has announced that the next major Windows 11 feature update known as "version 23H2" will be launching this fall in the format of an "enablement package" release, which means the update will download and install much like monthly Windows security updates, and take only a few minutes to complete.
This stands in stark contrast to how the Windows 11 version 22H2 release shipped, which was a full-blown platform upgrade that could take anywhere from five to 20 minutes to install depending on your hardware. Microsoft has shipped many Windows feature updates as "enablement package" releases over the last few years, including the last four Windows 10 feature updates.
This doesn't mean version 23H2 for Windows 11 won't be chock full of new features, however. In fact, 23H2 is shaping up to be quite a big deal, with a brand-new File Explorer design, Windows Copilot, and other quality of life improvements expected to make the cut for release towards the end of this year.
Microsoft hasn't yet said when Windows 11 version 23H2 will begin shipping, but if history is anything to go by, we can likely expect to see it make an appearance sometime in October.
Technical analysis
So, why is Microsoft opting to ship 23H2 as a servicing style release instead of a full-blown OS upgrade? Well originally, that was the plan. When Windows 11 first launched, the company had envisioned a schedule that would see the company ship one major version of the Windows client on a new release of the Windows platform every year.
We first had Windows 11 version 21H2, codenamed Sun Valley and based on the Cobalt platform release. Then there was Windows 11 version 22H2, codenamed Sun Valley 2 and based on the Nickel platform release. Now, we're coming up to Windows 11 version 23H2, which was originally codenamed Sun Valley 3 and would have been based on the Zinc platform release.
But last year, Microsoft decided to scrap plans to ship a new version of the Windows client on a new platform release annually, and instead pivoted to a more traditional three-year development cycle. That means Sun Valley 3 was scrapped, and version 23H2 became a feature update based on the same Nickel platform release as version 22H2.
So that's why Microsoft is able to ship this coming release as an enablement package, as version 23H2 is now just version 22H2 with a bunch of more features added to the mix. There are no major platform changes or enhancements being introduced with version 23H2.
The next version of the Windows client is expected to ship on a new release of the Windows platform in the second half of 2024. Many on the internet have dubbed this release as "Windows 12," but only time will tell if Microsoft opts to brand it as such. All we know is this is when the next major version of the Windows platform is expected to ship for the Windows client OS.
Get the Windows Central Newsletter
All the latest news, reviews, and guides for Windows and Xbox diehards.