Windows 11 version 23H2: All the new features and upgrades coming in Microsoft's next big OS update
The Windows 11 version 23H2 update is coming in the next few weeks.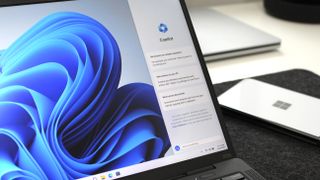 (Image credit: Windows Central)
The next major version of Windows 11 is on the way, and we already have a pretty good idea of what's included when it launches this fall.
Windows 11 2023 Update
- Version: 23H2
- Build: 22631
- Codename: N/A
- Preview channel: Dev, Beta
- Release: September/October
Microsoft has already unveiled a bunch of new features that will ship as part of this release, and this article aims to detail those plus even more features that have been added to the Windows 11 preview builds since.
The Version 23H2 release is almost ready, which means much of what the update will entail is already public in preview builds. We'll keep this page updated with any additional features that may appear between now and when the 23H2 update ships this fall.
Just like previous Windows 11 feature updates, the 23H2 release will be a free update for all existing Windows 11 users, meaning the best Windows 11 laptops on the market will support it. If you don't yet have a Windows 11 license, you can buy one online.
Windows 11 version 23H2: Release date
Windows 11 version 23H2 doesn't yet have an official release date, but if history is anything to go by, Microsoft usually releases its fall Windows 11 feature update in the September or October months, so that's likely when the version 23H2 update will launch too.
The update will be free for all Windows 11 users, and the download and install process will only take a few minutes thanks to the underlying update technology Microsoft is using for this release. Instead of a full OS upgrade, the version 23H2 update will apply like a monthly security update.
Windows AI Copilot
The biggest new feature Microsoft is working on for the version 23H2 release is a new AI assistant dubbed "Windows Copilot," which uses the same tech powering Bing Chat and the Microsoft 365 Copilot to help users be more productive by understanding complex queries, commands, and understanding context.
Windows Copilot will essentially replace Cortana and be able to help users with changing settings on their PC, launching playlists in Spotify, summarizing documents, texts, and webpages, and even initiate snap assist and other Windows functions. The Copilot exists as a button on the Taskbar that will open a sidebar when clicked that features a chat box and conversation history between you and the Copilot.
Here's the official Windows Copilot description from Microsoft:
Invoking Windows Copilot is familiar and easy – the button is front and center on your taskbar – simple to find and use. Once open, the Windows Copilot side bar stays consistent across your apps, programs and windows, always available to act as your personal assistant. It makes every user a power user, helping you take action, customize your settings and seamlessly connect across your favorite apps. The things you love about Windows – copy/paste, Snap Assist, Snipping Tool, personalization – they are all right there for you, along with every other feature on the platform, and they only get better with Windows Copilot. For example, you can not only copy and paste, but also ask Windows Copilot to rewrite, summarize or explain your content.
The Windows Copilot is already available in limited preview in the latest Windows 11 Insider preview builds. Third-party plugin support is expected to launch this fall alongside the 23H2 release.
New File Explorer
Microsoft is working on a major update to the File Explorer app on Windows 11 that will bring with it even more modern interfaces, as well as a redesigned "header UI" that's more similar to what you'd find in a web browser. The top of the app features tabs, and below that are you forward, back, and home buttons, next to the address bar and search box.
Below that you'll find all the usual File Explorer commands, such as copy, paste, cut, etc. Microsoft is also updating the folder view, home page, and details pane with a modern design as well, which will make the rest of File Explorer feel more consistent with the rest of Windows 11.
There's also a new Gallery feature in the works that will provide a rich viewing experience for all the photos on your device, in OneDrive, and synced with Phone Link. It features a timeline that allows you to quickly scroll back in time, and there are options to jump straight into editing a photo using the Photos app.
Windows Backup
Microsoft is finally bringing a cloud backup tool to Windows 11 with the version 23H2 release, which will make it easy to backup settings, files, and apps to your OneDrive storage for restoring when setting up a new PC for the first time. When logging into a Microsoft account, users will be prompted to restore from a previous PC and bring over all their settings and apps with a few clicks.
For apps, the restore process is powered by the Microsoft Store, meaning only apps that are hosted in the Store will be backed up and restored. Settings and files will continue to be backed up and restored like normal, using your Microsoft account OneDrive storage to store the information.
Taskbar ungrouping
A classic Taskbar feature is making a return with the version 23H2 release coming later this year in the form of app labels and ungrouping! This is a feature that was available in Windows 7 through Windows 10 but was removed when Microsoft rebuilt the Taskbar for Windows 11.
Its return on Windows 11 comes with a new function: the ability to show labels even on apps that aren't running. Windows 7, 8, and 10 only offered the option to show labels on running apps, but Windows 11 is adding the ability to show labels on pinned apps that aren't running too.
New volume mixer
Microsoft is updating the volume mixer to be more useful when adjusting audio levels from specific apps. Starting with version 23H2, users will be able to use the Windows 11 quick settings panel to manually adjust audio levels from individual apps that are playing sound.
This means you'll be able to turn the volume down on Spotify and turn up the volume in your video calling app, allowing true audio level mixing straight from the modern Windows 11 quick settings panel.
7zip and RAR support
Microsoft is finally bringing native 7zip and RAR support to Windows 11, meaning you'll no longer be required to download third-party tools to handle those archive types. Windows will be able to handle unzipping and zipping 7zip and RAR files with ease, along with .tar and other open-source archive formats.
This functionality will work anywhere where Windows surfaces files, such as the File Explorer, desktop, and file picker interface.
In-box RGB peripheral customization
Gamers will rejoice as Microsoft is building RGB peripheral controls directly into the Windows 11 Settings app, meaning users will be able to customize RGB settings on keyboards, mice, monitors, and other devices and accessories without downloading third-party software to do so.
Microsoft calls this feature "Dynamic Lighting," and it's going to be great for devices from the likes of Razer that feature incredibly bloated third-party tools for customizing their products. Now, if you just want to change the color of your lights, you can do so natively through Windows 11 and the built-in Settings app.
Dark mode in Paint
Paint is getting dark mode after 37 years on the market. The app originally made its debut with Windows 1.0, and while Windows has only had dark mode since 2015, it's good to finally see Paint joining the party with its own dark mode.
Microsoft unveiled dark mode in Paint alongside the original Windows 11 launch version in 2021 but didn't actually ship it until now. The app is also getting an updated zooming functionality, with a more incremental drop-down menu with custom percentages and smooth zooming.
The app is currently in preview with Insiders and will roll out in the fall with version 23H2.
Widgets Board updates
Widgets Board updates
It wouldn't be a Windows 11 feature update without changes to the Windows Widgets Board. The version 23H2 release is expected to include more customization options for the board, including new layouts that allow the user to choose between having widgets separated from the news feed, mixed with the news feed, and no news feed at all.
That means Microsoft will finally let users disable the MSN feed in the Widgets Board with the Windows 11 version 23H2 release later this year.
Windows Dev Drive / Dev Home
Windows Dev Drive / Dev Home
If you're a developer, Windows 11 is getting better with the version 22H2 release, which adds a new Dev Home app that's designed to make setting up a new dev machine as easy as possible while also providing an overview of your machine, GitHub projects, and more.
Dev Home can connect to your GitHub account and pull in the latest changes and requests. It also includes a bunch of system-monitoring widgets that can be added to the Dev Home app or the Widgets Board. These widgets include CPU, GPU, Memory, and Network.
Dev Home goes together with a new Dev Drive feature, which lets developers create a system partition specifically for software development. A Dev Drive partition is ReFS formatted and offers more performance for projects with hundreds and thousands of files, like games or complex apps.
Get the Windows Central Newsletter
All the latest news, reviews, and guides for Windows and Xbox diehards.