Some Lumia 950 and 950 XL phones in U.S. and Canada receiving OTA firmware update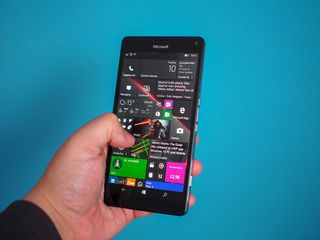 (Image credit: Windows Central)
Update Looks like some unlocked (non-AT&T) Lumia 950 devices are receiving the same update in North America as well.
We have received a number of tips from U.S. and Canadian Lumia 950 XL owners that those phones are getting a new OTA firmware update. This appears to be the same one that Microsoft started rolling out earlier in July.
As we reported, this update includes the return of the "double tap to wake" feature, along with a fix for recurring Wi-Fi disconnections. Here is the full changelog posted by Microsoft (opens in new tab):
Wi-Fi connectivity improvements, including fixes for Wi-Fi connection dropping randomly and Wi-Fi scan occasionally not returning any results.
Support for double tap to wake enabled.
Bluetooth connectivity improvements.
Stability and reliability improvements.
Camera improvements, including improved image and video quality, improved Auto-focus and fix for a problem that was causing slow motion capture to skip frames for some users.
Cellular connectivity improvements, including fix for a problem that caused occasional network loss for some users.
Audio quality improvements, including fix for a problem that caused voice call audio to get scrambled for some users.
To see if your phone is getting this update, go to Settings > Update & security > Phone update > Check for updates. If eligible you will see MICROSOFTMDG update. This rollout appears to be just for Lumia 950 XL owners, and not for Lumia 950 users in North America. It's likely those phones will get this update during another rollout.
Thanks to Michael, "Chilly Willy", Praveen, and Demitrius for the tips!
Just got it on my L950 in North America...

Same L950 variant here... my phone just told me it was ready to install. :-)

The north America version of the 950Xl dual sim it's operator 000-88? Because I got yesterday on my Lumia 950XL the update via WPRT not yet via over the air

No, it is 000-US for US model, not sure about canadian model.

Oh ok then 000-88 must be an global version

Yes! Checked and it was there in O Canada!

950xl unlocked Canada updating!

Same here. Showed up right after the insider .5 update

I'm hating you Canadians right now.

Boo hoo Our tears are making icicles down our frozen cheeks :'(
(950 & 950XL with updated firmware)

I'm hating anyone who doesn't have an ATT Branded 950

If I may ask, on wich carrier are you?

Yep, getting on my 950xl right now. Finally.

Oh happy day! 950XL U.S.A.

Mine as well. Tmobile, Unlocked 950XL.

my carrier is at&t, i had bought mine from Microsoft Store and the firmware update shows up for me.

The problem is not AT&T, it is AT&T's locked 950's.

Yep. dropping wifi has been my only issue with the 950xl. So fixing that and bringing back double tap does make this a happy day!

Am getting this update on a L950 in the UK.

Aaaarrrrrrgggghhhh, not on XL. Not even on WDRT!!!!!!

Same. I flashed mine back and got nothing. Save for a week of setting the damn phone up again because the Start screen never restored. Bloody nuisance.

To get the update by WDRT, you have to manually download the correct file & run some command line commands to flash it. Firmware & instructions are here: http://www.lumiafirmware.com/

Is there a way to do this with an ATT branded phone and just flash the unlocked firmware?

Nowt on my 000-GB XL either... I'd decided earlier today to bite the bullet and do it via WDRT, only to find it wasn't available there either! I suppose I shouldn't be too upset, I've been really lucky to never have had a single problem, crash, lag or common issue with this device on any build, in any ring... But maaaan... DTTW! :'(

Great tip! Downloading now

Just got it on my L950XL.


Updating.......I'm loving it

Just got it on my Unlocked Dual Sim 950 on T-Mobile in US

US L950XL Got it. And to think I almost wipe my phone yesterday. I was getting impatient!

Haha! I've stopped myself from doing so many times.

MICROSOFTMDG coming over on my Lumia 950, unlocked on T-Mobile! TtoW here I come!!

Downloading now! Woohhooooo! Unlocked 950XL

Hi all good evening update downloading in the UK

What network are you on? Nothing for my 950xl.

I got it on Three UK just now

Why no 4T9?? The rest of Europe have it except us and France!! I dont understand it, they cannot be that different!!

Still waiting for it on my Lumia 950 here in Denmark. EDIT: Got it this wave. Finally!

I like when people say where they are from.

I guess, most of the phones are having this WiFi connectivity issue, I'm using Lumia 830 and there're lot more bugs as well might be related to firmware update. (build: 10586.494). *non-insider*

I don't have any issue :/ Same model and os version.

Unlocked device?
FW version?

I started getting WiFi issues after the .5 update yesterday on my 950 I use for testing. I had applied the firmware last week using WWDRT. My 950XL on the last production build with this firmware update from WWDRT has been great on my WiFi since day one. My icon on the other hand has been flakey from the start, not just at home but even on my work WiFi.

Go to the insider ring. It's much better now which is very surprising

I knew as soon as I updated by WDRT testerday, it would be available OTA. That's okay. My phone is clean and updated and smooth

I was tempted to do the same thing, but not all of my games backup my progress. I got tired of replaying the same levels after the sixth time haha.

Nothing in the uk on ee...

Downloading the update now!

I was willing to bet it was gonna come this Tuesday after being released to WDRT last week... Downloading on TMobile in Chicago, Lumia 950XL DS

hey thanks for the heads up! downloading now, lumia 950 xl purchased from microsoft store u.s.

Updating in Canada Right Now :)

It just showed up on my unlocked dual sim 950 in the U.S. too!

950 XL CV UK no update here yet !! :(

Everyone else on xl in EU has it. I'm a bit miffed. There can't be that much of a difference. Most radios are the same etc..

Downloading now on my 950 XL Dual SIM unlocked in the Seattle Area.

Argentina too!!! Yeah! Unlocked Lumia950XL on Movistar. Double-tap to wake come to papa...

Woo hoo!!!!! AT&T unlocked 950XL downloading now!!!!!! :)

yep I'm getting it too!! 950xl Dual sim Unlocked Middle East!

How wretched, you live in Indiana?

Getting it here in the UK too, Lumia 950 originally locked to O2 but running with THREE SIM currently.

My unlocked 950 get the update too

Receiving it on my L950 in UK now :)

Anyone hear if MS plans to add double tap to wake for 650? I assume the hardware can support this but perhaps not....

950 &Xl DS from the ms store on AT&T got it.

Australia here......Downloading :-)

Can confirm, unlocked 950 XL got it.

It's nice to have double-tap to wake on my L950XL

Just getting it for my L950 here in Ireland !!

Just checked my phone and i'm getting the update right now. Utah. Can't wait to try the new features and the double tap to wake

Just downloaded it on my unlocked dual sim 950 here is U.S.

I just checked my phone and the update is out now for Lumia 950 in Australia unlocked (interesting), it wasn't there 4 hours ago.

Just got released. My phone checked at 830AM PST and still said nothing. Did a manual check now and it's good to go! Dual sim unlocked.

Anyone did before and after comparison of camera behavior/output?

I've been using my camera quite a bit lately. Hoping it has less front to back hunt at each focus, not that it was slow, but faster is better.

Hope Celular connectivity really get fixed. Beacuse my Lumia 950XL loss it every time I get out from a WiFi signal

Still nothing for AT&T 950...

Just downloaded and installed.
Lumia 950 XL in DFW, Texas.

Don't get me started!!!!! The only model, 059X4T9, in mainland to NOT even get wdrt, serves GB, FR etc. Annoyingly the 950 series right across the European continent, had it some time ago...all variants, country codes... Where's the XL one???

I'm getting it on my 950 in Georgia.

Got it on L950 in Ireland.

Received. CND on Rogers unlocked 950 dual SIM.

Finally got it on my unlocked canadian 950xl dual sim!

yeah! got it! 950XL in New Zealand

Woohoo! Unlocked L950XL in Connecticut. Downloading now.

DTTW is working like a charm!

Installing - Unlocked 950XL Dual SIM on ATT

I just got it in my Lumia 950 unlocked UK london just before i send it back for repair, lets see

For those of you wondering like I was, this is not turned on by default, or at least mine wasn't. I had to go into Settings - Extra - Touch and turn it on. It works great and is much easier to wake my phone up now. Very nice.

Thank you finally someone saying how to enable! downloaded this update hours ago but couldn't find that setting -works now, unlocked L950 ds, Canada

Downloaded on 950XL unlocked on ATT. After reboot its stuck on blue windows logo. HELP!?!!?

Leave it on charger for an hour or so. There was an old bug where this would occur. The solution was to leave it to migrate. I think it is doing stuff in the background. If two hours and still it didn't do anything, restart.

Thanks for the reply. I waited for 15-20min then I reset, had to do this with OS updates too in the past but this time it didn't show the migration screen after so I was hella worried. Ended up popping out the battery and it finished the process up.. whoooo!

I heard its causing major batter drain by enabling it...

Got mine. Unlocked dual sim 950xl.

Brilliant double tap to wake at long last. Should have always been there. UK here

Just downloading on my L950 single sim (unlocked) in Romania.

Getting updated now on a unlocked (non-AT&T) Lumia 950 on T-moble.

Updating now... California!

NY- T-Mobile ready to go but battery must be @40%.... :-((

I can see it on my unlocked 950 from the Microsoft Store here in New Zealand:)

Mine is finally hitting my phone. Live from Dubai!

Anyone on Vodafone uk got the update yet???

Should be available for 950. 950XL is a no go for every UK device at present. Take battery cover off of your device, make a note of the 059Xxxx number and check on lumiafirmware.com

Thanks AT&T for being on the forefront of keeping our phones up to date with the latest improvements.

Downloading.......... NOW in Baltimore, Maryland on my Unlocked Lumia 950XL on T-Mobile! Looking forward to the awesome addition (double-tap to wake) and fix (Wi-Fi).

Downloading now on 950 DS unlocked on AT&T Pennsylvania, USA

Anyone know the firmware version number?

01078.00053.16236.35005 http://windowscentral.com/us-lumia-950-ds-now-has-double-tap-wake-firmware

How do we enable Double tap to wake? I dont find it in the settings.

Hi go to settings, extras then touch, there is now an option to enable double tap, hope this helps

If you're running an unlocked phone, no need to post the carrier. It's irrelevant and causes confusion. No AT&T variant, purchased, branded.... Whatever name you want to call it phones are getting the update. AT&T needs to "test" the firmware to the point of you bringing in a phone having and issue and then shoving ios down your throat.

Showing up and updating now. Lumia 950XL on AT&T purchased through Microsoft Store.

My unlocked L950 just updated in Australia

Finally, double tap on my 950 XL, T-Mobile Los Angeles.

Yes! Finally got it. Hopefully the Bluetooth connectivity improvements will help with Band connection issues.

Yeppp...! Downloading in KSA , Saudi Arabia. Thumbs up MSFT. <3

Line is downloading now 950xl unlocked on tmo

Got it today. Saudi Arabia . L950 dual.

Got the update in Australia as well! Posted via the Windows Central App for Android

Available now in Australia for 950XL. FINALLY!!!

Downloading now 950 XL DS USA on AT&T

Im in L.A. and dl now! 950xl duel sim Happieness!!!

Just read the article and checked. I have a 950 and it's there. Downloading. I am in Barbados and have a US version phone.

I got the update 950xl in US

950xl dual sim tmobile central Florida, got it.

Just got it on my 950 in the uk

Just received mine for my 950XL in Los Angeles, CA. 3 restarts necessary.

950XL DS from MS, in Dallas, on AT&T installed and rockin!

Double tap to wake... that little difference... That makes ALL the difference!

Got it Canada! Been checking everyday for this :)

just downloaded it (Australia) though it didnt fix my main issue i have constantly, is the network just drops out and the phone pretty much goes into offline mode and nothing works :( They still havnt fixed that even though above says it has...

AT&T 950 (Locked Obviously) - no-go...

Seems that scrolling is less jerky now as well with the latest .5 Anniversary Preview build.

Getting OTA update here on Optus Australia as well on 950XL... Downloading right now!

Just got this update on my UK 950 whilst on holiday in Portugal.

I have a Lumina 950 dual sim. Update received. Download in progress and waiting to see if the fixes are real

I installed the FW on my 950 but my SIM2 still disconnects from ATT network...must be the broken OS production build....

My 950XL is updating now (USA).

Just checked and mine is there. 950XL dual sim, unlocked.

Confirmed!!! USA TMO 950XL Dual Sim Unlocked. Insider Fast.

I updated by windows recovery tool but double tap not working properly sometimes it works but mostly not working.

I got the update a few hours ago. This is the first phone that I've had with this feature and I love it.

Could you do a update review on the 950/950XL running the latest build? Is it running smoothly? How is Edge performing?

Anyone have a time frame for the single sim 950 on AT&T?

Anyone know where to enable the double tap to wake?

Got my update! Posted via the Windows Central App for Android

Got the update, unlocked 950 in Australia

Awesome. Finally here in Australia on 950XL

Yea it downloaded on my 950xl last night in Australia.

Got mine this morning. I've installed it but can't find double tap to wake. Australian Lumia 950 XL (Optus variant purchased outright) Edit: Nevermind. I found the option as per comments on this thread.

Unlock Dual sim Lumia 950 Jamaica

Good one. 950XL Australia.

It's live now in Australia.. 950xl

and over the ditch in New Zealand. 950.

Yes. I've usa version dual sim unlocked 950xl and just got the firmware update

Still can't fix the Glance Screen too dimmed or blackout problem since last firmware. It kills my Glance Screen and some in the forums.

To me don't work the double tap for wake up I blame to the glass protector for the display

You have to to to Settings, Extras, Touch to set it

I got my update in the Uk on my 950

Finally got it :) ,, Emirites - Middle East - Lumia 950 dual sim RM-1118

Anyone else now have a proximity sensor bug. When on a phone call (having been on the call for at least 30 seconds) if you move the phone away from your ear the display doesn't appear. You have to press the power button 2 or 3 times to get it to show... Argh!!! Resetting phone seems to fix for a little while but then starts happening again.

Got it just now in PR! Double tap to wake, finally!

I'm from Colombia and I already have the update on my 950 dual sim at the slow ring

Still waiting here. Grrr.

Hi! Got mine yesterday! Double tap works

Any got the update from Telus network? I keep checking for updates but nothing shows up.

Recieved the update today. Yay double tap to wake! However, it appears to have broken my call recording functionality. I cant even slect an app to manage my recorded calls. This happen for anyone else? I guess a hard reset it on order for my thats such a pain in the ... esp for a non insider/retail build.

Anyone else having a broken front camera (error when trying to switch to it) on USA unlocked 950xl? Was hoping this firmware might fix that issue

Anyone else receive the update but not the double tap to wake option?

Got an update finally yesturday and I can not find double tap to wake... :( US ATT locked

This Update seems to have made my WiFi worse and also, I can no longer get mobile data (at least while roaming in Seattle)

Also now available in Australia.
Windows Central Newsletter
Get the best of Windows Central in in your inbox, every day!
Thank you for signing up to Windows Central. You will receive a verification email shortly.
There was a problem. Please refresh the page and try again.