Someone got their Windows 10 Mobile phone to work with their in-car display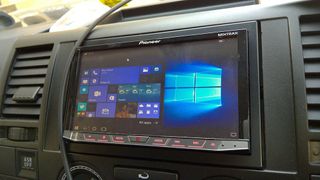 If you own a car with an HDMI port in your display, you might be able to hook up a Windows 10 Mobile phone and have it work on that screen.
Windows Central reader Matthew Johnson alerted us to his experiment on Twitter with a Pioneer in-car display. As you can see from the image, connecting the phone to its HDMI-in port seems to work:
Johnson notes that the display is not a touchscreen, so he can't actually access Windows 10 Mobile directly on his car, but it does show that Windows 10 Mobile's Continuum feature could be used in some vehicles with the right hardware inside.
Windows Central Newsletter
Get the best of Windows Central in your inbox, every day!
You can say that again. Posted via the Windows Central App for Android

One more time with feeling!

KNOCK KNOCKING ON HEAVEN'S DOOOOOOOOOOOOOOOOOOOOOOOOR

Tesla here I come! (I hope the model 3 has an HDMI port)

I always thought the UX with the big tiles would be perfect for cars Better than ford sync anyway...

Awesome indeed. I wonder, since I have a 950XL and a touchscreen Dell monitor, would using Contiuum and pluging in the monitor's usb connections into a Continuum dock enable touch? hmmmm

MS is working on making touch screens work with Continuum on phones so I think it's a software issue. Hopefully it will come with the Anniversary update.

I would go back to Windows Phone for this.

I've wanted to do this for a while. I'm pretty sure it was mentioned either here or in a build session that support for touchscreens was coming. I have wanted something like this in my car since I saw continuum and would love to write an app I could use for my in car entertainment etc.

Dam that looks sweet. C'mon MS, this man has laid the groundwork ☺

Laid the groundwork for what? All he did is plug the phone into an HDMI port. It's cool to see, but he hasn't done anything special here other than use Continuum as provided by MS.

Change your name to "buzzkill"

My bad. I think I misunderstood his point. See my other post below. Sincerely, Capt'n Buzzkill

Geez dude calm down, I know he simply connected a cable to a dock and extended to the screen in his car but the idea/concept as win10m as an in-car HUD is what im pushing towards.

in time young jedi. The force is coming. I can't believe the Verge banned me because of my thoughts on Windows 10, but they allow iOS and Android fanboys bash the hell out of Windows 10 with no remorse. I can tell you this. Motorola had it's day as king and no one thought they would be replaced... Nokia had their time at the top and no one thought they'd be replaced... Blackberry had their time on top and no one thought they'd be replaced... You see where I am going with this? iOS and Android both are the top mobile Operating systems out there but it is advancements such as this that continue to seperate Windows 10 from those OS'. Imagine in the next couple of years using an HP Elite X4/5 or Acer Primo Jade 2/3 or yes that coveted Surface phone for EVERYTHING!!! Not to just put in your pocket and take a snapchat photo but to actually do everything from personal computing, business, personal, in car entertainment system as provided in this article, a basic phone, a smartphone, a didigtal projector through wireless connect via continuum, play xbox games and PC games, the possibilities for Windows 10 and Continuum are endless. Repeat THE POSSIBILITIES FOR WINDOWS 10 AND CONTINUUM ARE ENDLESS. While Apple and Google continue to build a flat ecosystem MSFT is working on a revolutionary product/OS. In time just like the beforementioned companies and devices the iPhone will fall, I can't say the same for Android because there are multiple manufactures and products but Apple's lone device will fall just like the leaders before them

Lol re the Jedi reference but I like to think im past padawan when it comes to win10. I like to see the positives and potential even in the smallest endeavours because you just never know were it could lead but I guess for others here unless its big and in your face, it ain't good enough(which is their propagative of course). For me continuum is and will push win10m beyong iOS and Android and if MS continues in their current trend, it will happen sooner than we all think.

I agree with nearly everything except for "sooner than we all think", realistically I don't think we will see any real change until 2018 and even then I'm only talking like 5-10% global market share. The problem is, as soon as Apple and Google see Continuum and UWP gaining ground they will very quickly copy it, in fact I'd be surprised if they weren't already working on something similar in secret, just because a company says they aren't or they won't doesn't really mean anything. My hope is that W10 desktop share will be a lot closer to the 1 billion mark by 2018, Redstone 2 in the wild for a while, app gap closing quickly, multiple devices in the wild "Surface Phone 2" etc and a huge marketing push on the mobile front, with all that in place it will be difficult for Apple and Google to catch up in terms of features and hardware so if Microsoft keeps pushing hard eventually they will claw back a large chunk of mobile market share and I really do hope that one day it ends up being 1/3rd for each platform, I think that would be the perfect way to keep the scales balanced and force all 3 companies to innovate constantly. Posted from my Lumia 950

Well its certainly true that when you are at the top there is only one way you can go.

Same goes for being at the bottom, so if Windows Phone / Mobile is "dead" like most of the world keeps saying then it must be a good thing for the future right? Posted from my Lumia 950

Geez. What a grouch. SMH.

I guess some still feel burnt by ms' approach of slow and steady. By that's just my guess.

No. I probably just read too much into the "C'mon MS" part of your post. It sounded as if you thought MS was accomplishing nothing while this guy had "hacked" or invented something amazing. I was trying to point out that MS paved the way for this via Continuum, which is a truely inovative concept. Anyway, I see where you are coming from now and I agree that it would be cool to see a version of W10M for cars at some point. This does serve as a demo of how it might look.

Right, I had my Zune HD playing video on my JVC in dash five years ago and that didn't seem like a big deal. It's an hdmi out and a video screen, this should have happened years ago with Windows Phone. Is this brand so tired that customers are elated by things others have been doing for years?

Proper way to say this is that this guy potentially identified a new use-case for touchscreen support for in-car entertainment. Its only a matter of time until automanufacturers (read as "Ford") starts advertising their cars to be W10. If you really think about it, they could just put a miracast tourchscreen, and maybe run a little PC and just build some apps and not have to spend much time designing the equipment. The usualy worst part of electronics in cars is usually their electric systems and displays. Now, they basically just drive a touchscreen display with W10 on it, put some of their apps on it. Way better business model for them. Probably more secure then. Oh.. And just to throw it out there... MS Hello for starting and operating the car.

And MS Hello for unlocking the car as well. Like, fingerprint readers for door locks?

Or they could implement a cable for your smartphone to show onto the display that would also implement the touchscreen. Your phone could switch to a car vehicle focuses UI and apps could also use this same UI. Oh yeah, that is right. They did this year's ago and many new cars already have it and they are cross platform with Android and iPhone. For some reason Microsoft didn't make Windows 10 compatible. Posted via the Windows Central App for Android

Well a passenger could still use the phone to navigate. From WC App on 950XL

Guessing touch doesn't work?

Doesnt the article state that?

Impressive! The possibilities of what to do with Continuum are showing everywhere.

Microsoft should be impressed and try to make it possible for all cars in future so we have lavish social display and a GOOD OS in our cara

This is the place where one can use continuum.

I've been thinking of doing something similar putting a cheap Windows 10 tablet in my car and using the new Connect app to use Continuum wirelessly. This way, Continuum content could be displayed side-by-side with other non-Continuum content. This could effectively allow a navigation app to continue to be visible while attending painfully long conference calls while driving to the office. Other content useful for a passenger could also be displayed side-by-side on the same display (such as on road trips, they could read Yelp reviews of potential dining spots). Possibilities are pretty endless, really. At the end of the day, while the possibilities are there, I still ask that everyone err on the side of safety and leave the driver focused on driving (i.e. don't watch a TV show in the front seat). Posted from Windows Central for Windows 10

Well, once we get those "self-driving cars," then we could get rid of the steering wheel and have a big 20" touch screen in front of us to play with while going to work. LOL

Or http://www.caranddriver.com/news/nissan-urge-concept-auto-shows

Regarding touch functionality on a Continuum display, I believe that's planned for implementation in the Windows 10 Mobile Anniversary Edition release. Posted from Windows Central for Windows 10

This is the future... Posted from Windows Central on Windows 46 Interstellar Edition

Even without touch support, it's only slightly less useful than Android Auto. I have the same stereo and I've tried CarPlay and Android Auto. CarPlay is okay, though it doesn't actually do that much. Android Auto, on the other hand, is pretty bad. Many features don't work at all, and it stops accepting input far more often than it ought to.

Touch support already announced with the next major update...

Does HDMI even support talking back to source to pass the touch and gestures? MHL does but I thought MHL is on top of HDMI.

DisplayPort supports it. It's high time everyone switched. :)

Yeah, I have the optional GPS "computer" plugged into the HDMI port on my Pioneer and it gets operated through the radio's touchscreen.

Well if it supports their Ethernet spec. sure it should especially with the new 4k spec. mhl

The new connect in PC can also be used to project the display which don't have continuum feature. But, it works like "project my screen" app released by MSFT long back.

more distracted driveing. update to article guy in accident due to paying with continum on his dash.

I would pay a crazy of money amount for a Kenwood eXcelon DNX running WM10 with an LTE chip, like double the normal price! BRING IT PLEASE!!!!!

I want Continuum in my car NOW. Not so that I can browse Instagram while driving, but because my phone is more flexible and powerful than the in-dash navigation system (not to mention updated more often). It just makes sense to power my Pathfinder's entertainment system with the phone to take advantage of the stream of continuous updates to Maps and Groove and all future UWP Continuum-enabled apps.

Agreed. Goodbye to the $150 nav update disks...

Android and iPhone have had "Continuum" in the car for a while now and they are even compatible with each other. Many new cars offer it. Microsoft is behind here as well. Posted via the Windows Central App for Android

Who needs CarPlay, or whatever Google calls theirs?!!!! Love this idea, be able to just use your phone on the in dashboard display.

Someone who wants to use their phone on the dashboard display needs Car Play (Apple) or Android Auto. Posted via the Windows Central App for Android

That radio is a touch screen. It just doesn't recognize the Continuum touch interface.

uh.... thought this method was common knowledge since any screen with HDMI in would work.... heck, some car-pc setup touchscreens support mouse emulation, so that with either the continuum dock or screen beam mini continuum edition should get you basic "touch" support, though calibration may be a problem on some.

Me too, since I can control my phone with my pc using project my screen app. And that's a regular usb cable

I just wish the project my screen app would allow your PC keyboard to type on the phone! That would make it perfect.

Nothing to see here. I postered this in the forums months ago when Continuum was released on the 950/950xl. Honestly, this is nothing special until Microsoft allows for USB touchscreen support.

If only they'd add continuum support via Mirrorlink...

This is sick Posted via the Windows Central App for Android

This as always been my idea, but few things: HDMI is not bidirectional so no touch screen someone tried with a usb-c touch monito, who said that touch works who said no MS confirmed that with redston will add support to touchscreen for continuum About in-car display you should try some model that use MHL, but as far I understand, the models that I found (EG: http://mobile.jvc.com/multimedia/kw-v51bt/index.html) use an old version of mhl, touchscreen signal is available only starting from MHL 3 (https://en.wikipedia.org/wiki/Mobile_High-Definition_Link) the best option would b a in-car display with usb-c or SUPERMHL or MHL3 cheers

The touch support is improving. On the latest versions of the insider builds, hooking the USB from my touch capable monitor to my Display Dock, does allow touch on the monitor to work. Additionally using Continuum on that phone (latest insider) to send to the new Connect app on an insider Win 10 PC, also supports touch on that PCs touch monitor to be fed back to the phone. That's a bit preview-ish, but it does work.

Wish this worked on my Toyota Touchscreen! It's a feature I've been wishing for since I saw Continuum come to life.

This is great especially with all the different in car UXs it would be my option to have Windows 10 as mine!

Whoa.. Nice experimenting brah

I have the touch version in my car, I'll try this. Posted via Windows Central app for Windows 10!
Proudly rocking my Lumia 1520!

Just try it in my Honda civic w/ hdmi, it work

I'm of the mind that all car manufacturers should set up their head units to be a dumb A2DP interface for any phone. A continuum passthrough would be perfect for W10M. In the very least my car should connect via Bluetooth with my phone better than it does. I.E. I don't have shuffle or replay and the music track and counter don't work. Also my Pandora app won't communicate with my Pandora function in my car. My car is a 2015. So it's not old.

You'll laugh, if you connect an Android phone to it, then Pandora on the head unit will even have thumbs up and down functions, display your stations and show song info and album art.

Well ive found it hard that even devices as old as se x1 can force connect to a handsfree kit that supposedly lacks a2dp but yet Android phones lack this ability

Car manufacturers are doing this. Microsoft isn't making Windows 10 compatible though. Android Auto and Car Play are though. Posted via the Windows Central App for Android

Too bad the GPS unit (AVIC U260) is alread plugged into the HDMI port in my Pioneer touchscreen stereo. And oddly enough, it's even operable by touchscreen. So... he connected a Windows Phone to a HDMI display. Woo, I guess?

So touch screen input is coming, I see the setting in continuum when I connect. With that, if I was still into customizing cars, all you need to do is put a touch screen, connected through a continuum dock, ideally somewhere you can just set your phone inthe car, and then plug it in with a single USB-C cable and your done. You coudl even still take calls on the phone while you use appropriate apps like groove and maps on the touchscreen. This would be slick! ​Hopefully they make Continuum with smart support so you can select Continuum for Car and Continuum for office, and Continuum for TV which would adjust the apps or size of display, etc.

This has been known to work already via hdmi/slimport/mhl via android devices and Pioneer Appradio. I have the setup in my car and have posted about it in the forums here before. Continuum is a new one that I haven't tested, but knew the current software wouldn't allow touch functionality because with the Android, it needs a certain app that uses bluetooth to enable touch input. If bidirectional support isn't available on using the Pioneer's implementation of mirroring, hopefully a dev can make an app like the one I use for Windows 10/mobile. The app is called ARUnchained on the Play store.

While his in-car display may not have a touchscreen, while he is not driving/or his passenger, can use the phone as the pointer pad/connect Bluetooth mouse to the phone or even use voice commands, possibly? Ugh, I'm at work...so boring lol =p
Windows 10 RULZZ yer FACE!!!

Interestingly for now, one could use a bt mouse or touchpad for navigation. Or, the phone itself as a touchpad. Albeit, I'd imagine it being very frustrating to use driving.

Actually, albeit without touch, most cars can make your Lumia screen display on the in car display. How? RCA Video in, RCA to HDMI converter (http://www.miniinthebox.com/nl/hd-video-converter-hdmi2av-1080p_p1457454...) + Microsoft Wireless Adapter. The converter gets power from the Microsoft Wireless Adapter. The Wireless adapter gets power from an in car USB port in the glove compartment. Nice and clean tucked away. Have been using it for a couple of months now. Works great. Like for navigation or a family member playing VJ at the back seat.

Wow. Continuum continues while you're on the move.

Awesome ideas dude! The mind boggles.

This is literally just a picture of continuum being shown on an LCD in the dashboard. There is no way to get the touch commands back to the phone like you can with rooted Android devices.

If the UI had an UI that would adapt to the screen its plugged to (and I don't mean just responsive) continuum could be use to trigger a car interface, and you could do the same when casting the phone to a TV. It's probably very hard to do but it would be great if one day Windows has a UI that changes depending on the device that you are using it on beyond desktop/touch/mobile.

Glad i'm not the only one who wants to do this! This is on my todo list for when my dispay dock arives. Got my ducttape and spare 10" screen ready and waiting. I really think Microsoft should make continuum for cars to rival CarPlay as CarPlay is essentially a crap version of Continuum anyway from what i understand

Just curious. Does your spare 10" screen support HDMI IN? What is it?

I love to put 7" window 10 table in my car, but there is no 7" window 10 tablet with LTE support available right now, Sadly!

Doesn't need to support LTE. Pick up a hotspot from Amazon or your carrier and get it service. On AT&T family it is only 10/mo if I recall right. Or tether it to your phone. You are going to pay for the data in any case. I might have to double-stick-tape my HP Stream 7 to my dash ;)

Even better if you could just miracast to your in dash display.

Considering Microsoft is absent from the car tech revolution some die-hard had to do something.

Car integration would definitely be a very popular use of Continuum. I guess (read "hope and pray") Microsoft is just trying to improve Contiuum further first.

This bring ideas to create apps for automobile display or touchscreen!

When bored, play games or facebook in the car touchscreen even better with bluetooth joystick, keyboard, mouse, etc.

I remember when driving mode on the phone actually have you both buttons to push for the main functions you might use in the car.

Actually that IS a touchscreen. It just probably needs a USB connection for it's touch input.

Not really surprising. The USB-C capability of the 950/XL allow HDMI out with just the appropriate dongle. If you have something that allows HDMI in, no reason it shouldn't work. To bad there isn't a great selection of HDMI capable portable monitors. Most of the little car screens still seem to expect disrete video in. You know, RCA jacks, not even VGA, and certainly no touch. They are still thinking DVD players. If you used a dock you could attach a logitech touch pad to use for control in lieu of a touch screen. As a thought, if you are a car hacker and have some $ to blow, get a Kangaroo and an iPad Mini. You can use the iPad Mini as the screen for the Kangaroo using their special software. You can use the Connect app in the latest preview builds to be the Miracast receiver for your phone (discounting you have a full Win PC there in the first place). At that point you could just use the phone for tethering, or heck, get a cell hotspot for your car. I may be behind the times, but I can't imagine car rigs with HDMI IN are that common, yet. Should be though, shouldn't they.

Any touch screen car stereo units with an HDMI port available?

THIS functionality is what MIRRORLINK (on ANDROID phones) is all about!!! My Lumia is sitting in the dresser drawer molding while I plug my HTC-1 M8 into my Civic and see/interact with my GPS app on the in-dash display!!!!! Works through USB cable (no MHL required)! As soon as I can do this with WP10, I'll get a new WP10 phone, because the Lumia's bluetooth interface is otherwise feature-robust! I'd also prefer HERE/WeGo to Sygic's GPS app, but it's improving. http://www.mirrorlink.com http://carconnectivity.org