Sonic Mania Special Stages guide: How to find the giant rings and get all the Chaos Emeralds
By Paul Acevedo last updated
Sonic the Hedgehog is back in Sonic Mania, a sprawling 2D platformer filled with even more secrets than the original games.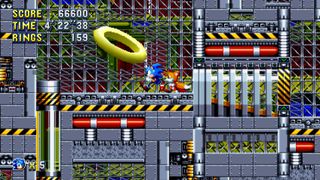 Once again, you'll have to complete seven special stages to get all the Chaos Emeralds. This guide reveals the special stage locations and an easy trick for completing them all!
How the special stages work
Sonic Mania has two different types of 'bonus' levels: special stages and bonus stages. Special stages, the topic of this guide, are 3D polygonal bonus stages inspired by those of Sonic CD. Successfully complete a special stage to receive a Chaos Emerald. Collecting all seven Chaos Emeralds with a character will unlock the Super version of that character. When playing as Sonic, it will also unlock his good ending.
The goal in the special stages is to collect the UFO before you run out of rings. Your ring supply constantly counts down, so you'll need to pick up more rings to extend your time.
The UFO is initially faster than Sonic and friends, but you can increase their speed by collecting blue and yellow orbs. After collecting enough orbs, your speed meter will fill and you'll graduate to the next mach level. Blue arrow power-ups will instantly fill your mach meter as well.
You'll need to travel at mach two or above to catch the UFO, although mach three can sometimes make it much harder to avoid falling during the later special stages. If you run out of rings or fall off the stage, you'll lose the stage, so be careful!
Trick: How to earn all seven Chaos Emeralds
To enter a special stage, players must find a giant ring. There are a total of seven special stages, with each subsequent special stage appearing after the previous one has been attempted. Even though there are only seven total special stages, you'll have a lot more than seven opportunities to attempt them. Every act of every zone has two hidden giant rings to find.
After entering a giant ring, that ring can't normally be reentered – even if you die without reaching a checkpoint. Thankfully, there is a trick that makes attempting special stages much easier!
After you complete a special stage in act one of a zone, go on to finish that act. This will cause the game to save your progress, including the chaos emerald you collected.
Pause and choose to Exit.
Return to Mania Mode and resume your save file. Sonic Mania always returns you to act one of a zone when resuming your game.
Find the giant ring again and play the next special stage!
If you win the special stage, repeat step one. If you fail, just repeat from step two. You can try the special stage as many times as you like. Just keep going until all seven chaos emeralds are yours!
Giant ring locations
There are 48 giant rings to find in Sonic Mania, but we'll just focus on the first eight locations. Watch the embedded video guide for other locations.
Green Hill Zone Act 1, first ring: Head forward through the two S-shaped tunnels (the ones with high entrances and low exits). Break through the wall just after that. Keep going right, past the area with the platforms that move up and down over spike pits. The ring is inside a hole in the wall. The floor just in front of it crumbles when touched, so don't fall!
Green Hill Zone Act 2, first ring: Take the upper path to the right until you reach a bridge that leads to a yellow spring in front of a wall. Inside the wall is the giant ring. Go up and instead of riding the rope swing, let the ground crumble and fall straight down on top of the corkscrew with a yellow spring on it. Use the spring to bounce left, which should put you just to the right of the giant ring.
Green Hill Zone Act 2, second ring: Take the lower path, collecting the fire shield behind the waterfall. Keep heading right and sticking low until you pass an area with several piranhas and two bats. Just past them, a yellow spring will bounce you up along a curved ceiling towards the left. To your left, you should see an item box with a spike trap in the wall just above it. Squeeze your way through the wall to the left of the item box and you'll reach the ring.
Chemical Plant Zone Act 1: Take the upper path to the right until you reach a spot where a red spring on the right will bounce you down and left. Jump over the red spring and head right, rolling down the long ramp. When the ramp sends you up in the air, swing left to reach a platform with the ring on it.
Chemical Plant Zone Act 2, first ring: From the start, head right, jump on the second yellow switch, and use the liquid it releases to bounce up. Head left, stick to the purple platform, and ride up. Go right until you reach the large open area where you bounce on liquid. From there, turn left and keep going until you pass through a wall on the left. Follow that secret path left and up, riding the moving platforms, until you find the ring at the top.
Chemical Plant Zone Act 2, second ring: If you can reach the area with the metal grates in the foreground, ride the rotating yellow platforms up a shaft to the top. At the very top, the ring is on the left.
Studiopolis Zone Act 1: Go right until you reach the first downward ramp with some red bumpers above it. Use Tails' flight ability to reach the platform just above the exit of the ramp and then take that higher platform's ramp down and left.
Alternately, you can proceed just past the platform to where the two rings of spinning bumpers are, jump left onto the target platform, and ride the ramp down and left. At the end of that ramp, the ring is behind a yellow pane of glass in the foreground.
Gotta go faster!
With all seven Chaos Emeralds in hand, you're finally ready to turn into Super Sonic, Tails, or Knuckles! Just collect fifty rings during any act to make the transformation and gain your super powers. This will make the rest of the game much easier (and faster), just the way Sonic likes it.
Fans of the Sega Genesis/Mega Drive games will love Sonic Mania's return to form. The entire game looks and plays just like a lost sequel to Sonic & Knuckles, with cleverly revamped classic levels, brand new levels, devious bosses, and even new moves for Sonic and friends. As our review declares, it's a nearly perfect game for newcomers and Sonic veterans alike.
Sonic Mania costs $19.99 on Xbox One, Steam, PlayStation 4, and Nintendo Switch. The Steam version is coming on August 29.
Paul Acevedo is the Games Editor at Windows Central. A lifelong gamer, he has written about videogames for over 15 years and reviewed over 350 games for our site. Follow him on Twitter @PaulRAcevedo. Don't hate. Appreciate!
I want this game but I was never good at this game.

These special stages can be brutal. One slip-up and you're done.

Great guides lately. Keep up the good work

Great guide, thanks. I've always sucked at Sonic and have needed to use guides and other methods to get through the older ones.

Not really a fan of normal Sonic, but im a fan of Sonic Adventure! SEGA needs to remaster Sonic Adventure 1 & 2 then make 3 with Chao mini game on mobile phone!

I'm loving the look of this guide! This will definitely make things quite a bit easier collecting the Chaos Emeralds :D Gotta go fast!

Man I want this game. Holding out hope for a discount on the CE, but likely will just end up giving in and buying the game off XBL.

i havent wanted too play a sonic game in a long time this changes that
Windows Central Newsletter
Get the best of Windows Central in in your inbox, every day!
Thank you for signing up to Windows Central. You will receive a verification email shortly.
There was a problem. Please refresh the page and try again.