The Starbucks app for Windows 10 spotted on company website as release nears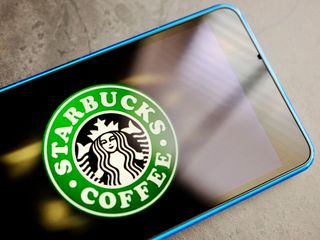 It is no secret that Starbucks is working on an app for Windows 10. While the app was speculated to be arriving a few weeks ago, the latest information put the app in the late stages of testing.
Now, a subsection of the official Starbucks site dedicated to their mobile apps shows the Windows 10 app along with details and the Store badge. The Store link, as you can guess, is not listed yet making it a placeholder for now. Nonetheless, you can get a glimpse of what the app will look like and features it will have upon release:
Pay for your order
Earn and track Star Rewards
Find a store
Check your balance and add funds to your Starbucks Card (with debit/credit card, Visa Checkout or PayPal)
Send gift cards
It should be evident that we are very close to this app hitting the Store and may, in fact, be tied to the August 2 launch of the Windows 10 Anniversary Update. No word if the app will work on Windows 10 for PC too, but being presumably a UWP app it may.
We'll keep you posted on when the app does finally go live.
Thanks, Shawn G., for the tip!
Windows Central Newsletter
Get the best of Windows Central in in your inbox, every day!
Daniel Rubino is the Editor-in-chief of Windows Central, head reviewer, podcast co-host, and analyst. He has been covering Microsoft since 2007 when this site was called WMExperts (and later Windows Phone Central). His interests include Windows, laptops, next-gen computing, and for some reason, watches. Before all this tech stuff, he worked on a Ph.D. in linguistics, watched people sleep (for medical purposes!), and ran the projectors at movie theaters because it was fun.
Uhhh... Starbucks sells coffee?? I thought it was glucose syrup

Ahahhahahahaha. Most people don't order coffee... They get all the Suger and junk food there.. but they gotta have their Starbucks! Posted via the Windows Central App for Android

Yeah, I'm one of the few that orders regular coffee-haha. Their coffee beans were pretty decent back around early 2000. Has been steadily declining in quality and roast each year that I hardly ever go to Starbucks anymore - just occasional. This app is certainly great news! Need to give props to Elliott Forde for MyBucks though. He filled the need for a Starbucks app when there wasn't any.

Those are the true heroes of this platform.

Last week I was on a road trip, went to star bucks and asked for a grande dark roast black. Cashier took a cup and marked on a cup. I thought it was weird cause usually you get it right away. Barista picked up the cup looked at it, looked at the cashier with a "what is this look" Lol. They forgot how to do serve drip? The stuff most people put in their coffee, it cancels out anything coffee about it!

Haha so true. I get a coffee or an Americano. Rarely do I order anything else unless it's my free drink then I get something like a black and white (tuxedo/zebra etc...) mocha with a bunch of espresso shots cause its free :)

DJCBS, vhyr, Adams... where you at ass hats! Where is your negative B.S. trolls... hello!!! Get out from under your angry, bitter, rock and comment... come on...

Lol. But you should add a moderator (forgot her name) to that list...although I haven't seen her as much for the past week, maybe Mobile Nation have "reassigned" her?

Abusing a moderator or any other fellow forum member is against the forum rules and will get you an infraction or ban.

Yeah, and that's what the people he listed do all day... Why aren't they banned already? :D

Well they aren't doing them on the forums. If they do then I or some other moderator will ban/infract them.

I am amused that you named them.

Right? "It's just business. NO developer will develop for a dead OS with no market share." Haha

I'm brainless because I don't believe in all of the negative hyperbole? OK, then. Keep downvoting me and upvoting those who take every bad news opportunity to quote market share, or to teach us all how business works or to declare the OS dead and that no developers are dumb enough to develop for Windows. Where are they when there's good news? I'm sure they'll be around with the "about time", "too late" posts. They can't be pleased, but you can upvote them.

I think they misunderstood you to be saying that quote. At least that's all that makes sense...

Are you mentally retarded

Don't worry. They'll come and they'll say something negative about this news. That's the hallmark of a troll.

They're already down voting.

You forgot cybertec Haha he mostly stays at the AC realm I think careful you might get banned. Posted via the Windows Central App for Android (V10 or Nexus 5X)

Yeah, this article is good news. When it's good news, they're nowhere to be seen in the comments. It's a little sad that I recognize those trolls you named.

But a starbucks app is really nothing to brag about... Not complaining, just saying.

I think it is a widely used app.

Its actually a really big deal. Bigger than Snapchat to a lot of people. Not that its literally bigger than Snapchat.

Really? Ok, whatever makes people happy :)

Funny that they aren't around on a positive story. They revel in misery and negativity. Its funny that everyone knows who they are :)

I have lots of Bing points that I will redeem at Starbucks when this app is finally released!!

Oooo I can get free coffee when traveling stateside?

Now, if we can only get the Pokemon Go app, the WP app gap will be filled tremendously...

Until the next app craze comes around and the gap opens up again???. We need to rethink this app thing

I thought apps were dead and bots were taking over?

I thought you had left and trolls like you were banished... guess we are not always right... in your case... I'm sure being wrong is the norm... ass hat!

But if we get snapchat, periscope, Pokemon and a few others there's no doubt other devs will follow because the market share would go up at that point. So the next app craze would include windows. The current app gap is the only (mostly only) reason people chose other platforms.

For many, it's not the apps, but the lack of devices, combined with the lack of marketing for the few devices that do exist. People don't know Windows mobile devices are still developed. For many, the 650 was the last device released, and that wasn't enough hardware-wise to convince them.. Apps will not matter, when the hardware to run them is lacking. It says a lot that the only a handful of phones (4, may be?) in the market are able to run a game like Relic Run without lagging so horribly the game difficulty automatically goes up by 2 levels. MSFT needs to understand that not all users will look at the pricy flagships for a good experience, especially when even the 'laggy' android offers better performing midrangers.

Ahaha better midrangers nooob

True and yeah I do think MSFT must do something about their flagship phones laggy game play and slower performance. But I think it is software related. These phones are powerful but compared to a similar spec android I do agree they do not hold up as good. The reason they won't market the phones/mobile because they're working on a fully developed Microsoft phone. Not something which was handed from Nokia. They need a new name for themselves and that's why I believe there are rumors about a surface phone. But we will see.

Nice to see another app. Wish Subway had one. There are some in the Store, but lord knows which is genuine. Is periscope still going? Never hear much of it from my family. Snapchat amazes me, most of my family uses that way more than Facebook, surprised Snapchat don't want every phone user. There are still a hell of a lot of active WP users, small, but a decent number that I'd think would be worth having.

Periscope is still out there. We have a universal app called easyscope to watch peri videos.

Will it stick? Dunno why twitter doesn't just do one, they have Twitter app

Like Prisma app.. New "sickness"!

Killary 2016 app sadly missing as well. It will let you run your own rigged system operations center.

Trump is meme savvy. I can't get "Crooked Hillary" out of my head.

If u want pokémon buy lagdroid noob

If u want pokémon buy lagdroid noob

I was hoping to see the capability to place/pay for a pickup order :/. Or is that what is meant by "pay for order"? Posted via the Windows Central App for Android

This appears to not support the pay ahead pickup, or what we call Mobile Order & Pay (MOP). MOP is a separate section of the apps, and so it would be hypothetically listed under the hamburger menu seen in the new Windows 10 app as "Order." If you visit http://www.starbucks.com/coffeehouse/mobile-order you can see that the Windows 10 upcoming version of the app was not included to the list of capable platforms, like it was on their App website. I do hope that they implement this feature very soon after the release!​

I've seen lots of complaints about this on twitter. The android app has the feature but the stores lag on making it worth your while.

Now only if dunkin does the same...or at least not banned my working app...

Great get one ap and they will discontinue 2

US only? Or will Canada be included this time?

Wow, they built a native app, and not just a port from iOS! Looks really clean. Excited!

Glad I'm not the only one who noticed. Maybe its a port but it could also have a lot of mods to look more windows like.

If it turned out to be a ported app with an altered 'responsive' UI, and goes on to showcase the kind smooth performance we're seeing from, say, Skype UWP, then it's a massive win for the platform. It'd be another good example that porting apps to UWP is a workable solution :)

Starbucks is supposed to be opening soon in my country.. Wonder if the app will work.
But. I don't drink coffee ☹

They also sell cold drinks and pastries. You could try if you are determined.

Where I live and where Starbucks will be opening... Not worth the drive lol. Way too far

Ooh that sucks. Yeah I wouldn't bother either.

Not giving up hope, but no sign on UK site yet...

Devil... I had not thought of that, just assumed we'd get it too.

Here's hoping !!! The third party apps work fine by just changing region in the apps settings, so hopefully this will be the same.

At last! I'm not one to care about the "app gap", but this app is one that I have always wished widows had. ..as long as they don't make it US only! (they wouldn't do that, would they?)

Windows phone users are Soo poor they can't even afford a coffee @starbucks

Hey eBall (that's funny, eball) we are the ones that have very little phone choice, basically expensive premium phones and "WTH is the cost of that phone!!?" premium phones... its the lame Android stuff that people like vhyr and other always say "I only had to spend $100.00 and look what I can get." BTW, congrats, you are now in my official "List of WC Ass Hat Posters" list.. and given that I get to use the term "eBall" you will be a great person to reply to...

Relax. It's just a phone. Btw I use L1520.

If you do have one how's it holding up? Posted via the Windows Central App for Android (V10 or Nexus 5X)

Fine. Running WP8.1 Not too keen to take part of beta programs when supposedly RTMs by Nadella are anything but nowadays. For no particular reason battery depletes fast every 2 week or so otherwise no issues.

Really could it be the age of the device? When did you get it ? Posted via the Windows Central App for Android (V10 or Nexus 5X)

Did you wake up on the wrong side of the bed ?Eball is really funny if you ask me.I can get you Weißbier **** Starbucks

you're like a vigilante, aren't you? "I'm gonna beat some trolls; only got a windows phone in my pocket; I'm-a- looking for the troller; this is f-cking windows..!", there - a new version of Thrift Shop :D

I like it... lets record and get it out there! :D

Dunkin Donuts, it's time to step up to the plate and release your app for Windows Mobil as well.

Starbucks is not in Delhi, i guess.

Great News. From the screenshots it looks to be built well.

Another app which looks like effort was put to look great on windows ✔ thanks Starbucks

Too little too late. No? Missing 90% of Window phones by limiting to W10M is not wise. No?

There he is... thats it, thats all you have... to answer your question, no... its fine... so are you going to try and walk back any of the trolling B.S. you spew daily... huh... ass hat!

You're more annoying than the posters you purport to hate.
nipseat.

Aww, I'm I annoying you? Poor little snowflake... im sorry... here have a lollipop... better now?

Oh and the nipseat comment... oh you got me with that... how will I recover.. oh nooooo's... Ass hat!

Today I paid at Starbucks with a $20 dollar bill and people saw me... So humiliating.

I used to pay with my band. They weren't interested at all

Cool. Thats awesome! I have been using the MS Band V1 so far to pay for purchases, but this would be cool to have

What really does a starbucks app do for you...? apart from them being a big brand, what's the hype really about...?

You can earn points and such.

2 months late but better late than pregnant i suppose lol

That's just a damn funny comment... love it!

This app is US only AFAIK :(

Is this true? I was afraid this would be the case. Well, at least the app got made in any case and supporting just the US market is typical Microsoft anyway so we really should have predicted it. It would be nice though for MS to surprise us and make this app as global as possible.

Well that was the last that I had heard, that may have changed though.

I can't see mobile ordering like the iOS and Android Starbucks apps

Do you see the app? See, that's your problem. You judged the app without actually trying it (or getting the chance to for now)

What I did is had a screenshot of my starbucks payment in my Win phone from my iOS device and used that to pay lol but this will be cool to have.

Insert catfish's "that's sad, huh?" Gif

Latte Finder app makes a barcode for Starbucks card. Also has store locator.

In some ways good for windows phone. In all ways it will not affect me. Id always under any circumstance buy from an owner/seller in preference to a chain.

How does mobile ordering work? You order it online / pay for it, then go through the drive thru to pick it up, or do you have to go in to grab it? Do you have to show your card; how do they know somebody doesn't just walk up, "Hey, I did a mobile order." And they give them one that someone else had placed?

There is no mobile ordering in this app

The app isn't released yet.

Mobile Pay isn't listed as a feature on the app's description on the Starbucks page. Notice how with Android and Applie it is very clearly stated.

Okay, I see what you mean. I would assume that feature will be added later (if it doesn't show up in the initial release). I would assume they're pushing the app out, so people stop nagging for it. (Me included, I just emailed them last week, actually.. and ironically enough - I was told flat out no app is coming.)

Mobile Order & Pay is done by ordering your customized drink before arriving at your local Starbucks. You have the choice of going through Drive-Thru or going into the Cafe (I'd go into the cafe, because you will still have to wait in the drive-thru line, whereas in the cafe you can just walk right over to the hand-off and receive your drink). You can catch one of the Baristas' attention and say "Hey, my name is ---- and I placed a mobile order." They will hand the drinks to you and you can read the labels to make sure that the drinks were made correctly. If they weren't, we have no problem remaking them for you, just let us know what was done wrong and how you'd like it to be remade.

While this is true, the Windows 10 app will not have this functionality upon release, according the to the app page on the Starbucks site. Who knows if it will ever be a feature at all. **Edit: If I'm wrong, then I'm wrong. I don't see any indication of the functionality's existance on the site.

It looks like the reference to the app is only on the U.S page. They don't mention it on the Canadian site. Not that I really need the app when I pay with my Band, but it would be nice to know how many Star rewards I have.

Do the awards build quickly? I only get 1 per month.

I'm always just curious about how many stars I have and I think it's strange that they don't show them in the website.

just switch your local to US, download and then change it back. Works perfectly for the app on the Band 2.

Good idea, though I didn't have to do that for the Starbucks app on my Band. Really though the Band app is basically just a barcode generator.

Why no mobile ordering? Will this come in a future release?

Is it too much to stand in line. Maybe they failed to list it. I'm sure if it's not included it will be added later. I think they are pushing hard to get it done.

I've already been standing in line, and will continue to do so. I sure hope they're pushing, as it's at least 3 months behind the original relase time frame. It is disappointing to not see a full feature app being released at this time. Because you know what could happen? People aren't going to use it as much as they would with mobile ordering, and in 6 months to a year Starbucks is going to pull the app from the store citing low usage. You're sure it'll come later?

Agree to disagree on the lack of use and the pulling of the app. Big deal they are "behind schedule". Sometimes things take longer than originally estimated. Doubt they will pull the app being that there is Windows/Microsoft fanboys at Starbucks now. Oh well. Still excited to see this app coming none the less; with or without mobile ordering.

What would be nice is wallet integration. I'm loving wallet 2.0

Starbucks makes good cookies.

Question: Anyone knows if this is another buyout of a third party app? I used to love Buckstar, but it vanished without a trace sometime back. Wondering if it was a takedown request in expectation, or a "hey we'll pay you less than our devs but give you the blessing to do this for us." sorta thing (unnecessary jab, I'm sure it's not like that, just felt jabby).

Was in contact with the dev a while back...app was taken down per a request from Starbucks.

Yes Buckstar was great !!!

No, Starbucks is on the Band 2, so I've been expecting this for a while. Excellent news. Nice to see yet another app crossed off the missing list. Can safely say the only thing I'm apparently 'missing' now are Pokémon Go and Snapchat - neither of which I have the slightest interest in.

Daniel, I hope you're keeping track of all the apps we're gaining and losing in mobile so we can get a tally at the end of the year. That would be interesting to see.

I think they removed the page

Sure looks like they have removed the windows 10 mobile bit for the time being...

It's been removed from their page. See for yourself http://www.starbucks.com/coffeehouse/mobile-apps/starbucks-app-for-windows

The app is finally out! Coffee drinkers rejoice! And I downloaded it in Canada too!
Windows Central Newsletter
Thank you for signing up to Windows Central. You will receive a verification email shortly.
There was a problem. Please refresh the page and try again.