Stardock's CEO talks to us about the company's new Windows 10 Start menu, Start10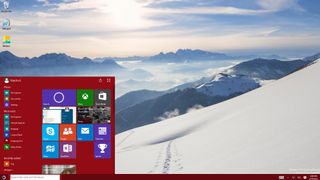 Windows 10 won't officially be launched until sometime later in 2015, but software developers are already working on applications that will expand on the features in Microsoft's next operating system. One of the most well known third party Windows app makers, Stardock, has just launched their first Windows 10 program, Start10. The app offers users a way to bring the classic Windows 7-based Start menu to Windows 10, along with a number of other features.
Microsoft decided to add a Start menu in Windows 10 after it received a number of complaints about the company's decison to remove that feature in Windows 8. Stardock was one of many company that released a Start menu replacement for that OS and it turned into a massive hit for the company. So why would Stardock launch a menu program for Windows 10? We got the company's founder and CEO Brad Wardell to answer these and other questions about Start10, including his own feelings on Windows 10 as a whole and some hints about what the company has planned for the future.
Firstly, how many paid Start8 licences has Stardock sold since it launched three years ago?
I can't tell you the exact number but the number is in the millions.
Did the success of Start8 surprise you and do you think its success helped the Microsoft Windows team to realize adding a real start menu to Windows 10 was a good idea?
Absolutely. When the first beta of Windows 8 came out, we assumed they would add the Start menu back in a later build. But it was driving us nuts in the meantime so we put together "Start8". When they didn't put it back, we polished it up and made it available to the general public.
Some people might question the need for Start10 since Windows 10 will have a Start menu on the desktop. Why do you think people will need Start10 for Windows 10?
I was one of those people until I started using Windows 10 a lot.
The basic problem Microsoft faces is that they want their Start menu to be usable by both desktop users via a mouse as well as via touch. As a result, they give up a lot of the usability for people who are trying to do serious desktop work.
For example, the Windows 10 start menu items lack menus. So I can't just go to a file location. The search bar doesn't allow me to pin things to the start menu, I can't organize it the way I'd like (or standardize it for an enterprise customer). There's no jump list support, there's no realistic way to integrate multiple cloud document providers together because their Start menu is launch centric and not document centric like it's traditionally been.
Moreover, there's the issue succinctness. I don't benefit from having a bunch of large blocks thrown in my face when I just want to check what type of monitor a user has on their machine via "Documents and Printers" (which isn't even accessible from the Windows 10 start menu). The "All apps" link still doesn't support a real folder concept. The list goes on and on.
Mind you, it's better than having no Start menu at all. But it's important to remember that there are decades of user experience and refinement with the traditional Start menu.
What are the biggest features in Start10?
In the first build, it's really just an evolution of Start8. But as we go forward, we want to integrate a superset of what is in Windows 10 so that it can appeal to casual users, enterprise users and power users via various customization options.
What will the price be like for the program?
It'll be $4.99 on its own or part of Object Desktop which is $49.99 for our entire suite of desktop enhancements (Fences, Multiplicity, Start8, Launch8, Tiles, etc.)
Does Stardock have any more plans for Windows 10 specific applications and if so can you give us any hints about them?
We do. One of the most promising features of Windows 10 is its "multitasking" feature (I wish they weren't calling it that). Basically, it's an advanced form of virtual desktops. There's a lot of interesting things you can do with that. Another example is more people are getting High DPI displays. We're working on cool stuff to make sure users can make the most of that on Windows 10.
And of course, there's all the DirectX 12 stuff we've got going but that's another story.
What do you think of Windows 10 in terms of features and has Microsoft done a better job with developing the OS compared to Windows 8?
I think Microsoft has done a remarkable job on learning from the mistakes of Windows 8. There's a lot of important under the hood work that's gone into Windows 10 that I wish Microsoft would push more. For example, Windows 10 is much better at utilizing your CPU cores than previous versions of Windows. This matters not just because of raw performance but can have a significant impact on power usage. You are actually better off using 4 cores slightly than using 1 core strongly from a power and performance perspective.
What's going to be ironic is that for a lot of users, Windows 10 will "magically" allow your devices to have much better battery life and sadly, based on the marketing I've seen from Redmond, there will be little PR in explaining why this is.
Does Stardock have plans to release any programs directly from the Windows Store in Modern UI format in the future?
Only if the market makes that case really. I've seen the sales numbers for a lot of "popular" iOS apps some for Windows store apps and they're not very encouraging.
What I think is going to help a lot is a single version of Windows you will see the Store app and the desktop app APIs continue to integrate further. There are good things in WinRT. But I would like to see more features from WPF and .NET integrated into it and less emphasis on Javascript or other attempts to webify Windows apps.
Finally, what else can you tell us about Stardock's plans for Windows 10?
Our biggest endeavor for Windows 10 is going to be trying to create a single experience between Modern apps and Win32 apps. Users shouldn't care what underlying API is used. There should be a single look, feel, and functionality between them. I see our mission is to unify that experience so that the user never has to care what "type" of app it is. While power users, like your readers, can look at the title bar and behavior and go "Oh, that's a Windows store app", there shouldn't be trade offs for them, consumers, or enterprise users in what type of Windows app they use.
We would like to thank Brad for answering our questions. You can purchase and download the first version of Start10 at Stardock's website.
Get the Windows Central Newsletter
All the latest news, reviews, and guides for Windows and Xbox diehards.