With the Steam Deck, Valve might beat Nintendo at its own game
Did Valve just make a Nintendo Switch Pro?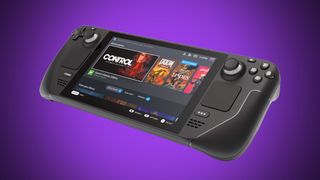 (Image credit: Valve)
Ever since the age of the original Game Boy over 30 years ago, Nintendo has dominated the portable gaming space. This trend continues in the modern day, as its latest console, the Nintendo Switch, which is a handheld/docked hybrid and has enjoyed years of market supremacy. The reason why? At the end of the day, there's nothing else like it available.
Notably, though, the Switch does have one key weakness: lackluster tech specs. The console often struggles to play Nintendo's core games at 30 FPS, and significant downgrades have had to be made to many of the other games ported to the system just to get them to run semi-smoothly. Despite this glaring flaw, however, Nintendo has chosen to rest on its laurels instead of developing a "Nintendo Switch Pro" with more capable hardware (but, hey, there's an OLED version coming. That's cool, I guess).
Unfortunately for Nintendo, a new challenger approaches in the wake of its complacency, and it's a developer that nobody expected to see enter the ring: Valve. The PC gaming developer, publisher, and distributor recently announced the Steam Deck, a Switch-sized miniature gaming PC that threatens to beat Nintendo at its own game. Here's how.
Hardware that blows the Switch out of the water
Swipe to scroll horizontally
| Category | Steam Deck | Nintendo Switch OLED Model |
| --- | --- | --- |
| CPU | AMD Zen 2, 4 cores/8 threads (2.4-3.5GHz) | Custom NVIDIA Tegra X1 processor |
| GPU | 1.6 TFLOPS | Unknown |
| Memory | 16GB LPDDR5 | 4GB LPDDR4 |
| Storage | Up to 512GB NVMe SSD | 64GB |
| Display | 7-inch 1280x800 (400 nits), up to 8K @ 60Hz or 4K @ 120Hz via USB-C DisplayPort | 7-inch OLED, up to 1080p in TV mode, 720p in handheld |
| Battery | 40WHr (2-8 hours estimated) | 4,310mAH (4.5-9 hours estimated) |
Above all else, the biggest edge that the upcoming Steam Deck has over the Nintendo Switch is its significantly better hardware specs. Compared to the Switch's rather outdated NVIDIA Tegra X1 system-on-chip, 4GB of LPDDR4 RAM, and 32GB of storage (64GB on the new Switch OLED Model), the Steam Deck boasts an impressive 1.6 TFLOPS GPU, an AMD Zen 2 CPU with four cores and eight threads, 16GB of LPDDR5 RAM, and either 64GB of eMMC storage or 256/512GB of NVMe SSD storage. At 400 nits, the device's 7-inch touchscreen display is also about 100 nits brighter than the standard Switch's. It even comes with a 40WHr battery, which is impressive for the size of the Steam Deck.
Of course, whether or not the Steam Deck actually performs as well as its specs suggest it will remains to be seen. It's worth pointing out that the Steam Deck's official website shows actual gameplay on a prototype, though, and the experience looks very smooth. Overall, based on everything we've seen so far, the Steam Deck looks like it will be the powerful Switch Pro that Nintendo never made.
Huge versatility in a small package
Another big advantage that the Steam Deck has over the Nintendo Switch is its immense versatility. Featuring a USB-C port for peripheral connectivity, full Bluetooth 5.0 support for wireless accessories, a dock you can use to hook the device up to a full-sized monitor, and the ability to install Windows, Linux, and third-party content, the Steam Deck sounds like it's going to be one of the most versatile portable gaming systems ever made. Compared to the Switch's very limited selection of peripherals and capabilities, you'll be able do anything you want and use any wireless accessory you want with the Steam Deck. There's even the possibility of emulation on the Steam Deck (60FPS Zelda anybody?).
The versatility of the Steam Deck isn't limited to gaming, either. Pair it with a Windows installation and a wireless keyboard and mouse, and you'll have a quick and snappy productivity device at the ready. A foldable stand on the back would have made the Steam Deck even better for this, but there will most likely be affordable third-party stands made after the device launches later this year.
Let's talk about those controls
While everything about the Steam Deck from a hardware specs and software standpoint looks incredible, something that's a bit concerning about the device is its ergonomics. The control surfaces on either side of the screen are quite bulky, and I'm skeptical about Valve's decision to put the ABXY buttons and D-Pad directly next to the joysticks. It also remains to be seen whether or not the trackpads are enjoyable to use in shooter games where lining up shots quickly and fluidly is important. Overall, the machine just doesn't look very comfortable to use. In a hands-on preview, IGN said that despite its looks, the Steam Deck is actually very comfortable to use for long periods of time, so we'll reserve any judgments until Steam Deck is actually out in the wild.
If the fear that the Steam Deck's controls aren't pleasant to use comes true, Valve's efforts to challenge the dominance of the Nintendo Switch may fall short. The Switch is certainly disappointing from a power standpoint, but a huge reason why it has and continues to sell so well is because of how comfortable and easy to use it is. A portable gaming system needs to be enjoyable to use, so it's crucial that Valve gets this right.
Final thoughts
Ultimately, I think this is the most exciting thing Valve has done in years, and I can't wait to see how the Steam Deck squares up to the Nintendo Switch. People have been asking for a Switch Pro for a long time now, and Valve has a serious opportunity to eat Nintendo's lunch and beat it at its own game with the Steam Deck. If it's as good as the spec sheet indicates, the Steam Deck will also be one of the best ways to play some of the best PC games portably.
Steam Deck prices start at $399, and preorders begin on July 16 at 10 AM PT / 1 PM ET on the official preorder page. Will you be getting a Steam Deck? Let me know in the comments.
Get the Windows Central Newsletter
All the latest news, reviews, and guides for Windows and Xbox diehards.
Brendan Lowry is a Windows Central writer and Oakland University graduate with a burning passion for video games, of which he's been an avid fan since childhood. You'll find him doing reviews, editorials, and general coverage on everything Xbox and PC. Follow him on Twitter.