Steam Xbox One cross-play tools hinted in beta source code
Newly-added Steam Beta code suggests official Xbox One cross-play tools may be on the horizon.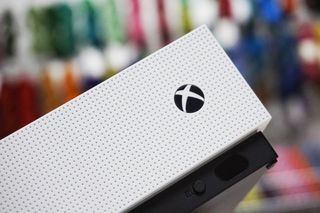 (Image credit: Matt Brown | Windows Central)
Talk of cross-platform multiplayer continues to grow, following a surge in support throughout 2018. While Microsoft and Nintendo were among those at the forefront of efforts, we've recently seen Sony change stance, gaining heightened traction across PC, console, and mobile. It's still far from the norm but becoming increasingly attractive amid pressure to drop long-established barriers.
A recent update to Steam's beta now hints at deeper cross-platform integration, with source code directly committing to Xbox-related networking features. As posted to ResetEra, new additions to the Steam Beta GitHub repository seemingly refer to Xbox Live identifiers.
Cross-play has been achievable between Steam and Xbox Live titles for some time, with Killer Instinct and Rise of Nations among existing examples. However, these source code changes indicate deeper, standardized integration via Valve's Steamworks developer toolset. Further easing the process for cross-play implementation, an open-source approach could encourage a wider pool of developers to bridge the gap.
Without official mention of such integration from Valve, take this concept lightly. However, with cross-play on the rise, such a prospect could prove beneficial to both Xbox One and PC gamers. We also see similar interest from Epic Games, recently committing to open Fortnite's underlying cross-play technology to developers for free. As always, be sure to let us know your thoughts in the comments.
Windows Central Newsletter
Get the best of Windows Central in in your inbox, every day!
Matt Brown was formerly a Windows Central's Senior Editor, Xbox & PC, at Future. Following over seven years of professional consumer technology and gaming coverage, he's focused on the world of Microsoft's gaming efforts. You can follow him on Twitter @mattjbrown.
I for one don't want crossplay between Xbox and PC, not at all. The main reason is not directly the cost to play online, but the fact that the PC community are mostly cheaters. Microsoft should do everything in their power to block cross-play with PC at all cost. Xbox should just run the steam app so PC players could try the system, not connect them. Xbox being locked down from most scripts is the way it should be. Cross-play should only be consoles linked together. Microsoft should be trying to get more people from PC to Xbox, not connecting them. Building more on Xbox to allow different devices like headsets and mouse packages and joysticks should be their first move. It wouldn't be logical to stick one group of players who have everything unlocked from graphical menus to input devices to a console group stuck with what the devs think they should use, and most times it's very limited on what consoles get. Cross-play with PC would be a dirty move for Microsoft. It would end up making people leave their system.

I disagree, cross play is the way to go. It opens up alot more movement and exposure to the Xbox especially to Xbox play anywhere and Xbox game pass. If you can have the ease of playing a game on the Xbox and then later on the go with same progress / game. That makes for a more compelling argument than a siloed experience currently offered by playstation. Nintendo is a given as they are only visible in the console space and do not make phones. Sony spun off / sold their PC business so that doesn't factor into the playstation ecosystem as a direct growth / leverage point.

I think they should keep crossplay because players on PC can then just play with their friends and they would not need to worry bout the requirements for the Xbox live gold and Microsoft should try their best to keep the cross play because then anyone who just wanna play on PC would then play whatever game they want so I disagree with removing cross play I think u should not remove it so dont listen to the one who says remove it because I think that it should be. Kept for various reasons because one so that they can play fortnite second forza horizon 4 and other games I would not remove it if I were u

I don't agree that PC is "mostly cheaters" at all. I'd be interested to see any evidence supporting that claim.

I guess Popa2caps had been living under a rock somewhere, or is just being salty against PC players after getting rekt by them... Cross play between Xbox and PC already exists in a good number of games and is healthy. Games like Sea of Thieves or PUBG are great connecting the Xbox and PC communities/players. The great disadvantage that Xbox players face over PC players is the control method, being the mouse way more accurate than a controller analog stick. But that doesn't make PC players cheaters. Just master that analog stick and you'll be on the same level as they are. That, or just grab a keyboard and mouse, now that Xbox supports them...

"but the fact that the PC community are mostly cheaters. " Spoken like a true ignorant console player.

Or you can just choose to play on xbox only servers. You dknt have to play with your PC only friends 9f you dont want to.

Awesome, I hope this becomes a reality.

knock the walls down let everyone play 2gether xbox ps and pc thumbs up too ms
Windows Central Newsletter
Thank you for signing up to Windows Central. You will receive a verification email shortly.
There was a problem. Please refresh the page and try again.